If you want to invest in the US markets, Fidelity is one of the first names that comes to mind. This company was started in 1946 and has grown to become the biggest broker in the country. It has millions of retail and institutional investors and more than $2.5 trillion assets under management. It is valued at more than $85 billion, which is higher than the $61 billion value of Charles Schwab. This article will explain everything you need to know when investing with Fidelity.
What Can You Invest with Fidelity
One thing that sets aside Fidelity from the popular investing app, Robinhood, is the number of financial assets you can invest in. Robinhood offers just stocks, ETFs, options, and cryptocurrencies. On the other hand, Fidelity offers multiple other assets. These are stocks, mutual funds, retirement IRAs, fixed income, bonds, CDs, options, sector investing, annuities, life insurance, and managed accounts. In addition a platform where you can make investments, Fidelity also has a robo advising platform called Fidelity Go. This product allows anyone to deposit money and the robots will create a diversified portfolio of assets for an annual advisory fee of 0.335%.
Fidelity Fees
Unlike Robinhood, Fidelity still relies on commissions to profit. The table below shows the fee comparison between Fidelity, TD Ameritrade, Schwab, and E-Trade.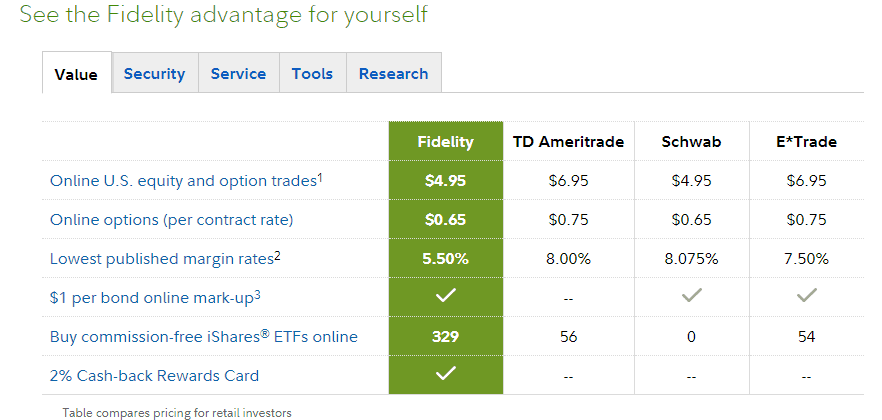 As you can see, Fidelity charges a commission of $4.95 for US equity and option trades. This is in line with what Schwab charges and lower than what TD and E-Trade charges. For options, the company charges $0.65, which is the same as Schwab and below TD and E-Trade. Its published margin rate of 5% is below that of the three companies. In addition, it offers a 2% cash-back rewards.
Therefore, if you are just a normal investor, these costs can add up so, it is highly recommended that you use a free broker like Robinhood. In addition, if you an inexperienced investor, you can use the many free robo-advising platforms like Wealthfront and Betterment.
Fidelity Vs Robinhood
Since Fidelity still offers commissions, many people have stuck with it for a number if reasons. Its benefits versus Robinhood are very clear. These benefits include:
Advantages
1. Fidelity is a better brand
» Fidelity has a brand name that has taken more than 70 years to build. This makes more people have peace of mind using its platforms.
» On the other hand, Robinhood is a 9-year venture funded company.
2. It has more assets
» Fidelity offers more assets than other free platforms like Robinhood. This gives you more diversity on your investing process.
3. It offers holistic investment products
» With Robinhood, you can just invest in the assets mentioned above.
» Fidelity on the other hand has more ways to help you improve your financial well-being. For example Fidelity Go and Fidelity Wealth Management it offer retirement tools that can invest money for you.
4. It has physical locations
» Unlike Robinhood, Fidelity has physical locations all over the country. In these locations, you can get financial advice from authorized managers.
» This may be especially important if you have little experience in the market.
5. It comes with intensive research
» Robinhood has started offering research to their customers. This research is only offered to customers of the Robinhood Gold product, who pay $5 a month. Also, this research is just from Morningstar.
» Fidelity on the other hand has an entire research analysts that provide in-house research to customers. It also offers investment reports from top analysts from JP Morgan, Citi, Barclays, and Goldman Sachs.
How to Start Investing With Fidelity
To start investing with Fidelity, you need to do a few things. These are:
Evaluate your investing skills: if you believe you are not a good investor, you should consider using their managed accounts products.
Pick asset class to invest in: with Fidelity, there are many assets like stocks, ETFs, and mutual funds you can invest in. Select one that meets your criteria.
Decide on your investment style: in this, select whether you are a day trader, long-term investor, or a swing trader.
Research on your preferred investments: this involves reading the research available in Fidelity platform and other sources.
Invest and follow up on the investments.
Takeaway
Fidelity is one of the biggest companies in the world. It offers diverse products for people of all ages. However, as an investor, there are things you need to remember. First, it is always good to do your own research before you invest in anything. Second, if you are unsure about your investing skills, consider investing in the low-cost products like ETFs and mutual funds. Third, consider using Robinhood if you are just starting out. Finally, don't make any decision in haste.