Listing is a formal process of admission of securities of a company to a stock exchange by listing its shares. Listing of shares on a public exchange enables a company to raise capital from investors for the growth and success of the company. Indeed, venture firms in the United States spend hundreds of billions every year investing in small companies. The goal of these venture firms is to one day exit their investments by listing in a major board through an IPO. In this article, we will explain the Nasdaq initial listing requirements.
What is Nasdaq?
National Association of Securities Dealers Automated Quotations, popularly known as the Nasdaq, is the second-biggest exchange in the United States. The company has been in existence for decades. It is a public company that has a market capitalization of more than $17 billion. The biggest exchange in the United States is the New York Stock Exchange (NYSE) that is owned by the Chicago Mercantile Exchange (CME). Nasdaq is headquartered in New York.
How Nasdaq Works
As mentioned above, Nasdaq is a very big multibillion-dollar company. The company offers a number of products. The most visible of these products is the listing board, where companies come to list. Ideally, a company that aims to raise money approaches the exchange, and if it meets Nasdaq listing requirements, the company then raises money from the market participants. The company's shares will then be traded in the Nasdaq.
How Nasdaq Makes Money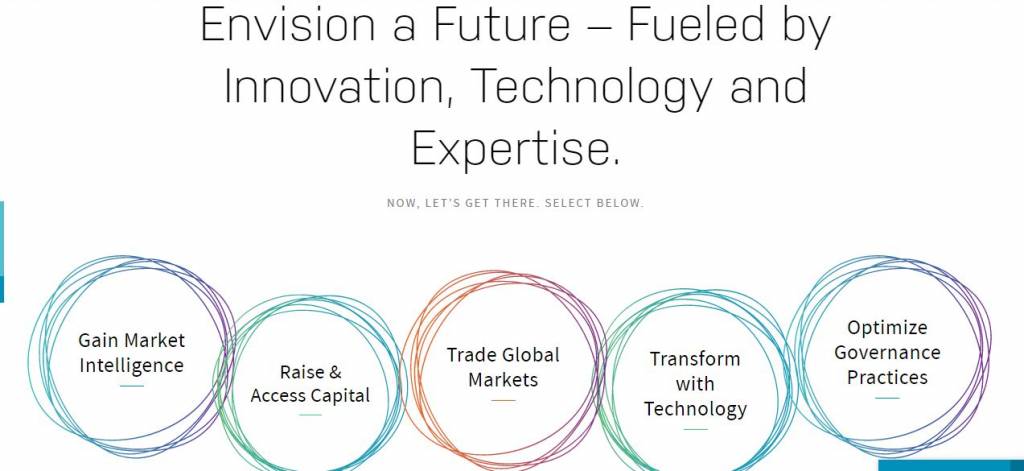 The company makes money through three segments of its business. These segments are Market Services, Corporate Services, Information Services and Market Technology.
In Market Services, Nasdaq offers services like Equity Derivative Trading and Clearing, Cash Equity Trading, Trade Management Services, and Fixed Income Currencies, and Commodities. On Corporate Services, the company makes money through corporate solutions and listing services. On Information technology, the company makes money by selling data to other companies. It also provides indexes and data analytics. On market technology, it makes money by providing pricing of the various stocks and products.
Nasdaq Listing Process
Companies that want to become public have two main options in the United States. They can select to list in Nasdaq or in the New York Stock Exchange. Ideally, the company has to go through a number of steps to become public. There are four main steps that companies follow when listing. These are:
Nasdaq symbol reservation. Companies that are listed need to have a unique symbol. This symbol is also known as the ticker. A company needs to reserve it by filling this form.
Listing application form. The company should fill and submit this listing application form.
Sign listing agreement. The company should fill this listing agreement form.
Corporate governance certification. You should fill and complete this corporate governance certification document.
Payment submission. The company should submit its payment via wire or check.
Logo submission. Submit the company's logo.
Nasdaq Initial Listing Requirements
Not all companies are eligible to be listed by Nasdaq. While Nasdaq is known for the technology companies that are listed, the company accepts all types of companies provided that they meet Nasdaq minimum listing requirements. For example, the company needs to be making money and it must have solid liquidity.
There are four Nasdaq listing standards that companies must meet to be eligible for listing. The four Nasdaq listing standards are Income Standard, Equity Standard, Market Value Standard, and Total Assets/Total Revenue Standard.
For income standard, the company should have an annual income of at least $1 million. The stockholders' equity value should be at least $15 million. For equity standard, the company should have a stockholders' equity of at least $30 million, be in business for two years, and have a market value of at least $18 million.
For the market value standard, the company needs to have a market value of more than $75 million. The market value of unrestricted publicly held shares should be of at least $20 million. On the total assets/total revenue standard, it should have total assets and revenue of more than $75 million and market value of unrestricted publicly held shares of at least $20 million.
In addition to this, the companies should have at least three market makers.
Nasdaq Corporate Governance Rules
Corporate governance is a critical factor for all companies that are going public. It is important because it helps to boost the confidence of investors. Companies that are going public in Nasdaq must meet these Nasdaq corporate governance requirements:
Distribution of annual and interim reports. Companies are mandated by law to publish their annual reports to the Securities and Exchange Commission (SEC). The annual report is known as form 10k.
Independent directors. The company should have a board of directors. Some members of the board should be independent.
Audit committee. The audit committee is a must for all companies to have. This committee helps build confidence with investors.
Compensation of Executive Officers. The company must have a compensation committee that is made entirely of independent directors.
Nomination of directors. Independent directors must recommend appointment of directors.
Code of conduct. The company mut have a code of conduct.
Annual meetings. Companies are required to conduct annual meetings.
Conflict of Interest. The company must have policies to prevent conflict of interests among members.
Voting rights. All shareholders should have voting rights in the company.
Other Nasdaq corporate governance rules are having a quorum in meetings and solicitation of proxies.
Nasdaq Market Cap
A common question that is asked is on the market cap requirements for Nasdaq listing. As shown above, the companies should have a minimum equity of $15 million. Companies whose Nasdaq minimum market cap falls below this are eligible for delisting.
Nasdaq Listing Fees
Companies that list in Nasdaq are required to pay an initial fee. This depends on the number of shares that are being listed. For example, a company with up to 30 million shares pays a fee of $125k. The table below shows the listing fees for listing in Nasdaq. Every company must pay $25,000 application fee before its stock can be considered for Nasdaq listing.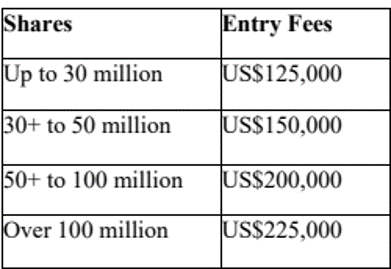 Nasdaq Annual Listing Fee
Companies that are listed in the Nasdaq are supposed to pay annual fees. These fees are usually based on the total number of shares that are outstanding. For example, a company with up to 10 million shares outstanding pays $46k. It also pays an additional $46k depository fee. The table below shows the amount companies pay Nasdaq every year.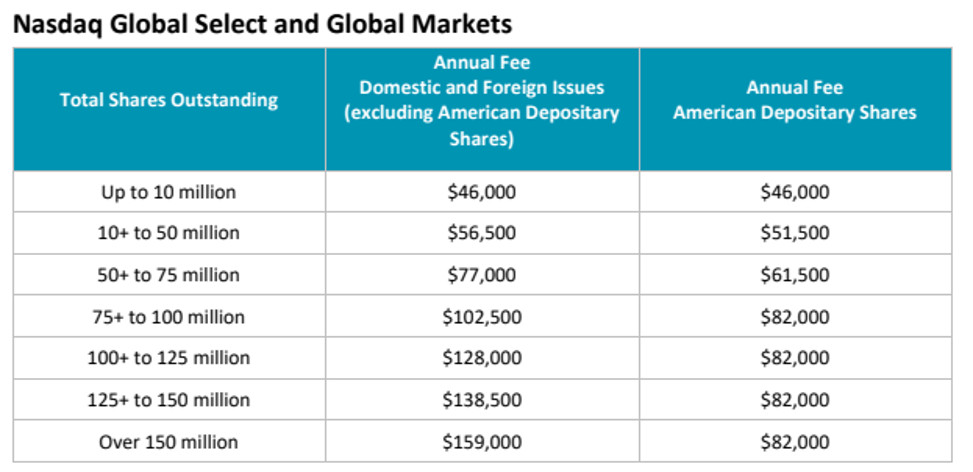 Nasdaq Listing Requirements for Foreign Companies
A common grey area in the US is that foreign companies can list in the major exchanges. Examples of the common foreign companies that are listed in the US are Alibaba and Tencent Music. This listing has been criticized because the exchanges and SEC have no ability to verify the information they submit. In general, foreign companies must meet the requirements that local companies meet. They must submit their documents to SEC and Nasdaq. You can read more about foreign issuance here.
NYSE vs Nasdaq
A common asked question asked by many people is, "What is the difference between the NYSE and Nasdaq?" Basically, Nasday NYSE differences aren't big. They are just two different companies. The NYSE is owned by CME, which is a conglomerate that is valued at more than $72 billion. It runs three NYSE exchanges in the US. These are NYSE American, NYSE, and NYSE Arca. The basic NYSE listing process is similar to that described on the Nasdaq section. Nasdaq on the other hand runs three equity exchanges in the US. These are: The Nasdaq Stock Market, Nasdaq BX and Nasdaq PSX.
Examples of Companies Listed in Nasdaq
Nasdaq is mostly known for the technology companies that are listed there. Nonetheless, the exchange is also home to companies in other industries. Examples of companies listed in Nasdaq are:
Apple – $1.39 trillion.
CME Group – $72.9 billion.
Advanced Micro Devices – $53 billion.
Facebook – $625 billion
Alphabet – $993 billion
What is Nasdaq 100?: The Nasdaq-100 is a stock market index made up of 102 equity securities issued by 100 of the largest non-financial companies listed on the Nasdaq stock market. Find the list of the companies in the Nasdaq 100 index.
Final Words on Nasdaq Listing Requirements
Nasdaq is the second-biggest exchange in the United States. It is also the second most popular exchanges. It runs a number of index funds and tools that investors use to make money. If you are an entrepreneur looking for taking your company public, I recommend that you read these Nasdaq initial listing requirements.