Sometimes you get into a fix and wonder where you can get some quick cash. Tala loans provide emergency loans if you want to pay for school fees, house rent or medical bills. You can download the Tala mobile app (Mkopo Rahisi loan app) and get a loan immediately. You do not need to go through the rigorous process lending institutions take one through to determine one's creditworthiness.

This article will help you on how to use Tala loan, how to apply for the loan and how to repay it.
You should never borrow more than you can afford to repay. Always remember that loans are usually designed in favor of the lender and not you. For this reason, take a loan for a need not a want.
What is Tala Loan?
Tala is a mobile platform that advances loans to customers. Previously, it was known as Mkopo Rahisi. When you apply for the loan, you are sure to get it within 24 hours. However, there is usually a loan limit depending on how you have been borrowing and repaying your previous loans. For instance, if your loan limit is Ksh 500, you can increase to as high as Ksh 50,000.
Luckily, Tala loan does not require any security, unlike other lending institutions for personal and business loans in Kenya. This means that you do not need to have an asset to use as collateral to get the loan. The loan usually attracts a monthly interest of 11% to 15% depending on the amount you have borrowed.
Tala Loan Limit
Tala loan limit in Kenya today is based on application level.
Bronze This is the first level for new applicants. Tala minimum loan for this plan starts at Ksh 500 and Tala maximum loan for this level is Ksh 4,999.
Silver. Tala minimum loan limit is Ksh 5,000 and the maximum loan is Ksh 9,999.
Gold. Tala mimimum loan for Gold level is Ksh 10,000 and the maximum Tala loan limit is Ksh 50,000.
Tala in Tanzania
In September 2019, Tala announced that it has shut down its operations in Tanzania. It did not provide reasons due to legal reasons.
What You Need to Know about Tala Loan
Tala loan application is usually short and straight forward. The loan is only available to Safaricom M-Pesa users. To apply for the loan, you do not need to fill any form. The approval of the loan is usually instant and you do not need to wait for long.
Tala uses your M-Pesa transactions to determine your creditworthiness. If you frequently use M-Pesa, then you are likely to have a higher loan limit. Unlike other lending platforms that require you to link your Facebook account with them, Tala does not use your Facebook information and you do not need to connect your Tala account with Facebook. Tala loans are also available Mexico, Philippines and India.
How to Download Tala Loan App (Mkopo Rahisi Loan App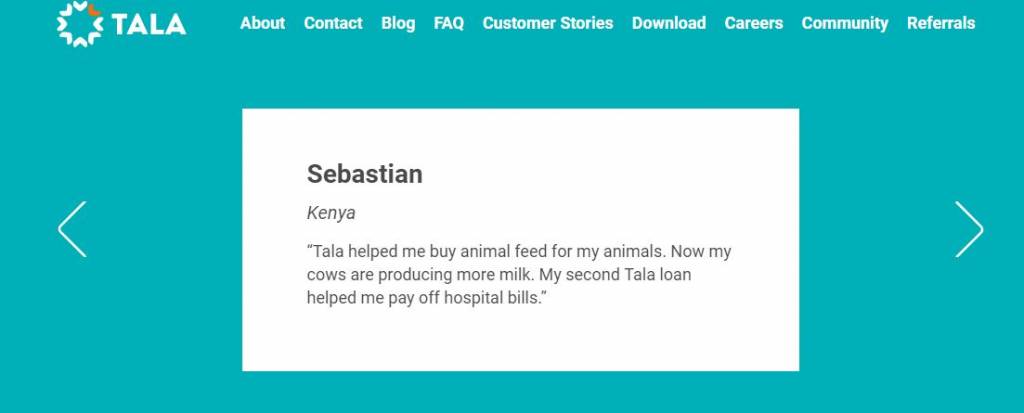 To apply for the loan, download the Tala loan app (Mkopo Rahisi loan app) on your mobile device from Google Play Store for android. Make sure that your phone's operation system is 4.0 and above, otherwise, you cannot download the app. Then fill in your details and then enter your Safaricom M-Pesa phone number. When you upgrade your Tala app to the latest version, you can check your credit status and track payments. Here is the process:
From Google Play Store, search for Tala App and the click on it.
Click the Install button and then wait till the app downloads.
Then open the app. You can opt to link it to your Facebook profile.
Make sure you fill in your personal information correctly so that you can qualify for the loan. Any false information can disqualify you from getting a loan.
How to Get Tala Loan on Your Phone
Once you have requested for a loan using the Mkopo Rahisi loan app, Tala will disburse the loan into your M-Pesa account within a short while. Follow these simple steps to get a loan:
Once you have download the Tala loan app, click I'm New and then click Create Account.
Then enter your Safaricom M-Pesa number. Wait until you receive the confirmation code.
Enter the confirmation code you just received.
Enter a four-digit pin and make sure you can remember the pin. When you enter the wrong pin several times, your account is blocked.
Click "Confirm" to set your ideal pin and then submit.
Once the loan is approved, the amount will be disbursed to your M-Pesa account. Tala will also email you how much money your owe them and the due date.
How to Repay Tala Loan Using M-Pesa

Make sure to repay your loan before the due date. This will help you to improve your credit score. To repay the loan:
Go to your M-Pesa menu from your phone.
Select Lipa na M-Pesa and then select pay bill.
Enter Tala pay bill number which is 851900
In the Account No section, enter the M-Pesa number you used while registering for Tala.
Enter the amount you wish to repay.
Enter your M-Pesa pin and then confirm the details you entered.
Then Confirm and wait for a confirmation message.
It is possible to repay a loan for a friend or family member. In case you overpay the Tala loan, the excess amount is credited in your Tala account. The amount can be used to repay your subsequent loan.
Tala Loan Fees
Tala loans have a flat service fee for each loan. A 30-day loan has a service fee from 7% to 19% while a 21-day loan has a service fee from 5% to 14%. If you do not repay within 7 days after your due date, you will be charged a fee of 8% on your remaining balance.
Risks Associated With Tala Loan
In most cases, a loan should only be used only in emergencies, but before you can borrow a loan, it advisable that you seek other financial solutions. You can first try borrowing from friends before you can settle for a Tala loan. Some of the risks associated with Tala include being listed by the Credit Reference Bureau (CRB) so that you cannot borrow from lending institutions such as banks. Also, loans are expensive and one can fall into a financial trap and become bankrupt.
Conclusion
Tala charges monthly interest rates of between 11% and 15%. This can accumulate, especially when one has borrowed a significant loan making it challenging to repay. In addition, standard M-Pesa charges apply while withdrawing, adding up to the total fees. Therefore, avoid loans if it is not an emergency.