A business bank account is important if you have a business in the UK. In this article, we will look at where you can open a business bank account online in the UK, fees and features offered.
Online Business Bank Accounts UK
There's a growing list of online banks that support business accounts offering a variety of features to help your business.
Wise offers accounts for ecommerce businesses. Another good example include Starling Bank with Euro and USD business accounts in the UK.
Types of Business Entities in the UK
The type of business account that you have will partly depend on the size and scale of your business. In general, there are three main types of business entities that you can start in the UK. First, there is a sole proprietorship. This is the most basic type of company. It is ideal for individuals who run small companies.
Second, there are business partnerships. This happens when a team of people decide to register a company. In a partnership, the members share the profits with one another. A partnership can be a relatively small company or a big one.
Third, there is a limited company. A limited company is where the liability is transferred from the business owner to the company. For example, if a company takes a loan and defaults, the business owner's home cannot be auctioned. Limited companies are the most common types of businesses.
Why Open a Business Bank Account?
Sole traders are not mandated to have a bank account. They can use a personal current account. A limited company is required to have a business bank account. This makes your administrative life easier, as you can separate your personal bank account with your business account. There are several other benefits of having a good bank account. These are:
Organisation. Having a separate bank account helps you be more organised in managing your finances.
Tax reasons. When you have a business bank account, you ease the process of paying taxes.
Credit and debit card acceptance. With a business bank account, you can accept these cards in your company.
You look professional. New people will trust you more if they see money going to your business bank account.
Accept cheques. As with credit cards, having a professional bank account will make it easy for you to accept cheques from customers.
Business financing. You can get business loans in the UK from a bank if you have a business account with them.
Best Banks for Business Account in the UK
The UK is the financial capital of the world. The country has more than 300 banks. Some are small banks that operate in small cities and rural areas. Others are some of the biggest banks in the world. Some of the biggest banks in the UK are HSBC, Barclays, Lloyds, Royal Bank of Scotland, and Standard Chartered among others.
There are several types of banks in the UK. There are investment banks that deal with large companies and investors. Examples of these banks are Goldman Sachs and Morgan Stanley. There are private banks like Coutts and HSBC Private Bank. These are divisions that serve the wealthy. There are retail banks like HSBC and Barclays.
Another relatively new type of bank in the UK are online banks or so-called neobanks. These are banks or fintechs that operate online with no branches and without much paperwork. They allow you to open a business account online in UK. Some of them offer you a free online business bank account in the UK. The biggest online account providers in the UK are Revolut, Monese, Monzo, Starling Bank, and Wise bank, formerly TransferWise.
Wise Business Account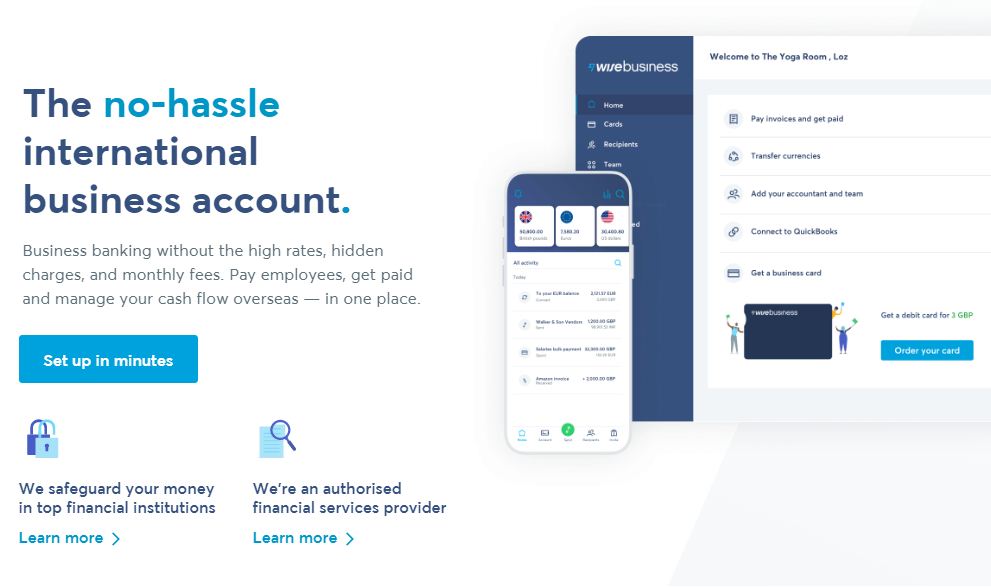 Wise business account offers a free business account in the UK. It's a multicurrency business account with zero monthly fees that comes with business tools and features such as the ability to invoice customers, cheap international money transfers, and QuickBooks and Xero integration. Other features Wise Business MasterCard connected to multiple currency accounts, and the ability to receive and hold more than 55 currencies. You can also set up local business accounts details such as Euro and USD in minutes without having an address in those countries and pay like a local business and save money in currency exchange.
How many Wise business accounts can I have? If you run multiple businesses, you can have Wise accounts for each one. All of your accounts will be accessible under one set of login details.
Notable Features
You can manage your ecommerce payments with Wise for e-Commerce Businesses that allows you to withdraw money from platforms like eBay, Shopify, Amazon and Stripe.
You can pay international invoices, vendors, and employees in over 80 countries and in over 50 different currencies with the real exchange rate. It's cheaper than traditional banks or even Paypal.
You can get local bank details for 10 different currencies including US, Euro and Australian dollar.
You can make batch payments up to 1,000 people in one click after uploading a spreadsheet with details for each transfer.
Wise for e-Commerce Businesses. Wise is now a member of the Amazon payment service provider program, which means that any business selling on Amazon can now officially use Wise to receive their sales earnings in multiple currencies. You can also connect your Wise business account to eBay and Stripe.
Wise Business Account Fees
Wise does not charge monthly fees. However, there are charges for specific services including:
Getting local bank details: £16 (one-time fee)
Card replacement: £3
ATM withdrawals over £200/month: 2%
Convert your currency using your card: 0.33%-3.5%
Monese Business Account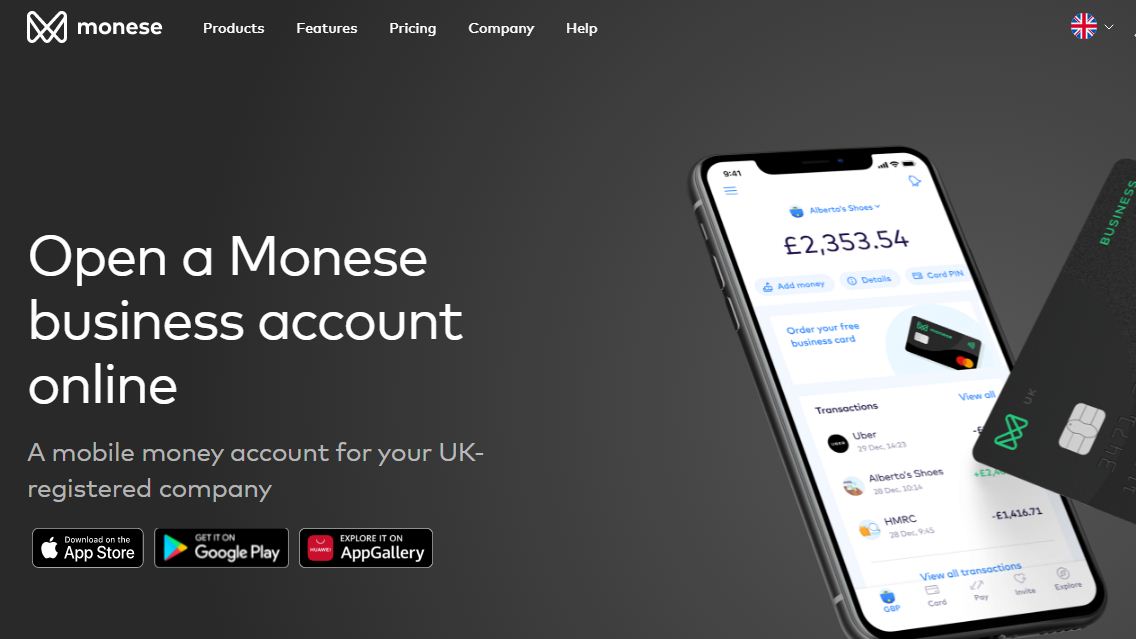 Monese is an online bank in the UK that allows you to open a business account if your business is registered in the UK even if you can live anywhere within the EEA.
You will get a business account number and sort code, which you can use to send, receive, hold and spend money abroad. When you open Monese business account, it will have a maximum limit of 50,000 GBP. After three months, you can apply for a higher plan with a maximum limit of 100,000.
How many Monese business accounts can I have? You can have a personal account and a business account and be able to manage both from Monese app. You can track your spending and be notified of any activity for both accounts from your Monese app.
Notable Features
You can send electronic invoices to customers from the Monese app and add invoice details like products and services, due date and reference name.
Send and receive payments like a local with the UK Faster Payments network.
You can order a Monese debit MasterCard for your business.
You can deposit money to your Monese business account in Post Offices or PayPoints.
You can link your Monese account with PayPal to track your PayPal balance and transactions.
Monese business loans are offered through its partnership with Iwoca. To qualify for the loan, your business needs to have a minimum turnover of 10,000 GBP and should have been registered in the UK for the last 3 months.
Monese Business Account Fees
Business account: £9.95 monthly
Overseas ATM fee: £4
Cash deposits at PayPoints: 2.5% with a minimum fee of £1
ATM withdrawals after 6 free withdrawals: £1/withdrawal
Monzo Business Account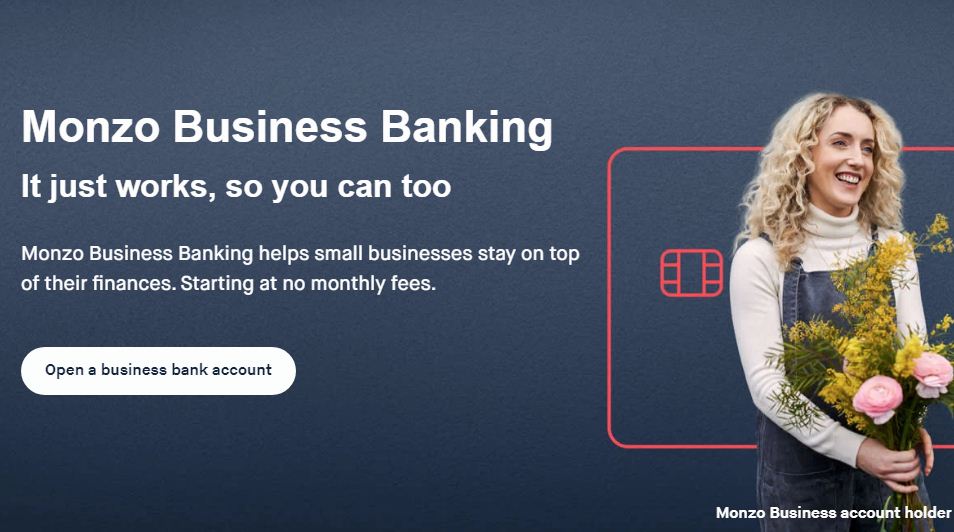 Monzo offers free business accounts to help small businesses in the UK to stay on top of their finance. It is one of the best business accounts for small business in the UK. You can apply for a business bank account if you're a sole trader or a registered limited company by shares (Ltd), based in the UK, and if you're a tax resident in the UK. The account offers free, instant UK bank transfers, Monzo business debit card, fee free spending abroad, and £85,000 Financial Services Compensation Scheme (FSCS) protection.
How many Monzo business accounts can I have? At the moment, you can only open one Monzo business account.
Notable Features
Payment links – a way for businesses to request payment with Monzo Business. Customers can pay from the same link.
Monzo Pots is a savings feature that allow you to separate money from business account balance. The money can be for savings or tax.
You can integrate your account with Xero, FreeAgent, QuickBooks or export your transactions to another accounting tool.
You can let customers pay by cards, Apple Pay or Google Pay.
Monzo Business Account Fees
Business Lite account: Free
Monzo Business Pro account: £5 monthly
Cash deposits at PayPoint: £1
Tide Business Account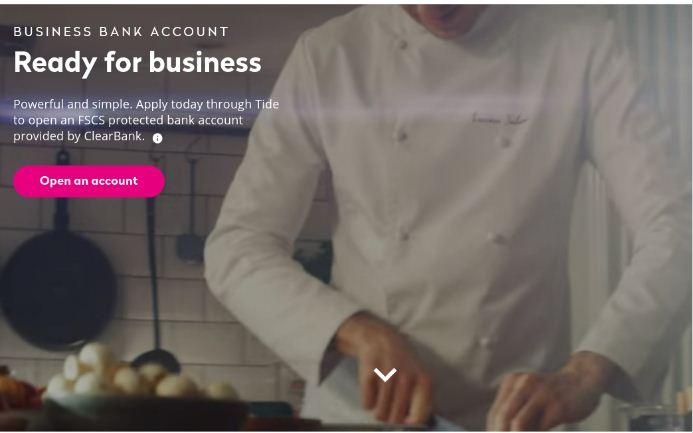 Tide is a relatively new business financial platform and the leading provider of digital business banking services in the UK. The bank's main features are: free card payments, free transfers between tide accounts, free replacement cards, and £1 ATM withdrawal fee. It does not have monthly maintenance fees for freelancers.
How many Tide business accounts can I have? Registered businesses can create up to 4 current accounts per company, each of which will have its own unique account number. In addition, you can link up to five businesses to the same Tide app, switching between them.
Notable Features
You can register a limited company and open a business account at a go. Tide pays the incorporation fee on your behalf and give you a free business account.
You can link your account to software like Xero, QuickBooks, Sage and more.
You are able to invite business partners, colleagues or your accountant to view and download transactions.
Free business MasterCard to spend in UK and abroad with no fees and no commission.
Tide Business Account Fees
Tide offers three plans with the following charges:
Free Plan: £0.00 monthly
Plus Plan: £9.99 +VAT monthly
Cashback Plan: £49.99 +VAT monthly
Revolut Business Account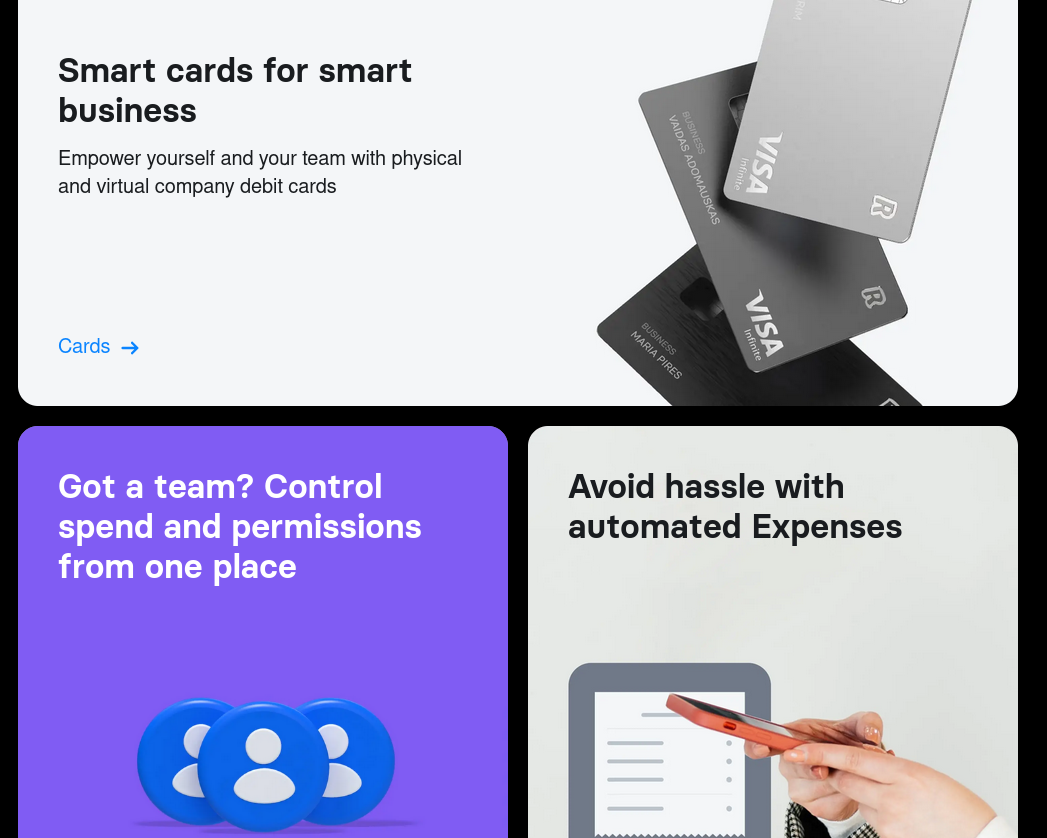 Revolut multicurrency business account lets you hold and spend money in 28 currencies. Although Revolut has an EU banking licence, it operates as an e-money institution for business customers. Its key features are that it simplifies accounting, automates your workflows by being compatible with key apps like Slack, Dropbox, and Xero. It also gives you corporate debit cards. As with the other accounts we have mentioned, this one is targeted at small and medium-sized enterprises.
How many Revolut business accounts can I have? Multi-business account is a feature that allows you to manage multiple Revolut business accounts on the web app.
Notable Features
Revolut multicurrency account gives your business local bank details including US and EUR as well as access to over 150 currencies.
Revolut Payment Gateway allows your business to accept payments directly from your website.
You can integrate accounting software like Xero, QuickBooks and Sage and productivity tools such as Zapier and Slack into your business account.
Bulk payment feature allows your business to make efficient and convenient multiple payments to suppliers, vendors, employees, etc.
Revolut Business Account Fees
Revolut offers different fees for freelancers and Revolut corporate accounts starting from from £0 to £100.
Revolut Freelancers Account: Free (£0), Pro(£7), Ultimate(£25)
Revolut Corporate Account: Free (£0), Grow(£25), Scale (£100), Enterprise (Custom Pricing)
Starling Bank Business Account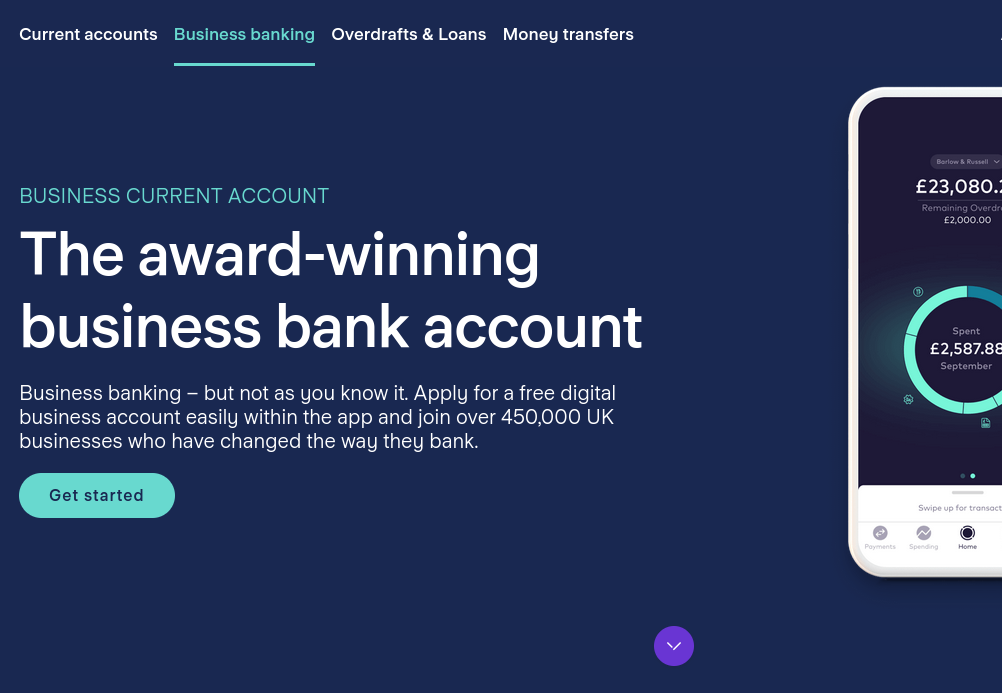 Starling Bank offers free business accounts for sole proprietors, freelancers, startups, partnerships, and limited liability companies. The account gives you access to an overdraft facility, a Euro business account, USD business account and a business toolkit for HMRC tax calculation, VAT returns, etc. Starling is a fully regulated UK business bank account, where your money is protected up to £85,000 by the FSCS.
How many Starling business accounts can I have? You can apply for as many business accounts as you like as long as they are for separate businesses. You cannot apply for an additional business account for the same business.
Notable Features
Free access to multiple directors.
Starling supports integrations with Xero, QuickBooks and FreeAgent and point-of-sale platforms Zettle and SumUp.
You can send invoices from your Starling account by connecting to your Gmail or Microsoft Outlook email.
Cash deposits at the Post Office and in-app and freepost cheque deposits.
Starling Bank Business Account Fees
Starling Bank does not charge account opening or monthly maintenance fees.
USD business bank account in UK: £5/month
Euro business bank account in UK: £2/month
Business toolkit: £7/month
Business payments: £10/month
Conclusion: Best Business Account UK
If you are a freelancer or have a registered business in the UK, be it a sole proprietorship, startup, partnership, or a limited company, you can open a business bank account online with the UK banks we have reviewed here. It is worthy noting that some banks reviewed here offer free business bank accounts. A business bank account will make it easier for you to manage your business finances, file for tax, apply for business financing, etc.