If you are looking for a virtual coach for your business team or you wish to earn an income through virtual coaching, this article will provide you with suggestion of tools you can use. Also, you will learn how you can benefit from virtual professional coaching. Alternatively, you can opt to work as a virtual coach and earn up to $100,000 a year, depending on your effort. Luckily, this is a convenient source of income if you have the necessary skills.
Requirements of Virtual Coaching
You will need to have the following to start virtual tutoring
A reliable and fast computer
Fast and strong internet connectivity
A headset and a microphone
Great communication skills
A minimum of a GED
Webcam, Skype or any other online chat platform
In most cases, you will be tutoring your clients through video calls. Some online tutoring platforms will require you to meet some experience and academic qualifications. The qualifications depend on the subject that you are tutoring. Online tutoring is different from online surveys that do not require any educational qualifications.
Best Virtual Tutoring Platforms
HireClub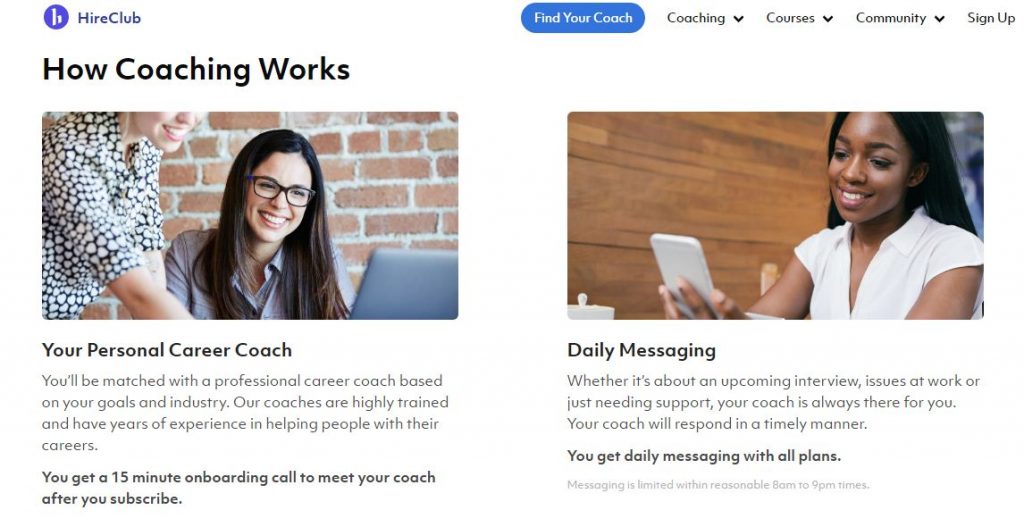 HireClub began in 2011 to help people get jobs, prepare them for interviews, negotiate salaries and help them in the new place of work. It has expanded to a fully-fledged business and has over 20,000 members on its Facebook group.
It has three coaching products; standard, pro and executive. The coaches have extensive experience ranging from professional and certified coaches. After the coaching, most of its clients get a job within two months.
With HireClub, you can book a session to review your resume, get coaching about an interview and salary negotiation. Resume review costs around $39 while interview coaching costs $99 and resume rewrite costs $299. It is targeting mostly graduates, people changing their careers and those who have lost their jobs. You will enjoy the following benefits with HireClub.
Get a career coach matched to your goals and industry
15 minutes call from your coach
Daily messaging for upcoming interviews, job issues and daily support
Torch
Torch is a coaching software for businesses and enterprises. The primary purpose for the establishment of Torch was to help enterprises to grow. Torch has a team of psychologists, entrepreneur and executive coaches who work with business leaders to assist their businesses to develop. Torch uses software and behavioral science to help their clients through leadership coaching. They offer the following products to their clients:
Experienced coaches. Torch has excellent coaches with great vast business experience. Their coaches are not only certified, but they are also business experts. Torch will match you with the right coach.
Leadership assessment. Torch will help you to assess your leaders. Torch offers scientific and validated assessment through behavioral science. After the coaching, your leaders are advised to do a leadership assessment where they receive a lot of feedback.
Coaching. Virtual coaching helps leaders in your organization to have a wide cultural and strategic initiative.
Self-awareness feedback. Leaders pass through a self-awareness program that helps them to know their blind spots. They get feedback during the coaching on areas they do not know about themselves.
Personal development plan. This is aimed at identifying the strengths and weaknesses of a leader. Goals are set for an individual and the team to track progress.
Walden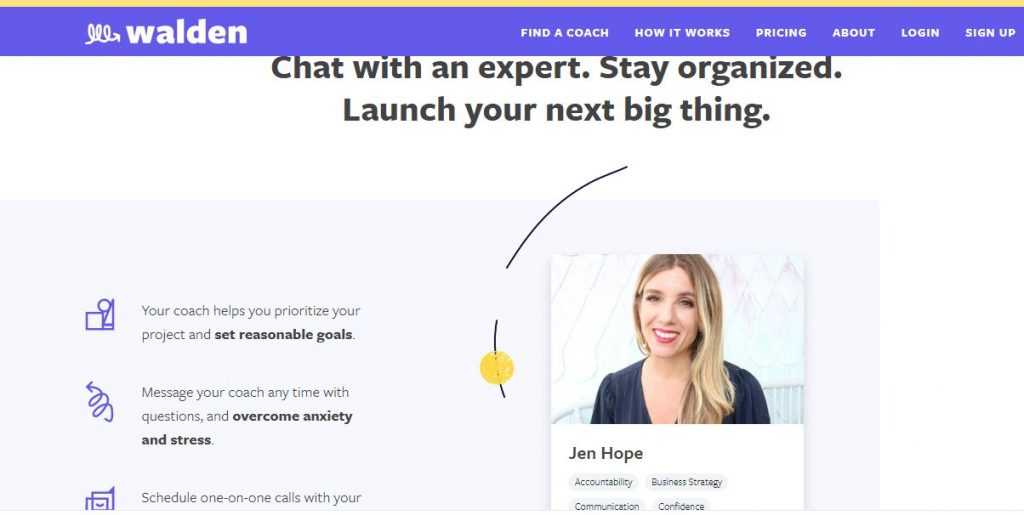 Walden is a team that coaches industry experts by matching coaches. With Walden, you can chat with your coach and make video calls with your coach for training.
When you sign up, Walden will match you with the right coach. Walden analyzes your projects and the goal you wish to achieve to determine the coach to match you with. Once you have a coach, you can schedule when you have a one-on-one video call with your coach. Besides, you can chat, brainstorm and plan with your coach.
Through Walden's dashboard, you can plan and come up with ideas and plan some tasks. Finally, you can set goals with your coach and boost the productivity of your firm.
Conclusion
You can benefit from virtual professional coaching as a coach or as a business person. You can be hired to coach employees or hire a coach to train your employees to improve their effectiveness and productivity. The most important thing is to have an objective and then decide which tool can help you meet your goal.