Having a business account is a great way to separate your personal finances from your business funds. BankProv is a crypto friendly bank that offers small business checking account in the US that comes with cash management features, banking API, business credit card, remote deposit capture, etc.
If your side hustle looks more like a full-time job, it's time to separate your finances with BankProv Small Business Checking Account.
Key Takeaways
There is no minimum deposit required to open your business account. However, BankProv Business Checking Account has minimum balance requirements to waive monthly maintenance fee.
Your funds are 100% protected by FDIC and DIF deposit insurance coverage.
How to Open BankProv Small Business Checking Account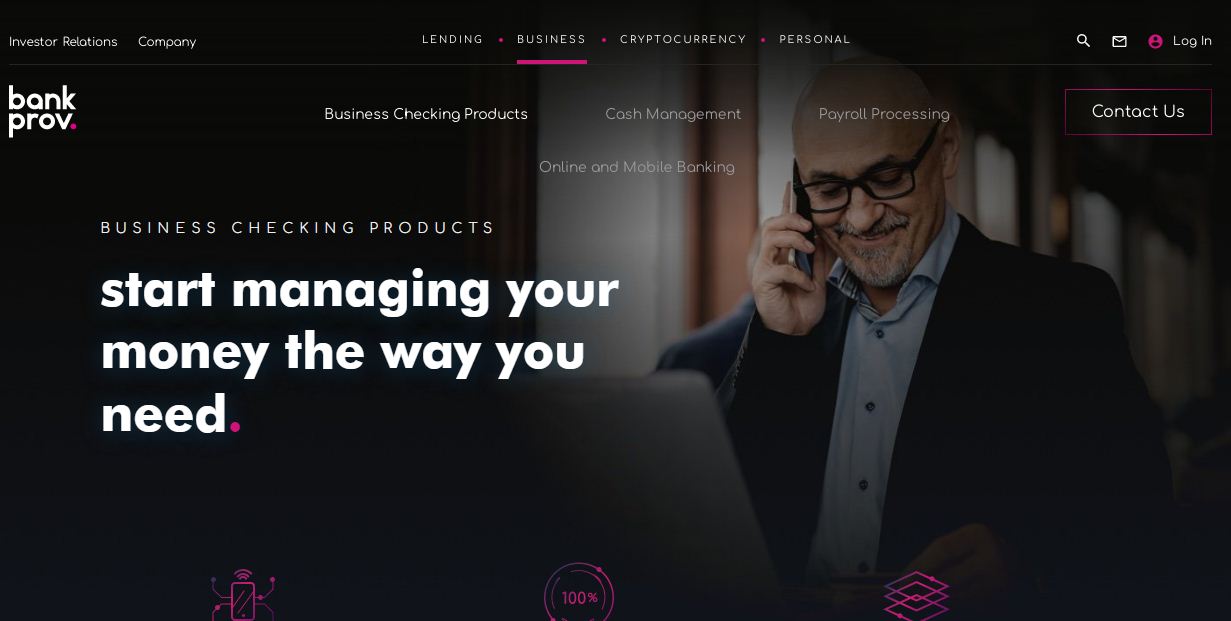 To open a BankProv Small Business Checking account, you need to be at least 18 years old legal US resident who owns a US-based business. Go to BankProv website, click on Business button, and then Business Checking Products, scroll down to Open Online Now. BankProv will need your personal information like name, address and date of birth, official ID and your business documents.
BankProv Features
As a business account holder, you will benefit from the following features.
BankProv Commercial Lending
BankProv offers term loans to support small businesses in the US with equipment purchase. BankProv lending is also available for short-term or seasonal working capital needs.
Information and Reporting
Quickbooks Direct Connect. Directly connect your online banking to QuickBooks.
Direct Transmission Services (FTP). Automate the movement of files and reports to and from the Bank with ease.
BankProv ProvXchange
ProvXchange Network enables you to enact real-time transfers 24 hours a day, 7 days a week, 365 days a year between your BankProv accounts and the accounts of other BankProv clients on their terms.
BankProv API
Using BankProv banking API, you can easily get up-to-date account information, maintain your receivables and payables, and easily manage counterparties to make transactions effortless.
Remote Deposit Capture with BankProv
Lockbox is BankProv check depositing offering. You can enroll in the BankProv Remote Deposit Capture (RDC) program and easily deposit checks onsite with a check scanning machines or through their online banking app. Besides, you can outsource the process of receiving and posting mailed check payments with their LockBox program.
Online BankProv Cash Management
BankProv cash management features include online banking, mobile banking, Automated Clearing House (ACH) services, domestic and international wire transfers and the use of Positive Pay to secure your account against fraudulent checks.
BankProv Payroll Processing
BankProv offers payroll companies customized pricing model with same-day processing of transactions and automated file transfer with BAI2 file delivery.
BankProv Bank offers mobile and online banking. For physical branches, BankProv has only three branch locations in Massachusetts and four in New Hampshire.
BankProv Small Business Account Fees
BankProv is waiving the first month's monthly maintenance fee as part of the Small Business Checking Account plan.
| BankProv Service | Fee |
| --- | --- |
| Monthly fee (waived for the first month) | $50 (fee will be waived if you have a balance of $250,000 and for balance for 1/2 the monthly fee is $100,000 |
| Incoming wires (domestic/intl) | $10 |
| Outgoing wires (domestic) | $25 |
| Outgoing wires (international) | $35 |
| ACH transfers | 50 free per month then $0.07 per item |
| BankProv and SUM ATM | Free |
| Non-BankProv ATM | $2 per transaction |
Is BankProv Safe?
Your funds up to $250,000 are insured by the Federal Deposit Insurance Corporation (FDIC) and balances over that amount are protected by the Depositors Insurance Fund (DIF). This means BankProv combines two types of insurance to make sure your deposits are 100% protected. BankProv uses advanced features such as Positive Pay, an anti-fraud service that protects your account against altered and counterfeit checks.
BankProv Small Business Account Alternatives
The US has many other small business banking options. Some of BankProv alternatives are:
BankProv Business Account Review: Conclusion
Having a small business account separate from your personal funds is key in managing the growth and sustainability of your business. BankProv is one of the best choices for small business banking in the US because of its products that include business checking account, business credit cards, banking for crypto businesses, and term loans.