A bank account is a key part of your business. However, when you open a bank account, banks charge for some services. For this reason, it is important to open a business bank account with the least fees, especially if you are a small business. A free small business checking account can help you save money on monthly fees and keep your business finances organized. Let's look at some of the best small business bank accounts in the US.
Free Checking Accounts for Small Businesses
A business bank account has more requirements to open than a personal account. Generally, fees and required balances are usually higher for business bank accounts. However, there are banks that offer free business bank accounts. Depending on the specific bank, this means you won't pay monthly maintenance fees, account set up fees, overdraft fees, ACH fees, ATM fees, incoming wire fees, etc. And in most cases, there are no minimum opening deposit or balance. They may charge fees for other services.
Best Free Business Checking Account
If you're a small business owner, you know how important it is to save money on every expense you can. That includes banking fees. That's why many small businesses are choosing to open free business checking accounts, including a free online business bank account, without the need to visit a bank branch. The following are banks that offer free business checking account in the United States:
BlueVine Business Checking Account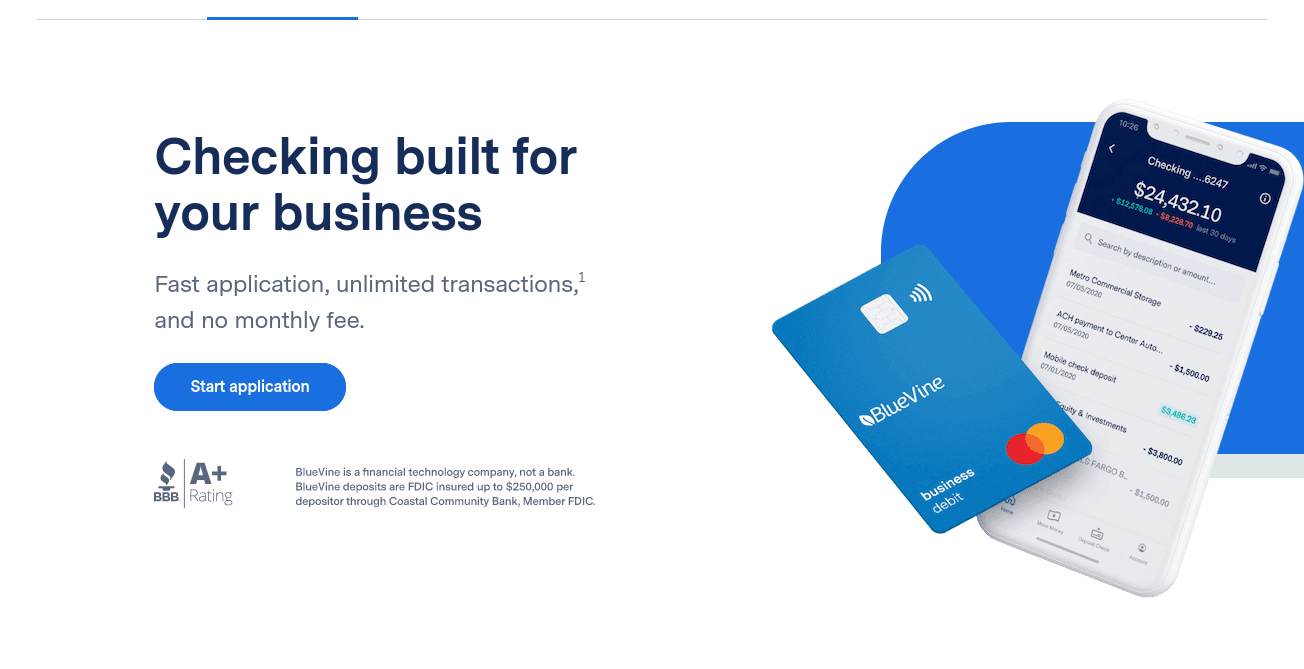 BlueVine is an online bank that offers free small business checking account in the US. In addition to zero monthly charges, you get your first two checkbooks for free and access to fee-free ATM transactions at MoneyPass locations nationwide. There are no minimum deposit or minimum balance requirements for your business account. For checking account balance up to $250,000, you will earn 2% interest. While many traditional banks have transaction limits or transaction fees, BlueVine imposes no transaction limits. However, you should know that first deposits after opening your account may take days.
Funds can be deposited into your Bluevine Business Checking account via cash deposits, mobile check deposits, bank transfers, or direct customer payments. Note that BlueVine does not support Zelle or other instant transfers services.
Features
Other benefits that come with BlueVine business checking are the following:
BlueVine business debit Mastercard.
Integration with business tools such as QuickBooks, PayPal, Stripe and Expensify.
Mobile banking using BlueVine app and mobile check deposit.
You can add up to 2 subaccounts, so you can manage budgets for taxes, payroll, etc.
Bill Pay features allows you to schedule recurring payments and pay with credit cards, even to vendors who don't accept credit cards.
You can get BlueVine business line of credit up to $250,000.
Fees
Monthly fee: $0
Incoming/outgoing ACH: $0
Same-day ACH: $10
Outgoing check payment: $1.50
Mobile check deposit: $0
BankProv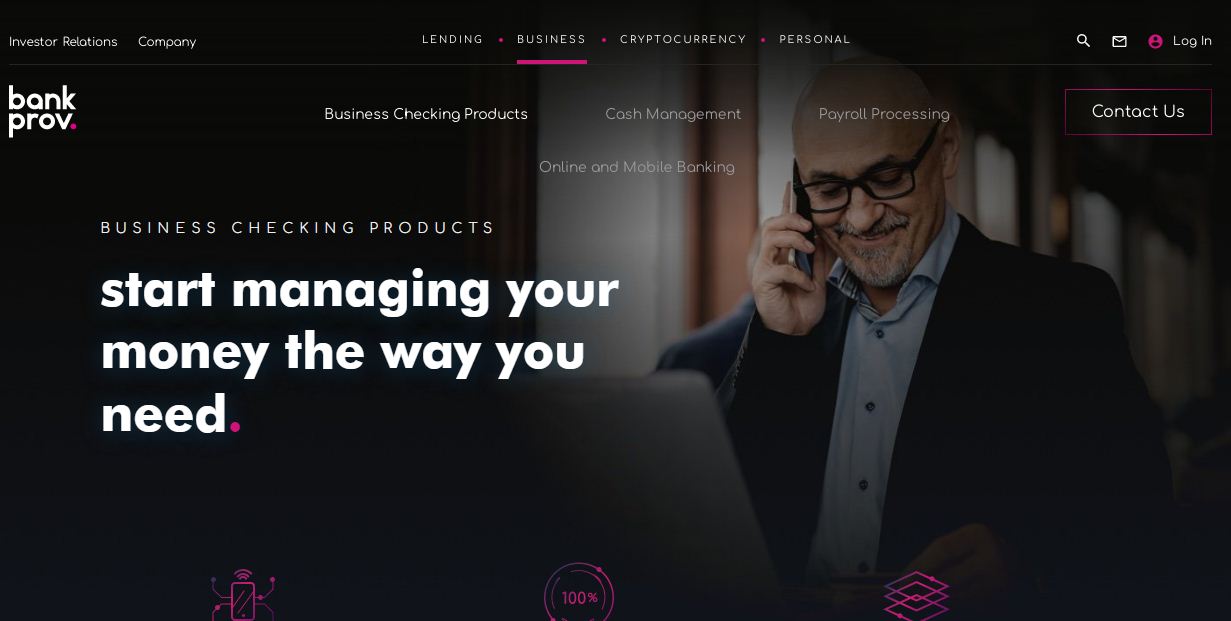 BankProv is a crypto-friendly bank that offers excellent business checking accounts for small businesses in the US. It comes with cash management features like a business credit card, remote deposit capture, bitcoin ATM support, and banking API. You can waive monthly maintenance fees for its business checking account by maintaining a minimum balance of $250,000. Customer deposits are insured by FDIC. BankProv mainly supports American residents.
Features
Key features include the following:
Cash management: Features include online banking, mobile banking, Automated Clearing House (ACH) services, domestic and international wire transfers.
Commercial lending: BankProv offers term loans to small businesses in the US with equipment purchase. Your business can also apply for short-term or seasonal working capital needs.
API: Its API allow businesses to access real-time account information, including balances, transactions, and account history. It also streamlines cash flow by automating receivables and payables management and simplifies transactions by managing counterparties and automating payments.
Remote deposit: BankProv Remote Deposit Capture (RDC) program help businesses deposit checks onsite with a check scanning machines or through the banking app.
Fees
Here are the fees you can expect from BankProv:
Monthly fee: $50 (fee will be waived if you have a balance of $250,000) / $25 (if you have a balance of $100,000)
Incoming wires: $10
Outgoing wires (Domestic): $25
Outgoing wires (International): $35
Non-BankProv ATM: $2 per transaction
Revolut Business Account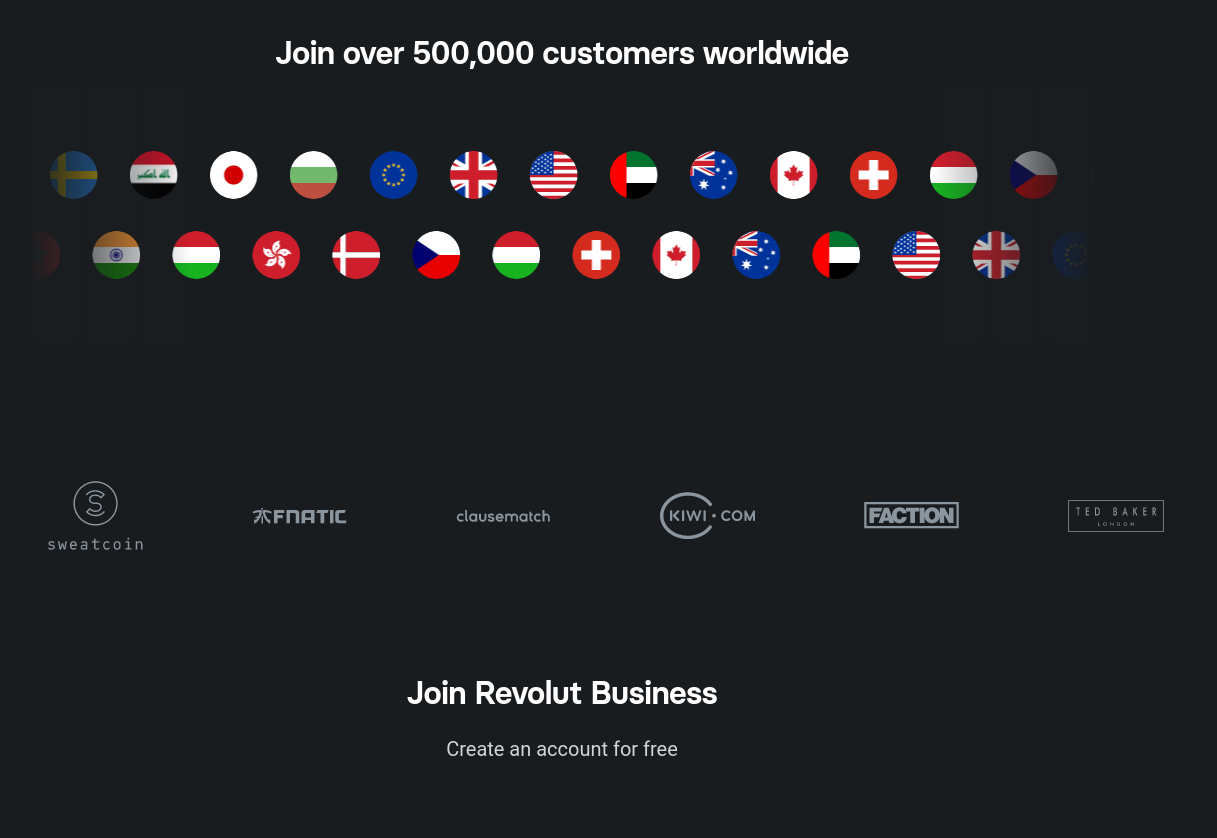 Revolut business banking offers a no-fee business account in the US that allows you to hold, receive, and exchange 28 currencies, and spend in over 150 currencies. The business account transactions can be incoming or outgoing transfers, direct debits, or payments. Revolut offers a number of no-fee services including monthly maintenance, 5 local transfers, 10 team members (to be added to the account), and transfer to another Revolut account.
Features
Key features include:
Multicurrency account with local account details in USD and GBP.
Plastic and virtual cards for your team members, with individual limits and spending set by you.
Connect with everyday apps and accounting software such as Zapier, QuickBooks, Slack, Xero, Sage, etc.
Revolut Payment Gateway allows you to accept payments directly from your website.
Revolut API allows your company's own applications to your Revolut Business account.
Fees
Basic plan: $0
Grow plan: $30/month
Scale plan: $119/month
Wise Business Account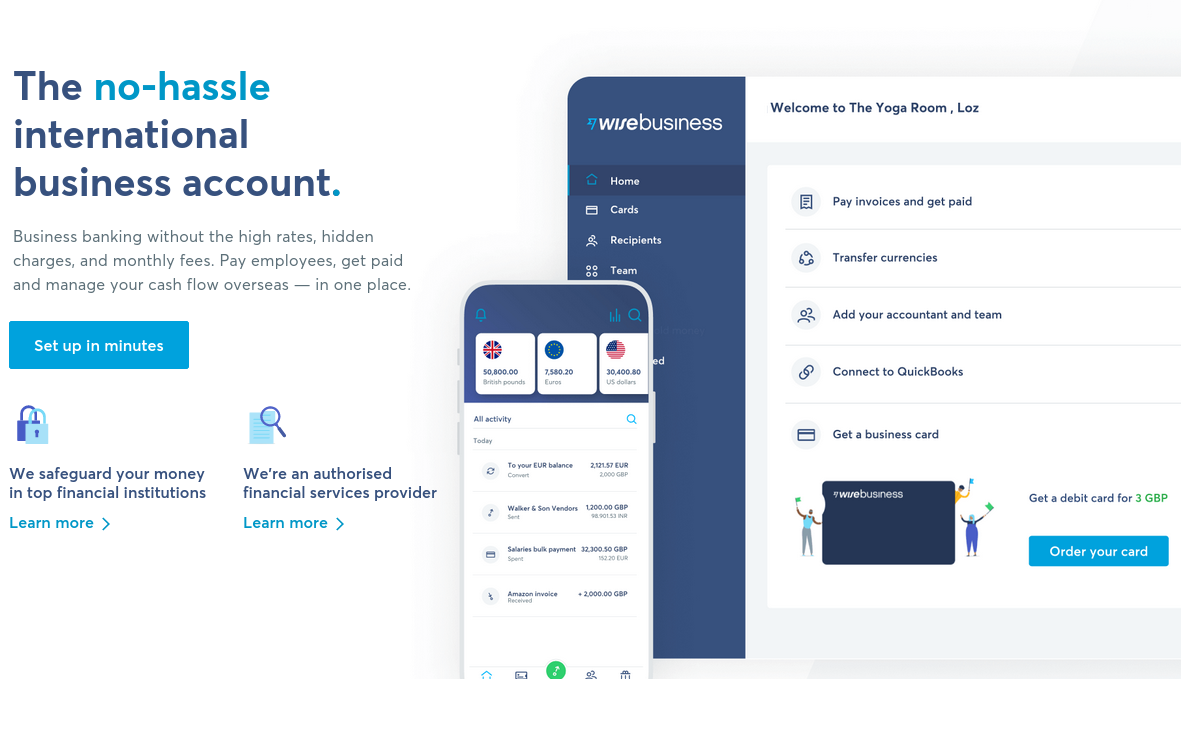 Formerly TransferWise, Wise business banking offers business banking with no monthly fee in the US. It is one of the best business bank accounts for ecommerce. Wise offers cheap and fast money transfers with no hidden fees. Your first Wise business debit card is also free. The business account is a multi-currency account that enables you to hold and receive more than 55 currencies.
You cannot use your Wise business account to receive payments via Zelle.
Features
Other notable features include:
The ability to invoice customers, make batch payments, and QuickBooks and Xero integration.
Wise for e-Commerce Businesses allows you to withdraw money from platforms like eBay, Shopify, Amazon and Stripe
You can pay international invoices, vendors, and employees in over 80 countries and in over 50 different currencies with the real exchange rate. It's cheaper than traditional banks or even PayPal.
You can get local bank details for 10 different currencies, so you get paid on time and for free like a local. US, UK, Euro and Australian dollar accounts support direct debits to pay your taxes or bills abroad.
Fees
Account set up: $31
Monthly fee: $0
Hold 40+ currencies in your account: $0
Wise debit card: $5
Money transfer: from 0.43% (varies by currency)
NBKC Business Checking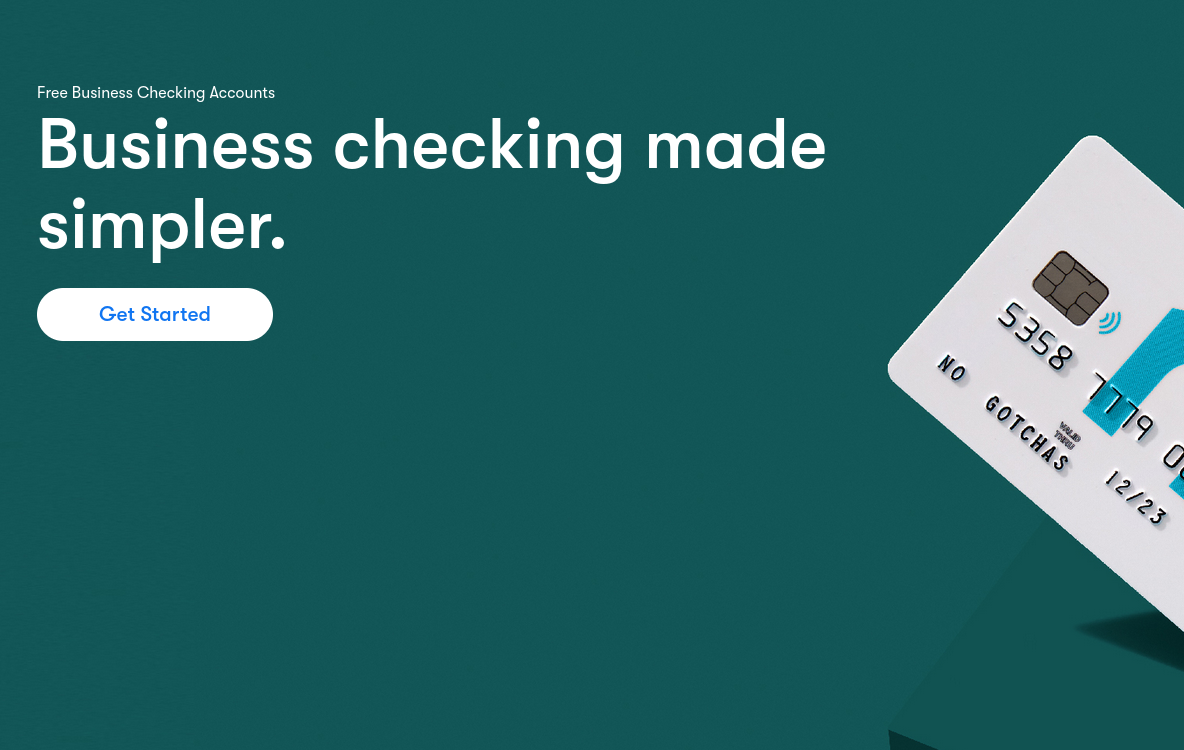 NBKC business checking account in the US offers a wide variety of features freely. You do not need a minimum deposit when opening an account. The account does not charge transaction fees, overdrafts, online banking, eStatements, or check deposits. Charges that apply to include $5 for domestic wires and $45 for international wires.
NBKC is not currently on the Zelle Network. So if your business relies on Zelle payments, this would not be your best option.
Features
Other beneficial features and products include the following:
You can access the NBKC business account services through your NBKC mobile banking app or MoneyPass ATM for free.
You will receive up to $12 in refund monthly for using ATMs from other banks.
You will get a free NBKC business debit MasterCard.
The bank offers no minimum opening deposit Money Market business accounts.
Online small business loans from $25,000 to $75,000.
Here are NBKC business checking requirements.
Fees
Account opening: $0
Monthly fees: $0
Outgoing domestic wire transfers: $5
Debit card: $0
Overdraft: $0
Incoming/outgoing international wire transfers: $45
Novo Business Checking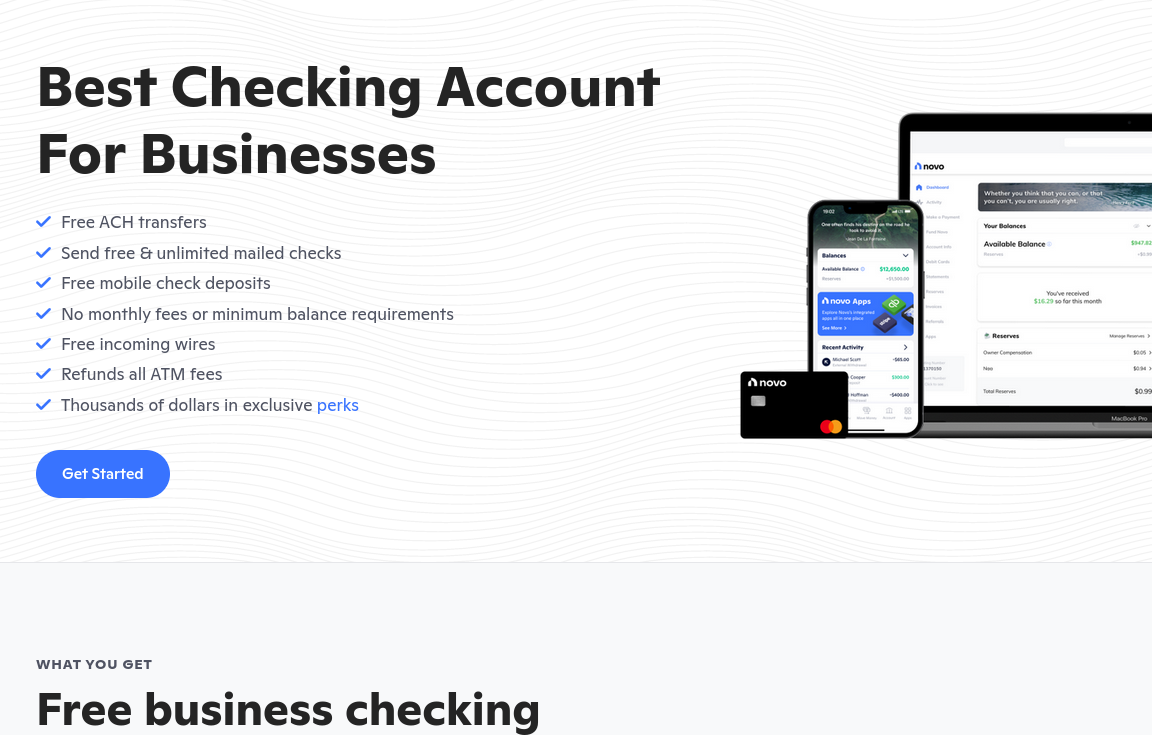 Novo is a US fintech that offers free business checking for a variety of small businesses including freelancers, entrepreneurs, and ecommerce businesses. Novo's account has no monthly fees, no minimum balance requirements, and no fees for common banking transactions, such as bill pay, ACH transfers, and wire transfers. You can also use the Novo Reserves feature to set aside money for taxes and other expenses.
Once you have set up a Novo account, you can use the Novo app for Android and iOS to make payments, send and receive money, and manage your business finances. To activate the account, you will need to make a $50 deposit.
Novo does not currently support Zelle, but it does integrate with Stripe, Amazon, Shopify, PayPal, and Square.
Features
Benefits of opening Novo business banking include:
When you open a Novo account, you get a Novo business MasterCard, which you can integrate with Google Pay and Apple Pay.
You get a bonus of $25 when you open Novo business checking account.
Refunds for all ATM fees.
Account integration with business tools and apps such as Xero, Stripe, eBay, QuickBooks, PayPal, Shopify, Etsy, etc.
In order to make your international business banking pain-free, Novo has partnered with Wise for a cheaper, faster way to send money abroad.
Fees
Monthly fees: $0
Account opening: $50
ACH Fee: $0
Wire transfer: $0
ATM fees: Fully refunded
Insufficient funds: $27
Uncollected funds returned: $27
Axos Business Checking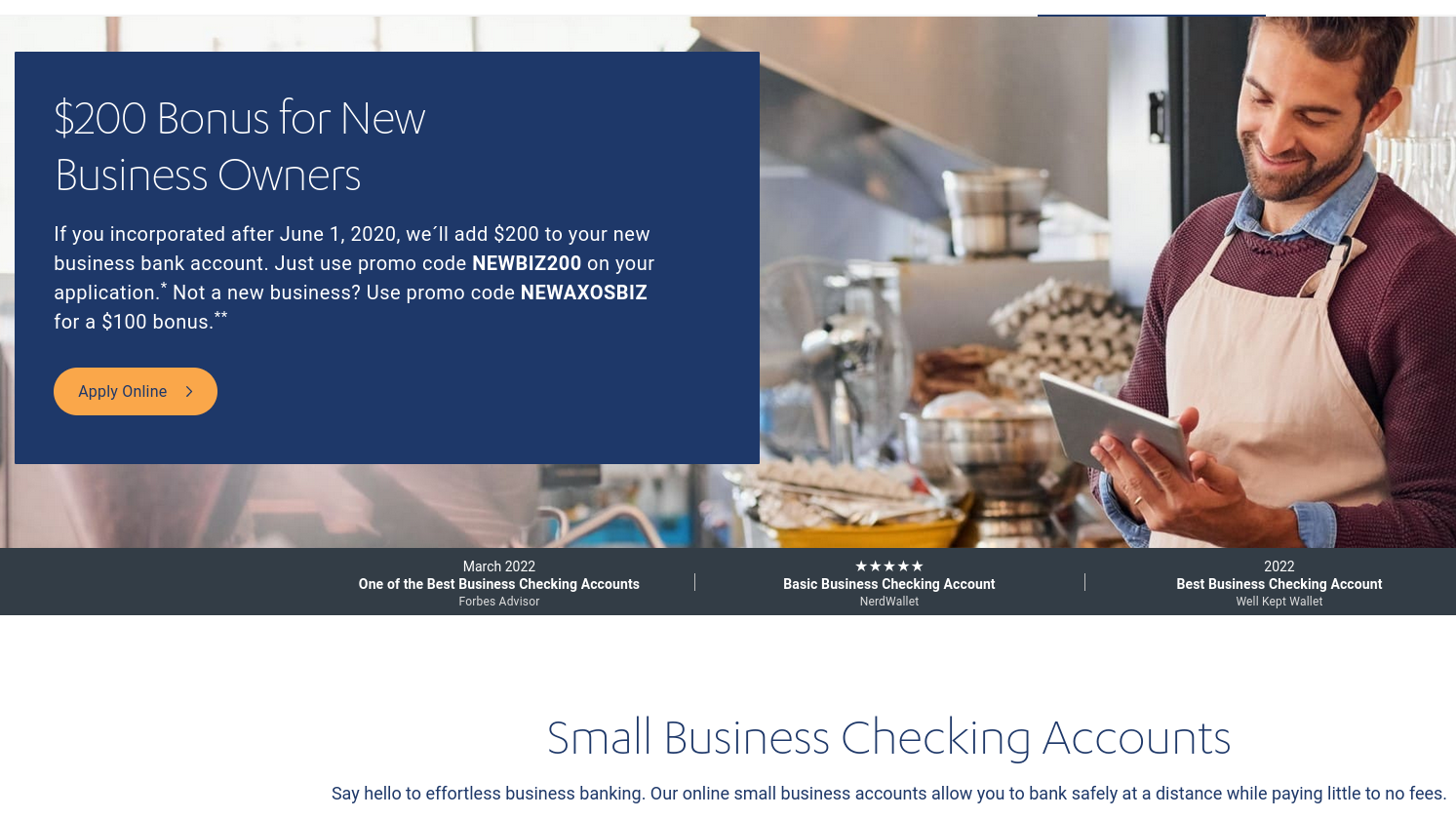 Axos Business Checking is a free online business bank account that offers services to small businesses in the United States. It has a $0 minimum deposit requirement and does not charge a monthly fee. To open the account, you need to make a minimum opening deposit of $1,000. The account offers 200 free transactions every month with unlimited domestic ATM fee reimbursements and first set of 50 checks are free.
At the moment, Axos Bank does not support Zelle. If you need to send or receive money with someone who uses Zelle, you can use a different money transfer service, such as Venmo, Cash App, or PayPal.
Features
Other benefits and features of Axos business banking are:
New business owners get a $200 welcome bonus.
Axos mobile app allows you to view account balances, deposit checks, automate your bills, etc.
Workplace Banking feature offers low-fee accounts for your employees.
Earn up to 0.81% APY and pay no monthly maintenance fee with an average daily balance of at least $5,000.
Axos business checking is compatible with QuickBooks.
Fees
Monthly fees: $0
Business interest-bearing checking account: $10
ATM fees: $0.50 (after exhausting 100 free transactions per month)
Business Money Market account: $10/month
Find the Best Free Business Checking Account for Your Small Business
Opening a free business checking account in the US is a great way to save money on banking fees, especially if you're a small business owner. As stated above, a business checking account is an essential part of your business. For instance, if you wish to apply for a business loan; you will need to open a business account. It is important to note that even those accounts known as free bank accounts are not entirely free.
The majority of people recommend small businesses to open accounts with local credit unions because they offer a number of benefits over traditional banks, such as lower fees, better customer service, and a more personalized approach to banking. However, in most cases, you will need to have your LLC based in the state you are in and registered with the secretary of state in order to open an account with a local credit union. They may also have slower wire transfer processing times, daily transaction caps, and limited Zelle integration or mobile app functionality.
Apart from low or no fees, consider banks that offer online invoicing, expense tracking, and tax preparation tools to streamline your business operations. Carefully compare fees, services, and online reviews to identify the best financial institution for your specific business requirements.
More Information