Ecommerce has become an indispensable part of our lives, making life convenient in many aspects. If you are running an eCommerce store, you will need an eCommerce banking solution so you can keep track and manage your finances.
A good ecommerce bank needs to have excellent online banking capabilities. Some of the banking features to consider when choosing a banking solution for your eCommerce business include multocurrency accounts, mobile deposits, fraud alerts, digital bill pay, and more. We will show you e-commerce banking solutions for your ecommerce business.
Best Banks for Ecommerce Business
Juni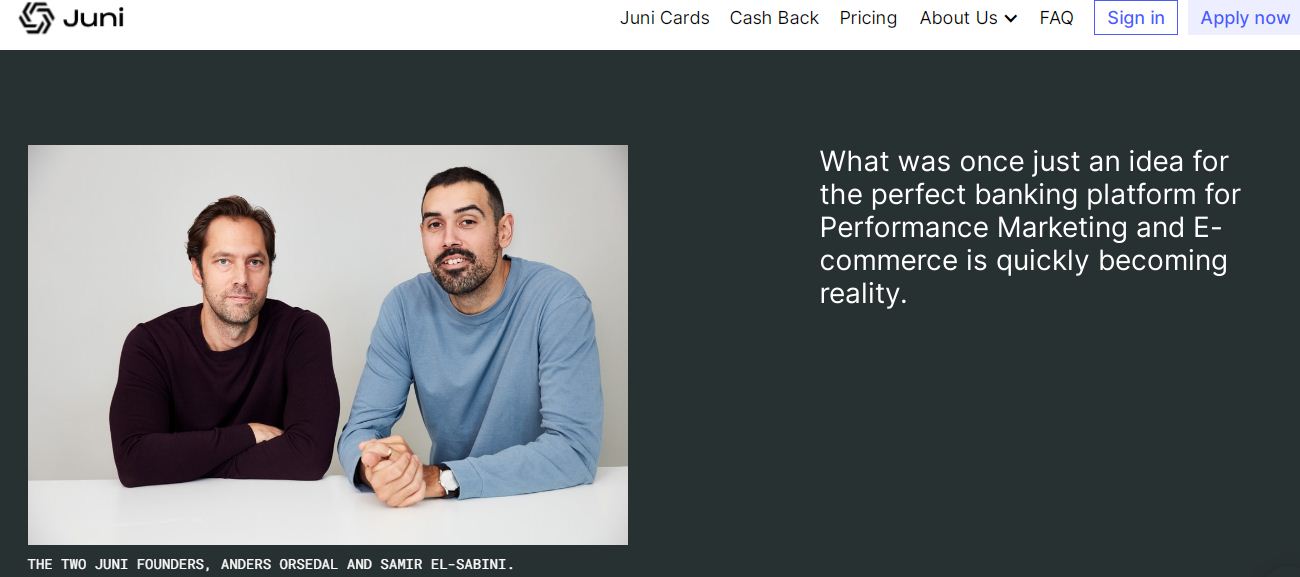 Juni is a Swedish fintech company founded in 2020. Planning to be the leading fintech for ecommerce, Juni supports LLCs, PLCs, and LTDs located within UK, EU and Norway. It offers a banking app and platform for eCommerce and online marketing entrepreneurs. Juni's services and products include the Juni physical card in GBP and virtual card in GBP/EUR/USD, IBAN Accounts, SWIFT Transfer, SEPA and Faster Payment Transfers, and free ATM withdrawals.
Juni Fees
Juni is an affordable digital banking platform that keeps its fees to an absolute minimum. The platform provides most of its services for free. However, you can expect the following fees:
Wise (formerly TransferWise)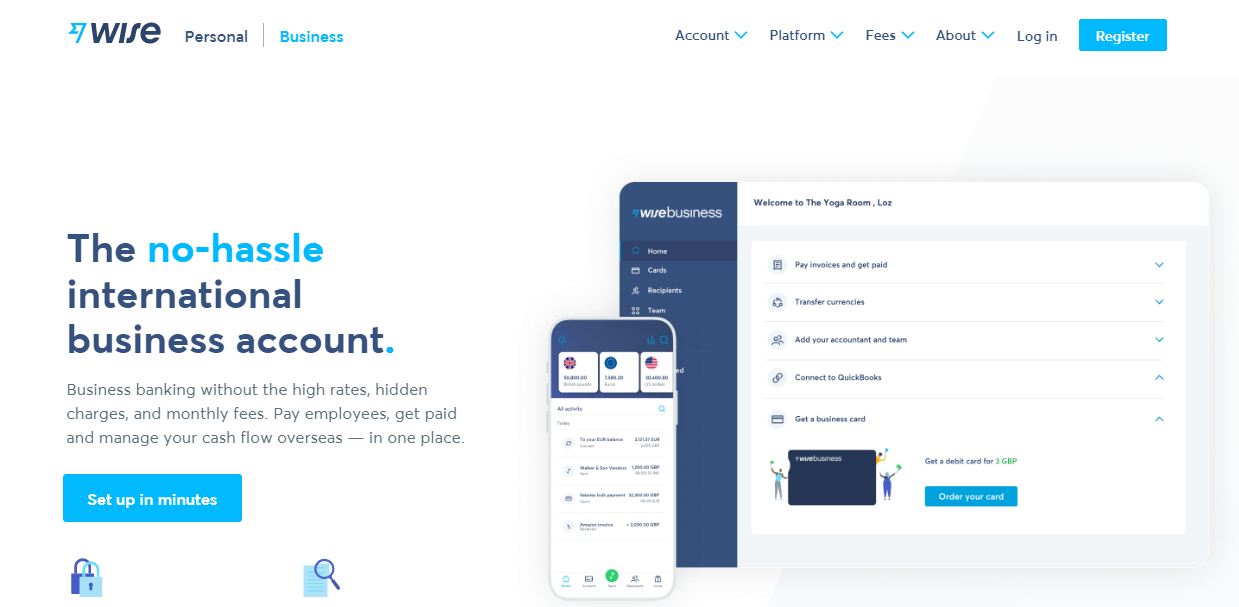 Wise is one of the best online bank for ecommerce businesses in the UK, Switzerland, the U.S., EAA, Australia, New Zealand, and Canada. The company has a powerful open API that businesses can use to manage finances, automate payments, and connect business tools such as Xero and QuickBooks.
You can also pay international invoices, vendors, and employees in over 80 countries and in more than 50 different currencies with the real exchange rate. Wise for eCommerce businesses allows you to withdraw money from platforms like Amazon, eBay, Stripe, and Shopify.
It's good to know that Wise offers business banking services without hidden charges, account opening fees, and zero monthly fees. However, you will pay a small one-time setup fee to get your own international bank details.
Wise Fees
Wise usually shares their fees upfront. Clients will never receive less money that what they expect. Some of the fees are to expect include the following:
Account opening: Free
First Wise Debit MasterCard: Free
Card Replacement: £3
Monthly fees: None
International account details: A one-time fee of £16
Mercury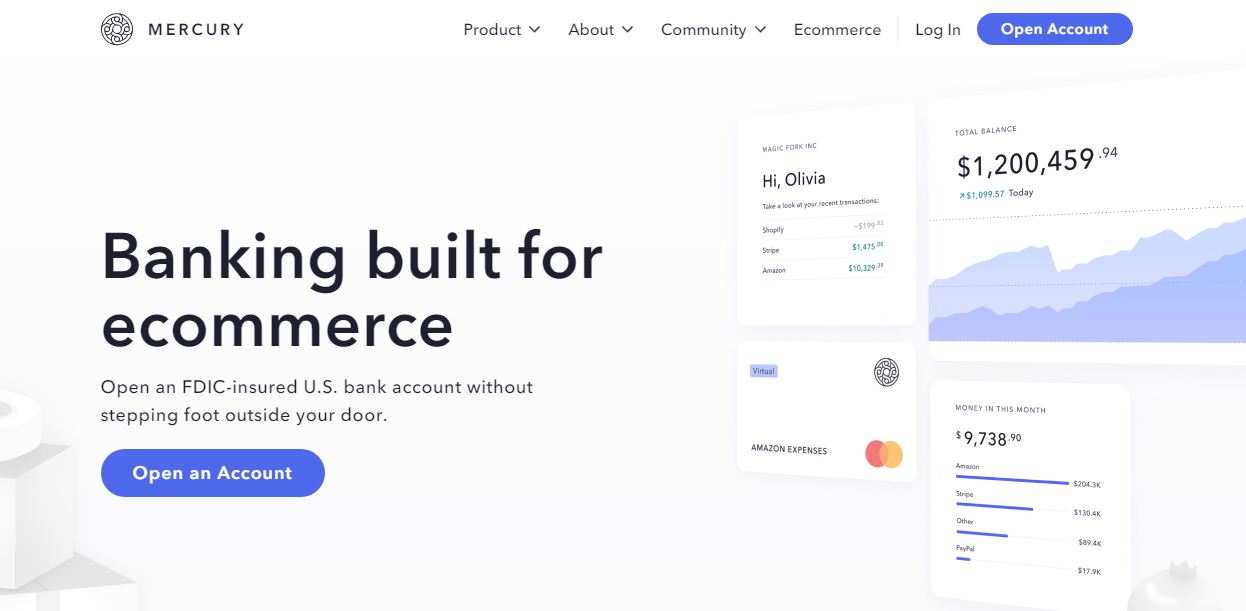 Mercury is a US bank which provides ecommerce business checking account. It offers [non-residents accounts](https://fififinance.com/bank-accounts/non-resident-account), meaning you can register your account from anywhere in the world. However, Mercury cannot open accounts for founders living in Belarus, South Sudan, Yemen, Zimbabwe, Cuba, Central African Republic, Congo, Iran, Somalia, Nicaragua, Congo, Iraq, Lebanon, Democratic Republic of Congo, Liberia, Venezuela, Syria, North Korea, Sudan, Burundi, and Libya.
Mercury offers checking accounts, cards, savings accounts, and payment services. Its platform connects to payment processors such as Amazon, Stripe, Square, PayPal, Shopify, and many other payment processors in the U.S. If you want to integrate with these services, take your Mercury account and routing number and add it as a payment account on the processor's site.
How Mercury Banking Works
The Mercury banking platform offers both a business checking account and a business savings account. Mercury's banking services are provided by the Evolve Bank & Trust, and the accounts are insured up to $250, 000 by the Federal Deposit Insurance Corp. If your business holds more than $250, 000 in its account, you can upgrade to the Mercury Tea Room where you'll access free domestic wires, partner rewards on business software, and you'll also be eligible for the Mercury Treasury automated cash management account.
Mercury Bank Fees
Mercury offers most of its services free of charge. It has no account opening fees, no account minimums, no overdraft fees, no wire fees, and no monthly fees. However, it serves fees for specific advanced features such as treasury management and mass payments on their API.

Novo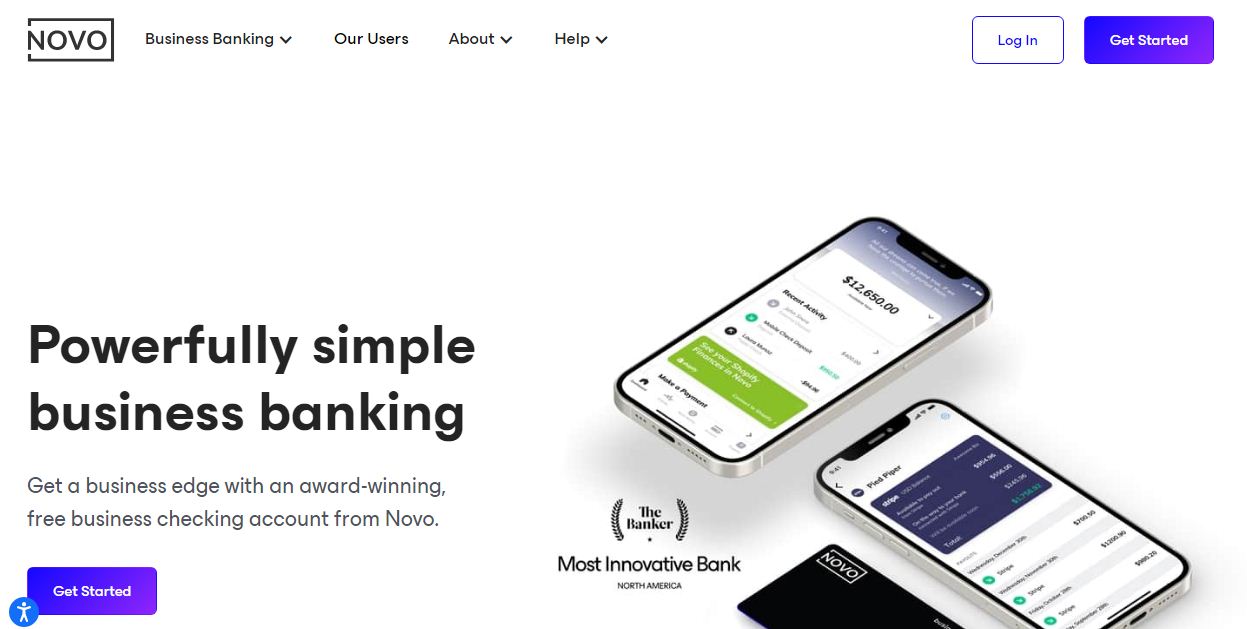 Novo is a bank that offers free ecommerce business checking account for freelancers, small business owners, and entrepreneurs whose businesses operate in the U.S. Supported businesses include sole proprietorship, partnerships, LLCs, corporations, and nonprofit organizations. As a Novo bank client, you can manage your account through online banking on your computer or through the Novo mobile app for Android and iPhone.
All of Novo's features including unlimited transactions, a Mastercard debit card, transaction alerts, and ATM refunds are entirely free. Additionally, Novo integrates with popular online tools such as Shopify, Stripe, Xero accounting, and QuickBooks. Novo also offers Novo Reserves, a way to set aside money for specific purposes, such as taxes. You can create up to five Reserves for your financial goals. Novo is safe to use as its deposit accounts are FDIC insured through its bank partner, Middlesex Federal Savings, F.A.
How Novo Works
Novo offers the small business checking account that handles most transactions for online business owners. You can deposit into the account via ACH, international or domestic wire transfer, or with mobile check deposits on your smartphone. Also, you can withdraw or send money via ACH or send paper check by mail with the mobile app.
Novo Fees
Novo bank charges nearly no fees for its services. The only fees you should expect are the following:
Account opening: $50 to unlock all the account features
Insufficient funds charge: $27
Uncollected Funds Returned fee: $27

YAN Bank

[YAN Bank](https://yanbank.co.uk/) is a digital UK startup aiming to become the world's first eCommerce bank. YAN aims to serve customers in the United Kingdom, particularly the digital savvy millennials. YAN Bank's offerings include savings accounts, business accounts, current accounts, credit cards, insurance, loans, money transfer services, and crypto banking. YAN Bank has a super app which customers use to pay bills, buy a birthday gift, receive salary, exchange currency, hail a taxi, order a takeout, and update travel insurance. Also, YAN Bank has an eCommerce section; the YAN.Market platform where sellers display their products and services for sale. On the same platform, buyers are able to search for products and place orders for purchase.
YAN Bank Fees
YAN Bank will make money the same way Amazon and eBay make revenue. Its revenue comes from the companies which join its marketplace and feature their products. YAN also makes money from the fees it imposes on its core banking offering and financial products.
NorthOne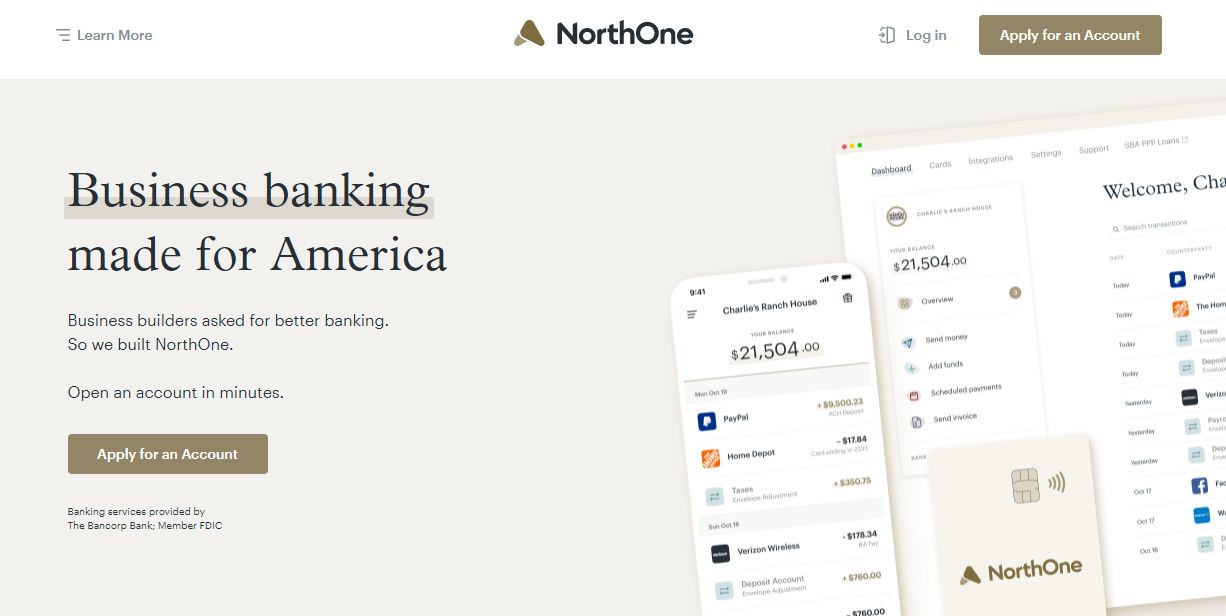 NorthOne mobile ecommerce banking solution helps you do everything through its mobile web portal or mobile app. NorthOne supports U.S citizens or legal residents living in one of the 50 U.S. states or Washington D.C. You can send ACH or wire payments, create and send invoices, deposit checks with your phone's camera, and handle money management with the Envelopes feature. NorthOne integrates seamlessly with a variety of other software. This includes payment processors like Stripe and PayPal, accounting tools like QuickBooks, and other eCommerce platforms such as Amazon, Etsy, and Shopify.
NorthOne Fees
NorthOne's pricing is simple. You can expect the following:
Monthly fees: $10
Minimum opening deposit requirement: $50
Transactions: Unlimited fee-free transactions
Domestic Wire transfers (sending or receiving): $15

Other eCommerce Banking Solutions
There are many banks that offer the best ecommerce bank accounts on the market. Apart from the ones mentioned above, the following also offer bank account for ecommerce business:
Choosing the Best Ecommerce Bank Accounts
If you are running an ecommerce business, it is best to find the best possible payment solution and a bank for ecommerce in order to receive and send funds smoothly. Without streamlined ecommerce banking and payment solutions in place, your business is bound to fail.
The best banks for ecommerce businesses offer a variety of features and benefits that can help your businesses grow, including competitive rates and fees, multicurrency support, fast payouts, integrations with ecommerce platforms, and reliable customer support.