What is Juni? Juni is online financial solution for e-commerce and online marketing entrepreneurs. Juni account offers excellent features like multiple virtual cards with a cashback, invoice and account statement matching, cash flow and liquidity management features.
Juni was founded in 2020 by Anders Orsedal, Samir El-Sabini and Jonathan Sanders. It has its headquarters Sweden.
What's Special About Juni Account
You choose your own daily and monthly spend limits.
You choose currency of your choice with IBAN (EUR, GBP and USD) and avoid paying currency conversion fees.
Get multiple amounts of virtual cards.
Track your funds in all your accounts, ad networks and payment gateways in one dashboard.
How to Open Juni Account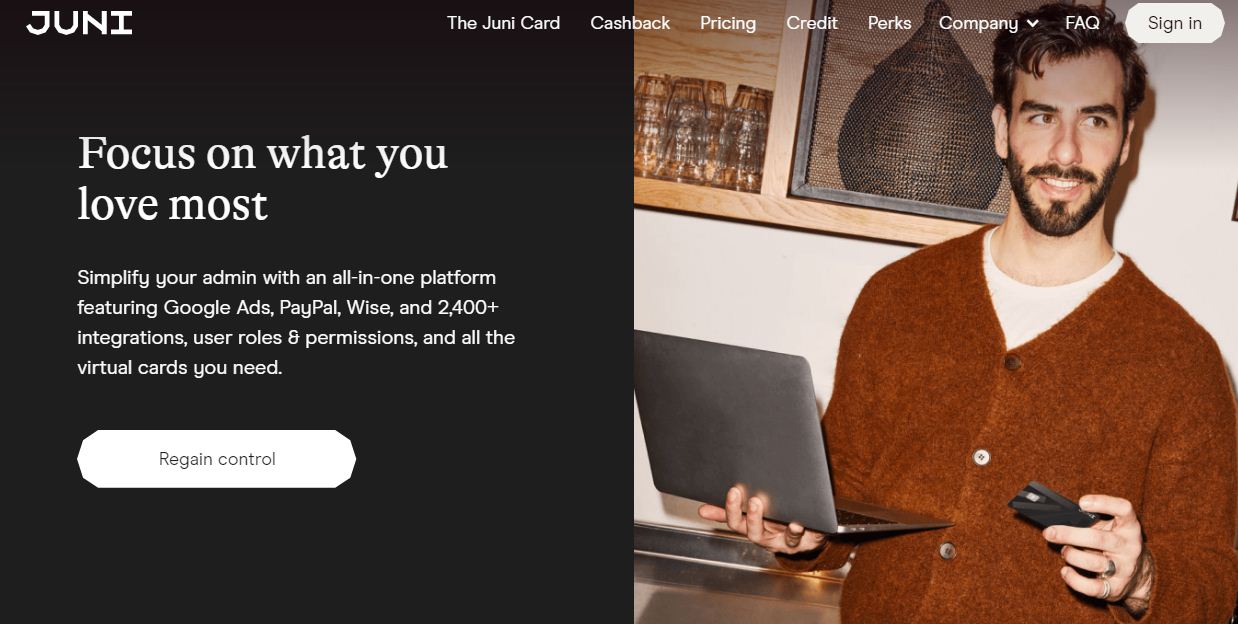 If your business is registered in supported countries, you can join Juni. It is completely free to open an account and order a card. Business that qualify to open Juni account are LLCs, LTDs, PLCs, BV, AB, and EEOD located with the UK, EU and Norway. You can sign up with Gmail or any other email address you have. You also need to verify your company.
Juni Features
Juni boasts to be a financial companion for digital businesses in the eCommerce and digital marketing niches. Juni offers its customers the following features:
Juni Card for Online Advertising
Juni offers virtual cards with 1% cashback on all your eligible spending. You can set your daily and monthly spend limits for the card. Juni cards are available in EUR, GBP and USD. Also, Juni has physical cards available in GBP, other currencies will be available later on.
With Juni card, you can avoid losing tons for revenue caused by issues with credit cards. For instance, having different currencies on your card and and account can be a serious issue. Also, many cards get frozen for no reason and banks set spend limits that can affect your business when you want to scale up your limit.
Juni card review: 1% Cashback on all your eligible spend, your choice of daily and monthly spend limits, your choice of currency (EUR, GBP and USD), and as many virtual cards as you need.
Juni IBAN Accounts in EUR and GBP
Juni offers IBAN accounts in EUR and GBP that enables one to avoid fees when paid in the right currency. Their EUR IBAN accounts are registered in Estonia, GBP in the United Kingdom and USD in the United States.
Juni does not support checks or cash deposits.
Juni Account Managers
Juni gives you a team of dedicated managers you can reach at any time. These account managers can help you with your business needs and accelerate your business operations.
Juni Integrations
Juni allows you to easily track your Return on Ad Spend on Juni's dashboard. You can easily integrate Juni with a wide variety of services like Google AdSense, Stripe, Revolut, Facebook, Shopify and PayPal. You can easily track your Return on Investment across your entire business. You also get access to financial updates to your email or Slack.
User Roles and Permissions Feature
This is a new feature launched in January 2022 to improve teamwork. From your Juni dashboard, as a primary user, you will be able to grant your team custom access to Juni while retaining control. Four roles are available at the moment: Owner, Admin, Buyer – Cards Only, and Accountant.
Owner
Full access and permissions, including deleting other team members.
You can add new team members, assign them permissions, view the accounts and cards of all team members, make payments and transfers, and add, edit, and remove integrations.
If you are the first person to set up Juni account, then the Owner role is assigned to you by default. There can be only one Owner.
Admin
Full access and permissions like the Owner, except you cannot delete the Owner user.
Generally reserved for senior team members, such as company owners or leaders.
Buyer (Cards Only)
You will have access to one or more assigned cards which you can spend on.
You will solely have access to view transactions made with the card(s) assigned to you. You will not have access to a detailed view of accounts or other cards, nor can you create cards or accounts, transfer funds, or manage the organisation or integrations.
Ideal for employees in charge of media buying or stock buying.
Accountant
The Accountant can view all transactions and accounts but cannot use or create cards and accounts, view card details, make any payments or transfers, or manage the organisation and integrations. However, you can export transactions and accounts data and upload invoices and receipts to transactions.
Ideal for both internal and external roles.
Juni Features Currently under Development
Juni is still in the process of developing other features. The following are the features that Juni is currently developing.
Ability to Fetch Invoices
You can easily fetch invoices from Facebook Ads, Google ads and your Gmail. Juni can then match them with your statements.
Ability to Share Financial Data with your Team
Soon, Juni will help you get detailed and customized reports of your financial data. You will be in a position to share your growth rate and revenue with stakeholders and team members. Also, you will be in a position to generate detailed accounting reports for your accountant.
Improve Liquidity
You can scale your winning campaign and increase your cash flow liquidity. Cashflow management can become an issue and it can take much of your time as you wait to get paid. You will not have to wait for long to get payments for platforms like Stripe, PayPal and Braintree once this feature has been developed.
Juni Pricing
Juni has eliminated as many fees as possible. Most of their services currently are free apart from SWIFT payments and some other fees charged by Juni card provider and partner banks. Transacting using your card using the same currency is free. To use different currencies, your card will be charged a fee of between 0.24% and 3.69% in FX fees.
Juni Supported Countries
Currently, Juni accepts applications from companies within the EU, Norway and UK. It hopes to expand into other markets soon.
Is Juni Safe?
Juni Technology AB is a Swedish Limited Company. Juni card is regulated by the Financial Conduct Authority (FCA) in the UK and the Bank of Lithuania. Juni account funds are not covered by the EU Deposit Guarantee Scheme, Financial Services Compensation Scheme (FSCS) or Federal Deposit Insurance Corporation (FDIC). EUR, SEK and USD funds are safeguarded in Luxembourg with their banking partner, BankingCircle. Your UK funds are safeguarded in the UK with their other banking partner Railsbank. Juni's IBANs are provided by their partner RailsBank, which is regulated by the FCA.
Juni does not operate as a bank. We don't lend out your money or make investments with it. The money you deposit with Juni is kept in safeguarded accounts with the Bank of Lithuania (EUR) and the Bank of England (GBP). The funds are only used when you execute payment transactions (using the Juni card or making bank transfers). The money we use for our business operations is kept completely separate from the money you have deposited into your account. If Juni would go bankrupt or become insolvent, your money will be returned to you in full.
Juni Alternatives
Other banks or fintechs that offer ecommerce banking features include:
Summary on Juni.co Reviews
If you are a digital entrepreneur and you have a business-related to dropshipping, eCommerce, or marketing, you can sign up for an account with Juni. Juni ecommerce account will get access to Juni cards for online advertising, while you can also open IBAN accounts in EUR and GBP, and USD in the US. You will also get cash flow and liquidity management features as well as invoice and bank statement matching.