Revolut is an alternative to traditional bank accounts. It offers multi-currency accounts in 28 currencies, Revolut personal accounts, Revolut Junior Accounts and Revolut business accounts with IBAN, virtual cards, crypto trading, stock trading, and money transfer services.
Revolut Bank Benefits
Ability to engage in stock and crypto trading with your Revolut accoun. Crypto trading is not supported in the US.
Revolut supports card payments and ATM withdrawals in over 140 currencies wherever Mastercard and Visa are accepted.
Revolut multicurrency account allows you to receive, hold and exchange money in over 30 currencies with no hidden fees.
Revolut offers IBAN number and supports SEPA.
Revolut payment gateways allows you to receive payments online.
How to Open Revolut Account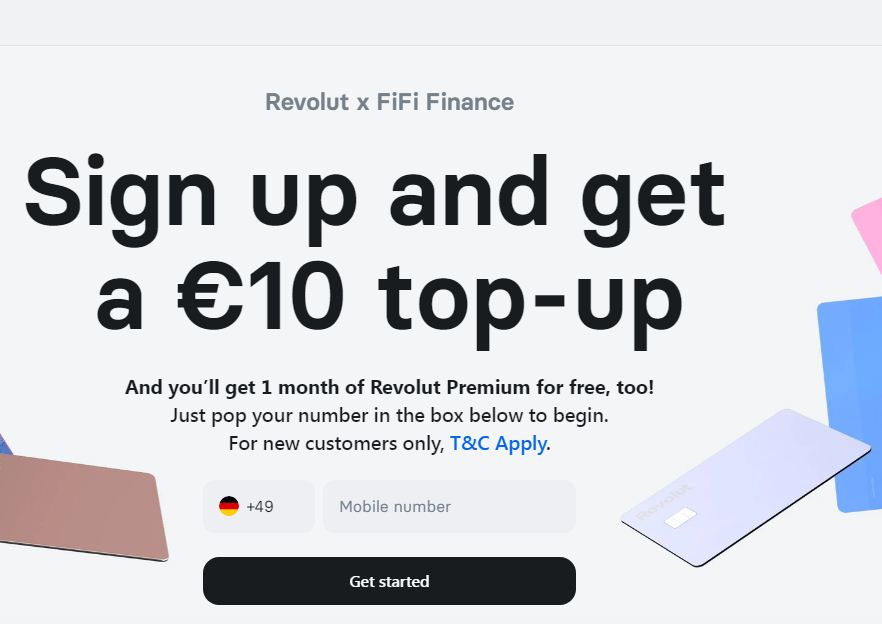 To open your Revolut account, you need to download the Revolut app for Android or iOS. Simply, provide your number of Revolut website then you will receive a message with a download link. You will then need to provide basic personal details such as your name, birth date, address, and email. You will have to make an initial deposit via a bank transfer or card. For verification, you need to provide a selfie and a picture of your passport.
Once your Revolut account is set up, you can access Revolut services either through Revolut app or with a payment card. Revolut is an example of a free and instant virtual bank account.
A good alternative to Revolut is an N26 account, which offers many of the same services.
How to Top Up Revolut Account
There are several ways that you can use to top up your Revolut account. Among them is bank transfer and via your salary. Apart from a bank transfer, it is also possible to top up your account automatically. The account has an option of topping up from Google Play and Apple Pay. The Apple Pay option is currently available in 35 countries. Revolut is planning to expand the Apple Pay option to other countries such as New Zealand, Japan and Australia.
Revolut Germany: Revolut introduced Open Banking for German users in November 2020 to allow them to connect their accounts held at other banks such as Deutsche Bank, ING-DiBa, Comdirect, Commerzbank, and Sparkasse with the Revolut App and view all their transactions.
Revolut Supported Countries
You can sign up for Revolut Account in any of the following countries; Austria, Belgium, Bulgaria, Croatia, Republic of Cyprus, Czech Republic, Denmark, Estonia, Finland, France, Germany, Greece, Hungary, Iceland, Ireland, Italy, Latvia, Liechtenstein, Lithuania, Luxembourg, Malta, Netherlands, Norway, Poland, Portugal, Romania, Slovakia, Slovenia, Spain, Sweden, and the United Kingdom.
Revolut has also recently introduced its services in Australia, the US and Singapore.
In January 2022, Revolut launched Revolut Bank in 10 European markets. Therefore, customers in Belgium, Denmark, Finland, Germany, Iceland, Lichtenstein, Luxembourg, Netherlands, Spain, Sweden who upgrade to Revolut Bank for additional services will now have their deposits protected under the deposit guarantee scheme.
Revolut Products
Revolut Ltd offers many products and features to its account holders. You can see all of them on your Revolut dashboard. Some of the services and products you can enjoy as a Revolut customer include the following.
Cryptocurrency Trading on Revolut
With the Revolut app, you can buy cryptocurrencies such as Bitcoin and Ethereum in which you can exchange in over 25 currencies inside the Revolut app. You can also transfer them to an external wallet and receive cryptocurrency sent by another Revolut user. However, you cannot deposit crypto from an external wallet.
Many people wonder whether Revolut is crypto friendly. Yes, Revolut is a crypto friendly bank so you can buy crypto with a bank account and exchange cryptocurrencies such as Bitcoin, Litecoin, Ethereum, Bitcoin Cash, and Ripple. You can also access the exchange rates of these digital currencies.
Revolut does not include hidden fees when buying and selling cryptocurrencies. Revolut crypto fees is 2.5% for Standard users and 1.5% for Premium and Metal users. You can buy cryptocurrencies using the Revolut application. You do not need to wait for days waiting for approval of your account since opening Revolut account is usually instant. The fees are low when buying small amounts, but if you want to get bigger exposure to Bitcoin, it's much better to go through an exchange like Kraken and take care of the custody yourself. Revolut does offer the possibility to round up payments and buy bitcoin with the difference, which is a nice way to gain exposure to Bitcoin.
There's a feature that allows you to turn your fiat card into a Revolut crypto card. You need to use the app to link a Revolut card to any of your cryptocurrency accounts. This can be done with an existing card or by ordering a new one. When you use this card to make a payment, Revolut will automatically convert your cryptocurrency to the purchase currency.
It's also good to note that Revolut is likely to block your account if you use it to send money to or from an exchange. This is probably caused by their high focus on growth, which leads them to drop customers that are a bit out of the ordinary AML/KYC risk profile.
Revolut Business Account for Crypto: With Revolut crypto account for business, you can buy, hold, and sell crypto straight from your Revolut Business account.
<3>How to Withdraw Crypto From Revolut
To withdraw crypto out of Revolut, go to the 'Crypto' section of the Revolut app. Then tap 'Send' within the three dots, or tap 'Send' within the desired cryptocurrency and then select 'Wallets' to bring up your crypto address list. If 'Wallets' doesn't appear, this is because you're ineligible for withdrawals, either by the currency selected or your location. There are daily and monthly limits. These limits will be shown to you in the app when you try to withdraw.
<3>Revolut Cryptocurrency Fees
Revolut crypto fees are made up of a network fee, paid to blockchain miners and also a service fee paid to Revolut to process the transaction. The minimum amount you can withdraw is displayed in-app, before fees are applied.There's no fee for transferring crypto from your Revolut account to another Revolut account.
Revolut Business
Revolut also offers business accounts. You can open Revolut corporate account or Revolut freelancer account. Each of the two Revolut Business accounts comes with different costs. These fees are billed monthly from your business account or linked account balance.
Unlike with N26 it's OK to open both a personal as well as a business account with Revolut.
Revolut Stock Trading
As a Revolut user you can engage in stock trading and shares of over 8,000 companies. Since January 2022, Revolut users in the US are also allowed to trade in stock such as shares on the New York Stock Exchange and Nasdaq. They can also have access to 200 ETFs and fractional shares and other order types such as stop-limit orders.
Revolut Money Transfer
Sending money to other countries using Revolut is ten times cheaper compared to banks. One of the features of Revolut is to send money abroad. Revolut is a fast and secure way of sending money abroad. You can send money in over 130 countries free of charge using the real exchange rate. Banks tend to charge substantial transfer prices since they are after making a profit. Revolut uses exchange rates that are applied by banks as Interbank Exchange Rate to trade among themselves. At the moment, sending money to a bank account in Mexico from the US is completely free.
The number of free international money transfers decreased from February 13, 2023. They are now as follows:
Standard Accounts: 1 free international transfer per month
Premium Accounts: 3 free international transfers per month
Metal Accounts: 5 free international transfers per month
Premium Accounts: fee-free on the first $10K a month
Exchanging and transferring currencies using the Revolut application is free. The transfer takes around two working days. In case you want to speed up the transfer speed, you can upgrade your account to a turbo transfer. It is free for holders of the premium account while the standards account holders are charged 5 EUR.
To transfer money, all you need is to choose the recipient and the amount of money that you wish to send. It is also possible to set up a recurring payment using different currencies. You don't need to send bank details to make a transfer since you do it by just tapping a button.
Revolut Payment Gateway
If you are a business account holders, Revolut offers a payment gateway to enable you to accept payments directly from your website. To maximise your business reach, Revolut supports integration with WooCommerce PrestaShop, Magento, OpenCard, BigCommerce, etc.
Revolut Fees
Revolut has introduced new fees since April 23, 2021. Revolut users get a monthly allowance of fee-free withdrawals (£/€200 for its Standard and Plus plans, £/€400 for Revolut Premium and £/€800 for the Revolut Metal plan). Standard customers have an additional monthly limit of only five withdrawals on top of the £/€200 limit. The fee will apply after either of the two limits is reached. Revolut crypto fee is 2.5% for Standard users and 1.5% for Premium and Metal users.
Sending money to a non-SEPA country in its own national currency attracts a fee of 0.3% of money sent, with a minimum fee of £/€0.3, and with a cap at £/€5. Sending money in a different currency than that of the recipient's country attracts two different fees: £/€3 to send USD as well as GBP, EUR or CHF, while sending any other currency will cost £/€5. Revolut Premium account holders get one free international transfer a month, while Metal account holders get three free international transfers. Standard and Plus account holders do not have any free international money transfers.
There's an extra 1% fee for currency exchanging when the market is closed (weekends).
Is Revolut Safe to Use?
In some countries, Revolut is a licenced e-money institution and a bank depending on the country you are opening your account from. Client's funds are kept in separate accounts with their global banking partners so that in the event that Revolut goes out of business, the funds are protected. Card payments are protected from fraud, loss and theft under the scheme rules for Visa or MasterCard.
Revolut Bank UAB is licensed by the European Central Bank and regulated by the Bank of Lithuania. It is also authorised by the Financial Conduct Authority (FCA) in the UK.
In January 2022, Revolut launched Revolut Bank in 10 European markets. Therefore, customers in Belgium, Denmark, Finland, Germany, Iceland, Lichtenstein, Luxembourg, Netherlands, Spain, Sweden who upgrade to Revolut Bank for additional services will now have their deposits protected under the deposit guarantee scheme.
Note that unless you upgrade to Revolut Bank in countries where it has a banking licence, the account you hold with Revolut is an electronic money account (not a bank account), therefore your money is not covered by the Financial Services Compensation Scheme. However, all Savings Vaults deposits are protected up to £85,000 by the Financial Services Compensation Scheme (FSCS). For customers registered to the Revolut Bank UAB, almost all deposits with Revolut Bank UAB are insured by the Lithuanian State Company "Deposit and Investment Insurance". The maximum amount of insurance compensation for deposits with Revolut Bank UAB for a single depositor is EUR 100,000.
In January 2020, Revolut customers threatened the bank with legal action for blocking their accounts for months. There are also complaints on Reddit and Facebook over blocked accounts and customers not able to contact the bank about their locked funds. A Revolut customer in Romania filed a lawsuit in September 2020 against Revolut over blocked account.
Revolut Alternatives
Online banks similar to Revolut include the following.
Final Thoughts on Revolut Bank Account
To conclude on our Revolut review, the bank is one of the best online banks that offer accounts with European IBANs, non resident bank account, savings and investment options for account holders. Moreover, you can use the Revolut app to trade cryptocurrencies. You can also compare the historical price changes and request for price alerts so that you are notified when the prices of cryptocurrencies reach a specific price. It is also important to note that Revolut has a feature which you can use to donate to charity.