Revolut is an alternative to traditional bank accounts. Revolut offers unlimited multi-currency accounts in 28 currencies, personal and business IBAN, virtual cards, money transfer services as well as cryptocurrency banking services.
You can access Revolut services either through Revolut app or with a payment card. It is essential, especially to people who want to have a global lifestyle since it is flexible compared to traditional banks. With a Revolut Account, you can adapt your finances to your needs and have more control over your financial situation. Revolut is an example of a free and instant virtual bank account.
A good alternative to Revolut is an N26 account, which offers many of the same services.
Revolut is a UK fintech company with its headquarters in London. Revolut was granted a banking license to work with the European countries. The company has plans to expand its market to the US, Canada, Singapore, New Zealand, Japan, Brazil, and Australia.
---
---
Revolut Supported Countries
You can sign up for Revolut Account in any of the following countries; Austria, Belgium, Bulgaria, Croatia, Republic of Cyprus, Czech Republic, Denmark, Estonia, Finland, France, Germany, Greece, Hungary, Iceland, Ireland, Italy, Latvia, Liechtenstein, Lithuania, Luxembourg, Malta, Netherlands, Norway, Poland, Portugal, Romania, Slovakia, Slovenia, Spain, Sweden, and the United Kingdom.
Revolut has also recently introduced its services in Australia, the US and Singapore. Read our Revolut Australia review.
Revolut Germany: Revolut introduced Open Banking for German users in November 2020 to allow them to connect their accounts held at other banks such as Deutsche Bank, ING-DiBa, Comdirect, Commerzbank, and Sparkasse with the Revolut App and view all their transactions.
Revolut Products
Among the financial services available for Revolut Ltd include prepaid debit cards such as MasterCard and Visa, currency exchange, peer to peer payments, and cryptocurrency. Revolut supports withdrawals in over 120 currencies while you can also send money directly in over 29 currencies.
With the Revolut app, you can buy cryptocurrencies such as Bitcoin and Ethereum in which you can exchange in over 25 currencies. However you cannot transfer them to an external wallet, you can only exchange them for fiat money inside Revolut app.
London based Revolut is serving over 3 million customers with prepaid debit cards and current accounts. The company also says that it is opening approximately 8,000 current accounts daily. Many customers have embraced the digital banking account since it is offering one-stop-shop for users who wish to manage their cash.
Why You Want to Open an Account with Revolut
Many benefits come with opening a Revolut account. If you frequently travel around the world, you need to open a Revolut account. Once you open a Revolut account, you can withdrawal money in any currency from among the countries that you visit. The following are some of the benefits that you will reap from the Revolut account. The following are some of the advantages of Revolut Account.
You can send money internationally in over 24 currencies
You can use the account to purchase cryptocurrencies such as Bitcoin
You can spend money while broad and avoid low exchange rates
The company has 24-hour live chat customer service to address any of your needs
The app is user-friendly
You can also use a card to withdrawal using ATMs
You can use inbuilt budgeting features
How to Top Up Revolut Account
There are several ways that you can use to top up your Revolut account. Among them is bank transfer and via your salary. Apart from a bank transfer, it is also possible to top up your account automatically. The account has an option of topping up from Google Play and Apple Pay. The Apple Pay option is currently available in 35 countries. Revolut is planning to expand the Apple Pay option to other countries such as New Zealand, Japan and Australia.
Revolut Money Transfer
Sending money to other countries using Revolut is ten times cheaper compared to banks. One of the features of Revolut is to send money abroad. Revolut is a fast and secure way of sending money abroad. You can send money in over 130 countries free of charge using the real exchange rate. Banks tend to charge substantial transfer prices since they are after making a profit. Revolut uses exchange rates that are applied by banks as Interbank Exchange Rate to trade among themselves.
Exchanging and transferring currencies using the Revolut application is free. The transfer takes around two working days. In case you want to speed up the transfer speed, you can upgrade your account to a turbo transfer. It is free for holders of the premium account while the standards account holders are charged 5 EUR.
To transfer money, all you need is to choose the recipient and the amount of money that you wish to send. It is also possible to set up a recurring payment using different currencies. You don't need to send bank details to make a transfer since you do it by just tapping a button.
Revolut Business
Revolut also offers business accounts. The minimum price used to be 25 GBP per month, but this has dropped to free! For this you can have 2 team members with access, and 5 free local transfers per month. Local includes SEPA payments, so for a growing business in Europe this can be a great solution to give responsibility over payments to more than just 1 person.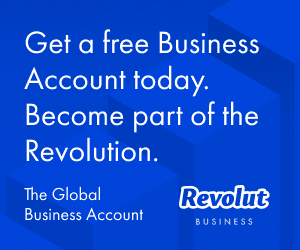 Unlike with N26 it's OK to open both a personal as well as a business account with Revolut.
Cryptocurrency on Revolut
With Revolut Account, you can buy and exchange cryptocurrencies such as Bitcoin, Litecoin, Ethereum, Bitcoin Cash, and Ripple. You can also access the exchange rates of these digital currencies.
Revolut does not include hidden fees when buying and selling cryptocurrencies. Revolut crypto fees is 2.5% for Standard users and 1.5% for Premium and Metal users. You can buy cryptocurrencies using the Revolut application. You do not need to wait for days waiting for approval of your account since opening Revolut account is usually instant. The fees are low when buying small amounts, but if you want to get bigger exposure to Bitcoin, it's much better to go through an exchange like Kraken and take care of the custody yourself. Revolut does offer the possibility to round up payments and buy bitcoin with the difference, which is a nice way to gain exposure to Bitcoin.
It's also good to note that Revolut is likely to block your account if you use it to send money to or from an exchange. This is probably caused by their high focus on growth, which leads them to drop customers that are a bit out of the ordinary AML/KYC risk profile.
Revolut bitcoin withdrawals: If you're a Revolut Metal customer, you'll get exclusive beta access to a new feature that allows you to withdraw bitcoin to an external crypto wallet.
Revolut Fees
Revolut has introduced new fees since April 23, 2021. Revolut users get a monthly allowance of fee-free withdrawals (£/€200 for its Standard and Plus plans, £/€400 for Revolut Premium and £/€800 for the Revolut Metal plan). Standard customers have an additional monthly limit of only five withdrawals on top of the £/€200 limit. The fee will apply after either of the two limits is reached. Revolut crypto fee is 2.5% for Standard users and 1.5% for Premium and Metal users.
Sending money to a non-SEPA country in its own national currency attracts a fee of 0.3% of money sent, with a minimum fee of £/€0.3, and with a cap at £/€5. Sending money in a different currency than that of the recipient's country attracts two different fees: £/€3 to send USD as well as GBP, EUR or CHF, while sending any other currency will cost £/€5. Revolut Premium account holders get one free international transfer a month, while Metal account holders get three free international transfers. Standard and Plus account holders do not have any free international money transfers.
Revolut Alternatives
Online banks similar to Revolut include the following.
Final Thoughts on Revolut Bank Account
To conclude on our Revolut review, the bank is one of the best online banks that offer accounts with European IBANs, non resident bank account, savings and investment options for account holders. Moreover, you can use the Revolut app to trade cryptocurrencies. You can also compare the historical price changes and request for price alerts so that you are notified when the prices of cryptocurrencies reach a specific price. It is also important to note that Revolut has a feature which you can use to donate to charity.