Juno is a new Bitcoin bank account available in the US. It is an online banking platform that provides a Checking Account with an integrated Bitcoin wallet. You can hold, buy, sell and send Bitcoin directly via the app, based on rules or ad-hoc. It also comes with a the Juno Metal card, which is a Mastercard.
Juno Crypto Bank Key Takeaways
Checking account for crypto. You can manage cryptocurrency and fiat currency in a single account.
Fiat to crypto in seconds. Sell, buy and hold crypto instantly starting from as low as $1.
Paycheck in crypto. You are able to receive part of your paycheck in crypto.
Cashback. Up to 1% cashback on all card spends, for both cash and crypto.
Save. 4% yearly savings on your dollars without any lock ups or fees.
ATM fees reimbursements. Bank Juno will reimburse the out-of-network ATM fees at the end of each month as a bonus.
Types of Juno Accounts
There are two types of accounts at Juno bank, Basic and Metal Account. Currently, Juno doesn't provide a Savings account. Juno Checking Account was designed to have a normal checking account's flexibility while giving you the ability to earn a 1.2% bonus rate.
Eligible balance for the Bonus Rate is $50,000. The bonus rate will be credited to your account at the beginning of each month. Basic users earn a 1.2% yearly savings bonus on balances up to $5000 while Metal users earn a 2.15% yearly savings bonus on balances up to $100,000.
Juno Basic Account
Juno Basic is a free account. There is no minimum amount needed to use our Basic Account. Basic users will get access to buy and sell crypto soon.
Juno Metal Account
Juno Metal is a premium account. To get access to a Metal Account, you have to set up a Direct Deposit of $250/month and you must maintain your monthly direct deposit to continue the Metal access. Juno Metal and select early access users can buy, sell, hold, send and receive 2 different Cryptocurrencies: Bitcoin and Ethereum.
Juno lets you buy Bitcoin (BTC) for as little as $1. Purchasing BTC requires that you have a balance in your Juno Checking Account.
Enjoy a $50 bonus and a sleek Metal card when you set up your first direct deposit.
How to Open Juno Account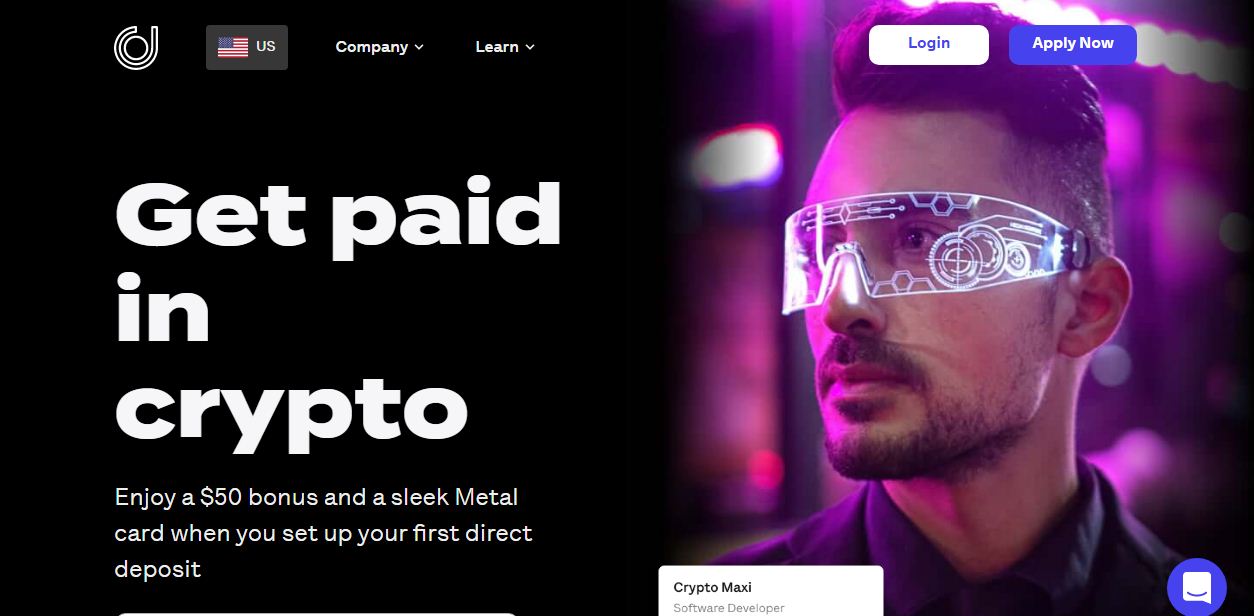 It takes less than 5 minutes to open OnJuno account online on OnJuno website. Click on "sign up" in the top right of the page then fill in the personal details to open OnJuno Checking Account. Once done, you will receive a verification email. Verify your email address and fill the following mandatory fields: personal information, mobile number, home address, Social Security Number. Documents needed to verify your identity are drivers license, passport, or any Legal Identification. Once your account is verified, you can start using your OnJuno account and your OnJuno virtual card.
How to Add Money to OnJuno Account
There are three ways of depositing funds into your OnJuno Checking Account:
ACH transfer
Transfer from external accounts
Direct Deposit
OnJuno Features
OnJuno Rewards
Yearly bonus on deposits of 1.20% on balances up to $5,000.
Yearly cashback of up to 1% when you pay with cash, 10% when you pay with crypto, on total annual spends of $500.
Crypto yield of 4% yield on USDC with no yearly limit.
Cryptocurrencies
Buying and selling crypto is currently in Beta since October 2021 and only available for Metal and select early access users. If you want to be part of the early access program, check out OnJuno crypto banking and apply. Eligible users can buy, sell and store popular cryptocurrencies like Bitcoin, Ethereum, USDC and Polygon USDC directly inside their checking accounts. When you sell crypto, your cash will be available in your OnJuno checking account instantly. While most crypto exchanges charge up to 4% in fees to buy and sell crypto, OnJuno charges 0%.
Get Paid in Crypto
Coinbase's first employee, Olaf Carlson-Wee, was paid in Bitcoin for 3 years. Olaf chose to receive his $50,000 annual starting salary in Bitcoin, when a single coin was about $20-$30. He received a dollar-denominated salary, converted to Bitcoin at the time of payment. Today, Olaf runs the world's biggest crypto hedge fund, Polychain Capital.
OnJuno enables you to get your paycheck in crypto in any primary crypto wallet of your choice or autoinvest your crypto paycheck. You need to set up a crypto paycheck for as little as $100. You can automatically link your Direct Deposit in OnJuno where over 500 payroll providers are available for instant switch including Gusto, ADP, Zenefits, etc. If your employer doesn't support Instant Switch, you can set up Direct Deposit using your account and routing numbers or the DD form.
When you set up a crypto paycheck of $250 or above, you will be eligible for being upgraded from Basic Tier to Metal Tier. Network fees are applicable when you auto-sweep to an external wallet.
Juno Virtual Card and Juno Physical Card
When you set up your Juno account, a virtual card will be issued to you immediately. If you want a card shipped to you, please contact OnJuno customer service at hello@juno.finance or request a card within your Juno Dashboard. However, OnJuno would like you to adopt Apple Pay, Samsung Pay, and Google Pay as your preferred payment method.
As a Metal Account holder, you will get a premium OnJuno metal card with 10% cashback when you spend with crypto and up to 1% cashback when you spend with cash on 5 brands of your choice. Supported brands are Starbucks, Dunkin Donuts, Blue Bottle Coffee, In N Out, Uber, Lyft, Amazon, Target, Best Buy, Walmart, Netflix, Amazon Prime, Disney+, Spotify, Taco Bell, Wendy's, Chick-fil-A, Walgreens, Trader Joe's, CVS, Uber Eats, Headspace, Calm, Whole Foods, Grubhub, Postmates, Doordash, and AirBNB.
Around 6 billion payment cards are produced every year worldwide. These are usually replaced every three to four years, collectively contributing to around 5.7 million tons of plastic in landfill, according to Mastercard. This will hopefully cut down on the waste that plastic cards produce.
Juno Money Transfer
Juno facilitates international money transfer using Wise, formerly TransferWise, which is one of the cheapest and fastest money transfer service in the world today. Once you open Juno account, you get an exclusive way to create a Wise account. Wise uses your Juno profile details to automatically create a profile for you.
Juno Integrations
Does OnJuno have Zelle? Zelle app is a safe and easy way to send and receive money with friends, family and others. Juno Zelle integration allows you to send funds to to send and receive money.
You can integrate Juno bank with other fintech apps and platforms such as Google Pay, Apple Pay, and Samsung Pay, Venmo, Zelle, CashApp, and Coinbase for your cryptocurrency transactions.
Juno Fees
| Feature | OnJuno Fee |
| --- | --- |
| Monthly fees | $0 (formerly $9.99 a month for Metal Tier) |
| International transfers | $5 |
| ATM fees | $0 (OnJuno will reimburse the out-of-network ATM fees |
| Early account closure | $0 |
| Foreign transaction fee (debit card) | 0% |
| Online bill pay | $0 |
| Returned deposit fee (international) | $5 |
| Insufficient fund fee | $0 |
If you don't find an Allpoint or a Moneypass ATM around, neobank Juno gives you free out-of-network withdrawals each month, anywhere in the US. The number of withdrawals will be based on your account tier. The ATM will still charge you, but Juno bank will reimburse the ATM fees at the end of each month as a bonus.
Juno Transfer Limit and Juno Spend Limit
| Transfer type | Daily Limit | Monthly Limits | Yearly Limits |
| --- | --- | --- | --- |
| ACH Deposit | $10,000 | $30,000 | $100,000 |
| ACH Withdrawal | $10,000 | $30,000 | $100,000 |
| Sameday ACH Deposit | $10,000 | $30,000 | $100,000 |
| Sameday ACH Withdrawal | $10,000 | $30,000 | $100,000 |
| Direct Deposits and Transfers from external accounts | $50,000 | $500,000 | $3,000,000 |
| Sending money to external accounts via Account and Routing number | $15,000 | $50,000 | $200,000 |
| Juno to Juno Accounts | $2,000 | $5,000 | $15,000 |
| Cash Withdrawals | $500 | | |
| Card Purchases | $4,000 | | |
Is Juno Bank Safe?
Juno neobank is a financial technology company, not a bank. Banking services provided by Evolve Bank and Trust, Members FDIC. Juno is a product of CAPITALJ, Inc. backed by prominent Silicon Valley venture capital investors including Sequoia, Polychain Capital, Dragonfly Capital, and Consensys.
The Juno card is issued by Evolve Bank and Trust, Member FDIC, pursuant to license by Mastercard International. With Mastercard's Zero Liability policy, you're protected from unauthorized card transactions. USD cash balances are covered by FDIC insurance up to $250,000 via Evolve Bank and Trust. The majority of cryptocurrencies are held in cold storage with trusted and licensed crypto custodians.
The fintech makes sure you are crypto tax compliant through its automated tax reporting via Form 1099 for cash and crypto earnings.
Juno Alternatives
Juno Reviews
At the time of writing this review of neobank Juno, there were 157 OnJuno Trustpilot reviews. It has received 4.4/5. 79% of bank Juno customers were satisfied with the service particularly fast customer support and easy on-boarding. 6% of its users thoughts the services were bad citing rejected transactions and delay in issuing physical cards.
Conclusion on Juno Bank
While there are banks such as BankProv that offer bank accounts for cryptocurrency businesses, OnJuno crypto banking goes a step further by allowing you to seamlessly hold cryptocurrency and fiat currency deposits in a checking account and buy crypto with a bank account. Moreover, it enables you to receive part of your paycheck in cryptocurrency.