MisterTango is a fintech firm that offers dedicated IBAN accounts to businesses and individuals and crypto banking. It was founded in Lithuania in 2014.
Mistertango is currently not a recommended banking service. Many customers have been complaining that they cannot access their money or their accounts are closed without notice. Other complaints include unexpected fees and blocked payments. It only has 1.6/5 star on Trustpilot. There are other good cryptobanks that offer a cheaper and far better experience such as Bitwala.
Where Are MisterTango Headquarters?
MisterTango is an electronic money processor headquartered in Lithuania. It has its registered office at Perkuniemio Street 2, Vilnius.
MisterTango's Banking License?
MisterTango is a licensed Electronic Money Institution (EMI) that is supervised by the Central Bank of Lithuania (Restricted activity license No.11), by State Data Protection Inspectorate.
MisterTango's App/Website
MisterTango offers its services via Mistertango app and Mistertango website. You just need to download the Mistertango app from Google Play Store and the App Store, and then follow the simple steps to open an account.
MisterTango's Customers
The financial institution supports customers from many countries in the world except; Palestine, Ethiopia, Guyana, Serbia, Iran, Bosnia & Herzegovina, Trinidad and Tobago, Uganda, Sri Lanka, North Korea, USA, South Sudan, Iraq, Yemen, and Tunisia.
MisterTango provides payment services and free bank accounts for EU citizens. It also provides payment collecting services for online stores. MisterTango has a MasterCard available to its clients. You can receive money into your MisterTango account from countries within the SEPA area, and only in EUR currency.
MisterTango Customer Support
This financial institution offers a premium support service. Premium support is simply one person who will work to complete all your requests in the shortest time possible. It works directly as your agent with the compliance team. If you have further questions, you can also contact the MisterTango team by email- [email protected] or by phone +37052055501 for Lithuanian customers and +442080893535 for international customers. The customer support working hours: Monday-Friday 8:30 AM-5:30 PM (UTC+3).
What Services Does MisterTango Offer?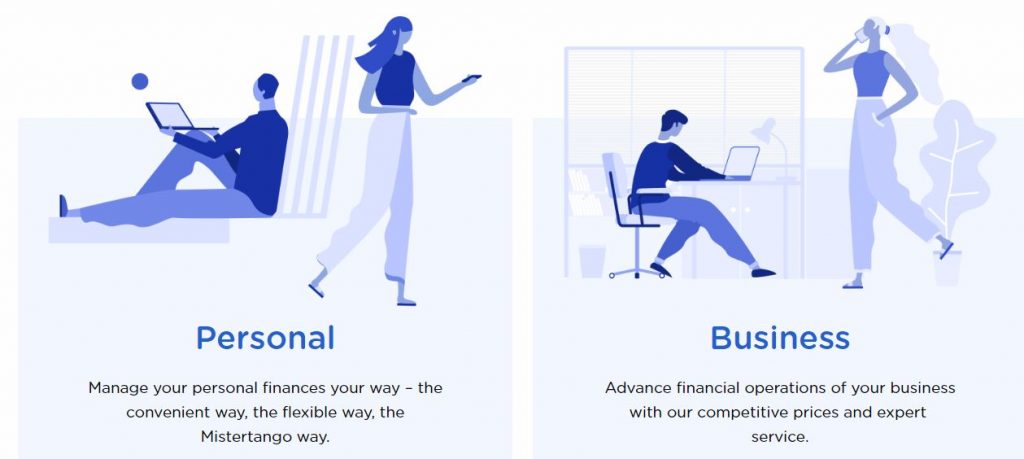 MisterTango is a platform that provides businesses and crypto users with access to traditional finances. Its services are open for exchanges, investors, and everyone involved in the crypto-currency industry. The company offers both personal and business accounts that have an option to create multiple IBANs.
The platform promises a fast and easy onboarding process to private individuals. With a personal account, users have the opportunity to manage their online payments across mobile and desktop devices. Real-time notifications on these devices enable users to stay informed about all transactions and balances.
MisterTango charges lower transaction fees. Companies take advantage of this offer. MisterTango welcomes entities from the crypto space, including exchanges and ICO projects, as well as industries such as gaming and forex. These industries receive support for SEPA and Swift transfers. There are two options for subscription plans that come with free transfers between MisterTango users, dedicated IBANs, and free balance checks in the Mistertango app.
Companies are allowed to open and manage multiple accounts, and they can also create an unlimited number of virtual IBANs. To send and receive transfers to and from exchanges, you will need an upgraded plan. Business+ (€99.99/month) and Personal+ (€4.99/month) support these types of transactions. They can also unlock services for financial institutions based in the European Economic Area as well as non-EAA entities.
Unfortunately, Mistertango does not have bank cards at the moment.
MisterTango Online Customer Reviews
Customers have reviewed MisterTango on Trustpilot, BritainReviews, and Trust Mamma. Customers rate 3.0 out of 5.0 stars on Trust Mamma, 2.6 out of 5.0 stars on Trustpilot, and 2.5 stars on BritainReviews. This shows that customers have different experiences with this financial institution.
MisterTango Supported Languages
To communicate with MisterTango, customers may send emails to [email protected] A response will be sent to the clients' email address used to register the account. All communication is conducted in English or Lithuanian.
Does MisterTango Offer Business Bank Accounts?
Yes. It offers accounts to individuals and crypto-related business institutions. MisterTango, together with IBAN, gives its users a platform to instantly transfer funds via SEPA. If you want to set up a MisterTango business account, make sure you have verified your personal account and installed the app on your iOS or Android phone.
Let's look at some of the benefits of a MisterTango Business Account.
The account allows fast and cheap cross-border payments. You can do crypto-currency transactions such as withdrawals, deposits, and transfers.
A MisterTango business account allows users to get and enjoy the services of a free MasterCard.
It lays perfect practices for the crypto economy by offering strategic and responsible guidance.
The account enhances transactions with trust. Your business money will be quite safe and secure to make transfers of currency from diverse crypto-exchanges.
In 2019, The Bank of Lithuania imposed a fine of €245 thousand on MisterTango, UAB for violations of anti-money laundering and counter terrorist financing (AML/CTF) requirements, limiting its activities on business accounts as a preventive measure.
The State Data Protection Inspectorate imposed an administrative fine in 2019 in the amount of EUR 61,500 for the breaches of the General Data Protection Regulation. The sanctions were imposed on MisterTango for the breaches of Articles 5, 32 and 33 of the afore-mentioned Regulation, i.e. the personal data breach in the payment initiation service system.
Mistertango Alternatives
Mistertango alternatives include the following: