If you are a student and do not have an income, you may be asking yourself, "Can I get a credit card as a student with no income?" Yes, you can get a credit card without income. You only need to know the requirements and where to get one. Here are some of the ways you can get credit cards for students without an income.
How to Get a Student Credit Card Without an Income

Getting a credit card without an income can be a bit hectic if you do not know the requirements. Here are different ways to get one.
Sign up for a Secured Credit Card
A secured credit card is a credit card that is secured by a cash deposit from the cardholder. The amount required to deposit can start from as low as $49. If you deposit a minimum of $49 and a maximum of $200, that amount becomes the maximum credit limit. The difference between a secured and an unsecured credit card is that a secured credit card requires collateral to get credit. Once you get the credit card and you are advanced a loan, you must make timely repayments. Otherwise, you will have a negative credit report.
A good credit card for students should not have annual fees or maintenance fees. Some of the best secured credit cards that do not have maintenance and annual fees are Discover and Capital One.
Be an Authorized User
If you want to enjoy the benefits of having a credit card, consider becoming an authorized user. Authorized users can charge purchases using credit cards and they are not liable for any balances. Credit history for an authorized user from a particular account is aggregated into the user's credit report.
You can be added as an authorized user either by your friends or relatives. For instance, if your friend adds you as an authorized user to his account with a history of over 20 years of on-time payment, in just a few months, his credit history will appear in your credit report. This way, you get an excellent credit score as a student without an income.
An authorized user gets his or her credit card linked to the account of the original account owner. It is important to note that the problems of the primary account holder also affect the authorized user. For instance, if the primary account holder has late payments or high balances, the information will show up in the account of the authorized user.
Open a Joint Account
A few major banks only offer joint credit cards. Their demand has been on the decline, but you can still open one. For joint credit cards, two people agree to share one credit card, which they can use to charge on purchases and pay the balances together. As a student, you need to get a co-applicant with an income and excellent credit score to get approved. To open a joint account with a student requires a high level of trust. Generally, a student has many purchases but with less budget to repay the balance. If you are a parent, you can open a joint student account with your child.
Best Credit Cards for Students With No Income
Consider the following credit cards suitable for students.
Discover
Discover credit card does not charge annual fees and usually has a variable APR of 19.49%. For the first six months, you enjoy 0% purchases and 10.99% on balance transfers. It is an ideal credit card for college students with no income. For college students, Discover has two cards, Discover it, and Student Chrome. Both have bonus categories, low fees, and you get forgiveness for your first late payment. You do not need FICO history to get any of these two cards. To qualify for one, you need to have a credit history of between 630 and 689.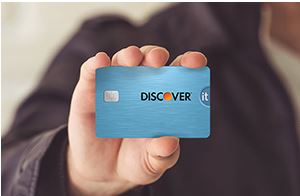 Journey From Capital One
Journey from Capital One credit card comes without annual fees. To get a credit card, you need to have a minimum credit score of 630. Its variable APR rate is 26.74% while you also get a reward and a bonus when you pay on time. You must be a student to apply.
Deserve
Deserve is a credit card for students that do not have annual fees. The regular variable APR rate is 20.24%. The recommended credit score should be between 630 and 850 to qualify to get one. It is a good option for international students who do not have a credit history and social security number in their country of study.