If you frequently use a credit card to spend, MaxRewards is an excellent app you can consider. MaxRewards check your spending and recommends the best credit cards with offers. The app gives you personalized recommendation about cards without annual fees, daily rewards and bonus limits. It will also help you earn additional points or help you save money through cash backs. It does through by automatically scanning offers available in the cards you have added to your account.
Over 50% of Americans miss out on credit card points and cash back. The average shopper misses out on over $200 a year by not knowing the right card to use.
What Is MaxRewards?
MaxRewards app helps you get more credit card rewards. The app checks at your spending and finds the best card that can help you maximize your rewards. It finds the best card based on your spending and needs. It can recommend cards without annual fees and once that will give you a sign-up bonus.
How MaxRewards Work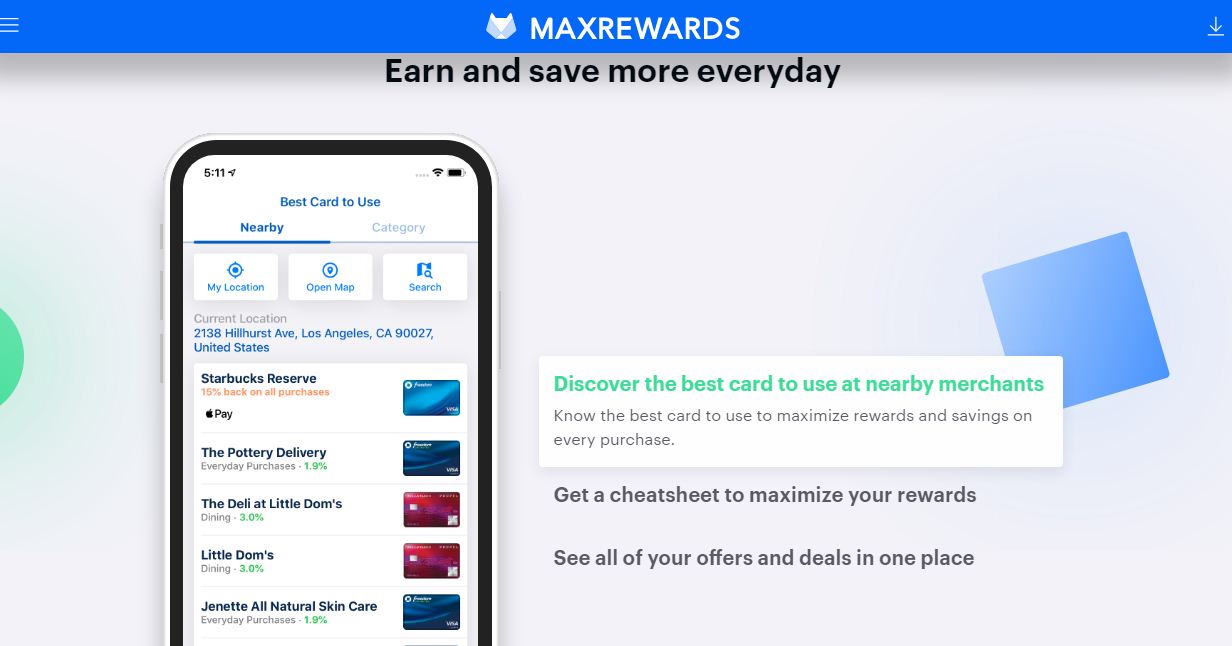 MaxRewards is an incredible app that does much of the work for you. This is how it works. You connect your credit accounts with the app. The app then reads all your historical transactions and finds how much you spend and on what. MaxRewards then uses that data to predict how you are likely to spend in future. However, you can always adjust so that it can reflect your expected expenses.
You can specify the job that you do, and even if you are a student, it will still help you. You can choose which cards you want to use with MaxRewards. Once you have done all that, the app will be giving you personalized recommendations.
With MaxRewards, you can choose the kind of rewards you want to be getting. The following are some of the available rewards:
Bonus limits
Introduction and annual fees
Category bonus rewards
Revolving category rewards
MaxRewards Features
You can access the following features with MaxRewards:
Digital wallets. You can manage all your credit cards from a single app and get credit card rewards. You can also monitor credit card scores from different issuers.
Digital Assistant. It allows you to activate bonus categories and offers for linked cards even while you are asleep.
Digital advisor. You get personalized advice on how you can get the best rewards from credit cards.
MaxRewards App
You can download MaxRewards app on MaxRewards website or on Google Play or App Store. With the app, you can manage all your accounts in one app. You can also see all the rewards and aggregate reward balance and current balance. You can also use the app to monitor all your credit scores and see where you spend and earn.
MaxRewards Fees
Is MaxRewards free? MaxRewards is free to download and use. The majority of its functionality is free. However, there's MaxRewards price for its premium plan, MaxRewards Gold, which lets you pick your own price up to $25 per month.
How Does MaxRewards Make Money?
There are no MaxRewards costs for most of the MaxRewardsapp's features. As such, you may wonder how MaxRewards makes money. MaxRewards are supported by their Gold members. Gold members get exclusive functionality like auto-activation of Amex offers, BankAmeriDeals, Citi Merchant offers, Chase offers, etc.
MaxRewards Gold Plan Review
You can get additional features with MaxRewards Gold. You will benefit from the following perks with MaxRewards Gold.
Get notifications for new and expiring deals
Get customer support
Auto-activate deals and automatically include them on your card
Add favorite cards to the list of priority
Auto activate quarterly bonus categories on cards
Who Should Use and Should Not Use MaxRewards?
If you spend a lot on credit cards, consider signing up with MaxRewards. The app will recommend cards that have high sign-up bonuses. The app looks at your spending habits and predicts how you are likely to spend in future. Generally, the app will recommend you the card with the most rewards.
If you don't spend a lot while using credit cards, the MaxRewards may not be a good app for you. MaxRewards recommends cards that offer cards that give bonuses for small spending limits. Also, if you have a high interest credit card debt, avoid using MaxRewards. Overspending with a huge debt is a wrong financial move. It is because credit card rewards will only push you harder to overspend. To use MaxRewards, you need to have 0% interest rate debts. Spending less will help you get out of debt.
Banks that MaxRewards Work For
MaxRewards works with the following banks and you can integrate your card if you have an account with these banks:
American Express
Apple
Fidelity
Fifth Third
First National Bank
HSBC
Bank of America
Barclays
TD Bank
USAA
US Bank
Wells Fargo
Citi
Discover
Chase
Navy Federal Credit Union
PenFed
Huntington
Key Bank
Capital One
PNC
SunTrust
Synchrony
It also works with store brand credit cards
Credit union credit cards
Is MaxRewards Safe? Is MaxRewards Legit?
MaxRewards is a safe app that uses bank-level encryption. The app also ensures the security of its users' information and you can be sure your credit card information is safe. It does not share your information with a third party. MaxRewards does not access your credit card or social security numbers.
You can trust MaxRewards. It is a legitimate company used by thousands of users, who have collectively earned over millions of dollars in rewards. Moreover, MaxRewards is the winner of the 2018 FinCon Startup Competition, a finalist in the 2019 FinTechSouth Innovation Challenge and 1 of 10 companies (out of 400+) selected to be part of the 2019 Techstars Atlanta Accelerator.
MaxRewards Alternatives
Bonus: Key Ring app and Storcard app allow you to add all of your loyalty and membership cards to one app and scan them right from your smartphone so you don't have to carry all of them around.
Summary of MaxRewards Review
With the MaxRewards app, you can find and use all bonus offers. You can also get more offers on your credit card. This can help you earn extra points and get a cashback. You will get notified of new offers and those ones that are about to expire. MaxRewards is ideal if you spend a lot on credit cards. However, if you don't use credit cards frequently or have a debt with an interest rate, MaxRewards is not a good option.