Is PayPal available in Ukraine? The answer is yes. PayPal has expanded its services to allow Ukrainian and international customers to send and receive money for free in USD, CAD, GBP and EUR for all Ukrainian accounts. The free money transfer service will be available until June 30, 2022. Before the invasion of Ukraine by Russia, PayPal customers in Ukraine could only use the service to send money out of the country.
PayPal Money Transfer in Ukraine
At the time of writing, there were over 3 million Ukrainian refugees. This free PayPal service will enable them to send money instantly to their loved ones' PayPal wallets back in Ukraine during this critical period.
Money received into PayPal wallet in Ukraine can be sent to a local bank account.
Although the service is free, exchange rates and fees charged by a customer's card issuer or bank may still apply.
How to Sign-up for PayPal Account in Ukraine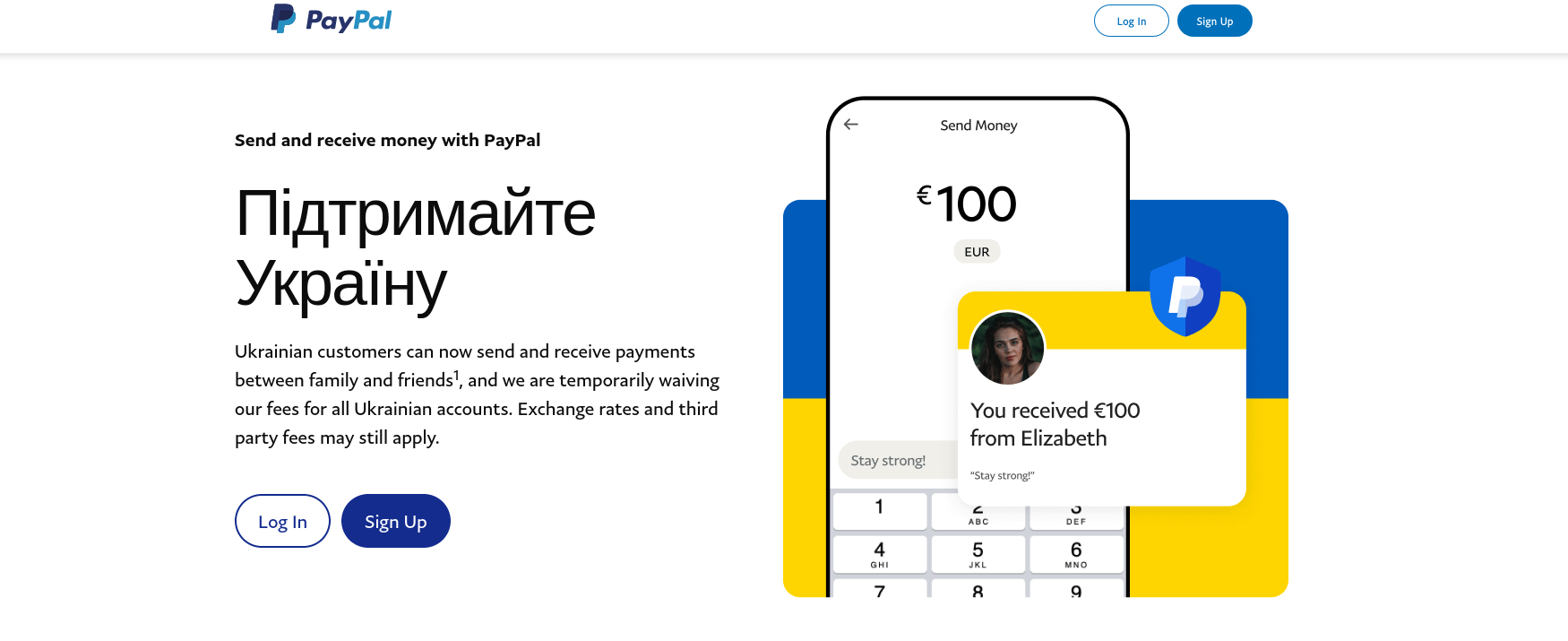 To sign up for your PayPal account, follow the following steps:
Go to PayPal Ukraine website from a mobile web browser or on desktop. You will be able to sign up in the PayPal app in the near future.
Click 'Sign Up' in the top right-hand corner.
Add mobile number and verify the number.
Select "Ukraine" when asked the question "Where do you live?"
Enter information including name, email, address, date of birth, and nationality, and provide an ID number and type (passport or national ID).
If you've traveled to other countries including Poland, Romania, Slovakia, Moldova and Hungary to seek refuge you will be able to access your account, pending availability of PayPal's services in those regions.
How to Receive Money in Your PayPal Account in Ukraine
You can send and receive money from friends and family in your PayPal wallet in USD, CAD, GBP and EUR and be able to transfer the money to your bank account by linking an eligible Mastercard or Visa debit or credit card. The money will be available in the currency of your card. The provider of your card or your bank need to be able to support the transfer for it to work.
You can choose to transfer funds using PayPal's instant transfer feature to receive your money within minutes if the instant transfer functionality is supported by your bank or card provider.
If you are using a Mastercard from Universal Bank, Mono Bank, Alfa Bank and UKRgasbank, you may not be able to use the card to transfer money from a PayPal wallet to that Mastercard. Visa cards issued by these banks cannot be used to transfer funds from a PayPal wallet. PayPal is working to enable these cards to transfer money.
PayPal for Ukraine Transaction Limits (for Senders)
Transaction limits vary by account holder depending on verification status. PayPal will continue to evaluate transfer limits in Ukraine.
PayPal in Ukraine Fees
PayPal has removed transfer fees for a limited period of time, up to June 30th, 2022. Any changes to the date will be published on PayPal website. Note that when you link a credit or debit card to your account, you are authorizing PayPal to charge a small amount to that card. This fee will be refunded to you in 1-3 business days. Other third party fees may apply.
Online Banking Options for Ukrainian Refugees