Simplii Financial is one of Canada's online bank offering a wide range of personal finance products. Its offerings include the Simplii Chequing Account, Simplii Mutual Funds, Simplii Guaranteed Investment Certificates (GICs), the Simplii Visa Credit card, Simplii Mortgages, and the Simplii Registered and Non-Registered Savings Accounts. Simplii Financial is not available in Quebec.
How to Sign-Up for a Simplii Financial Account
Signing-up for a Simplii account is easy and straightforward. You can open an account either online through the Simplii website or through phone (1-888-723-8881).
Simplii Special Offer
No fee Simplii checking account. Earn $350 and ditch the monthly fees. Offer ends on May 31, 2022.
Simplii high interest savings account. Earn 2.20% interest on deposits. Offer ends on April 30, 2022.
Simplii Products and Services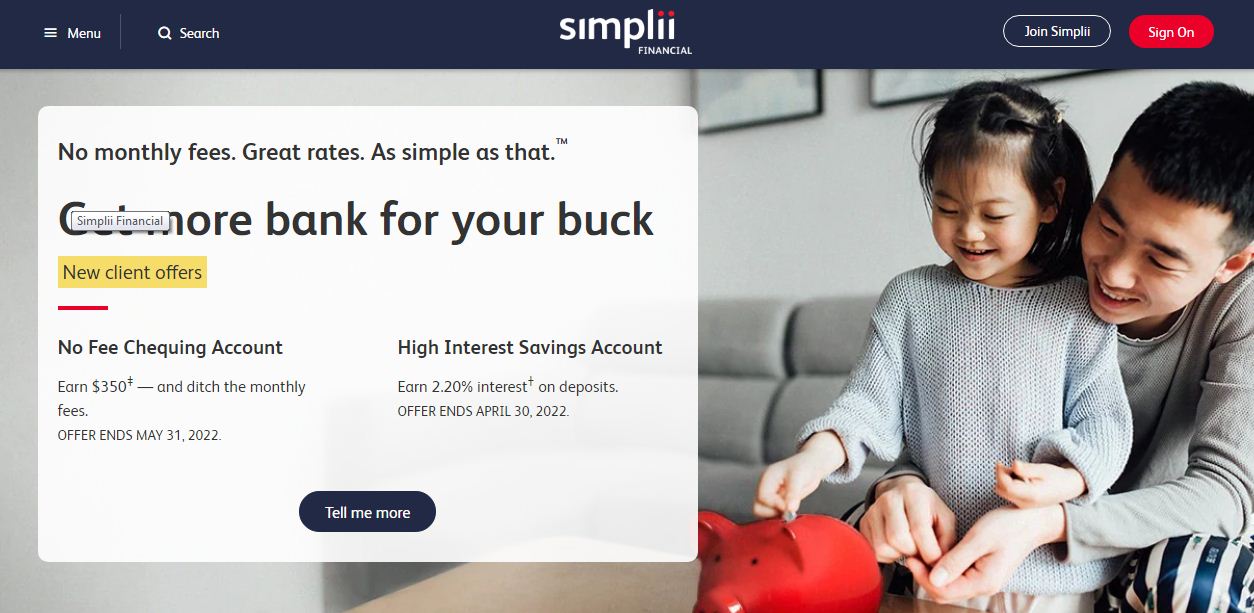 Simplii Financial offers a wide range of products and services to its clients including the following:
No fee Simplii Checking Account. No monthly fees and no minimum balance. Earn $350 when you become a new client until May 31, 2022.
Simplii High Interest Savings Account. No monthly or transaction fees. Earn 2.20% interest† on your savings until April 30, 2022.
Simplii Financial USD Savings Account. grow USD savings with no monthly fees and no minimum balance required. Earn 0.10% interest rate.
Simplii Investments. Simplii Financial Investment Products include Mutual Funds and Guaranteed Investment Certificates (GICs), tax free savings accounts, and Simplii Guaranteed Investment Certificates (GICs).
Simplii Credit Card. Get cash back rewards with the Simplii Financial Cash Back Visa Card with no annual fees.
Simplii Global Money Transfer and Foreign Cash Service. Simplii international money transfer service allows you to send money to over 130 countries without transfer fees. It supports Interac e-Transfer.
Loans. Simplii Financial also offers personal loans to its clients.
Does Simplii allow cryptocurrency? No, Simplii is not a crypto friendly bank, therefore it does not allow cryptocurrency transactions.
Simplii Chequing Account
The no-fee chequing account is one of the best products of Simplii Financial. The account offers the following features:
No monthly fee and no minimum balance. The Simplii chequing account is free and you do not need to hold a minimum balance
It offers overdraft protection where are protected from being charged 'No Sufficient Fund' fees when your account goes into negative balance.
Cheque deposit. You can use your free chequing account to deposit cheques via CIBC-owned ATMs or mobile deposit using the Simplii app.
A $200 Signup bonus if you open a no-fee chequing account and set up at least one direct deposit of at least $100 per month. The offer is valid until March 31st.
Simplii offers bank drafts that you can order using your Simplii mobile app or online. You can pick the bank draft at your local CIBC branch.
Unlimited debit purchases, withdrawals, and bill payments
Debit card, credit card, ATM access and mobile wallet. Simplii is among the very few online banks that offer a debit card. The cards can be used to access over 3, 400 CIBC ATMs and they can be added to your mobile wallet and pay with Google Pay, Samsung Pay, or Apple Pay.
Simplii High Interest Savings Account
Simplii offers a High Interest Savings account with great returns for your money. Features for the savings account include the following:
Earn 2.20% interest on your savings as a new client until April 30, 2022
No minimum balance needed
No monthly or transaction fees
You can set up automatic deposits
Simplii Financial USD Savings Account
The Simplii USD Savings Account has several features including the following:
No monthly fees or minimum balance requirement
It offers a 0.10% interest rate on your balance
It offers an easy way to transfer between your Simplii CAD AND USD accounts with great exchange rates
You can make free international money transfers from your USD Savings Account with the Simplii Financial Global Money Transfer service
With the USD Savings Account, you can request bank drafts and money orders
The Simplii Visa Credit Card
The Simplii Financial Visa credit card comes with a wide range of features including the following:
It has no annual fee
It can add up to 3 additional cardholders to earn cashback faster
The Simplii Credit Card can avail optional insurance (CIBC Payment Protector Insurance and CIBC Travel Medical Insurance)
Simplii Visa vard offers a 9.99% introductory annual interest on purchases for the first 6 months
Simplii offers cashback when you use your cashback Visa credit card to send a Simplii Global Money Transfer
Also, the Simplii credit card offers tiered cashback rates on various spending categories. The cashback rates are as follows:
4% cashback on eligible restaurants, coffee shops, and bar purchases up to $5, 000 per year
1.5% cashback on eligible groceries, drug store, gas, and pre-authorized payments up to $15, 000 per year
0.5% cashback on all other credit card purchases
To qualify for the Simplii Financial Visa Credit Card, you will need to have a minimum personal income of $15,000.
Simplii Financial Fees
Simplii Financial is known for its no-fee credit card, no-fee chequing and savings accounts. However, there are Simplii fees for other products and services.
| SERVICE | FEES |
| --- | --- |
| Money Order and Bank Drafts | $7.50 |
| Stop Payments | $10 – $16.50 |
| Overdraft Fee | $4.97 Minimum |
| Stop Interac e-Transfer | $3.50 |
| NSF | $45 |
| Domestic Non-CIBC ATM Withdrawals | $1.50 |
| Foreign Non-CIBC ATM Withdrawals | $3.00 or more |
| Account Inactivity | $20 Per Year |
| RRSP or TFSA Account Transfer | $50 Per Transfer |
| Foreign Currency Conversion | $2.5% |
Simplii Financial Customer Service
In case of any inquiries, you can reach Simplii Financial's customer support via phone at 1-866-236-9106 or 1-888-723-8881 or email them at talktous@simplii.com. Alternatively, you can visit Simplii's FAQs page where you will find answers on commonly asked questions. Since PC Financial changed to Simplii Financial, there have been complaints about delays in credit cards, errors made on accounts, and difficulties in reaching the support team.
Is Simplii Financial Safe?
Yes. Simplii is owned by CIBC, a federally-chartered bank. Simplii adheres to all the rules and regulations set by the Office of the Superintendent of Financial Institutions (OSFI) and the Financial Consumer Agency of Canada (FCAC). Additionally, deposits at Simplii are insured by the Canada Deposit Insurance Corporation (CDIC). If you have deposits at CIBC, they will be combined with your deposits at Simplii and will be insured up to a maximum of $100, 000 per insured category. CIDC insurance is automatic, meaning that you do not have to apply for it. The insurance is activated as soon as you deposit your money at Simplii Financial. Simplii also uses 128-bit encryption, firewalls, and monitors all banking activities to ensure that they are genuine.
Simplii Financial Alternatives
Simplii Financial offers a wide range of services to its clients in Canada. However, if it does not meet your financial needs, you can check out the following alternatives:
Final Thoughts on the Simplii Financial Review
Simplii Financial is among the few online banks serving clients in Canada. Its no-fee bank accounts, high interest savings account and credit card make it a good choice. However, Simplii seems to be struggling with its customer service and it can work towards improving it.