The rise of cryptocurrency has revolutionized the mortgage industry in the US and Canada and now many people can access crypto mortgages at low rates. If you have crypto assets, you can use them as collateral to get a mortgage loan you can use to acquire real estate. Compared to traditional mortgages, Crypto mortgages have low interest rates and no credit checks, while you can access funds after a few hours once the mortgage is approved.
In this crypto mortgage review article, we will provide you with a list of companies that offer crypto mortgage, eligibility, interest rates and supported countries.
Cryptocurrency Mortgage in a Nutshell
What is Crypto Mortgage? How Crypto Mortgage Works
Crypto mortgage is a kind of loan that allows qualified borrowers to pledge their crypto such as Bitcoin to buy real estate. When the borrower repays the loan in full, the crypto is returned. With a crypto mortgage, a mortgage is issued based on an assessment of the borrowers' crypto wealth, instead of the borrower's credit scores. This makes a crypto mortgage more accessible to borrowers who have not otherwise qualified for a traditional loan. It is very fast and easier to access a crypto mortgage compared to a traditional loan from financial institutions such as banks.
Benefits of Crypto Mortgages
Crypto mortgages have the following benefits as opposed to traditional loans.
Low interest rates. Cryptocurrency mortgages attract relatively lower interest rates compared to personal loans and business loans from traditional banks. You can easily land a crypto mortgage with an interest rate of less than 10%. Interest rates for crypto mortgages are mainly determined by market conditions.
No credit checks. Unlike traditional loans which you need to have excellent credit scores, with a crypto mortgage, you don't need a credit check to apply for a loan. You will get a loan equal to 100% of the value of your crypto.
Fast funding. Unlike traditional banks where you wait for long after a loan has been approved, with a crypto mortgage, once your mortgage is approved, you can access the funds within a few hours.
Drawbacks of Crypto Mortgages
Although crypto mortgage lending has some benefits over traditional loans, they have the following drawbacks.
Repayments terms vary. You need to create your own repayment schedule when you use crypto for mortgage as you continue making repayments. You need to understand the terms of the mortgage before you can have it advanced to you.
No access to your digital assets during the loan duration. You cannot access your loan during the loan duration. You can have a problem if you want to access your crypto before you are through with repaying your loan.
List of Companies Offering Crypto Mortgage in the U.S
Crypto backed mortgages are super-fast and less costly compared to traditional bank loans. Blockchain has led an unbiased and decentralized network that gets lid of processing fees and long waiting for loan approval. The following are some of the best crypto friendly mortgage lenders that can help you get a mortgage with crypto.
United Wholesale Mortgage, one of the largest mortgage lenders in the US, successfully piloted crypto backed mortgages in September and October 2021. The company accepted crypto mortgages in order to assess the potential for cryptocurrency payments for mortgage consumers in the US.
Milo Crypto Mortgage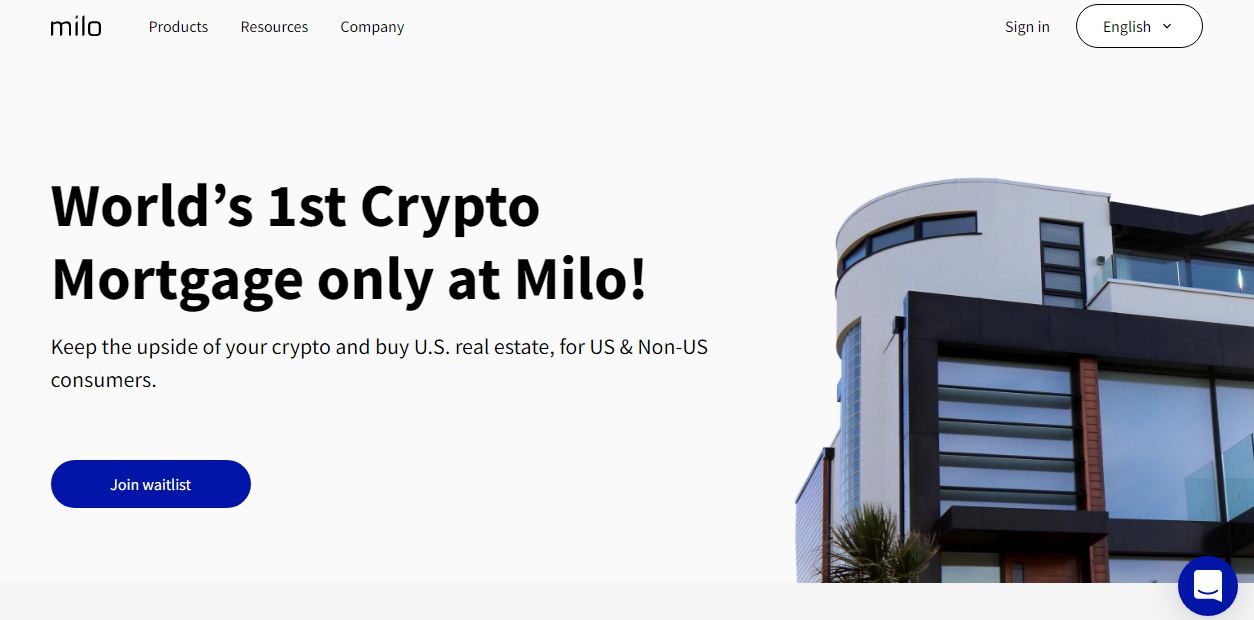 Milo says it's the first company in the world to launch a Bitcoin mortgage. It offers crypto mortgages for US residents. However, Milo Bitcoin mortgage services will be offered to non-US consumers in the future. This means you will be able to buy a US real estate as a non resident. Crypto mortgage lets you leverage your crypto to get a crypto mortgage to help you invest in real estate. Your crypto wealth qualifies you to get a crypto mortgage. You have the option to pay back in fiat or crypto. Milo is a direct lender that is licensed, audited and insured.
How to Qualify for Milo Crypto Loan
To qualify for Milo crypto mortgage, you need to have a minimum amount of Bitcoin equivalent to the total purchase price of the property. For example, if your loan value is $250,000 then you will need to have the same equivalent value in Bitcoin. You need to go through Know Your Customer to qualify for a loan. You also need to join Milo crypto mortgage waitlist. During the soft launch period, you will receive a qualification form after joining our waitlist and once you're qualified you will receive a personalized link to start your application. You can apply for a crypto mortgage online at any time and anywhere.
You only need to pledge your crypto and you can qualify for a mortgage in just a few minutes and close within 30 days. Currently, Milo is offering crypto mortgages to U.S customers only. You don't need to provide a social security number to access the mortgage. Milo accepts Bitcoin only, but plans are underway to start accepting stable coins, Ethereum and other altcoins.
Milo Crypto Mortgage Interest Rate
Milo charges low interest rates and finances 100% of the purchase without requiring you to make a down payment. You get the freedom to adjust rates and monthly payments during the loan duration.
Moon Mortgage has opened a waitlist to allow investors to take loans for real estate using their crypto assets as collateral. It will soon launch in Colorado, Florida, and Texas.
Ledn.io Crypto Mortgage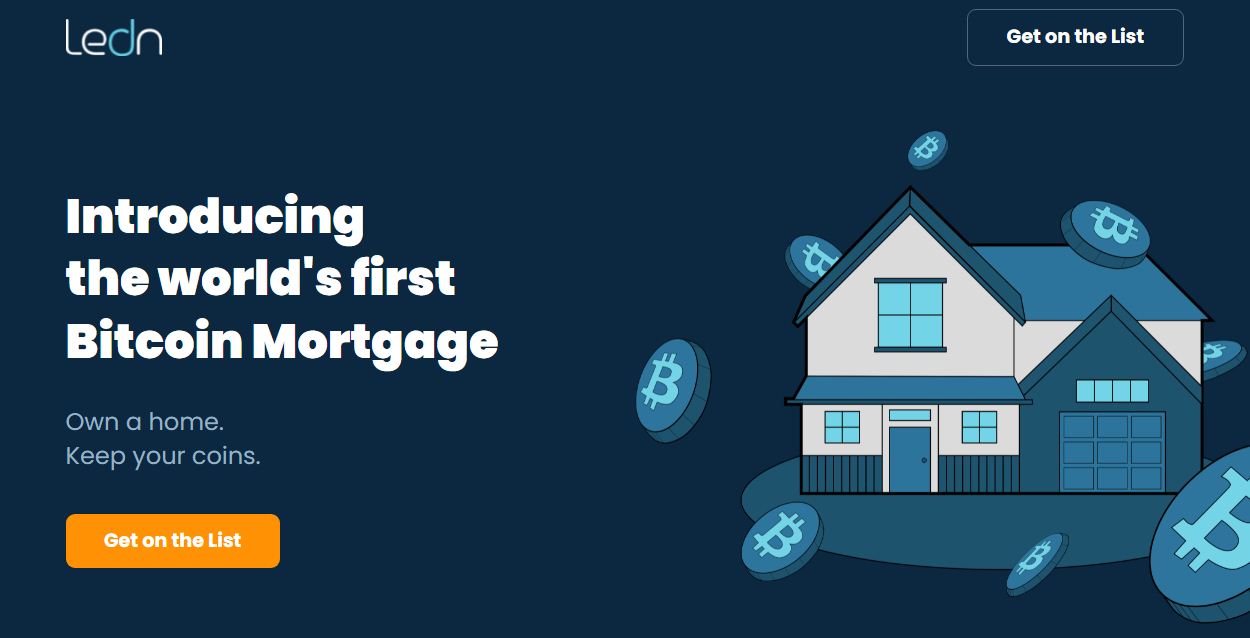 Ledn.io is another crypto friendly mortgage lenders. It offers crypto mortgages in Canada and the US. You can use your Bitcoin holdings to buy a property. You can also finance a home you already own through Ledn.io. You can get a loan equal to 10% of the value of your Bitcoin. You can use bitcoin and real estate as joint collateral while securing a crypto mortgage. A loan is given equally to 100% of the combined value of Bitcoin and real estate.
Ledn can extend a loan equal to 100% of the value of your BTC by accepting both your Bitcoin and real estate as joint collateral.
How to Qualify for Ledn Bitcoin Mortgage
To join Ledn, you need to leave your details, and an agent will contact you with more information. Ledn requires you to provide identity information for Know Your Customer (KYC) and Anti-Money Laundering (AML) policies. The company does not run a credit check on you.
Currently, Bitcoin mortgages from Ledn.io are only available for Canadian and American homeowners. The loan duration is 2 years and you can assess the status of the loan at the end of this period. You can also renew the loan.
Ledn Crypto Mortgage Interest Rate
Ledn mortgage loans attract a monthly interest rate which entirely depends with market conditions. However, the interest rates will always be lower than the interest rates of Ledn's dollar and B2X Loans. Through the inclusion of real estate as collateral, you can lower the cost of financing by half.
Figure Crypto Mortgage
Figure is a US company that allows you to use your crypto for a zero-cash-out home mortgage. If you are a crypto holder in the US, you can use your Bitcoin or Ethereum as collateral for loans up to $20M. With Figure, getting a home loan using your crypto is fast and easy. In addition, you will still hodl your crypto without the need to sell.
How to Qualify for Figure Crypto Backed Loan
Figure has two crypto mortgage plans
Crypto Mortgage. The plan allows you to borrow up to 100% of your crypto value and up to 100% of the home price. The mortgage is secured by both your crypto and the property. The loan amount is $1 million and the crypto amount required is $1M. Out of pocket cash is zero and the loan duration is 30 years.
Crypto Mortgage Plus. This plan allows you to borrow up to 50% of your crypto value to make a 20+% downpayment on your new home, and fund the rest of your purchase with a conventional mortgage. The loan amount you can get is $200K and the amount required is $400K. Out of pocket cash needed for the mortage is zero while the loan duration is 30 years.
Figure Crypto Mortgage Interest
The crypto mortage interest rate for the Crypto Mortgage Plus plan is 5.99% / 5.99% APR while with Crypto Mortgage plan you can lock in a low interest rate at 5.99% / 6.018% APR.
Broader Finance Perspective of Crypto Mortgages
In the scenario that Bitcoin prices fall significantly, Ledn will ask you to deposit more collateral to your crypto wallet. Alternatively, you may be required to pay some principal. If you don't deposit more collateral, Ledn may sell part of your Bitcoin to meet the required LTV. On the other hand, if Bitcoin prices increase, you benefit from the gain in the price of the value of Bitcoin.
Summary of Crypto Mortgage in the US and Crypto Mortgage in Canada
If you are looking for a way to acquire real estate, using crypto mortgage is the easiest way to get one. If you have some crypto assets, you just need to pledge your crypto and you can get funding to buy real estate. Crypto mortgages attract low interest rates and don't need credit checks. However, the downside is that the repayment terms vary and you cannot access your crypto during the period.