Unchained Capital is a platform where people and businesses can get loans by using bitcoin as collateral. Unchained Capital interest rates are attractive. Using bitcoin as collateral for loans means one can get equity without having to lose his or her bitcoin holdings.
Services Offered by Unchained Capital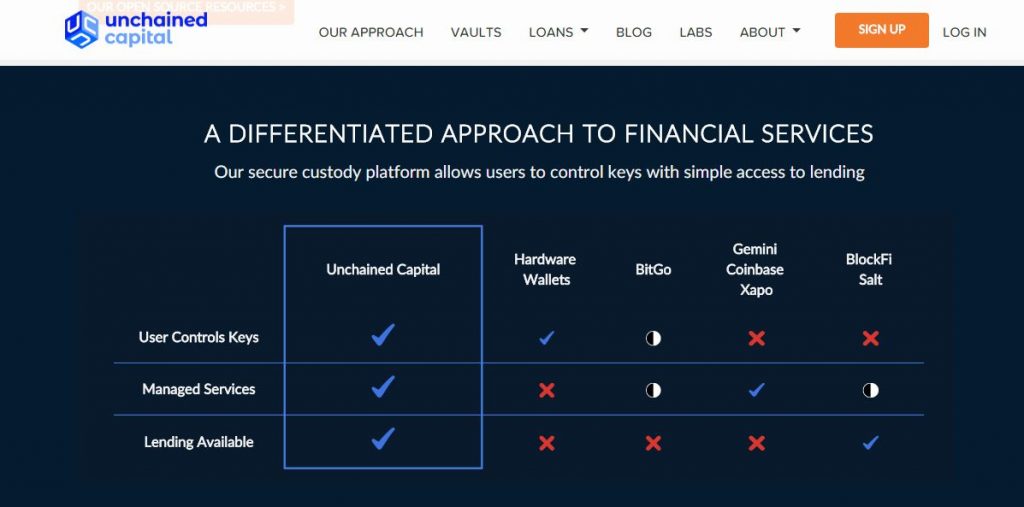 The company has an intensive security system for your wallet and each customer has a unique address. The company uses P2SH address as collateral for loans they advance to their customers. Wallets and stores have private keys on different devices. The software is well integrated and for each transaction, the authors of the software have to audit it.
Unchained Capital Personal Loans
Personal loans are given to people with bitcoins and need finance, but they do not want to sell their crypto assets. They are suitable for people willing to make large scale purchases and those who wish to avoid taxation. It is also a good option for people willing to invest. However, these loans are not available in these states because they do not have Finance Lender License: Alabama, Mississippi, Idaho, North Dakota, Ohio, Montana, South Carolina, Louisiana, Maryland, Michigan, Missouri, Nevada, New York, Tennessee, Vermont, and Washington
Unchained Capital Commercial Loans
These loans are suitable for large firms or people who are looking for working capital for their firms. You can use the credit to help your business to grow or to buy equipment for your firm. A business must provide a list of all its directors, shareholders and officers to get the loan. These loans are only available in the states that have a Finance Lender License. The following states do not have the license; hence commercial loans are not available: Alabama, New York, South Dakota, Nevada, Tennessee, North Dakota, and Vermont
How to Apply for Unchained Capital Loan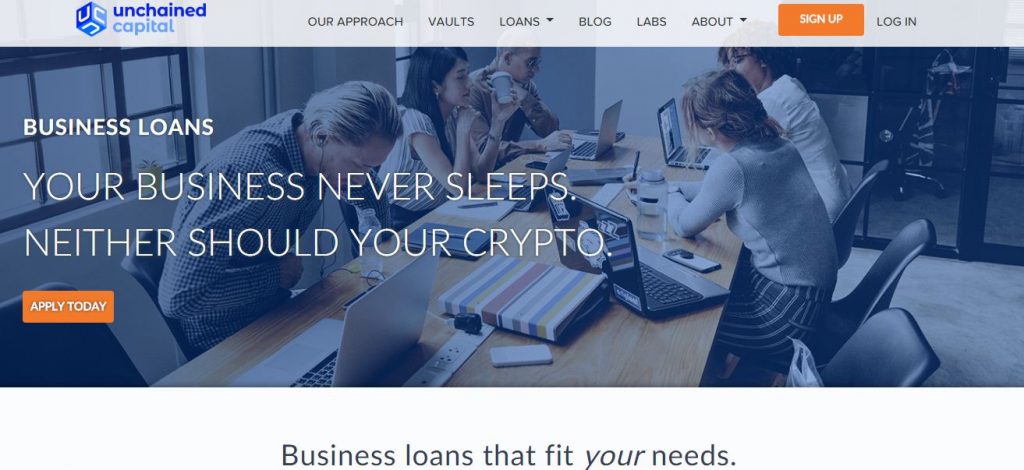 To get a loan, you must first register and you must be a resident of a country where Unchain Capital is authorized. The company then looks at one's eligibility through verification. You need to provide the following details which are part of Know Your Customer (KYC):
Your full name
Date of birth
Social security number
Email address
Business name
How Unchained Capital Loan Works
Unchained Capital only accepts bitcoin and ether as collateral for any of the loans. The company does not do any credit check meaning that when you borrow from Unchained Capital and you are unable to repay, it won't hurt your credit score.
The company uses the loan-to-value ratio and the value of your collateral to determine the amount of loan you will get. Currently, you can only get a credit equivalent to 35-50% of the value of bitcoin or ether you have deposited. You can apply for a business loan or a personal loan. The terms of the loan include a repayment period of between 3 to 60 months.
You are then required to deposit your collateral into an Unchained multisig address or multi-institution. The company does not charge any fees while repaying the loan. You only pay the principal and the interest. You must strictly follow the repayment plan and pay interest every month.
Unchained Capital Interest Rates
Unchained Capital loans have the following inters rates:
A 3-month loan term attracts an interest rate of 8.50% and an Annual Percentage Rate (APR) of 10.42%.
A 6-month loan term attracts an interest rate of 9.50% and an Annual Percentage Rate (APR) of 10.92%.
A 1-year loan term attracts an interest rate of 10.50% and an Annual Percentage Rate (APR) of 11.42%.
A 2-year loan term attracts an interest rate of 12.00% and an Annual Percentage Rate (APR) of 12.40%.
A 3-year loan term attracts an interest rate of 13.50% and an Annual Percentage Rate (APR) of 13.72%.
However, cryptocurrency-backed loans are facing new competition from decentralized finance (DeFi). For this reason, it is not easy to know the total value of loans issued by Unchained Capital.
Advantages of Unchained Capital Loan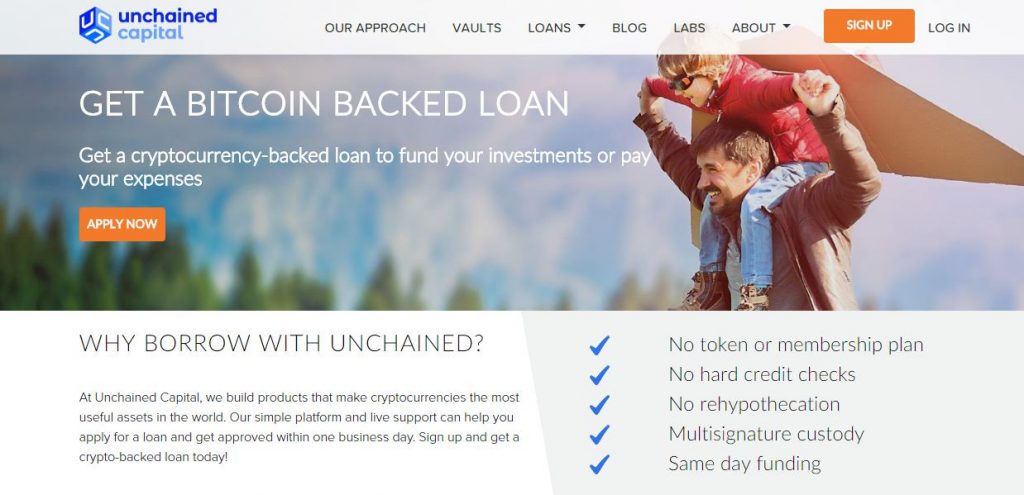 Unchained Capital loans have freedom. You get to receive money in the form of bitcoin or ether.
The company does not consider credit score while advancing a loan.
When you fail to repay your loan, the assets you used as collateral will be used to cover your debt.
You get the loan within one day in your bank account from when the loan is approved.
Security of your assets through multisignature and multi-institution cold wallets.
Simple loan application process.
Disadvantages of Unchained Capital Loan
Most states have restrictions.
Minimum loans are usually too high; $10,000 for individuals and $100,000 loans for companies.
Instability of the cryptocurrency markets.
Final Thoughts on Unchained Capital Loans
Unchained Capital has a secure system to ensure your collateral is safe in case there is a price fluctuation in the value of bitcoin. If there is significant price fluctuation in the value of bitcoin, you will be notified through an email. You will be informed that bitcoin is facing liquidation threat. In such a case, you will need to deposit more collateral or make a principal payment in the form of USD.
If the price of bitcoin increases significantly, you can request a refund of collateral if the principal ratio exceeds by 250%. Your request will be honored within 30 days from the day start of the loan and the last margin call.