Diaspora banking account is a service that allows Ghanaians living and working outside the country to perform domestic and foreign transactions through a bank in Ghana. For example, you can open Ghana bank account from UK, US, Canada, Australia, etc. We have identified 5 options for Ghana bank account when living abroad.
Good to know
Ghana's banking sector is made up of the Bank of Ghana and a number of commercial banks. The Bank of Ghana has the responsibility for implementation of monetary policies.
There are over 4 million Ghanaians in the diaspora.
Benefits and Features of Ghana Bank Account
| | Bank | Benefits & Features |
| --- | --- | --- |
| 1 | GTB Diaspora Account (GTBank Diaspora Account | GTB diaspora banking involves foreign exchange account, foreign currency account, investment in money market instruments, e-Banking, a Relationship Manager who would manage the client's account |
| 2 | EcoBank Diaspora Account | Diaspora card
, internet banking
, international transfers, free e-statements, free SMS and e-alerts, access in 33 countries |
| 3 | UBA Diaspora Account | Repatriation of income back to Ghana, ability to operate your account from your foreign base, transfer money from your account to 3rd party accounts in Ghana, pay your children's school fees, medical and stipends, flexible loans for your projects at home |
| 4 | Stanbic Bank Diaspora Account | No monthly service fee, minimum balance of GHC5 000 must be kept in the account (USD2 000, GBP1 000, EUR1 500 and ZAR12 000), fee of USD50 for the first 3 SWIFT transfers each year, free monthly statements, Gold Visa debit card, free SMS or email alerts, Executive teller/exclusive executive corner in selected branches when in Ghana, toll-free line in the UK and Ghana |
| 5 | GCB Diaspora Account / GCB Link2Home Account | Account can be operated as either a Foreign Currency or Foreign Exchange account, MasterCard or Visa card locally or abroad, applicants can open more than one type of account eg, Cedis & USD accounts,Cedi, foreign investment options |
Guaranty Trust Bank Diaspora Account

Guaranty Trust Bank, also known as GTBank or simply GTB, is a Nigerian multinational financial institution with operations in Ghana. The bank offers Non Resident Ghanaian (NRG) account.
Requirements
To open a diaspora account with GTB, you need the following:
A completed account opening form.
One Passport photograph showing full face forward.
A copy of any of the following means of Identification of Signatory: valid Ghanaian passport, valid National Driver's licenvse, valid National Identity Card, valid Voters Identity Card.
Copy of any of the following (where applicable): duly filled banker's confirmation form, utility bill issued within the last three months for the address stated on the form, bank or credit card or bank statement issued within the last three months showing customer address, one reference letter obtained from a current Banker or Banker's confirmation, asigned email indemnity clause authorizing the bank to act on client's electronic instructions (optional.
Checklist
I. Scanned copies should be sent to nrg.account@gtbank.com
II. Original copies should be sent to the following address:
Guaranty Trust Bank (Ghana) Limited
25A Castle Road Ambassadorial Area
Ridge, PMB CT416, Cantonments
Accra- Ghana
EcoBank Diaspora Account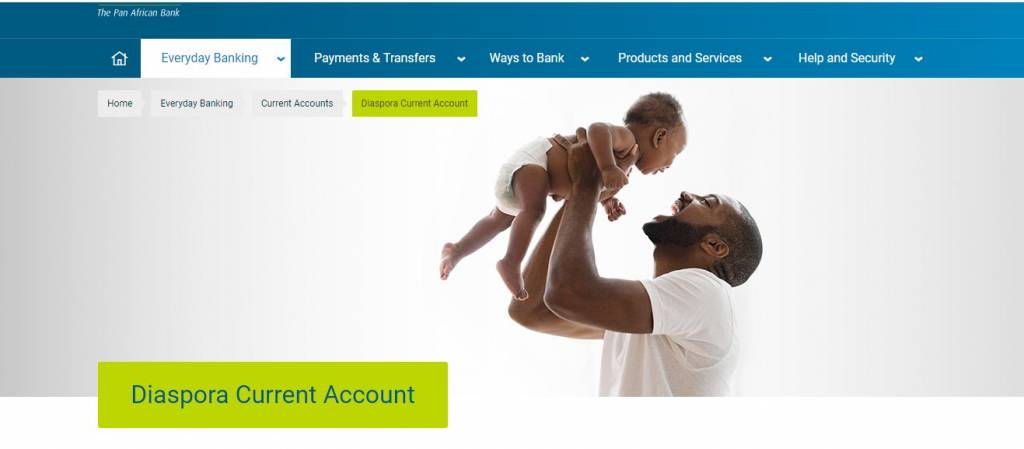 EcoBank, whose official name is Ecobank Transnational Inc., is a pan-African banking firm with banking operations in Ghana and 35 other African countries. I
Requirements
To open diaspora account with EcoBank, you need the following:
Completed account opening form.
1 mandate card.
A valid proof of Identity of each signatory (current driver's license/ International passport) – duly notarised.
Proof of address – utility bills for the 3 previous months/ certificate of residence/ tenancy agreement/ credit card statement – duly notarised.
2 passport photographs.
Employer's letter of introduction / payslip/ tax clearance certificate/ bank statement – duly notarised.
National Health Insurance Card as form of ID .
Student "Supplementary form" or "Admission form" as a form of identification for students individual account.
Answer questions on "Know Your Customer (KYC) document".
UBA Bank Diaspora Account

United Bank of Africa (UBA Bank) is a Nigerian bank with operations in 20 African countries, including Ghana, and offices London, Paris and New York.
Requirements
To open a diaspora account with UBA, you need the following:
Fill an on-line form or collect an account opening form from designated agents.
Get either your current banker abroad or a UBA account holder to give a reference.
Attach photocopies of information pages in passport, proof income, utility bill/ tenancy agreement.
Send completed form to bank's agent or mail the package to UBA Ghana.
UBA does second level checks, establishes the account and mails back the welcome kit consisting of internet banking access PIN mailer. The customer bears the cost of mailing the welcome kit.
Stanbic Bank Diaspora Account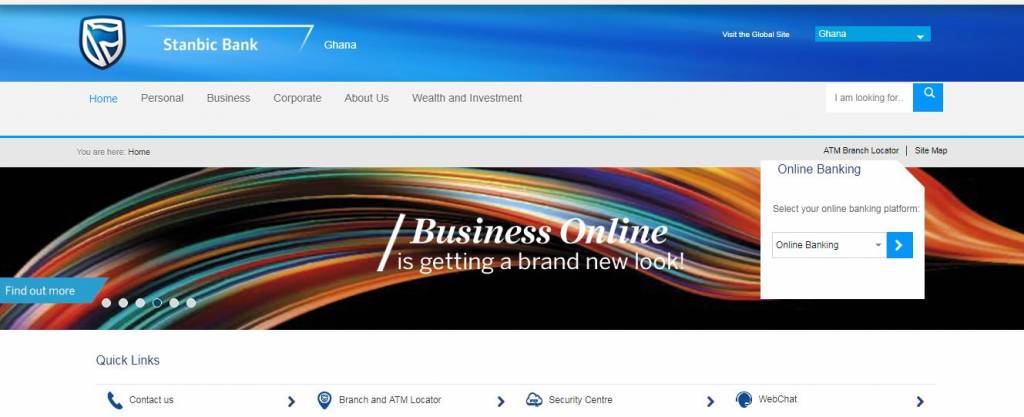 Stanbic Bank is a division of Standard Bank, a member of the Standard Bank Group, based in Johannesburg, South Africa with banking services in Ghana.
Requirements
With Stanbic Bank, you need the following:
ID or passport (original and color copy).
Two color passport photos.
Evidence of residential address (i.e. utility bill).
A copy of the Printed Signature card embossed with your signature.
All personal documents need to be verified by a notary public (ID and Evidence of residential address).
GCB Bank Link2Home Account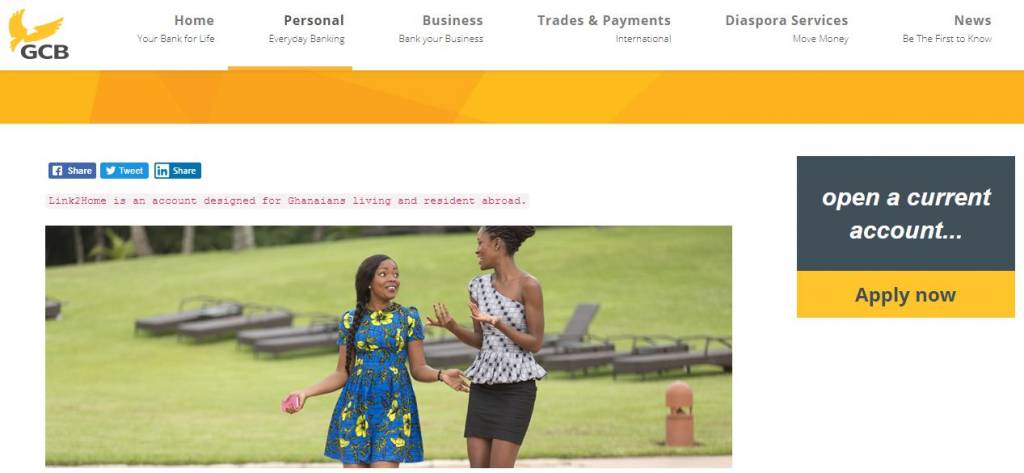 GCB Bank Limited, formerly Ghana Commercial Bank, is the second largest bank in Ghana by net profit and total assets.
Requirements
This is what you need to open a GCB bank diaspora account called GCB Link2Home Account:
Two passport-sized photograph.
Valid photo identity (Passport / Driver's License / Voter ID / SSNIT Biometric card ).
Proof of residential and postal addresses (a copy of any of the following): utility bill (water or electricity), tenancy agreement, employer's reference letter, initial deposit (amount to be determined by Bank from time to time).
Final Thoughts on Ghana Bank Account When Living Abroad
With the growing Ghanaian diaspora, local banks are looking for innovative ways to allow Ghanaians to deposit money in local banks through diapora banking accounts. They are offering attractive packages with lower fees and significant returns. The deposits allow banks to expand their loan facilities for mortgages, auto loans, business loans, and personal loans. It is important that you check with the bank you want to open account with for any updated charges at the time of opening.