Many people from Kenya are working abroad and frequently they may wish to save their money in Kenyan banks, invest in the country or send money back home. For these reasons, they may want to open a diaspora bank account that they can use for banking services while abroad or in Kenya.

How Diaspora Bank Account Works
What is diaspora banking? Diaspora banking is a service that allows people living and working outside their home country to have a bank account back home. Diaspora bank accounts vary from one bank to another. However, most of the banks have relationship managers who guide people on how to open diaspora accounts and invest in Kenya. They also help one to manage their funds. Besides, some of the banks offer mortgage products to diaspora bank account holders.
Requirements for Opening a Bank Account in Kenya from Abroad
The provisions for diaspora banking in Kenya vary from one bank to another. In general, the following are some of the requirements.
Identification card.
Passport size photo.
Utility bill.
Proof of residence.
Certification of all your documents by a lawyer or a Kenyan embassy official.
You also need to fill in an online form of your personal information such as your full names, mobile number and email address.
What are the Features of Diaspora Account in Kenya?
The features of Kenya diaspora banking vary from one bank to the other. However, the following are the main features.
Some do not have monthly fees.
Accounts are available in different currencies.
Most of them give access to relationship managers.
A debit card is usually given.
Some of them offer loans after operating the account for six months.
You can transact through a mobile application or online banking platform.
Most of them earn interests in local and foreign currencies.
Most of the diaspora bank accounts offer full banking products and also allow one to send money quickly. You can manage and save your money while in Kenya or abroad. The funds can be held in different currencies, which make it easy to withdraw from whichever country you are in. This makes it cheaper since you do not need to pay conversion fees every time you want to withdrawal. You also enjoy 24/7 customer care service and internet banking.
If you are abroad, you can send the documents by courier services or by mail. Alternatively, some banks have an online registration process, thereby making it more accessible. Others will send an agent to your location to collect your signature and other documents from you.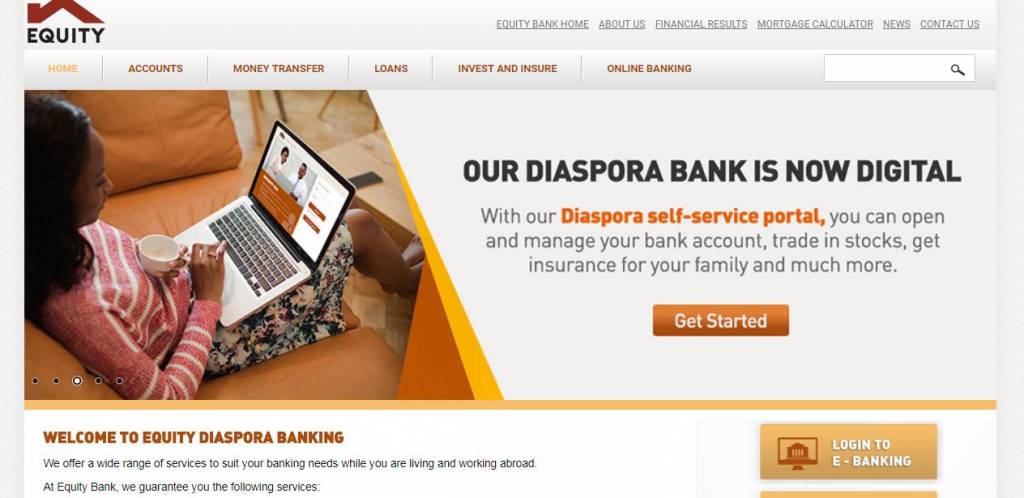 Diaspora Bank Loans
Kenyan banks are extending credit facilities to customers living abroad. Some of the loans advanced include:
Diaspora mortgage/ construction loans. The loan can be used to construct a residential or a commercial house.
Assets financing. The loan can be used to purchase an asset for your businesses, such as equipment or a machine.
Personal loans. They can either be secured or unsecured loans. They are offered to individuals based on employment contracts.
Trade financing. You can use the loan for different business requirements. It is possible to get bid bonds, performance bonds for your businesses.
Plot purchase loans. You can use this loan to buy land or plot.
Some of the banks that are offering Diaspora bank accounts in Kenya include the following.
• Equity Bank (Diaspora Business Account, Ezzysave Diaspora Account and Equity Bank Diaspora Loans)
• Co-op Diaspora Banking
• NCBA Diaspora Account
• Absa Bank
• Gulf African Bank Diaspora Account. Kenya's premier diaspora Islamic banking
• I&M Diaspora Bank Account
• Chase Bank
• Family Bank Kenya Diaspora Account
• Credit Bank Diaspora Account
• KCB Diaspora Bank Account
• Diamond Trust Bank
Final Thoughts on Diaspora Banking in Kenya
If you are are from Kenya and currently working abroad, you should consider opening a diaspora bank account in order to make investments back in Kenya as well as cheaper money transfers to family and friends. Moreover, you can obtain diaspora loans in Kenya with most of the banks listed above. Make sure to read the requirements of each bank, the services they offer through diaspora accounts, fees and features of their accounts.