Budgeting apps give you maximum control over your money by helping you understand your income and spending patterns. They help you make budgeting plans and stick to them. Most of these budgeting apps connect to your bank accounts and credit card accounts and automatically track your transactions. Other apps will even categorize your spending to help you know exactly where your money is going. The following are some of the best budgeting apps in the US.
Hiatus App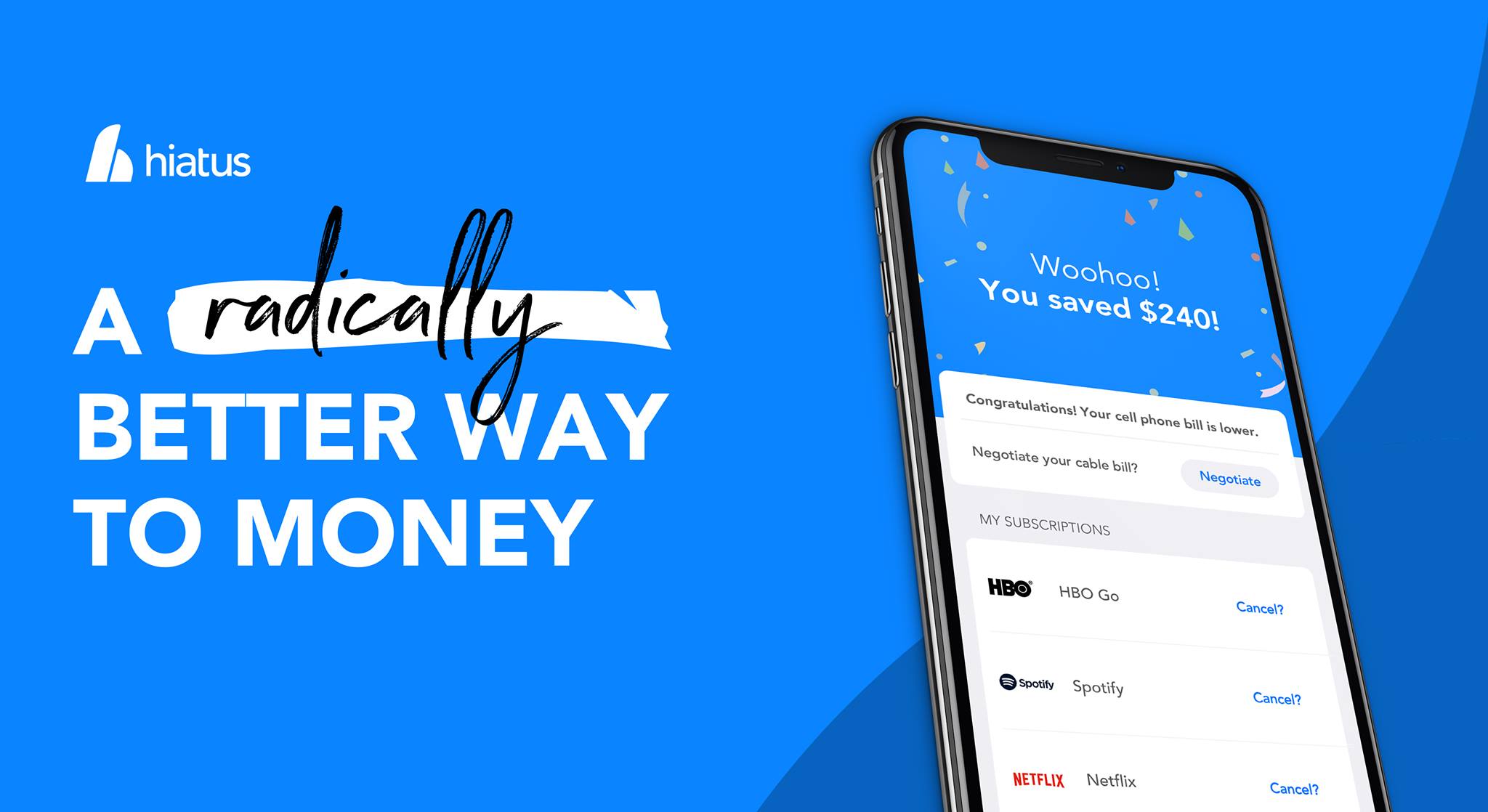 Hiatus app is a money management app that helps you track your monthly bills and subscriptions, monitor your finances, and negotiate bills on your behalf to help you save money. The app uses a combination of machine intelligence and behavioral design to help you manage your finances.
How to Sign Up
You can create a Hiatus account on their website or through the app (for Android and iOS). You will need to enter your email and create a password then link your banking institution to your account. Hiatus will provide a list of banks, click on your bank name and enter your login details to connect to Hiatus.
Hiatus App Features
Auto tracking. The app will track your monthly bills, upcoming renewals, and subscriptions. Hiatus will then provide alerts for your bills before they are due and help you cancel unwanted subscriptions and auto-billing.
Bill negotiation. Hiatus app is one of the best apps to negotiate your bills. If your bill is higher than it should be, Hiatus's financial experts will negotiate it on your behalf.
Notifications. Hiatus app provide alerts for your bills before they are due.
Control spending. Hiatus automated financial assistant will keep track of your budget to help you stop overspending on monthly bills.
Hiatus App Fees
Hiatus app is free to use. However, you will pay a monthly fee of $7 (minimum) for its premium features.
Mint Budgeting App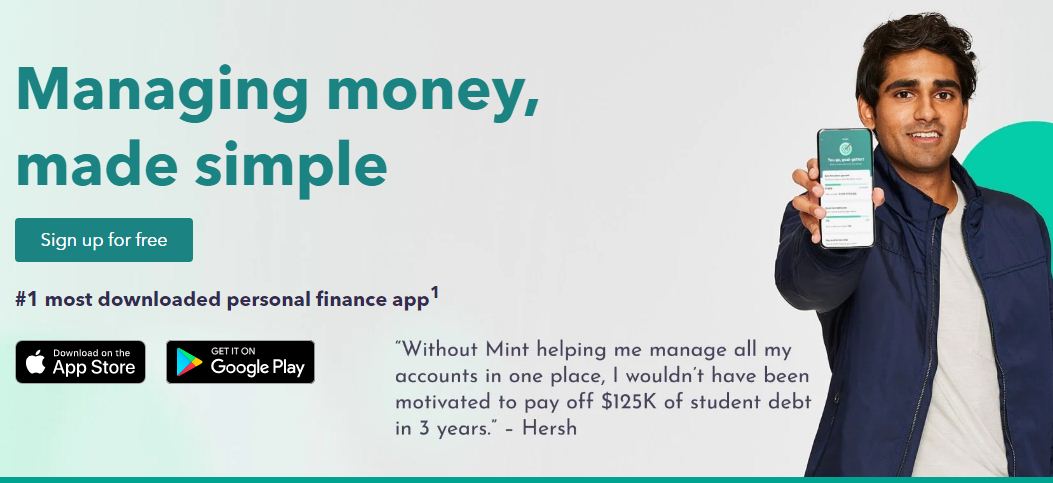 Mint is a free budgeting app that allows you to connect all your financial accounts in a single digital space. The app helps to keep track of your spending, savings, and investments. It also helps to set and track budget goals. You can sync up bank accounts, investment accounts, money management accounts, credit cards, retirement, and other financial accounts. The app also offers monthly bill tracking and you receive payment reminders to avoid late bill payments.
How to Sign Up for a Mint Account
Mint has a website and a mobile app. You can sign up via their website or you can download the Mint app to your smartphone and create a free account by entering your email address, phone number, and creating a password. Next, link your bank and credit card accounts to categorize transactions, set goals, begin a budget, check your credit score, and track your investments.
Mint Features
Bill payment tracker. Mint's bill tracking feature allows you to track all your bills in the Mint app. You can also set reminders to pay your bills and get alerts when your account balances are too low.
Budgeting. Once you link your bank accounts to your Mint account, Mint will analyze your spending and suggest budget goals personalized for you. You are free to create and adjust your budget goals.
Free credit score. The Mint app offers a free credit score based on your TransUnion VantageScore report. Mint also allows you to track your financial situation by logging into your account and clicking on the "Show Details" button.
Alerts. Using the app, you will get notifications on your phone and you can also sign up for email and desktop notifications.
Mint Fees
The Mint app is a completely free app to use.

Dave App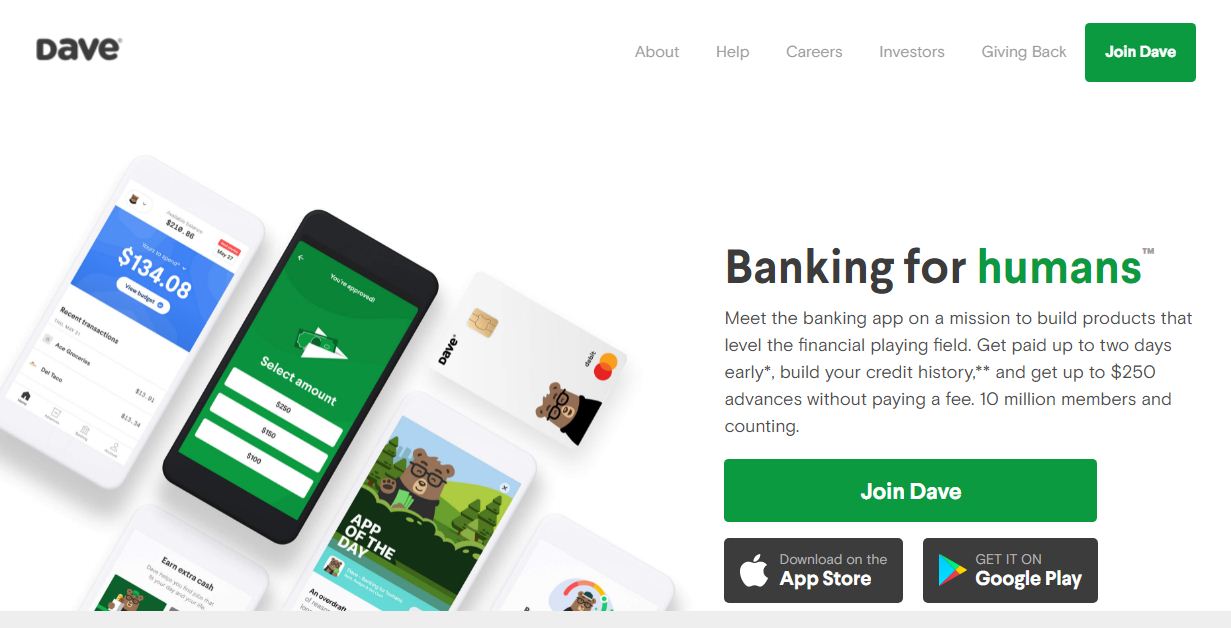 Dave is a low-cost online banking app that notifies you when your account balance gets too low to avoid overdrawing your checking account. It also offers free small cash advances to help cover expenses up to your next paycheck. The app is ideal for those who have a steady employment and a regular paycheck.
How to Sign Up for a Dave Account
To register for a Dave account, download the app to your mobile device and provide your mobile number, password, username, and banking credentials.
Dave App Features
Spending account. Dave's spending account holds deposits and makes payments and transfers between it and other bank accounts. There is no minimum deposit or balance requirement to open or maintain the account.
Cash Advances. You can get up to $250 cash advances with no interest. To qualify for a cash advance, you need to have a bank account that receives a direct deposit regularly and the account should have at least two past direct deposits.
Automatic Budgeting. The app predicts your account balance to help you know when you will run out of money or notify you of an upcoming bill.
Build Credit. Through Dave app's partnership with LevelCredit, Dave lets you report rent and utility payments to major credit bureaus to help build your credit.
Connection to Side Jobs. Dave app's partners connect you with side jobs right from your smartphone.
Dave App Fees
Dave is a low-cost money management app. Expect the following fees.
Cash advance interest fee. None. Instead, Dave asks for optional tips of up to 20% of the borrowed amount.
Monthly subscription fee. $1 is always deducted from your linked bank account every month.
ATM fees. None
Prism Bill Pay App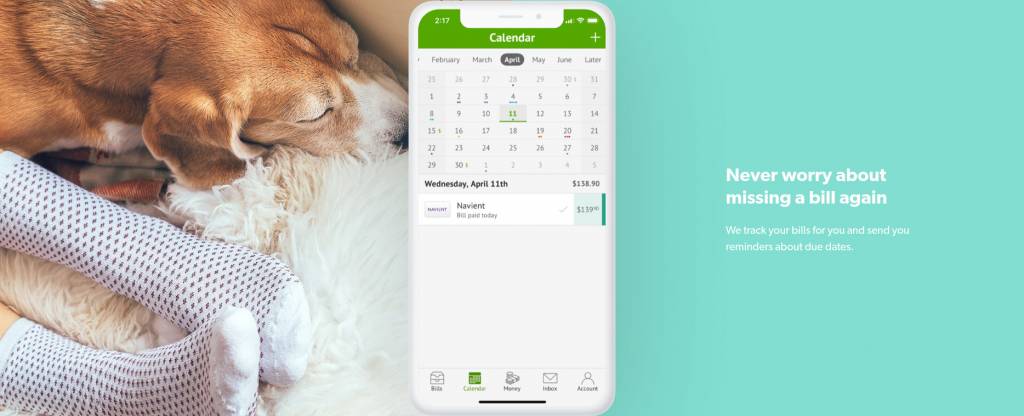 Prism is a bill management app that allows you to keep track of and pay all your bills from a single app. The app will help you avoid late payments or missed payments.
How to Sign Up for a Prism Account
The Prism app only works on your phone. To set up an account, download the app, create a password, account designation and personal ID number to activate your account. Then link all your billers with the app. Next, link your payment accounts. Linking your payment accounts with your billers enables Prism to monitor all your bills for you and send you a notification when a new bill is available.
Prism Bill Pay Features
Bill tracking. The Prism app tracks your bills and sends you reminders for due dates. This helps to avoid late payments or missed payments.
Unlisted Billers. If your biller is not listed on the Prism app, you can add it manually.
Payment Cancellation. If you make wrong payment, Prism allows you to cancel it within 10 minutes of sending it.
Change you bill payment date and bill payment date. Prism allows you to change your payment date and pay your bill from a different account.
Account Aggregation. The app brings together all your income, your account balances, and monthly expenses. It eliminates the need to log into individual websites to check your account status.
Account Sync. The Prism app syncs your accounts every morning.
Prism App Fees
The Prism Bill Pay is a generally a free app. However, different billers will have different payment terms especially on the available payment options. Also, if a biller offers payment options that are not convenient for you, Prism will offer additional options at a fee. Prism also charges a returned item fee.
Additional payment option fees. A small fee depending on the payment option
Returned item fee. $15
Trim App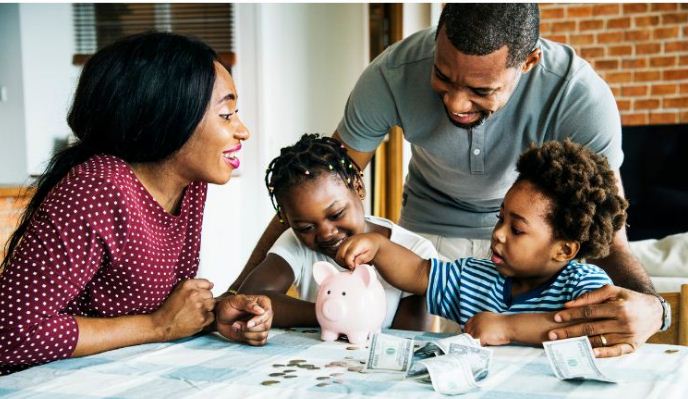 The Trim app, also known as ASkTrim helps to analyze your bills and spending patterns to find ways to save you money. It is one of the best bills (cable, internet, medical, and phone) negotiation apps. Trim will also help to cancel unwanted subscriptions.
How to Sign Up for a Trim Account
Trim is only available on the Trim's website. To create an account, visit Trim's website and create your account using your email address, Facebook account, or Google account. After logging into your new account, connect your bank account and credit card accounts to allow Trim to analyze your financial transactions.
Trim App Features
Bill negotiation. Trim will analyze your phone, cable, internet, medical, and wireless bills and determine whether it should be cut down or not. This can save you hundreds of dollars in a year.
Subscription cancellation. Trim tracks your transactions from your linked checking and credit card accounts to identify frequent subscriptions. Trim alerts you about them and you can cancel the unwanted subscriptions.
Financial coaching. Premium users can access a team of financial planners who will answer questions on financial aspects.
Debt calculator. The Trim app analyzes all your debts and helps to build a payoff plan.
High-Yield Savings Account. The account come with a 4% annual reward and a rate of 1.1% after.
Automatic Credit Card Payments. The TrimPay feature helps to pay off credit card debts faster.
Trim Fees
Trim app is a free service. However, some services attract fees.
Successful bill negotiation. Up to a third of your total yearly savings
Trim's savings account. $2 per month
Trim's premium features. $10 per month
You Need a Budget (YNAB)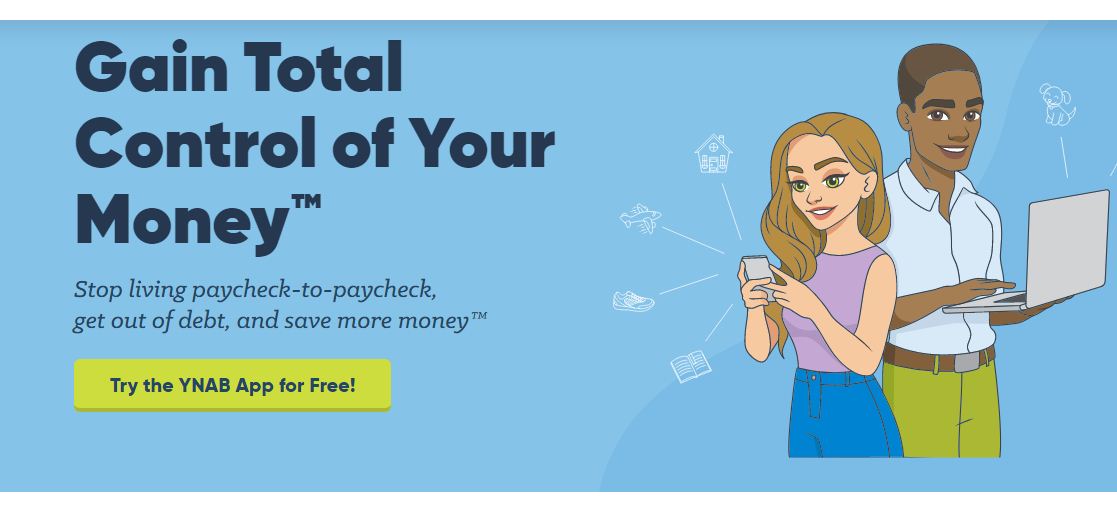 You Need a Budget (YNAB) is a money management app that brings together all your accounts and then prompts you to assign each free dollar to a category. This helps you to plan where your money is going before you spend it.
How to Sign Up for a YNAB Account
Visit YNAB's website or download the app and click on "Start your free trial" to create your account. Enter your email address and password then agree to the terms of service and the privacy policy. Once you log in, you can start to set goals immediately.
You Need a Budget (YNAB) Features
Live workshops. YNAB gives access o live workshops every week covering every aspect of the app and how to go about budgeting.
Direct Import. YNAB allows you to directly import bank transactions to your YNAB account.
Seamless sync. If you make a change to your account on your desktop, the change will also be transferred to your YNAB mobile device.
YNAB Inspector. It gives you a glimpse into whether you have enough money budgeted for an upcoming expense.
YNAB Fees
YNAB is a paid app and is one of the most expensive budgeting apps. However, it comes with a 100% money back guarantee. You can opt for either of the following:
Monthly subscription. $14.99
Annual subscription. $98.99
Final Thoughts on Budgeting Apps in the US
There are plenty of budgeting apps in the US and each app offers its own set of tools and features to help you manage your money efficiently. However, not all apps will be ideal for your financial needs. To find the best app, determine your need for a budgeting app and consider their prices, free trials, budget alerts, accounts sync, bill payment reminders, subscription management, bill negotiation feature, and user reviews.