Dave is an online banking app that notifies you when your account balance gets too low to avoid bank overdraft fees. In addition, it offers short-term cash advances without a fee to help cover upcoming expenses. It works like a "weather forecast" for your checking account.
The Dave app is ideal for people with a steady paycheck who need a few extra dollars from time to time to cover a small shortfall for a routine or unexpected expense before the next paycheck arrives.
Dave.com Key Takeaways
The Dave.com app allows you to get paid up to two days early with no interest involved.
The app helps you to build your credit history.
You can get Dave cash advance up to $500 without paying a fee. Instead, it asks for "tips"
You only pay $1 a month for $100 in overdraft fee protection.
Dave app's partners connect you with side hustles right from your smartphone.
How to Sign Up for Dave App
To sign up for a Dave app, download the Dave app to your mobile device. Next, open it and click on "Sign up for Dave" and follow the prompts to set up your account. Information you will be required to provide include your mobile phone number, email address, password, banking credentials, and low balance alert amount.
Dave doesn't support joint bank accounts or shared Dave accounts. This means, if you share a bank account with someone else, only one person will be able to add it to Dave.
How the Dave App Works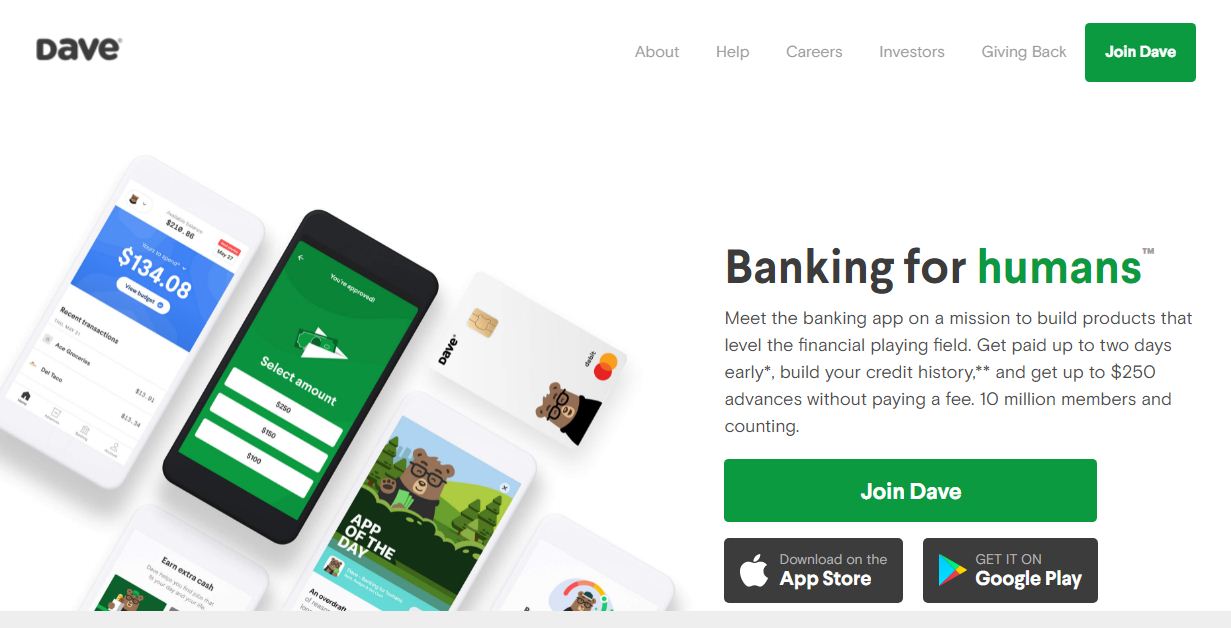 When you join Dave, you open a spending account. It is a checking account with a MasterCard debit card. You don't get a physical checkbook mailed to you, instead, you send and deposit checks from your phone. To get paid up to 2 days early, just set up direct deposit and wait for Dave to confirm your income. If your employer or sender supports it, you may see your paycheck up to 2 days earlier.
The Dave app works by providing notifications when your account balance gets too low. It also offers cash advances of $25, $50, or even $75. To qualify for Dave cash advance up to $500, you will need to link your bank account for Dave to review and debit the funds from. Additionally, Dave has an automatic budgeting feature that predicts your account balance. This helps you figure out when you will run out of money or notify you if an upcoming bill such as Netflix puts you in danger of overdraft so you can look for alternative ways to make extra cash before then. The Dave app works best for users with regular or predictable pay schedules.
When you first join Dave, you'll be able to transfer funds from your external bank account into your Dave Spending account via ACH (up to 5 business days) or third party apps such as Apple Pay (1% fee). Wire transfers are not accepted into Dave Spending accounts.
Dave.com Debit Card
You will get Dave card, both physical and virtual card with your Dave checking account. You can add your Dave virtual or physical card to use with Apple Pay, Google Pay, or Samsung Pay. Dave app card transaction limits are provided below are: daily POS transaction limit is $5,000 and daily ATM transaction limit is $500.
Dave App's Side Hustle Feature
Unexpected expenses can make your money life unpredictable, but Dave app helps you to boost your budget through side hustles. Dave's network of partners help you discover and apply for side gigs right from your phone.
To find freelancing jobs using Dave app, go to the "Home" tab on the app, scroll down and tap "Browse Side Hustles". Alternatively, you can head to the "Profile" tab on the Dave app, scroll down to the Hustles section and tap "Find a Side Hustle."
Dave App Build Credit Feature
Dave has partnered with LevelCredit to let you report rent and utility payments to major credit bureaus to give you a credit-building edge. LevelCredit normally charges $100/year but it is free for Dave members who set up Direct Deposit.
To start building your credit, log in to your bank and find your rent and utility payments. Once you match a transaction, LevelCredit will automatically find future rent and utility payments. Every month, LevelCredit shares data about your rent and utility payments with the credit bureaus.
How to Cancel Dave App Membership Subscription
If you no longer want to be subscribed to Dave, you can cancel your Dave app membership using the app or by sending an email.
Cancel Using the App
Deleting the app does not get rid of Dave account or membership and Dave will keep charging you every month. To cancel the subscription through the app, first open the app, go to the "Account" tab to find your Dave membership. Then, click on "Manage Membership" and select "View Membership Status". Next, scroll to the bottom of the page and choose "Manage Dave Membership" under "Manage Membership". Then select the "Cancel my Account" option to complete your account cancellation process.
Unsubscribe by Sending an Email
Alternatively, you can cancel your Dave account by sending an email to Dave. First, write down the phone number associated with your account in the email and send it to friends@trydave.com and make a request to cancel your account.
Pausing the Dave Account
If you do not want to use Dave services for a while and you do not want to cancel or delete your account, you can pause it through the app. Dave will not charge you the monthly subscription fee when your account is on pause. To pause it, go to the "Account" tab and select "Manage Membership". Next, click on "View Membership Status" and select "Manage Membership". Lastly, press on "Pause Membership" to complete the process.
Dave App Supported Countries
The Dave app boasts over 7 million users who are at least 18 years of age. Its Spending Account is available to citizens or lawful permanent residents of the 50 states of the United States, the District of Columbia, Guam, American Samoa, Marshall Islands, US Virgin Islands, Palau, and Northern Mariana Islands. This account is only available to individuals for personal, family, or household purposes.
Dave App Funding Options
When you request for a cash advance with Dave, you can choose from Standard or Express funding options. The Standard funding option is free but it may take up to 3 days to receive your money. With the Express funding option, you pay a small fee of $4.99 to receive your money on the same day.
What happens if you don't pay Dave app back? If you don't pay it back manually before it's due, Dave.com app will automatically withdraw the amount you borrow from your linked bank account .
Dave App Fees
Dave charges a monthly subscription fee of $1 to use the app. This amount is usually deducted from your linked bank account each month. When you connect your debit card to Dave, you may be able to eliminate the $1 fee by shopping at preferred merchants. Dave does not charge interest on their cash advance. Instead, the company asks for optional "tips" from its users. Once you request an advance, you will be taken to the tip screen where you will click on the amount you want to donate or click on the "Custom Tip Amount" to set your percentage.
Dave.com Customer Service
If you have a question concerning the Dave app, check out the company's Help Centre for answers to the most commonly asked questions. Alternatively, you can email Dave for assistance and a support agent will get in touch within 24-48 hours. You can also use the Live Chat support option in-app to reach the support team (available daily 5am – 5pm PT). If you happen to have an issue with your spending account, you can reach the team through phone call by calling the number at the back of your Dave Spending card (available Monday to Friday from 4am to 10pm PT and on weekends from 5am to 5pm PT).
Is the Dave App Safe? Is Dave App Legit?
Every Dave account is protected by banking-level security and FDIC-insured up to $250,000. Since Dave uses customer's checking account information to provide its services, it has put in place security measures to protect users' personal data. Dave's access to client accounts is read-only with no access to our funds and they use 2048-bit encryption to protect the transmission of data to their site. Client passwords, social security numbers and other sensitive data are encrypted. Additionally, Dave enlists third-party experts to assess their site for vulnerabilities.
Even with these security measures, there was a data breach in 2020 which reportedly compromised the personal information of more than 7.5 million users. Dave users say it took the company nearly a whole month to alert its users of the breach. However, the company claims that all customers were notified immediately the breach occurred. In August of the same year, five Dave users filed a class action lawsuit against Dave's owners in relation to this breach. As at now, we do not know how secure the app is from future data breaches.
Dave App Alternatives
If you find that the Dave app is not right for you, there are alternatives you can consider. They include;
Final Thoughts on the Dave App Review
The Dave app is ideal for people who have a steady paycheck and need a few extra dollars to cover small shortfalls. Dave will not be of much help if you are dealing with bigger cash shortages and you might need to evaluate your spending habits or look for ways to boost your income.