What is Empower app? The Empower app is a banking and money management application that helps you take control of your money. It stands out from other financial apps because it not only shows your financial situation, but also gives personalized recommendations based on your lifestyle. The app helps you save money, gives cash advance, track your spending, and provides suggestions to improve your financial knowledge.
How Empower app helps you save
You can categorize your expenses into bills and utilities so that you can track how you spend on each one of them.
In case you have subscriptions that are taking too much of your money, Empower helps you to cancel them. Empower app lists all the subscriptions so that you can select the ones you would want to be canceled.
When your bills or subscriptions increase significantly, Empower will notify you.
To help you to pay your debts faster, you can turn on the AutoSave from the app. To keep a record of all your transactions, you have the option to export all the transaction history in a CSV file.
Empower Features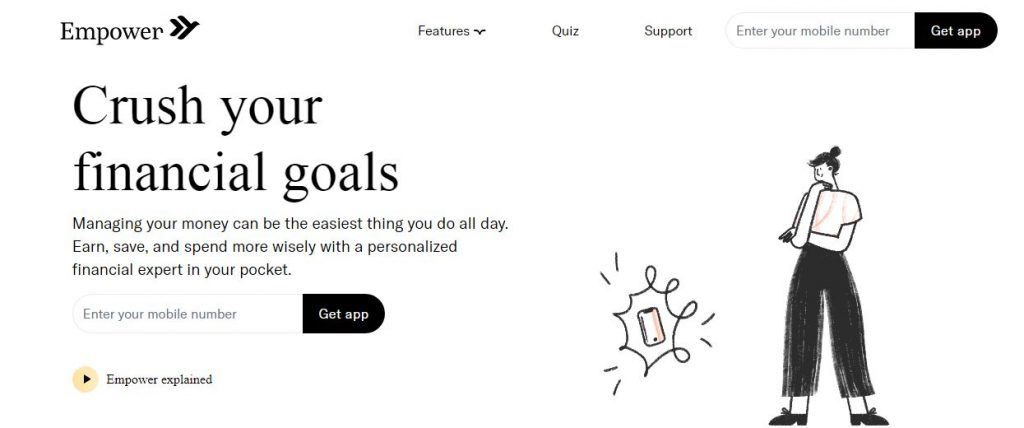 Once you download Empower finance app, you will enjoy the following features.
Cash Advance: You can get up to $250 cash advance directly deposited into your bank account. You will pay it back with zero interest and no late fees the next time you get paid.
Empower Card: The card allows you to earn a 0.01% Annual Percentage Yield (APY) with no minimum balance required when you have an Empower Card account.
AutoSave: Set a weekly savings goal, and the app helps you achieve it by analyzing your account balance, cash inflows, and outflows to identify when you have extra funds to save.
Budgeting: You can create budgets for different areas of your life and receive real-time alerts for paychecks, bills, and purchases.
Smart Recommendations: Receive suggestions on how to increase earnings and find additional savings.
Credit Score Monitoring: Keep track of your credit score directly within the app.

How to Create Empower Account
To create an Empower app account, you need to meet certain requirements. Firstly, you must be 18 years old or older. Additionally, you should have a bank account with a U.S. financial institution and a mobile phone number capable of receiving SMS messages within the U.S. If you wish to open an Empower Card or AutoSave account, you will need a valid Social Security Number (SSN) and a valid U.S. physical residential address as well.
To get started, download the Empower app from either the App Store or Play Store onto your mobile phone. Once installed, launch the app and provide the necessary information about yourself to set up your account. Next, connect your external bank accounts to the Empower app. This step allows you to link your existing bank accounts for a comprehensive financial overview and access to various app features.
It's important to note that during the account setup process, Empower may occasionally require additional information. In such cases, a manual review process may be initiated, which can take up to 3 business days. Keep in mind that to fully utilize the app, you will need to connect at least one external bank account to your Empower app account.
Empower App Charges
Empower charges an $8 auto-recurring monthly subscription fee to use the platform. The subscription fee is automatically debited from your linked external bank account every month. For Empower Card users, international transactions are subject to a foreign exchange fee of 1% based on the total transaction amount.
Regarding Cash Advance, there are no interest or late fees involved. However, if you decide to receive your draw instantly to your external bank account, there will be aninstant delivery fee calculated based on the draw amount as shown in the table below:
| Cash Advance Amount | Instant Delivery Fee |
| --- | --- |
| $0 – $10.00 | $1.00 |
| $10.01 – $49.99 | $2.00 |
| $50.00 – $74.99 | $3.00 |
| $75.00 – $99.99 | $4.00 |
| $100.00 – $149.99 | $5.00 |
| $150.00 – $199.99 | $6.00 |
| $200.00 – $249.99 | $7.00 |
| $250.00 or more | $8.00 |
Is Empower App Safe?
Yes, Empower is a safe and legit fintech company. However, its banking services are provided by nbkc bank, which is a member of FDIC. This means that Empower account is insured by the FDIC up to $250,000. The Empower Visa debit card is issued by nbkc bank with a license from Visa.
The Empower app is widely regarded as safe and secure. It incorporates robust security measures such as 256-bit SSL end-to-end encryption, which ensures that data transmitted between your device and the app's servers is securely encrypted. The app also offers additional layers of protection, including multi-factor authentication, Touch ID, and strict access controls.
How to Cancel Empower Subscription
When you decide to cancel your Empower account, it's important to keep a few things in mind. Firstly, canceling your account means you will lose access to the app and its features. Secondly, there will be no refunds for any remaining unused months of your subscription. Thirdly, deleting the app does not unsubscribe you. Lastly, if you have any outstanding balances, it remains your responsibility to settle them.
Here are the steps on how to cancel your Empower subscription:
Open the Empower app.
Tap on the Profile icon in the bottom right corner.
Tap on Billing.
Tap on Close account.
Follow the instructions to cancel your subscription.
You can also cancel your subscription by contacting Empower customer support.
Empower App Alternatives
Some of the finance management apps you can use as an alternative to Empower are the following:
Empower App Review: Financial Management Tool
The Empower app is a powerful financial management tool designed to assist you in saving money, monitoring your expenses, and achieving your financial objectives. With its diverse range of features, including cash advances, an interest-bearing checking account, automated savings, expense tracking, budgeting tools, and educational resources, the app provides a comprehensive solution. Additionally, it prioritizes security, with your funds being insured up by NBKC Bank. It is important to note that the app does require a monthly subscription fee of $8.
To sum up, the Empower app is a helpful choice for managing your finances. However, it's important to weigh the pros and cons before deciding if it's the right fit for you.
More Information