What is Empower app? Empower App is a banking and money management application that helps to take control over your money. Empower banking app is different from other financial apps in that you not only see your financial situation right away, but it lets you experience personalized recommendations based on your lifestyle as well.
Among the benefits you get from the app is a money savings account. The Empower app also recommends beneficial financial institutions in which to invest. Currently there is even an interest free Empower cash advance option for up to 250 USD.
The Empower app helps you directly in cutting costs, get good overviews of your spending, and give direct suggestion on how you can improve your money literacy.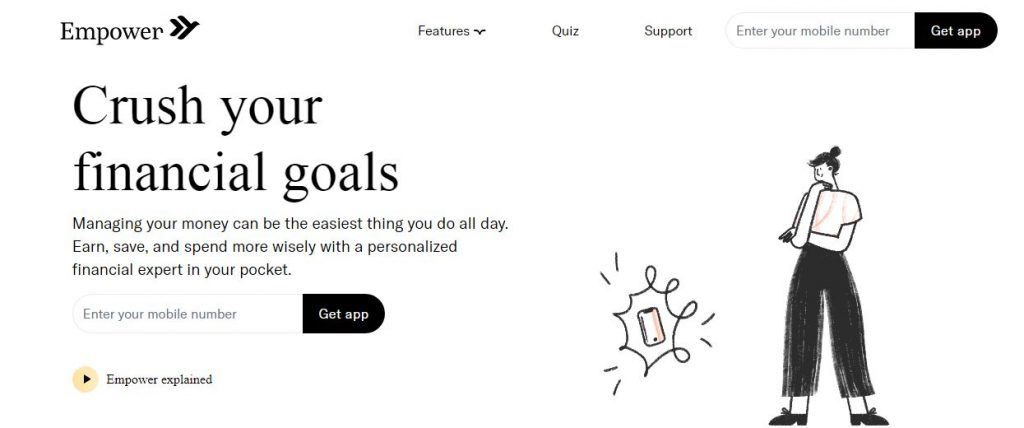 How Empower App Works
Empower mobile app is free to download for iOS or Android and once you have it, you can use it for budgeting purposes, savings, investment and managing your debts. The app enables one to aggregate all these financial needs. This is a unique app that you can even use to store your cryptocurrencies.
How Empower app helps you saving
You can categories your expenses into bills and utilities so that you can track how you spend on each one of them.
In case you have subscriptions that are taking too much of your money, Empower helps you to cancel them. Empower app lists all the subscriptions so that you can select the ones you would want to be canceled.
When your bills or subscriptions increase significantly, Empower will notify you.
To help you to pay your debts faster, you can turn on the AutoSave from the app. To keep a record of all your transactions, you have the option to export all the transaction history in a CSV file.
In the video below, Michelle Reed reviews Empower App:
Empower Features
Once you download this financial app, you will enjoy the following features.
1. Spending Tracker
With the Empower App, you can opt to sign up for a new banking app or to continue using your old banking account. Regardless of the option you choose, you will still enjoy the spending tracker feature. The most interest thing is that you can categorize your transactions into different categories, such as bills and utilities, so that you can track the spending of each category. Besides, you can set a limit for each category so that when you get close to your limit, you get a notification. You also get to track your income so that you can know how much money is left for savings.
2. Credit Analysis
Empower app helps you to take control of your credit score and credit utilization. It also helps you to know how much credit is available.
It can be challenging in life to keep track of your debt, especially when you have several credit cards. When you get close to 30% of your credit, the Empower app will notify you so that you can start preparing to repay your loan.
3. Bill Negotiation
Empower App analyzes the available promotions and helps you to know different areas where you can save your money, through BillShark. When BillShark finds you some savings in a year, you pay a fee of 40% of the amount you saved. Also, Empowers has partnered with Gabi, an insurer provider, for any of your insurance services.
Apart from negotiating bills and saving on bills, Empower also helps you to cancel subscriptions that may be taking too much of your savings. Before any subscription is canceled, Empower first lists all the subscriptions so that you can choose which one to cancel.
4. Empower Mobile Banking
With the Empower app, you can access your checking and savings account at the same point. Some of the benefits you enjoy are; you get a debit card that offers you 1% cashback when you make purchases worth $1,000 every month. When you refer a friend and he starts to use the Empower app, your rate increases to 2% cashback every month. A savings account attracts a 2% interest and when you refer a friend, your interest rate increases to 4% monthly.
###5. Empower Cash Advance
Empower app cash advance is a feature that allows you to get a cash advance of up to $250. You can usse this when you need an extra cushion before your paycheck comes in. Empower cash advance is not a loan, therefore using this feature will not impact your credit score. You can repay automatically when you next get paid. There's no interest and no late fees.

Advantages of Empower Money App
It is easy to download and use
Export transaction history in CSV file
You can keep track of your crypto wallet
Set auto debt payment and savings account
Cancel expensive subscriptions in the app
Disadvantages of Empower Money App
There are extra fees when you categorize your bills
Business and personal expenses separation attracts a fee
Empower App Charges
The Empower basic app is free. However, Empower Premium attracts a fee of $4 every month. When you upgrade to Empower Premium, you can categorize your expenses and also access financial advice from financial experts.
Is Empower App Legit? Is Empower App Safe?
Yes, Empower app is safe and legit. Empower is a financial technology company. However, its banking services are provided by nbkc bank, which is a member of FDIC. This means that Empower account is insured by the FDIC up to $250,000. The Empower Visa debit card is issued by nbkc bank with a license from Visa.
Empower App Alternatives
Some of finance management apps you can use as an alternative to Empower are the following:
More Information