What is Hiatus app? Hiatus is a New York-based startup whose app helps you track your monthly bills and subscriptions, monitor your finances and get control of your money. Its best feature is that it can negotiate bills on your behalf and help save money. Hiatus is a valuable tool for saving money and has helped nearly one million people get control over their finances.
Hiatus App Features
Using Hiatus app is for free. Premium features cost a minimum of $7 per month and include bill negotiating and subscription canceling features.
In order to start using the app you first have to connect it to one or more of your checking accounts, saving accounts or credit cards, so that it can analyze your spending habits. Hiatus needs to be able to read this data for it to work.
Discover more about fees and features, as well as alternatives to Hiatus. You can also check out other Hiatus reviews.
How Hiatus App Works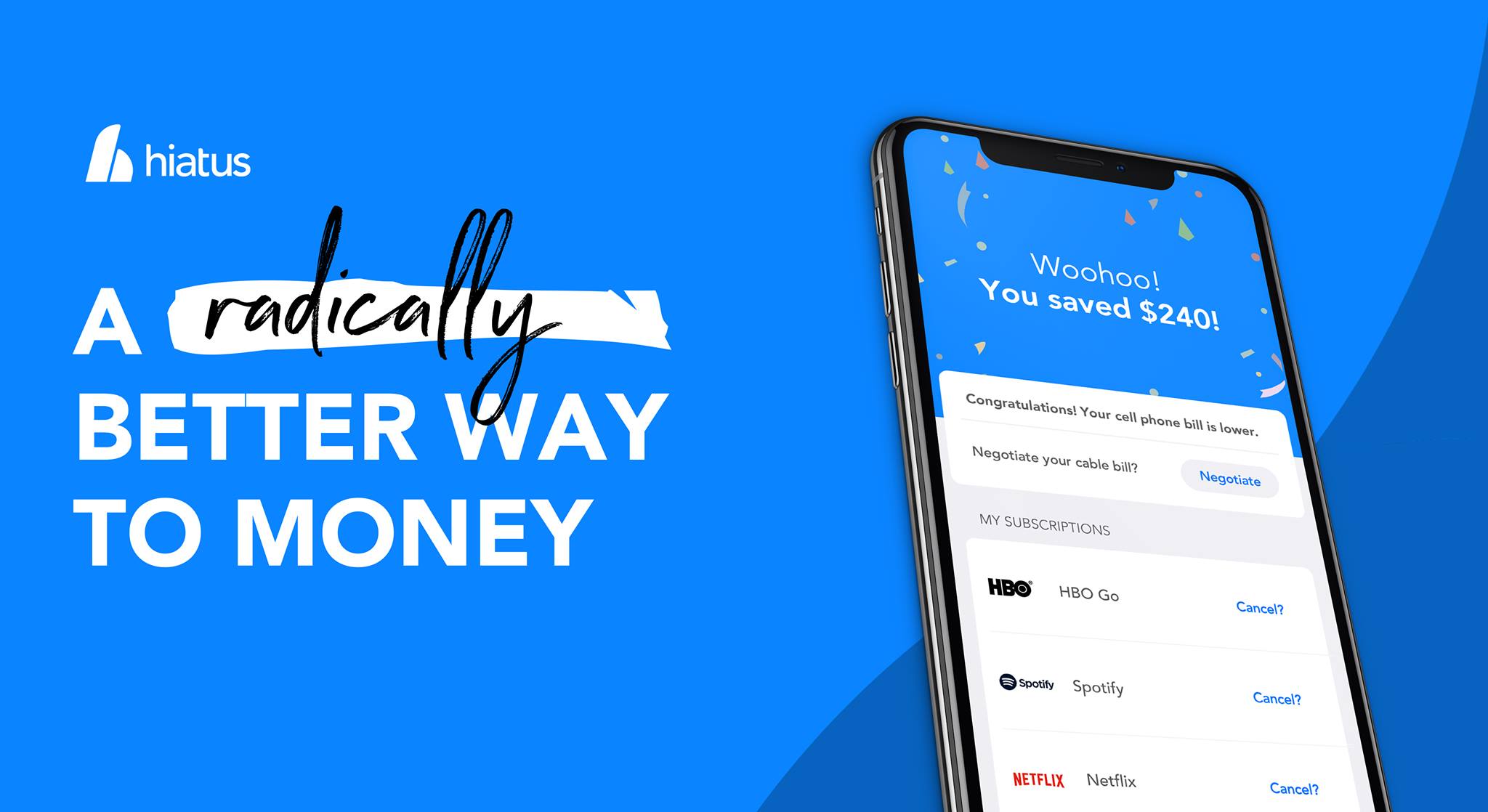 Hiatus uses a combination of machine intelligence, behavioral design, and innovative partnerships to help you manage your finances. They provide alerts for your bills before they are due. Hiatus uses "big data" to determine if your bill is higher than it should be and negotiate the bill on your behalf.
What's Special About Hiatus App?
Bill negotiation app. If your bill is negotiable, Hiatus's finance experts will negotiate on your behalf.
Control spending. Automated financial assistant to help you stop overspending on monthly bills.
Auto tracking. Track your monthly bills, upcoming renewals and subscriptions. Get notified before companies charge you, see who is auto-charging you and easily cancel unwanted subscriptions and auto-billing in the app.
Budgeting. Set up monthly budgets and let Hiatus offer ways to reduce your bills.
Notifications. Receive alerts if your rate increases and find out where to get better rates.
Stop overdraft. Track your bank balances to prevent overdraft fees.
How to Open a Hiatus Account
To create a Hiatus account, you need to visit Hiatus app website or download the Hiatus app for Android and iOS and enter your email. You will then have to create a password. The final step is to link your banking institution to your account.
After signing up for a Hiatus account, you will be prompted to select your banking institution. Hiatus will need to access your banking information before they can help you to manage your finances. Hiatus will give you a list of popular banks from which you will need to choose the bank which you are a member of. If you don't see your bank from the list, use the Hiatus search function.
After clicking on the bank name, enter your login details and your bank will connect to Hiatus. You have an option to link more than one banking institution by clicking on "Link another account".
Hiatus Premium gives you access to organizational and information tools that may help you manage your personal finances. It assist you to manage your personal finances by giving you access to a team of money experts and financial tools. These help you to negotiate monthly bills, set smart and achievable budgets, and cancel unwanted subscriptions.
If your bill is negotiable, Hiatus's negotiation team will negotiate on your behalf. Before that they will inform you about the opportunities they see. You can also initiate this process by clicking on the name of the vendor and asking for negotiation. You'll then be taken to a screen where you will need to fill out a form with information that will help for the process to succeed.
You will then be prompted to verify your authorization for Hiatus to negotiate with the chosen vendor on your behalf. After submitting your request, a savings expert will begin reviewing your bill and is expected to give feedback within 3-5 business days. However, this time may vary depending on volume.
Hiatus app cash advance. Hiatus does not offer cash advances through their app. However, they partner with LendingTree to provide quick access to personal loans.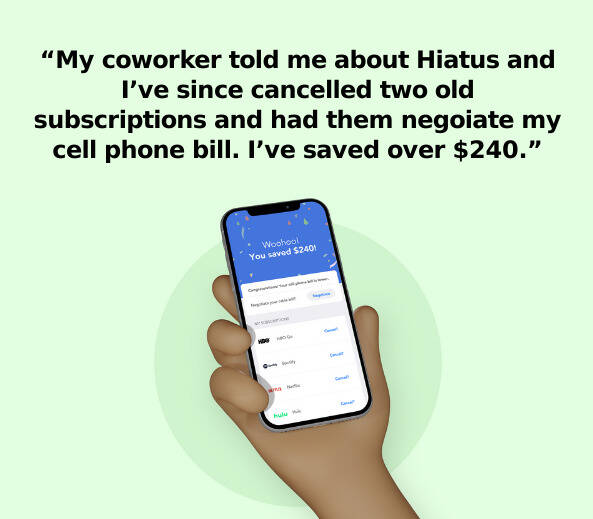 Hiatus App Fees
Hiatus only charges a monthly fee for the premium features. The Premium features will cost you a minimum of $7 per month. Hiatus also used to charge half (50%) of what you're saving (based on what you would save per year), but those extra costs are no longer charged in 2022.
The Premium features will cost you a minimum of $7 per month and include bill negotiating and subscription canceling features, without additional fees.
| Hiatus Premium | Fee |
| --- | --- |
| Hiatus Premium Monthly | $7.00 |
| Hiatus Premium Monthly | $10.00 |
Is Hiatus App Safe? Is Hiatus Legit?
Yes. Hiatus app is safe and legit but if you choose to use it, do so with caution. Being legit, Hiatus is a safe to use money management app. Make sure that they don't charge a monthly subscription bill to you, if that's not what you'd like.
There are people who signed up for premium features, without knowing they would be charged on a monthly basis. It's good to know that by linking your bank account, you are allowing Hiatus to take money out of your account if you have premium features.
Hiatus Reviews
At the time of writing this, Hiatus app had no customer reviews on Trustpilot. However, there are Hiatus app reviews on the Apple Store and Google Play Store. Customers are happy about the app's ability to track subscriptions and negotiate bills on their behalf.
Customers complain about Hiatus' lack of transparency about the company's services and pricing. The main issue people bring up is the pricing structure, which they say isn't very clear. Hiatus has since fixed this problem by not charging customers extra — customers only pay a fixed amount for having a premium account.
People also say they have trouble talking to an actual customer rep over the phone, but this issue has not yet been resolved.
In trying to talk with someone, I was told that all communications are done by email and that I couldn't talk to an actual person.
Hiatus Customer Service
In case of any concern, you can reach the Hiatus customer service team via email support@hiatusapp.com or chat with the team through the app. It's not possible to talk with Hiatus over the phone.
How to Cancel Hiatus App
When you no longer need the services of your Hiatus Premium account, you can remove the account and banking information from the app any time you want. The process to follow will depend on the version of the app you use. If you want to deactivate the account through the iOS app, log into your account and tap the User icon on the lower right-hand corner of your app and tap on More. Next, tap on Accounts and lastly click on Deactivate Account.
If you choose to deactivate the account through the Hiatus web app, click on the icon in the top left corner of the app and click on Accounts. Next, click on the Tap here to remove your profile and click Okay and your banking information and account will be removed from the Hiatus app. It is important to note that uninstalling the app will not cancel your account and Hiatus will continue to charge you for Hiatus Premium until you follow the unsubscribing process.
You may also cancel your Hiatus Premium account at any time by contacting them at premium@hiatusapp.com
Hiatus App Supported Countries
Currently, Hiatus bill negotiation app services are available to users who are 18 years and above and reside in the United States.
Hiatus App Alternatives
Hiatus is an great app to negotiate bills on your behalf and help you with your finances. But they might be a bit expensive for you. If you are looking for alternatives, you can try out the following.
Find out more
Hiatus, the bill negotiation app and money management tool, is a growing startup with exceptional early results. Customers are happy about the app's ability to track subscription services and allowing them to cancel unwanted subscriptions. The app also notifies users each month before an auto payment occurs. These services aim at managing customer finances.