What are robo-advisors? What is robo investing? Robo-advisors are companies that are changing the investment industry. While the concept sounds a bit complicated, it is actually relatively simple. The companies use specially designed algorithms to automatically select investments for you. The investment choices the algorithms make are based on a number of things like your risk appetite, the amount of returns you are looking for, and when you need the money. Based on these – and more factors – the robo-advisors select the best investments for you.
In recent years, the concept of robo investing has been spreading in the United States and around the world. Less than a decade after the industry became mainstream, the total assets managed by robo advisor companies has risen to hundreds of billions of dollars. According to KPMG, the industry was estimated to have more than $500 billion in assets in 2020. This article will look at what robo-advisors are and how you can use them to grow your wealth and passive income
Top Reasons to Use Robo-Advisors
There are a number of reasons why thousands of people are turning to robo-advisors. Some of the reasons you might want to consider using such an advisor are:
Easy to start. The process of investing with a robo-advisor is relatively easy. All you have to do is register for an account, deposit money, answer a few questions, and the robo-advisor will do the rest.
Transparent fees. Unlike other financial advisors, robo-advisors have transparent pricing.
Low fees. The robo-advising industry is relatively competitive. This has led to the industry having some of the lowest fees in the industry.
Experienced experts. Most robo-advisors employ some of the most experienced professionals.
Diversified portfolio. Robo-advisors help create a quality portfolio based on your risk appetite.
Tax efficient. These advisors use the concept of tax-loss harvesting to minimize the amount of taxes you have to pay.
The Best Robo-Advisors
Betterment Robo-Advisors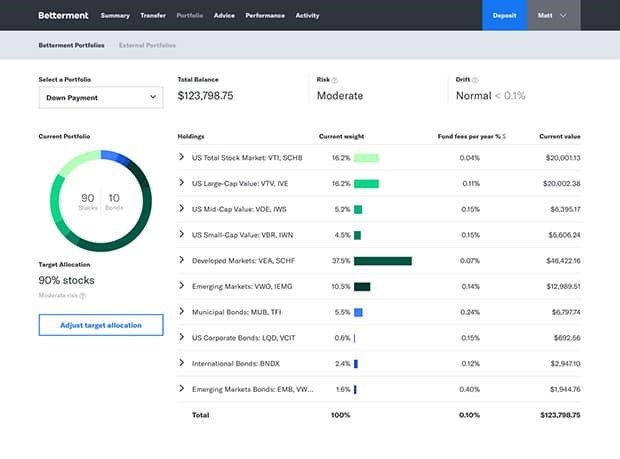 Betterment is one of the oldest robo-advisor. The company was started in 2008 and has more than $16.4 billion in assets under management. The company has raised more than $275 million from investors like Menlo Ventures. It is now valued at more than $1 billion and more than 400k customers.
How Betterment Works
Betterment works in a very simple process. After creating an account, the company will ask you a number of questions about you. Some of the questions are about what you are saving for and when you expect to hold the investment. The company will then build an intelligent portfolio that includes bonds, stocks, and ETFs. Further, the company's financial advisors will help you decide how much money to invest. Other features are:
Smart rebalancing.
Auto-depositing.
Reinvesting dividends.
Tax-loss harvesting.
Betterment Fees?
An important thing with Betterment – and other robo-advisors – is on the amount of fees they charge. With Betterment, you pay an annual fee of 0.25% on every $10,000 invested. For a premium account of more than $100k, you pay just 0.40%.
WealthFront Robo Advisor
Wealthfront is one the best robo-advisors in the US. It was started in 2008 and has more than $11.4 billion. The company has raised more than $204 million from venture firms like Tiger Global Management and Spark Capital. Wealthfront has a valuation of more than $500 million.
How Wealthfront Works
Like Betterment, all you need to do is to create a free account on the website or Wealthfront app, answer a few questions, and the company's algorithms will select the investments. The company's features are:
Tax-loss harvesting.
Stock-level tax loss harvesting.
Smart beta
Risk parity.
Portfolio line of credit with low interest rates.
Wealthfront Fees?
Low fees is one thing that makes Wealthfront a viable investment platform. The company charges you a low 0.25% advisory fee. In addition to this, you pay an expense ratio of between 0.07 and 0.16%. This is a fee that money management companies charge to run the funds.
Schwab Intelligent Portfolios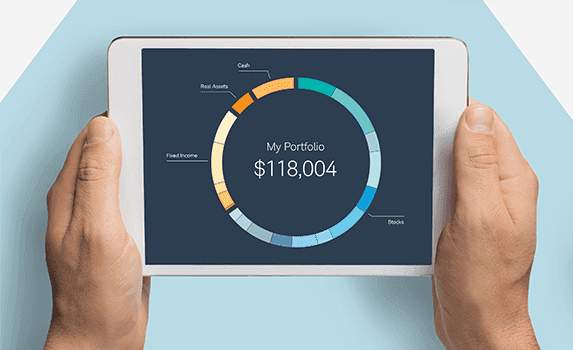 Schwab Intelligent Portfolios is a robo-advisor arm of the giant brokerage company, Charles Schwab. The product was created in 2015 and has grown to amass more than $37 billion in assets under management. It has more than 300k accounts.
How Schwab Intelligent Portfolios Work
Like with Betterment and Wealthfront, Schwab Intelligent Portfolios work in a simple way. All you have to do is create an account, answer a few questions, and the algorithms will take over. In addition, you earn interest on your cash.
Schwab Intelligent Portfolios Fees
With Schwab, there are no advisory fees and no commissions. The company makes money through ETFs that Schab has created. In addition, part of your funds are invested in a FDIC-insured account. These funds earn interest, which the company earns. It also makes money from the order flow.
Ellevest Robo Advisor

Ellevest is a robo-advisor that was started in 2014. While the company works in a similar way to the above three, it distinguishes itself by focusing mostly on women. In fact, most of the company's employees are women. The company has raised more than $77.6 million from the likes of Melinda Gates and Morningstar. The company has more than $280 million.
How Ellevest Works
Ellevest has three products. Ellevest Digital is an easy online investing tool that uses algorithms tailored to your salary, gender, and lifespan. There are no minimums. The Ellevest Premium offers all services offered in Ellevest Digital, plus one-on-one career coaching and financial planning with people with $50k or more. Finally, the Private Wealth product offers all the other products for people with more than $1 million.
To invest, all you need to do is create an account, answer a few questions, and the algorithms will do the work for you.
Ellevest Fees
Ellevest fees are based on the product you have invested. For Ellevest Digital, you pay 0.25% annual management fee while for the Ellevest Premium, you pay a management fee of 0.50%.
Ally Invest

Ally Invest is an arm of Ally Financial, which is a leading online bank that is valued at more than $13 billion. Ally Invest has more than $4.7 billion in assets under management and more than 260k customers.
How Ally Invest Works
Like in other robo-advisors, the company works in a simple way. You just create an account, tell it about your financial goals, and then the company will recommend to you a diverse mix of ETFs. Ally charges a small fee of 0.30% a year.
Ally Invest crypto: Can you buy bitcoin on Ally Invest? Unlike other investment platforms such as Robinhood, you can not buy cryptocurrency on Ally Invest
Other Best Robo Advisor Companies
While these are the leading robo-advising companies, there are others that you can chose from. Some of the most popular ones are:
Final Thoughts on Robo-advisor Comparison
Robo-investing is a relatively new way to invest your money, especially if you don't have the skills or the time to pick your own assets. To maximize your returns and avoid risk, it is recommended that you invest in two or more robo-advisors. It is also recommended that you invest in other diversified assets like index funds, mutual funds, and ETFs. Using our comparison of robo advisors, you will be in a better position to choose the best robo advisor for you.