Borrowell is a Canadian money management app that helps free you from financial stress with its free services including credit score checks, weekly credit reports, bill tracking, financial products recommendations, and AI-powered Credit Coach.
Borrowell Canada Review
Borrowell is the first company in Canada to empowers people to improve their financial well-being by provide free Equifax credit score and weekly credit report including $75 interest free cash advance.
You get an AI-powered Credit Coach to help you understand your credit score and gives personalized tips that may help you improve it.
It provides personalized product recommendations by comparing financial products from over 75 partners based on your credit profile.
How to Get Started with Borrowell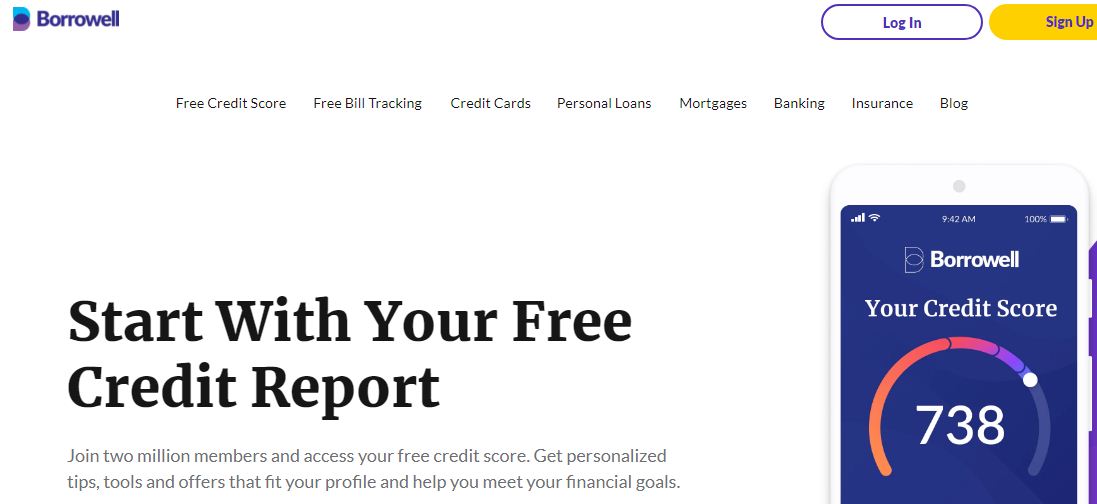 To create your account, you need to go to Borrowell website and click on the sign up button. You will need to provide your email and create a password. Borrowell will then gather some personal information to help them verify your identity. You do not have to provide your SIN or credit number. Borrowell will ask questions to help them connect you to the right Equifax credit report. After signing up, you receive your first free credit score and report.
Borrowell Products and Services
Borrowell is a one-stop shop for several products and services. However, here's a list of its free major services.
Borrowell Free Credit Score and Credit Report
One best way to ensure that your credit stays in good shape is by keeping track of your credit score and credit report regularly. The free credit score check and credit report is one of Borrowell's major services. Borrowell updates your credit score and credit report every week, making it easy for you to monitor your credit profile for any changes or anomalies. The report shows you when you missed a payment. The free credit score Borrowell offers is the Equifax Risk Score (ERS 2.0) and it ranges from 300 to 900. The credit report is also your full Equifax credit report. Borrowell uses soft credit inquiries to check your credit score, a process that does not lower your score unlike hard credit inquiries made by other lending companies.
How to Get your Borrowell Free Credit Score and Report
Getting the free credit score and credit report is easy. You will just need to open a Borrowell account and fill the online form with your personal information like your name, email, address, date of birth, etc. You will also need to provide information regarding your banking institution. Next is to verify your identity by answering some questions then you get your free credit score.
Is the Borrowell Credit Score Accurate?
Yes. Borrowell provides the Equifax credit score (the primary credit bureau score in Canada). However, your Equifax credit score may be different from a TransUnion credit score. This is because Equifax and TransUnion use slightly different methodologies to calculate your credit score. Also, the two credit reporting agencies calculate your score based on the information provided to them by different issuers. Lastly, the reporting dates might be different and this brings the slight difference.
Borrowell Bill Tracking
Making bill payments on time is critical in maintaining your financial health. Borrowell allows you to track and manage your bills for free. It predicts upcoming bills and sends low balance alerts and interest free $75 cash advance to avoid missed payments and costly overdraft fees.
Borrowell Free Credit Education
Borrowell has an AI-powered Credit Coach called Molly that gives financial advice. Molly will show you how your credit score compares to the rest of Canada, inform you when you're making good financial decisions, and notify you with updates on credit usage and any payments you might have missed. Borrowell provides financial tools, personalized tips, and articles in "old-school" text form to accommodate people who prefer a more traditional approach to financial education.
Borrowell Financial Product Recommendations
Borrowell uses your credit score profile to suggest and recommend best financial products for you that you will likely have higher approval for. The products come from its over 75 partners. Some products are pre-populated with your information so that the application can easily and quickly be submitted.
Personalized financial products that Borrowell recommends to you based on your credit and financial profile include the following:
Peronal Loans. After getting your free Equifax credit score, you will instantly find out your approval chances for personal loans available in Canada.
Credit Cards. Borrowell offers a portal where you can compare different kinds of credit cards. They include cash-back cards, rewards cards, balance transfer cards, low-interest cards, and travel cards.
Borrowell Mortgages. Borrowell provides mortgage offers through third parties. They provide a platform to compare rates and financing options, they offer mortgage calculators to make the home buying process simpler.
Borrowell Banking. Borrowell offers <a href="banking" rel="noopener">banking products such as checking and savings accounts based on your financial profile.
Borrowell Insurance. For your insurance needs, you can compare rates online through Borrowell.
Borrowell Investing. In addition to helping you improve your credit, Borrowell also recommends investing options that may help you grow your investments.
Borrowell Fees
Borrowell provides a free credit score check and free credit report. It charges a one-time origination fee and the Non-Sufficient Funds (NSF) fee. The origination fee covers Borrowell's customer service and administration costs. The rate you pay is based on the amount you want to borrow, your credit history, and your income levels. Borrowell's origination fee is 1-5% of your overall loan. The Non-Sufficient Funds (NSF) fees is $25 if your monthly payment to Borrowell rolls around and you do not have enough funds in your account to make the payment.
Borrowell Customer Service
You can get in touch with the Borrowell customer service team via the contact form on their website and through email (info@borrowell.com). Borrowell customer service is available from Monday to Friday 9:00AM to 5:00PM. Unfortunately, Borrowell does not have a toll-free number to call. Borrowell has a scarcity of customer service channels.
Is Borrowell Safe?
Yes. Borrowell invests heavily in fraud detection and protection tech to safeguard your credit information and your identity. Borrowell provides "bank-level" security with 256-bit encryption. Additionally, Borrowell will not share your personal information or credit reports and credit scores with third parties without your consent.
Borrowell Alternatives
If Borrowell does not fit your financial needs, there are several alternatives you can check out in Canada. They include the following:
Final Thoughts on the Borrowell Review
Borrowell is Canada's firm offering free credit report, credit score for free, bill tracking and financial products recommendations that fit your financial profile. These are money-saving services that have helped many Canadians maintain healthy credit profiles.