Quicken is a money management app that helps you to manage spending, create a budget, view and manage bills, plan for retirement, track investments, and manage your property. It is ideal for incadividuals seeking personal finance software, landlords with just a few properties, and small businesses seeking an alternative to QuickBooks.
Quicken Software Key Takeaways
Quicken connects to over 14,000 banks and financial institutions in North America to help you manage spending.
Keep track of business accounts in the same account with your personal account.
Keep track and manage your investment portfolios in bonds, ETFs, mutual funds, etc.
Quicken offers a subscription-based pricing model starting from $35.99 per year.
How to Sign-Up for Quicken
You can access Quicken through its traditional downloadable software or completely online. Quicken comes out with a new version every year and you can either choose to get started with the latest version or upgrade your older version. To sign-up for a Quicken account, decide what Quicken version you want to use then go to Quicken.com and download your preferred desktop version (even if you plan to use Quicken mainly on the web). The desktop and web versions are synced, so you can use Quicken online provided you have the latest desktop version. Once you sign up, navigate through the different tabs to set up Quicken.
How Quicken Works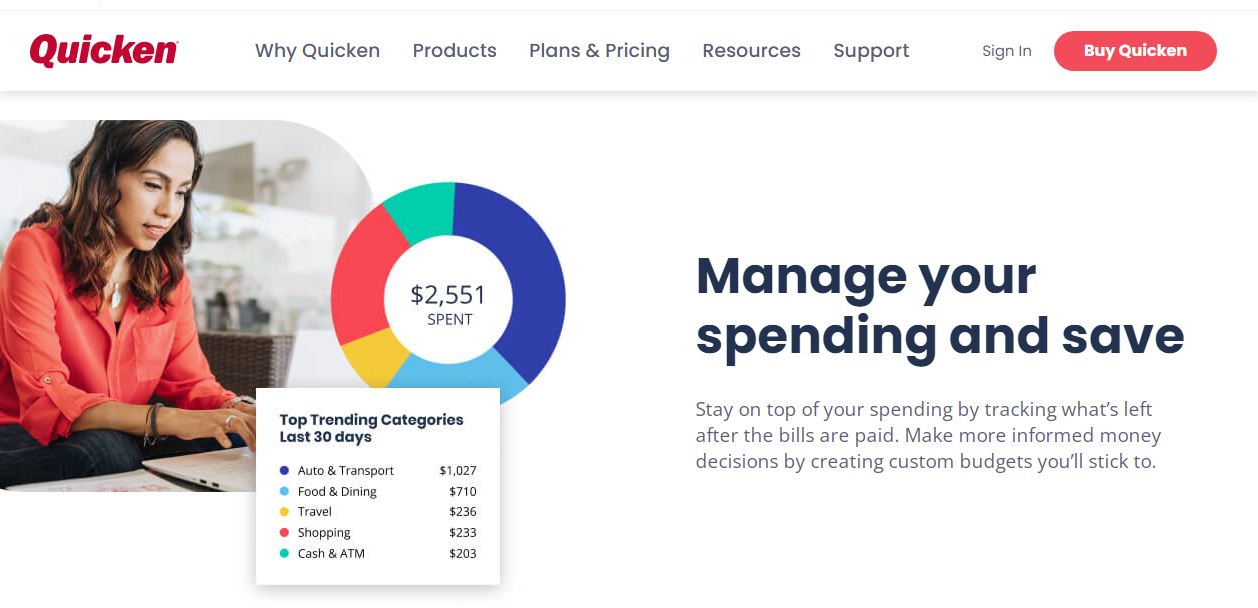 Quicken is a locally-installed software program with certain features requiring an internet connection to access. It has mobile apps that sync directly with your installed Quicken profile, enabling you to access your data anywhere. Quicken's streamlined dashboard or Home tab gives you a holistic view of your finances. You can customize your Home screen in whichever way you want.
Quicken's Mobile App
The Quicken mobile app is available for Android and iOS devices though Apple users will need to have iOS 9 or higher. Just like Quicken's web version, the mobile app gives you access to your financial dashboards and data. The Quicken app helps you check your spending, store receipts and enter transactions as you spend. It is good to not that you cannot set up Quicken or run it completely from your mobile device. Only a few functionalities like financial data entry and management can be done from the app.
Quicken Features
Quicken offers a set of tools and products that help you to take control of your personal finances and rental property. They include the following.
Track spending. Manage spending by connecting to more than 14,000 banks and financial institutions to view all accounts and transactions in one place on your desktop, mobile, or web app.
Create a budget. Quicken scans all your transactions to create a budget based on all your regularly recurring expenses.
Track investment. Keep track of retirement holdings including brokerage, 401(k)s, IRAs, options, bonds, ETFs, and mutual funds, etc.
View and pay bills. Track and pay your bills electronically or by check all in one place with Quicken Bill Manager.
Manage a small business. Manage both your personal finances and small business transactions separately – even in the same account
Plan for retirement. View, manage and keep track of your retirement investments with Quicken retirement planning software.
Property management. Track everything related to your rentals – property value, bank accounts, loans, documents, tenant lists, income, expenses, and taxes.
Quicken Plans/Versions
Quicken offers four plans to its clients: Starter, Deluxe, Home and Business plan, and the Premier plan. The Starter, Deluxe and Premier Plans are available to Mac users while the Home and Business Plan is available for Windows only.
Quicken Starter
The Quicken Starter plan offers several features including income and expense tracking, budget recommendations, spending trend reports, and a bill tracking centre. Its comprehensive dashboard makes it easier to manage your finances.
Quicken Deluxe
The Quicken Deluxe plan expands your budgeting options. Instead of setting month-to-month budgets, you can use Deluxe to set annual budgets, track your taxes, track investments, and track your retirement accounts. Other features include principal and interest tracking, stock market tracking, and schedule D tax form generation.
Quicken Premier
The Quicken Premier plan offers all features of the Deluxe plan plus bill payment directly from your Quicken dashboard, advanced retirement and investment tools, track home's market value, and priority customer service.
Quicken Home and Business
Quicken Home and Business offers business features geared toward sole proprietors and small-business owners. The Home and Business plan lets you separate your personal and business finances. This plan includes all features of the Premier plan plus business profit and loss tracking, invoice creation and customization, and business tax help (this includes tax form generation and tax deduction tracking).
Quicken Pricing
Quicken moved to a subscription-based pricing model in 2017, making its plans quite pricey, but for good reason. All the features Quicken offers are worth the price. Quicken fees are as follow:
| Plans | Fees Per Year |
| --- | --- |
| Starter | $35.99 |
| Deluxe | $51.99 |
| Premier | $77.99 |
| Home and Business | $103.99 |
Quicken Supported Countries
Quicken products and services are only available for purchase and use in Canada and the United States. The U.S and Canada Quicken versions are different products that support different financial institutions.
Is Quicken.com Safe?
Yes. Quicken has put in place security measures to ensure customer data is always protected. Quicken's web, desktop, and mobile app versions are protected by a passcode and 256-bit encryption to safeguard your information. Additionally, Quicken carries out integrity checks to ensure there's no altering of client data and messages. To add more security, you can create a password for your account which you must enter each time you want to access your account. You can also choose to use Touch ID or Face ID.
Quicken has been on the market for so long, making it highly experienced and secure in what it does.
Quicken Customer Service and Support
Quicken offers a variety of options for customer support to its clients. They have a help centre where you will find answers to commonly asked questions. Alternatively, you can reach the support team via email, their community forum, live chat, phone call, or use Quicken's Getting Started Guide. Users with Premier or higher membership can access priority support.
Quicken Reviews
Quicken has decent customer reviews with a rating of 3.7 out of 5 stars on Trustpilot. Satisfied customers are happy with Quicken's easy to use software that makes finance management easier. Also, the collection of features it offers work harmoniously to ensure efficient financial management. Dissatisfied customers are not happy with Quicken's subscription pricing because they were comfortable with the one-time license pricing. Several users are also complaining about bugs and crashes and account syncing issues.
Quicken Alternatives
If you are looking for a single product that combines many high-powered money management features in a single product, Quicken is the solution for you. However, you might be looking for a product that is cheaper and easier to use than Quicken. For this case, you can check out the following alternatives:
Final Thoughts on the Quicken Review
Quicken has been a huge player in the budgeting and financial management space for over 30 years and it has been doing a good job. Even with the rising new competition, Quicken has managed to remain at the top, thanks to the wide range of financial services it offers.