Soldo is a multi-user expense account that helps you control business spending, manage, reconcile and automate company's expense management. The account works with any business bank account.
What's Special About Soldo Spending
Saves time. Soldo saves 45 minutes off the average expense report. Employees just snap a photo of any receipt in their app, add a note, and it's logged for you to see in real time.
Real time tracking. Track your spending and transaction information including vendors, categories, and more, the minute a purchase is made.
Multicurrency wallet. Organise and manage funds in multiple currencies for employees, teams, departments, and projects.
Control spending. Instantly approve or decline purchase requests in seconds and update your team members through automatic email notifications.
Virtual cards. Create virtual cards, assign purchases, and issue single-use virtual cards.
Soldo Features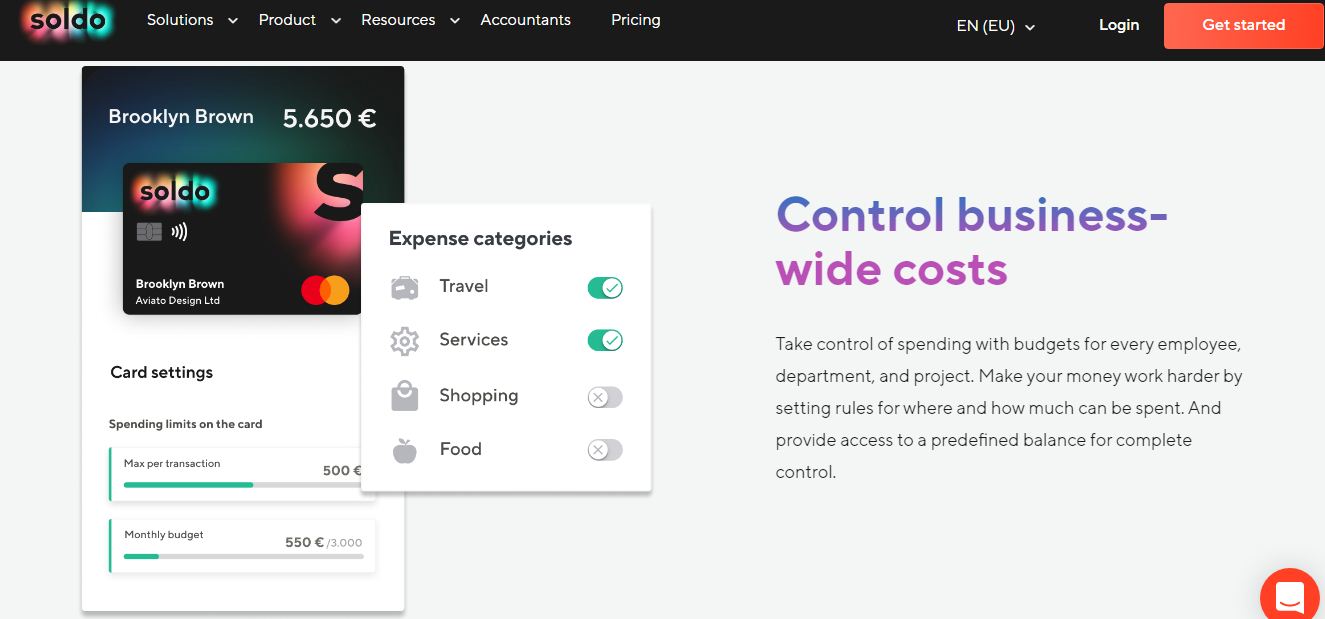 Soldo is an expense or spend control and management platform. It has the following features:
Spending account. You can use the spending account to allocate money to employees and they can use it for their expenses. You can also set automatic top ups to an employee's account if their expenses follow a certain pattern.
Payment cards. You can get as many prepaid MasterCard cards with built-in budgets and rules and give them to your employees. You can top up as much money as the person you are giving is expected to spend. These cards can support three currencies, sterling, euro and dollar. You can also add Soldo virtual cards.
Soldo app. You can use the app o track the spending of your employees. You can get reports and notifications on their spending. You and your employees can get the app.
Receipts capture. Your employees can use their smartphones to capture a receipt for a transaction and upload it using Soldo app. This helps your business by matching it with the right transaction.
Integrations. Soldo integrates top account software including Xero, QuickBooks Online, NetSuite, and Sage. If you're using another accounting tool or ERP platform, you can export CSVs in a few clicks.
How Soldo Works
To start using Soldo, you need to sign up for an account. You need to select a plan that best suits your company's needs. You will then need to fill in information about you're yourself and the company. After that, you need to up the account. You can top up Soldo account through a bank transfer from the company's main account. After that, you can start organizing your expenses.
After that, you can use Soldo app and create as many users as you want for your employees. Then, you need to issue your employees with prepaid cards and the top up their cards. Your employees can take snaps of receipts for every transaction and tag them according to a selected set of categories. When an employee spends money, you will get a notification for every transaction. You will also be getting spending reports which you can export to spreadsheets. You can then upload them to accounting software.
Soldo App
Soldo has a mobile application that is available for download for iOS and Android devices. You can use Soldo app to track spending among your employees and you will be notified whenever there is a transaction on your employee's prepaid card. You can also make changes to your expense account like increasing an employee's card limit.
Soldo Top Up
You can add money to your Soldo account using a bank transfer, which can take up to 24-48 hours for GBP and EUR transfers and up to 5 working days for USD transfers to appear in Soldo or Faster Payments (BACS) where money is typically transferred immediately. Once a deposit is accredited, you can transfer funds to your employees' wallets instantly and completely free of charge.
Soldo Plans
When signing up for a Soldo account, you need to select a plan that best suits your company's needs. The following are Soldo plans.
Soldo Uno. A free account to manage spending and expenses with the core features. It is limited to one card.
Soldo Pro. It costs £6 per card every month. However, you get one card free of charge for 12 months. It offers foreign currency cards, receipt capture capability and automatic top ups. However, it does not have all reporting and spending control features. It comes with up to 20 plastic and virtual cards.
Premium plan. It costs £10 per card per month. It comes with one free card for 12 months. The premium plan offers the full package for your business. It offers advanced controls, reporting and functionality with all the features offers in Soldo Pro including unlimited virtual and physical cards. 
Soldo Custom. Enhanced integrations, Customer Success Manager, early access to new features and dedicated support for larger organisations. You need to contact Soldo Sales to get a quote for this plan.
Soldo Fees
When using Soldo app, you can expect the following fees.
Plastic card issuance: £5
Virtual card issuance: £1
Bank withdrawals outside Europe and UK: £10
Other international withdrawals and transfers to non UK bank accounts and non SEPA transfers: £16
Currency conversion: 1% of transaction amount
Soldo fx fees (Foreign exchanges) are 1% for Pro, Premium and Custom, and 2% for Uno.
Soldo Supported Countries
Soldo has its headquarters in London, but also has offices in Ireland and Italy. You can use Soldo in the following countries:
The UK
Italy
European Economic Area
Is Soldo Safe?
Soldo has been around since 2015. It is regulated by the Financial Conduct Authority (FCA). It also ensures that your money is safe under the UK Electronic Money Regulations 2011. Soldo does not share your personal and financial information with third parties. Soldo keeps its finances separately from those of its customers and even if Soldo went down, your deposits cannot be used to pay its creditors. However, funds held by Soldo are not covered by the Financial Services Compensation Scheme.​
Soldo Alternatives
Some of Soldo's competitors include:
Summary on Soldo
If you are looking for ways to manage your business and employees' expense, you can use Soldo app. The app allows you to issue prepaid cards to your employees and you can easily top up their cards. You need to decide which plan that best suits your business.