VitraCard (or VitraCash) saves all your debit card, credit card and gift cards in a single card. The card uses Artificial Intelligence (AI) to select the best card or bank account for every payment you make based on multiple factors such as insurance, cashback, transaction fees, etc. With one smart card, you can pay with your VitraCard Mastercard everywhere. The debit card and app is now available to beta customers. The main alternative to VitraCard at the moment is Curve.
VitraCash Key Takeaways
You don't have to worry that your card will be declined because the merchant doesn't accept your payment type.
VitraCard AI will help you use the best card for each transaction.
VitraCard offers virtual cards alongside your physical cards.
VitraCard is accepted in over 38 millions locations worldwide
When you're in foreign countries, don't worry about being overcharged for foreign exchange or ATM withdrawals. Our decision system always picks the card with the best conditions out of your payment cards, so you don't get ripped off. VitraCard works completely automatically.
How to Get VitraCard
You need to request for VitraCard beta access code. Once you get your invite code and order your card, it should take around 5 days for your card to arrive though it might take longer depending on where you live.
When going through sign up on VitraCard app, you will be prompted to complete KYC. Once you have done this, wait 5-10 minutes for the process to complete, then force close your app and re-open it. Once you return to the app, you will be able to order your physical card, where you can also set the pin that it comes with. In the mean time, you will be given a virtual card immediately after passing the verification step, so please so you can start paying with the virtual card.
How VitraCard Works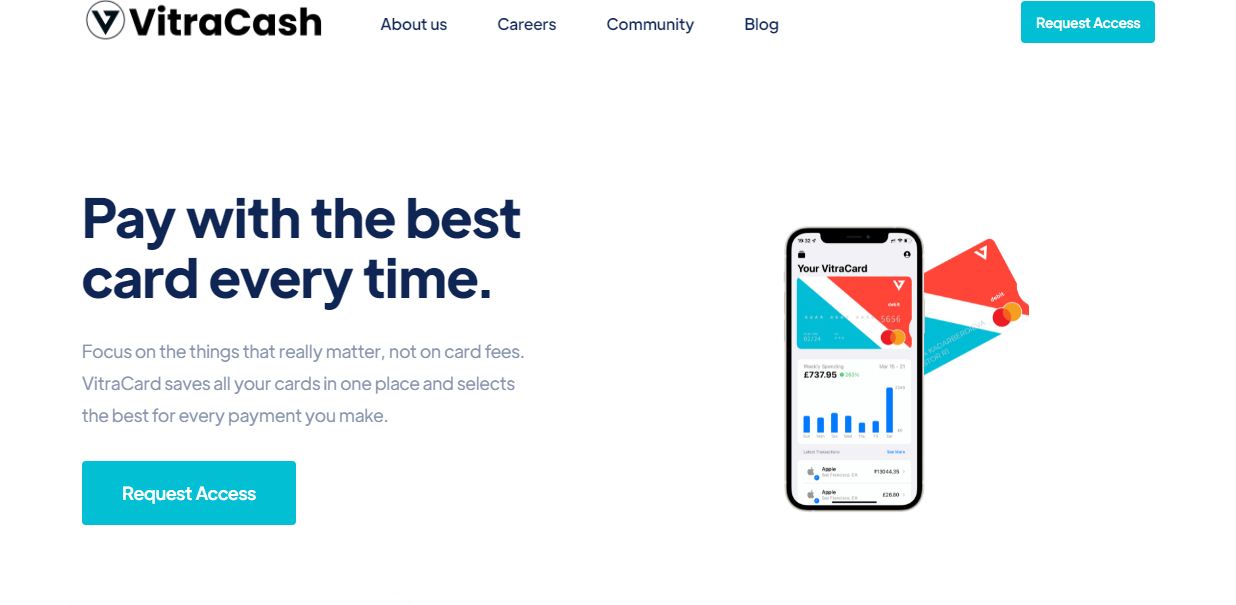 You add all your cards into VitraCard. This means you don't have to carry all your cards all the time. The main function in the VitraCard app is the AI algorithm. If you have a card with 2% cashback and another card has 3% cashback, the algorithm will choose for you the card with 3% cashback. You can also manually specify the card to be used and circumvent the algorithm in case you need to be certain that a specific card is used.
VitraCard Features
Active features at the moment include the following.
Features that are in the pipeline include payment notifications, ability to customise how your cards look to know the difference, Apple Pay/Google Pay integration, and cryptocurrency support. VitraCard competitor, Curve Card, has a cryptocurrency functionality.
How to Add Money to VitraCard
Your VitraCard does not hold funds like traditional payment card, it uses the money in your cards that you have linked to VitraCard.
VitraCard Supported Banks, Accounts and Cards
At the time of writing this review, supported banks and accounts are those in EEA or UK including:
VitraCard supports cards available in the UK and EEA including MasterCard, Visa and Maestro. Support for other cards such as AMEX will come in the future.
If you happen to have one of those accounts that we don't currently support, you can request us to look into it. While this doesn't automatically mean will we instantly support it; it does mean we can see what types of accounts are getting the most interest.
VitraCard Fees
VitraCard doesn't have any fees. We wanted to find out from the company how they intend to make money. They told us via an online chat that they are not ready to go into details at the moment.
VitraCard Supported Countries
VitraCard has a licence to operate in the United Kingdom and the European Economic Area (EEA).
Is VitraCard Safe? Is VitraCard Legit?
In July 2022, somebody got unauthorised access to VitraCash servers and was able to charge cards with random amounts between 50 and 250 pounds. VitraCash said that it will refund each and every one who was affected by the hack.
VitraCard is a product of VitraCash Ltd, which is operating as a UK emoney distributor of Monavate Ltd, a regulated partner registered with the Financial Conduct Authority (FCA). The VitraCard is a Mastercard licensed by Mastercard International. Your card details will be kept within a PCI DSS compliant system to prevent any leaks. VitraCash is in beta mode at the moment so there's a lot of unknowns. Curve is an alternative to VitraCash that's has passed the beta phase and is in full mode.
VitraCard Reviews
Beta users are already sharing their experiences with VitraCard App in the community page. Common issues reported include troubles found in the verification process, VitraCard app crushing, inactive buttons, cards being declined, the algorithm not working properly, etc. The company expected these problems with the beta version and they are using community feedback to fix them.
VitraCard Alternatives
There are many companies that have tried to offer a similar products in the past such as Plastc but failed. Some have been in beta mode for sometime. Curve is currently the main player in the new field of combining all your cards into a single one. There doesn't seem to be a close competitor at the moment and it is the card we recommend. Other players are the following:
Virtual Cards Alternatives
If you want to secure your debit card information, you can use virtual cards, which are highly secure. The following are online banks that provide virtual cards.
Find Out More