Fuze Card is a single smart card which consolidates your cards in it so you don't have to carry all your cards payments cards around. It supports debit cards, credit cards, gift cards and membership (loyalty) cards.
Key Takeaways
Fuze Card store up to 30 credit, debit and membership cards in one place.
The card has location tracking and auto-wipe technology to enhance security of your funds.
Fuze Card app works with both iPhones and Android phones.
Fuze Card doesn't support EMV chip cards.
How Fuze Card Works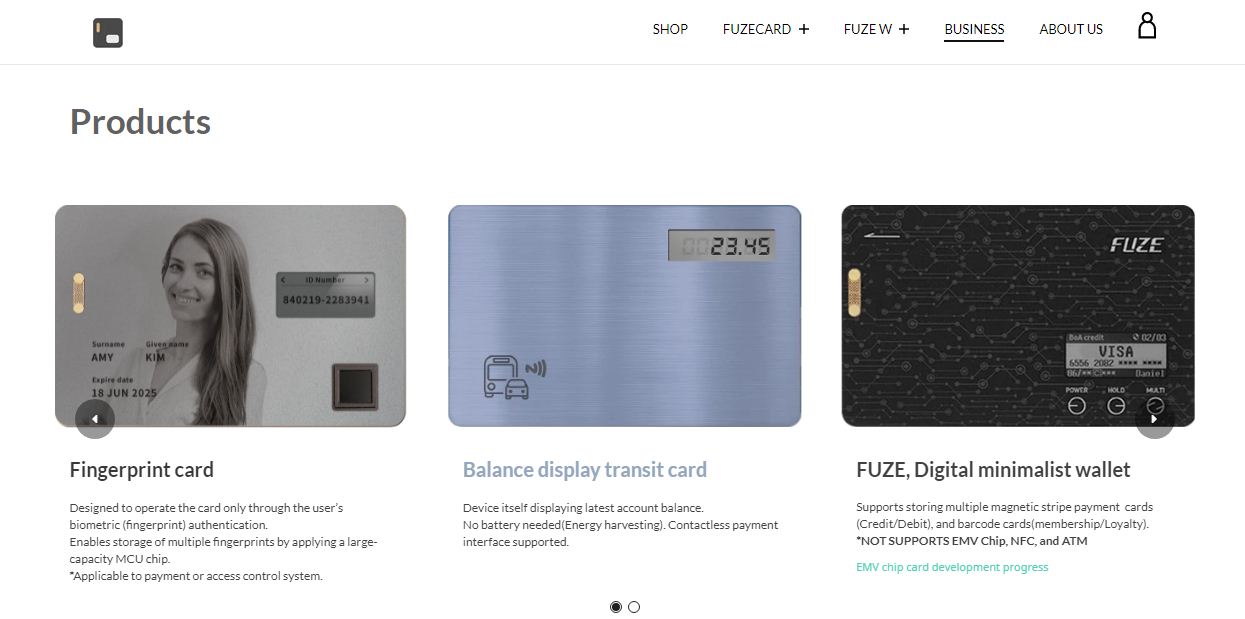 You need to buy Fuze Card and have it delivered to you. You can order the Fuze Standard Card (Silk printed PVC) or Fuze Saffiano Black Card (UV textured printed PVC). It also comes with eCharger (portable battery charger), card reader dongle that connects to the headphone jack of your, USB cable, and user manual.
Before placing your order, you should know that Fuze Card does not support EMV/chip card transactions but only Magnetic stripes. It is for this reason we don't recommend this service. Find out other alternatives at the end of this review.
To start using the Fuze Card, you need to download the Fuze App on your phone for Android and iOS and add your cards to it by following these steps:
Add credit and debit card using the card reader. You swipe the magnetic stripe of the card for it to register on the card and app.
For other cards such as gift and membership cards, you are able to use the camera of your phone to capture the barcode.
Alternatively, for membership/gift cards, you can manually copy in the card details.
Once you have added your cards, anytime you want to make a purchase, you simply select a card to use by using the buttons on the surface of the Fuze Card. The smart card will emulate the selected card's data.
Technical Features
The smart card has the same thickness and size as your normal payment cards. It is water/dust resistant and IP68 grade water/dust proof qualified. If the card gets wet, you can wipe it down with a dry cloth. The rechargeable battery has month-long battery life with a single charge on standard usage.
| Fuze Card | |
| --- | --- |
| Dimensions | Credit card size 85.5(L) x 54(H) x 0.84(T) mm |
| Weight | 8.5g |
| Display | 0.8mm e-paper |
| Operating temperature | 14℉ – 122℉ / -10℃ – 50℃ |
| Card battery | DC 3.8V / 13mAh Lithum-Polymer |
| Battery life | Regular use (4-5 times a day) – roughly 4 weeks |
| | Standby – 90~150 days |
| Recharging time | ~1.5 hours |
| Connections | Bluetooth Low Energy (BLE) |
| Certifications | FCC Certification & ISO Quality Management Certification |
| e-Charger | |
| --- | --- |
| Dimensions | 73 x 35 x 75 mm |
| Weight | 16g |
| Input | DC 5.0V |
| Output | 4.35V / 40mAh |
| Compatibility | |
| --- | --- |
| iOS | Requires iOS 8.0 or later Compatible with iPhone, iPad & iPod Touch |
| Android | Requires Android 5.0 or later |
Fuze Card Fees
As of January 2022, the price of Fuze Card is $129.00, which excludes import taxes, customs duties and any fees associated with the clearance process. You should contact your local customs services for more detailed information before placing your order. Refunds will not be given if you refuse to pay any applicable taxes or customs fees.
Is Fuze Card Safe?
The company behind the card does not hold any of your funds. Your funds remain in the account where you have deposited them. Moreiver, the fintech has put the following measures in place to ensure the safety of your card.
Passcode. Fuze Card is passcode protected. Turning on the smart card, selecting the card you want to use are only allowed with user authorization via PIN.
Location tracking. You will receive notification when you've left Fuze Card behind or if it's on the move without you.
Auto-wipe technology. Fuze card protects itself by clearing all data and reverting to factory settings when a passcode entry error is detected 5 or more times.
Fuze does not warrant that the operation of the Fuze Devices will be uninterrupted or error-free; certain exclusions and limitations are listed below. Additionally, this Limited Warranty does not cover software embedded in the Fuze Devices, Fuze's website or online services, or Fuze's smartphone applications, which are provided "as is." Refer to the Fuze's Terms and condition for details. The Limited Warranty lasts six(6) months from the date of your purchase.
Fuze Card Reviews
Fuze Card has only one review on the leading online review site, Trustpilot. The reviewer had an issue with his cards being rejected. He says he sent emails several times to the company, but no one responded.
On Fuze Card Facebook community page, there are many users who complain about Fuze Card customer services, frozen cards, ordered card not delivered, iPhone 11 not supporting the Fuze Card card reader, etc. See some of users comments from Facebook below:
Do you ever intend to support EMV / Chip? Going back to 2018, "We expect to support it soon".
Still have not received my Fuze Card nor a refund in 4 years! We all need to start a class action lawsuit against Fuze and Indiegogo!
So once again I ask the question why has no one gotten a hold of me to discuss why my fuze card has dropped its software? how to restore it or exchange it? I've been trying to get answers for months!! I was able to use my card for two or three weeks and then nothing. I've written support and even on this page but got no results!! id like to be able to use my card again so please someone tell me what to do?
my card is frozen and wont unlock. I can see my name and the battery bar but it wont do anything. Is there a way to reset it?
OK so I've had my card just over a month and all of a sudden it says unknown on your information will not connect to my phone I've done everything as far as I can basically I have an expensive piece of plastic that turns on and looks pretty can someone please get back to me I've been trying to get a hold of anyone thank you.
okay so contrary to some of the comments on this page. ive enjoyed my fuze card, as with anything there is always a workaround to certain issues. This isnt a scam at all i think its pretty cool to be honest. BUT!!! Customer service Sucks!!! its literally nonexistent. for whatever reason my card stopped working and ive been trying to get ahold of anyone for some support. When i do get any type of response its an automated one. id like someone to contact me please and help me either fix this card or exchange it.
Fuze Card Alternatives
Several companies have tried to enter the market with a single card that combines all of them. However, many of them such as Plastc have failed to deliver and some have remained in beta for years. Curve is perhaps the most reliable and successful company that offers a card solution that combines all your cards into one.
Other Fuze Card competitors include:
Virtual Cards Alternatives
If you want to secure your debit card information, you can use virtual cards, which are highly secure. The following are online banks that provide virtual cards.
Find Out More