If you are a freelancer, you need to know how to invoice a company for freelance work. Billing your clients is part of the freelancer's work. It can be weekly, biweekly, monthly, or per project. Freelancer invoice takes just a few minutes to prepare and it shouldn't be intimidating to draft one. Before you can make a freelancer invoice, you need to have an agreement with your clients on how you want to be paid and how to track your work. You also need to be aware of the likely fees you are going to be charged when you receive payments.
In this article, we will show you how to write an invoice for freelance work and how to prepare a freelancer invoice template.
How to Invoice a Client for Freelance Work
When writing a freelancer invoice, you need to include important details like invoice number, dates, contact information, description and amount.
When invoicing, make it easy for the client to pay you. Discuss with them payment methods and how often you can be invoicing.
You can invoice a client when you have completed the work. For large projects, you can invoice from time to time once you have completed some milestones of the project. Other clients may require you to invoice weekly or monthly.
There are online tools, free and paid (such as the excellent Freeinvoicebuilder.com), that have many different freelance invoice templates.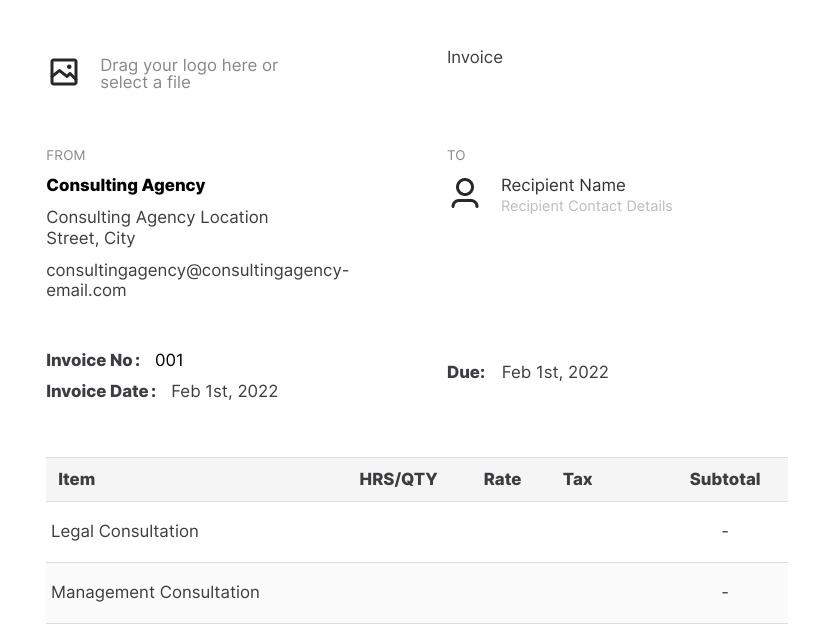 Who is a Freelancer?
A freelancer is a person who is self-employed and works per task basis, usually in the short term and is not committed to a particular employer. As a freelancer, you must learn how to create an invoice for freelance work for timely payment and avoid misunderstandings between you and the client.
Fun fact: Our earliest written evidence for 'freelance' comes from the book Ivanhoe, in which a lord refers to his paid army of 'free lances'. Read more about The Surprising History of 'Freelance'.
How to Invoice a Client for Freelance Work / Freelancer Invoice Template
To save on time when invoicing clients, you need to prepare a freelance invoice template that you can easily edit when you want to invoice. To do so, you need to know what should be included in a freelance invoice template. Capture the following details in the invoice.
Contact Information
When writing a freelance invoice, you need to include the name of the client or his business name and contact information. Make sure to include your phone number and email address and company logo if the client has one. You can ask for these details from the client before you can invoice.
Invoice Number
You also need to include an invoice number. If you are using accounting software, you can easily generate an invoice number. Ensure that the invoice is correctly numbered. An invoice number is important in case there is a late payment or you need to answer the client some questions about your work, you can use the invoice number to track down the work and when it was invoiced. This way, you and the client can easily know the transaction at the question.
Issue Date and Due Date
You need to have the date when the invoice was issued and the due date. Having an issue date is very important and by any chance, if you had incorrectly numbered the invoices, you can use it to distinguish the invoice. Also, having a due date helps the client know when you expect to be paid. It helps the client not to delay freelancers' payments. The due date will depend on the terms you have with the client.
Description and the Amount
You need to have a description line that contains the project title or services and the amount due. List each service with a description and the amount due. Also, make sure you have a field for quantity. Here, you need to fill in the quantity of the product you provided and the rate for that product. Then have a Total amount due field for the service offered multiplied by the quantity.
Payment Methods
You also need to include the payment method through which you want to be paid. For this one, it is good that you first agree with the client. You can have several options that the client can use alongside the payment information. Before invoicing, ask the client about the available payment options and agree on the most convenient one. Some of the payment methods may include:
Tax Rate
If you have a GST registration as a freelancer and you are liable to pay tax for the services you offered, then you need to include a tax rate in the freelance invoice. The freelance can calculate the amount due and then calculate the tax rate out of the total amount due. Alternatively, the freelancer can calculate tax based on each service he offered and then find the total tax.
When Should I Send the Invoice?
Once you have prepared an invoice for freelance work template, the next thing you need to do is to prepare an invoice. You can invoice after the completion of work or weekly or monthly; depending on the agreement you have with the client. If you are working on a huge project, you may need to invoice a couple of times throughout the project. In such a case, let the client know how often you will be invoicing for such a project.
What Happens if the Client Delays in Payment?
Most companies and clients pay on time. Unfortunately, sometimes late payments are inevitable for some reasons that may be beyond the client like if there is a failure with the payment processing service. If the client has delayed in making payment, you can remind him politely or you can set friendly reminders.
Services to Help you Write a Freelance Invoice
There are several services you can use to write an invoice. Some payment processing services usually come with invoicing features and you can use it to invoice your clients. They include:
Zoho
Zoho is offers a free invoice generator that allows you to edit the blank invoice to make invoices for your brand. The invoice generator will always be free to help small businesses manage their invoices and collect payments.
PayPal
PayPal is an online bank and payment processing service that comes with free invoicing template. PayPal invoices are not customized but you can add all the requirements of an invoice discussed earlier.
HoneyBook
HoneyBook is a free invoicing tool. You can use it to set recurring invoices which can end up saving you a lot of time.
Bonsai
Bonsai is invoicing software you can use to prepare invoices and invoice your clients. You can set recurring invoices or send a one-time invoice. You can also use it to track time if you are paid on an hourly basis. You have the option of using Bonsai free invoice template or a paid version.
QuickBooks
QuickBooks is accounting software that you can also use to invoice for freelance work. You can easily create invoices and account for the money you earn since it is accounting software. You can prepare financial reports from your invoices using QuickBooks.
Wave
Wave works the same way as QuickBooks. You can use it to write an invoice and also manage your finances. You can keep track of expenses and set a one-time recurring invoice. Wave can customize and brand your invoice.
Invoice Ninja
Invoice Ninja is a free open-source, self-hosted invoicing solution for freelancers and businesses. As a freelancer, you can invoice from any digital device.
How Do I Track Freelance Work that I Complete?
You need to find a useful tool or work management app that you can use to track your work. Some of these tools include Trello, Asana, Airtable and Basecamp. With such tools, you can have a To-Do list, Doing list, Completed list and Invoiced list. This makes it very easy to track the work you have done and invoiced and one that you are yet to complete.
Summary on How to Invoice as a Freelancer
In this article, we have shown you how to invoice a company for a freelance work. If you are a freelancer, you need to know how to invoice your clients for efficient and timely payment. You need to agree with the client on methods of payment, when to invoice and how much per project. You can use free tools such as Freeinvoicebuilder.com, PayPal Invoice and Zoho to help you prepare an invoice.