One of the biggest challenges facing African countries is unemployment, particularly among the youth. It is for this reason that Africans are turning to online freelancing, "gig economy", to find online jobs that pay in Africa.
According to the 2018 Payoneer Freelancer Income Survey, Africa contributes 10.1 percent of the freelancing market worldwide. Statistics by the Rockefeller Foundation show that freelance market had brought into Africa $5 billion by 2016.
Let's look at a few global and African-based online work platforms that you can join and apply for online jobs for African countries. The online work platforms for freelancing in Africa include Kuhustle, Asuqu and Onesha while global freelance platforms that you can use include Guru, Fivver and Freelancer.
African-Based Platforms for Online Jobs for Africans
Kuhustle
Kuhustle is one of the top freelancing sites in Kenya that connects businesses with skilled freelancers in Africa who are looking to deliver quality work. Examples of categories of African online jobs found on the platform are software development, tutoring & training, content & marketing, design & creatives. Kuhustle writing jobs are one of the most popular Kuhustle jobs freelancers can find on the site.
How it works
To start working on Kuhustle is easy, just click Start Working button to start the Kuhustle sign up process.
For clients
You must sign up using Gmail, Twitter or Facebook to use Kuhustle.
Click your profile and fill it in. Your profile consists of mandatory sections i.e. skills, experience and bio. Your bio is an introduction to who you are.
Click on the "Post a job" button on the site and give the description with the specifications of what you want done and what you are looking for.
Clients can work with a product manager to brainstorm and get a vetted team to work with.
For consultants
You must sign up using Gmail, Twitter or Facebook to use Kuhustle.com
Click on your profile and fill the mandatory fields. Mainly: Skills, experience and bio. Important to remember is that your bio is an introduction to who you are.
Purchase some Kuhustle credits which you will need when submitting your quotes (see Micro-tendering below). Freelancers can buy 3 credits for $3 or 12 Credits for $10, or 24 credits for $20. Credits do not expire but cannot be redeemed for cash.
Look for jobs that fit your skillset and submit a quote.
If you find it difficult to submit your quote, write to Kuhustle and they can guide you through the process.
When a new job is posted that has skills matching yours, they will send you an email alert.
Payment methods
1. In Kenya, Kuhustle supports
M-Pesa
and card payments (Visa and Mastercard).
2. For other countries, Kuhustle only supports card Payment (Visa and Mastercard).
Micro-tendering
Kuhustle uses a micro-tendering/bidding process to ensure quality bids. Some benefits of micro-tendering are:
Limits the bids to 5: Customers can access only 5 quality bids that are easy to review.
Turns bids to Micro-tenders: To improve the quality of bids from freelancers, Kuhustle charges a small non-refundable micro-tendering fee of 3 credits ($3) per bid. This is to ensure that freelancers pay attention to customer requests and take time to draft a proposal that is worth the customer's time and effort.
Protects Freelancers: Some clients are just shopping for quotations or change their mind. To solve this problem, Kuhustle allows customer to post only two jobs (posting jobs on Kuhustle is free), if the customer posts more than 2 jobs and does not hire a freelancer i.e cancels or lets a job expire (30 days), the customer will be required to pay $15 to post any new jobs in the future.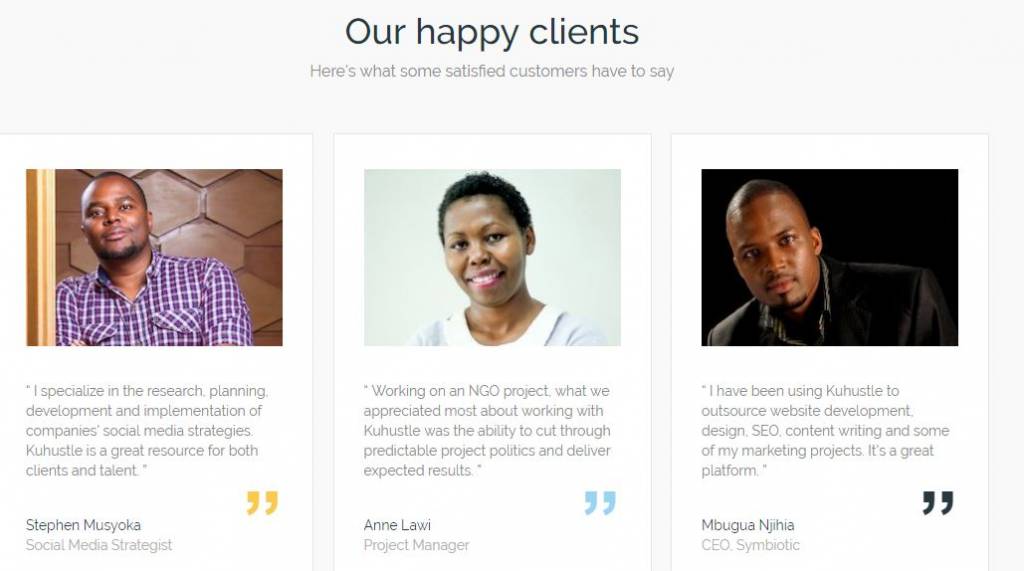 Hire someone full-time

If a customer wants to hire a freelancer full-time, Kuhustle will connect you with individuals from their vetted pool of experts that you'd like to join your team.

Further reading
Asuqu
As of June 8, 2021, Asuqu website is down.

Asuqu is one of the best freelance websites in Nigeria for online jobs for Africa. The platform has a pool of experts in photography, animation, film, creative directors, UI designers, web designers, architects, engineers, consultants, make-up artists, interior designers, musicians, etc. If you are looking for freelancing websites in Nigeria, this is one should be on your list.
Opportunity Over Talents
If you have a talent and you do not have an opportunity, you might not go very far. If you have an opportunity, we can identify and develop your talent. Essentially, talent is evenly distributed not opportunity.
How it works
For freelancers (sellers)
For freelancers (sellers)
Sign up on Asuqu website then advertise your service for free.
Customer buys your service through our secure payment channel.
Work and communicate live with clients.
Get paid after work is done.

For buyers
Sign up and browse through the categories to find what you looking for or call Asuqu to help you find it.
Buy the service through secure payment channel. Payment held by Asuqu before work begins.
Track progress with instant notifications system.
Pay after you are satisfied with work. If Asuqu has not meeting your needs you can reclaim your money by calling customer support.
Payment methods
Pay online via your credit or debit card.
Pay through bank deposit or bank transfer.

Further reading
Onesha

Onesha is one of the leading freelance websites in Kenya and Africa that seeks to connect the clients seeking creative services and experts in the creative industry. Onesha is among the online work platforms in Kenya that works with a vetted, sorted and talented pool of African freelancers.
Common jobs categories on Onesha include art and crafts, web and mobile development, film and animation, beauty and make-u, marketing and advertising, photography and modelling.
How it works
For clients
After signing up, you can request a job to be done using this Job Request Template or by contacting Onesha directly for a personalized process through 0708533383 / 0712983630.
Clients can search through various fields and browse portfolios of creatives on the platform. Once the client finds a suitable creative they can use the Hire Me button to request creative services from the specified creative.
You will have 3 reviews of the job draft before the final version is done by the creative. It is during these revisions that changes can be made.

For creatives
After signing up, creatives can show clients what they can deliver.
Creatives can post projects of past tasks they've done and list services they can offer right on their profile.
They can also list their skills and control their profile information.
Once the client finds a suitable creative, the creative is notified and they can present their quotes for the task. Once the client accepts the quote, the job can start.
Payment methods
All payments are done via Mobile Money Mpesa, Airtel Money or Eazzy Pay).
Paypal, Cheque or Wire Transfer to Onesha bank account.
Further reading
Global Online Freelancing Platforms
Upwork
Upwork, formerly Elance-oDesk, is a US-based freelancing platform where businesses and independent professionals connect and collaborate remotely. it is one of the best online job platforms in the world. Upwork has over twelve million registered freelancers and five million registered clients.

How it works
Setting up Upwork account
Setting up your account on Upwork is free.
Go to signup to create your profile.
Look for jobs fitting your skills and apply.
Fees
Upwork charges a service fee, taken as a percentage of your earnings. It is a sliding fee based on your lifetime billings with each client:
20% for the first $500 you bill your client across all contracts with them.
10% for total billings with your client between $500.01 and $10,000.
5% for total billings with your client that exceed $10,000.
There may be additional charges depending on the method you use for receiving funds.
Payment methods
Freelancer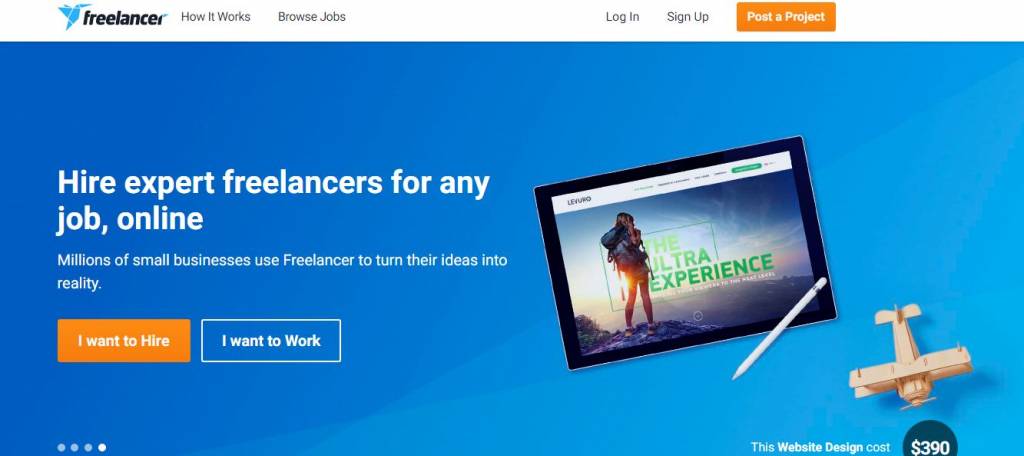 Freelancer was founded in 2009. Its headquarters is located in Sydney, Australia. Employers and freelancers on the site are from over 200 countries.
How it works
Setting up Freelancer account
Setting up your account is free.
Go to signup here and sign up (with username and password or with your Facebook account).
Look for jobs and start bidding.
Fees
A freelancer pays 10% – 20% with a minimum of $5 for any fixed cost project.
Optional bid upgrades may be purchased to promote a bid.
There may be additional charges depending on the method you use for receiving funds.
Payment methods
Credit card
PayPal
Skrill
WebMoney
Guru

Guru, founded in 1998 in Pittsburgh as eMoonlighter.com, is another popular freelancing website.
How it works
Setting up account on Guru
Signing up and using the site is free.
To join, go and register an account.
You have the option to create your account by linking with your social networks.
Fees
Freelancers pay transaction fee between 5%-9%.
There may be additional charges depending on the method you use for receiving funds.
Payment methods
Direct deposit
PayPal
Prepaid MasterCard
Wire transfer
Fivver

Founded in 2010 in Tel Aviv, Israel, Fivver is a marketplace for online freelancers worldwide.
How it works
Setting up account on Fivver
To join Fivver is free of charge.
You can also join using your Google account or Facebook page.
Fees
Fivver takes 20% for every job you complete.
There may be additional charges depending on the method you use for receiving funds.
Payment methods
You need to find out which payment method/s work in your country. For example, Payoneer can be used to receive money in Zambia while PayPall can only be used for sending money and not receiving if you are in Zambia.
Final Thoughts on Platforms for Online Jobs in Africa
It is difficult to find jobs in Africa. However, freelancing in Africa with these platforms is an alternative job opportunity to earn an income and improves one's standard of living on the continent. With these freelancing websites, you will be able to find online jobs for African countries.
Further Reading