If you want to make a living as a freelancer, the best place to start is to create an Upwork account. While Upwork charges are high, it is the only viable option that can help you make money as a freelancer. This is because of a number of reasons.
Statistics show that the number of people working from home is increasing. In the United States alone, the number of people working from home has increased to more than 4 million.
What is Upwork?
Upwork was formed after the merger of oDesk and Elance. The company operates a marketplace where customers can post their tasks for global freelancers to apply. In recent years, the company has seen tremendous growth that has enabled it to go public. It is now valued at more than $1.98 billion. It has more than 475K annual clients and more than 12 million freelancers. In 2018, the company enabled transactions worth more than $1.5 billion.
Why Use Upwork?
While Upwork charges are exorbitant, the fact is that it is the only viable option that can help you make money as a freelancer. This is because of a number of reasons:
More than 5000 skills: this means that you can make money in one of the 5,000 skills. Examples of these skills are creative writing, SEO services, accounting, and programming among others.
Barriers to entry: one reason why Upwork has succeeded is that there are significant barriers to enter the business. As such, companies that compete with it are relatively small and can't make you a lot of money.
A well-known brand: the company is a well-known brand in the freelancing community.
Trusted by large brands: many large companies like DropBox, Facebook, Zendesk, and Microsoft use the company to hire freelancers.
Additional tools; the company's platform offers freelancers additional tools like payment protection, time tracker, and secure communication tools.
How to Use Upwork Successfully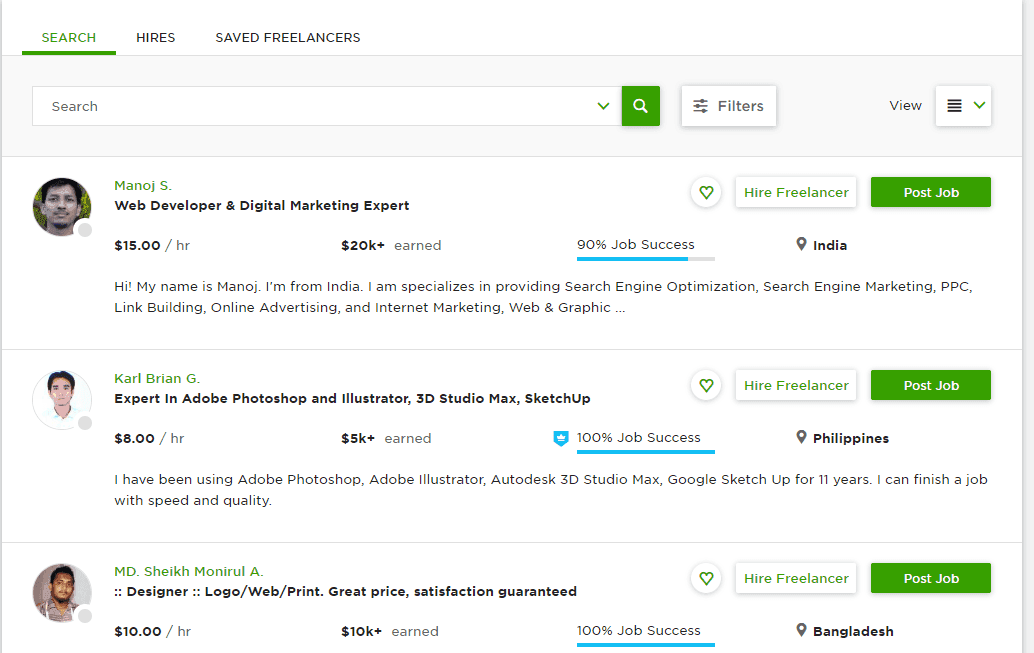 To become a successful Upwork freelancer, you need to do the following:
Identify your skills
Since Upwork has more than 5000 skills, it is important for you to identify your best skills. This is because you want to provide the best services to your customers while having fun doing it.
Create a good profile
After identifying your skills, you should create a good Upwork profile. This profile is so important because it will be the second thing your clients see after you apply for a task. In brief, a good Upwork profile should:
Have a good picture of yourself.
Be simple and clear in explaining what you do.
Explain your academic and professional qualifications.
Have a short and professional title.
Add power to your profile by having a great introductory video.
Add external credentials to your profile.
Portfolio Showcase
In your profile, you should add your portfolio. This includes some of the past work that you have done. For example, if you are an app developer, you should showcase some of the apps you have created. If you are a writer, you should provide links to some of your past work. The same is true for all the other categories.
Job Application
After creating your profile, you should now start applying for tasks that meet your qualifications. To do this, you need to ensure that:
Your application describes your best skills.
It highlights why you are better than the other applicants.
It highlights some of your past work.
It has attachments that showcases your past work.
You are among the first few people to apply.
You have read all the details of the task.
Work
If you are fortunate to get a customer, you should do the best you can to deliver high-quality work. If you are unsure about anything, you should ensure that you ask the customer. Also, you should submit the work on time. If the customer asks for revisions, you should do them as soon as possible.
After completing the work, you should ask the customer to leave you a positive rating and review. Customers will always prefer freelancers with great ratings and reviews.
One More Thing
To succeed as an Upwork freelancer, you must follow the guidelines set by the company. Failure to do this can see your account deleted. Some of the most common violations you must always avoid are:
Asking payments off Upwork: while this can help you avoid the exorbitant charges, it can make you lose your account.
Failing to perform your contracts: if you do this, customers can complain to Upwork, which can make you lose your account.
Upwork does not allow you to share your personal contacts to the customers.
Feedback abuse and harassing customers.
Final Thoughts
For years, Upwork has built a strong brand that connects freelancers from around the world to customers. As a result, many people now make millions of dollars every year as freelancers. By following the above steps, you too can succeed in this.