Rwanda has come of age. Over the past quarter of a century, it has redeemed itself from being a war-torn country due to the 1994 genocide to being one of the fastest growing economies in Africa. Since 2000, its economy has been growing at an annual rate of about 7.76%. What's more, in 2019, the country was positioned at number 29 in World Bank's Doing Business report. This was a major improvement from position 143 in 2009.
The national government is keen on using the current economic environment as a stepping stone to push the country further into an upper middle-income state and high income state by 2035 and 2050 respectively. These statistics portray the country as an attractive destination for investors. As such, this article will highlight some of the viable business opportunities in Rwanda.
It now takes a Rwandan entrepreneur just two procedures and three days to start a business. Imports and exports are more efficient, and transferring property takes less time thanks to a reorganized registry and statutory time limits. Investors have more protection, insolvency reorganization has been streamlined, and a wider range of assets can be used as collateral to access credit. — Rwanda Top Business Reformer
Why Invest in Rwanda
Diversification of the economy. The national government has been keen on developing an all-round economy. In the past, Rwanda was largely an agriculture-driven economy. In an attempt to create a buffer against unforeseen occurrences, the government has facilitated the growth of other sectors including the manufacturing and service industries. For entrepreneurs, this means more business opportunities and some sort of assurance that the economy will not tumble in the event of climate change, pest invasion, or other disasters.
Low corruption rate. In 2017, the country was ranked as the 3rd least corrupt state in Africa after Seychelles and Botswana. The adherence of morals in the public and private sectors results in a reduction of the cost of doing business. For instance, since law enforcement officers on roads do not extort money from truck drivers, businesspeople do not have to worry about that 'cost' of ferrying goods. Additionally, strictness on corruption leads to efficiency in development projects.
Rising middle-class. The steady economic growth in Rwanda has resulted in an increase of the middle-income earners. This means that a significant portion of the population has a higher purchasing power hence provide a stable market for various goods and services.
Business Opportunities in Rwanda
Real Estate
The real estate sector in Rwanda is one of the key contributors to the economy. Its input is about 7% of the GDP. Notably, the current state in the country is one that is characterized by increased urbanization and a rise in the middle income population. Since 2007, investments in this industry have increased from $100 million to $480 million. Despite these strides, there is still a heightened demand for affordable housing in key towns such as Kigali, Nyagatare, Rubavu, and Musanze. Investing in Rwanda's real estate is a feasible decision.
Agriculture
This sector accounts for about 33% of the GDP. The agricultural production in the country, which also constitutes most of its exports, include cassava, tea, beans, maize, potatoes, plantains, sweet potatoes, and livestock. Unfortunately, citizens who rely solely on this source of income are still poor. The National Agricultural Policy is geared towards enhanced agro-processing, technology-driven farming, and organized systems through cooperative societies.
Entrepreneurs have an opportunity to take advantage of the structures that the government is putting in place to develop the sector. For instance, one can source produce from rural areas, pass them through a practical value addition process and export them within and outside the continent.
Crowdfarming is another feasible concept that one can apply in Rwanda. There are entrepreneurs who have started implementing this idea in the country.
Crowdfarming is a way of pooling resources and money in the farming sector. In practice, it means investing a certain amount of money to purchase a good that a farm might need, but cannot afford alone. Depending on the type of farm, this could be a cow, a pig, chickens, or a certain amount of corn or wheat. The investor can track their investment, for example its growth, and when it eventually gets sold, they get a part of the profit from the sale. — The Benefits of Crowdfarming
Education
For Rwanda to realize its dream of becoming an upper middle-income economy by 2035, it has to invest in its people. The country needs human resources with the skills needed to execute different development projects. As part of Vision 2020, the government seeks to ensure that all adults can read and write. Additionally, its targeted gross enrolment rate for primary and secondary education is 100% and 98% respectively. As for the ratio of students to qualified teachers, Rwanda is working towards 40:1 and 30:1 for primary and secondary schools respectively. To benefit from this vision, you can invest in bookshops, technical institution, telecommunication studies, long distance schools among other ideas.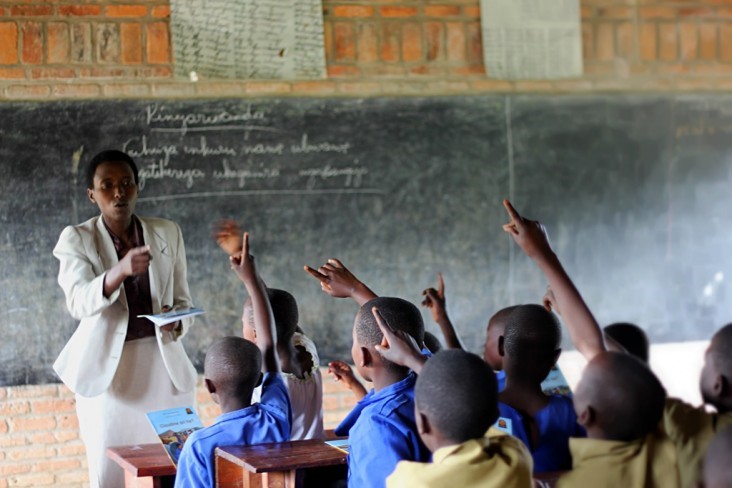 Financial Services
Financial inclusion in Rwanda is almost at 90%. Both formal and informal setups are responsible for this phenomenon. In addition to banks, Savings and Credit Cooperative Organizations (Saccos) and mobile money entities are major financial service providers in the nation. The increased civic education on money matters, expansion of the middle class, and increased adoption of smart phones are some of the factors that have contributed to the enhanced financial inclusion in Rwanda.
One of the ways that one can successfully invest in this sector is through the introduction of a digital savings and lending platforms. The key to such a business opportunity is to reduce the requirements needed for the users to access funds. Subsequently, you will entice more individuals to borrow hence increasing your returns. Offering monetary or non-monetary capital to small-scale farmers and other traders is another profitable way of investing in this sector.
Tourism
Rwanda has strived to open its economy to the world. As part of this strategy, the government has partnered with the private sector to facilitate the growth of the tourism industry. The country has also signed a sponsorship deal, Visit Rwanda, with Arsenal and PSG football clubs. Indeed, this sector is the biggest source of foreign exchange returns. It's expected generate about $800 million by 2024; up from $438 million in 2017.
The presence of various well-established airlines such as RwandAir, Qatar Airways, and Kenya Airways is one of the aspects that make Rwanda an attractive tourist destination. Additionally, there is an expansive modern road network and numerous attraction sites. What's more, the process of acquiring a visa is relatively easy since one can do so online or at the airport.
It is possible to benefit from this steadily advancing sector by focusing on a particular niche market. One of this areas is the provision of modern conference facilities. Renown brands such as Radisson Blue and Marriott Hotel are already reaping big from this market. Other opportunities in this sector include the establishment of camp sites, hotels, Airbnb, recreational parks, as well as a tour and travel company.
Conclusion
Rwanda is one of the African economies that have been growing fast and steadily. In an attempt to make it an upper middle-income and high income country by 2035 and 2050 respectively, the government has facilitated a suitable business environment. We have listed some of profitable business opportunities in Rwanda that you can look into as your next big project.
If it happens that you have a small capital, you can still do business by looking at small business opportunities in Rwanda such as car wash, tire mending, home day care, mobile money kiosk. etc.