Can I open a UK bank account online? Yes, it is possible to apply for UK bank account online. You can easily open an online account in the UK with providers such as Revolut and Wise. These providers offer online bank accounts in the UK in that you will not need to visit a physical bank to open an account. Some even offer free online bank accounts in the UK.
You can open a bank account in a few simple steps and have your account verified by just uploading your ID and other required documents. You may also need to verify your address with a recent utility bill, council tax bill, rental agreement, etc.
Best Virtual Account Providers in UK
Several banks and other account providers are offering virtual bank accounts in the UK. You may choose among the following options:
Wise Bank Account UK (Transferwise UK)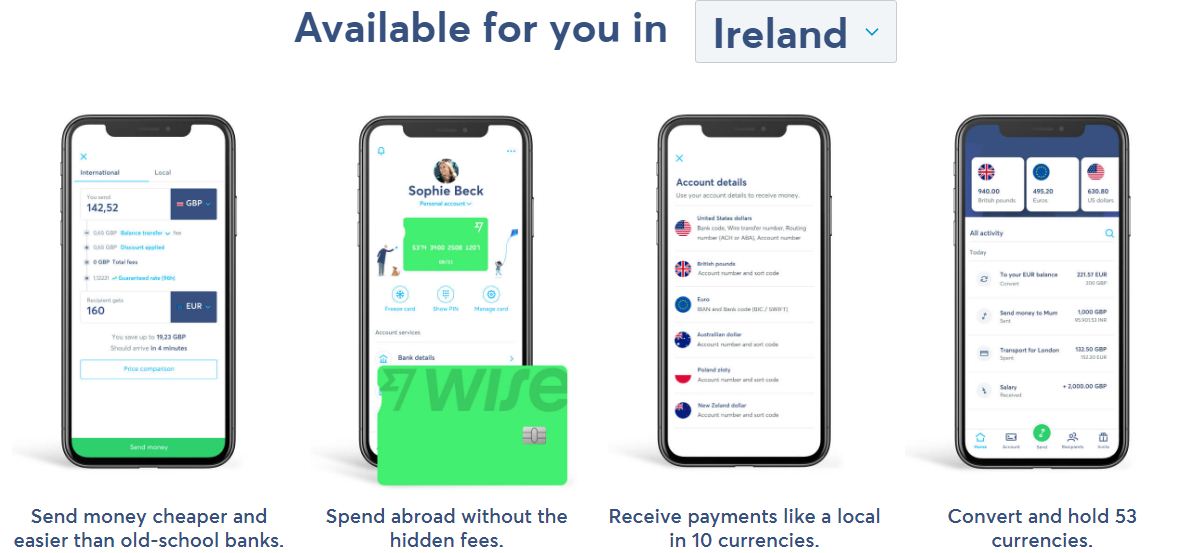 Wise is an electronic money fintech. Unlike traditional banks, Wise does not lend out customer money. It also offers money transfer service that is fast and cheap. You can open a virtual bank account in UK with Wise. It offers one of the best online business bank accounts in UK. You will be issued with Wise debit card which you can use to make ATM withdrawals and make payments. Wise offers the best money exchange rates. It uses mid-market rates, ensuring that you convert currencies using the prevailing market rates.
Wise UK Notable Features
Wise Business account (ideal for ecommerce businesses as well)
Receive payments like a local in 10 currencies. Get your UK account number, Euro IBAN, US routing number, etc.
Convert and hold 53 currencies. You can hold multiple currencies in a single account for free, and we use the real exchange rate to convert.
Spend abroad without the hidden fees. Use a Wise card in 200 countries, spend with Apple and Google Pay.
Wise UK Fees
Opening an account with Wise UK is free. There's no account maintenance fee. Wise fees include:
Order a Wise debit card: 5 GBP
Receiving USD wire payment: 4.14 USD
ATM withdrawals over £200 / month: 1.75% (Over 2 ATM withdrawals/month: 50p/withdrawal)
Invest with Wise: 0.55% (annual fee)
Sending money (fees vary by currency): From 0.41%
Monese UK

Monese is a UK virtual bank account you can use to open an online bank account in UK. It is a great option if you are a frequent traveler. You can open a Monese virtual account if you have an email address, mailing address and ID. It is possible to hold GBP and Euro account in UK with Monese. It also supports joint accounts in the UK.
Monese UK Notable Features
You can integrate Monese MasterCard with Apple Pay, Google Pay and PayPal for contactless payments.
You can easily and instantly send and receive SEPA and IBAN payments.
Round up each payment or set up recurring payments and automatically send the difference to Pots, Monese savings feature.
You can protect your bills, purchases and electronic devices that you pay for through your Monese account.
Monese UK Fees
Monese Starter Plan: Free
Monese Classic Plan: £5.95
Monese Premium Plan: £14.95
Monese Joint Account: Free
Revolut UK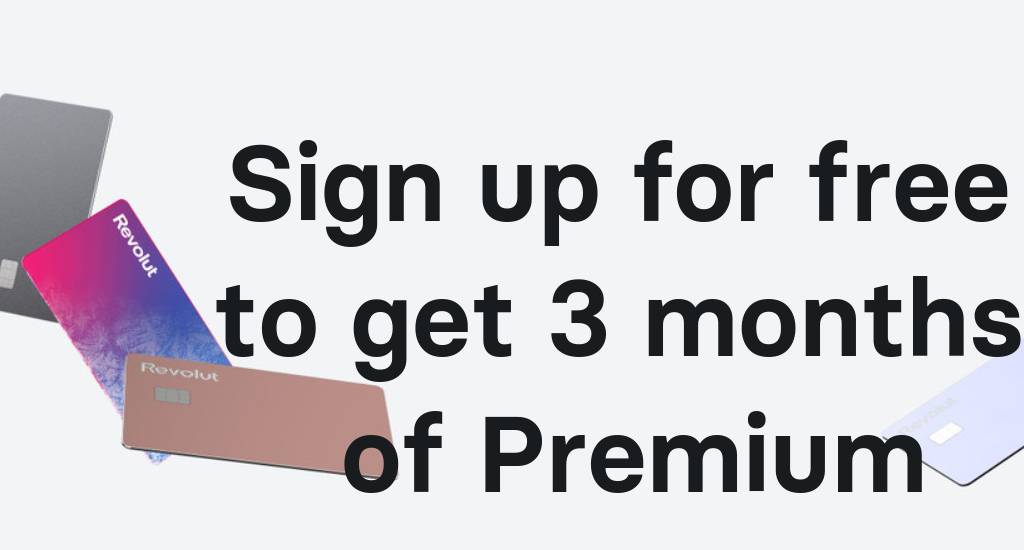 Revolut is one of the leading virtual account providers with its headquarters in London. The financial organization has a banking licence in the EU and is available to customers in the EEA region, Switzerland, Australia, the UK and the United States. You can transact using Revolut in 35 currencies, while you can top up in 15 currencies. You will have local GBP account details, and local EUR account details. Your local EUR Account details will consist of BIC and IBAN. Your UK account details consist of a sort code and account number.
You open the account online. Download the Revolut app and start enjoying banking services. You will also get a physical card which you can use to withdraw cash in ATMs. They advance personal loans, phone insurance, virtual cards and travel insurance. This makes it the best bank for travellers.
Revolut UK Notable Features
It allows you to open your account online in the UK with Revolut business account as well as Revolut Junior account.
You can receive, hold and exchange money in 30+ currencies including USD, Euro, GBP, CAD and set up as many subaccounts in each currency.
Revolut is a crypto-friendly bank. You can use Revolut account to hold, buy and exchange bitcoin.
Organize your bills with the Pocket feature, so you will never miss a payment or overspend bills money.
Revolut UK Fees
Revolut Standard Plan: Free
Revolut Plus Plan: Plus £2.99/month
Revolut Premium Plan: £6.99/month
Revolut Metal Plan: £12.99/month
Monzo UK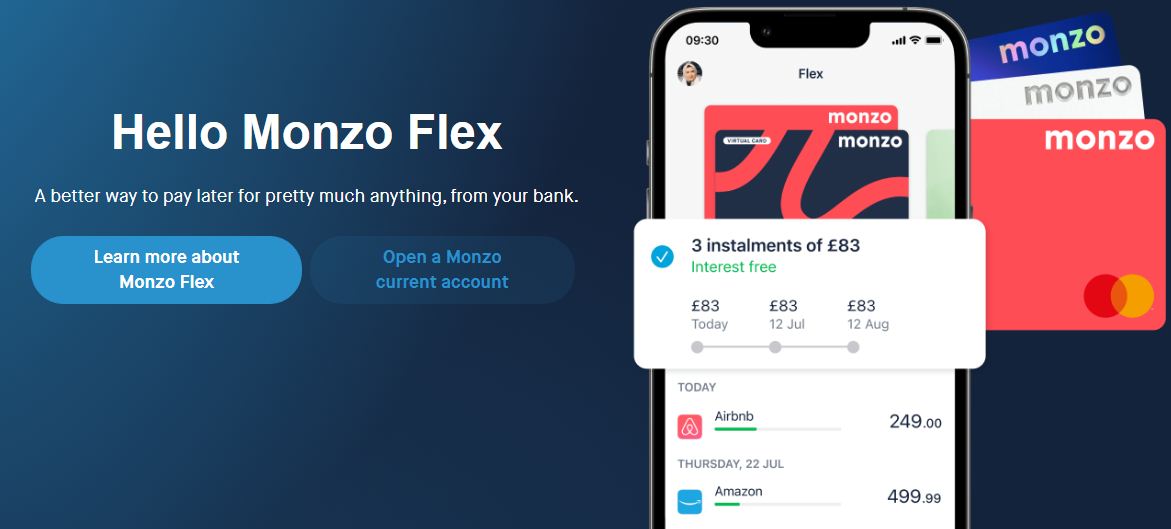 Monzo is a UK online bank with one of the best online bank apps in UK. It is the best bank for budgeting and offers personal and joint accounts. You can also open free online business bank account in UK with Monzo. They also advance loans to their customers just like traditional banks. Service for sending money outside the UK through Monzo is provided by Wise.
Monzo UK Notable Features
Current Account Switch Service: Monzo can move your money and payments (like Direct Debits and standing orders), and close down your old account for you in 7 days.
Monzo offers loans up to £15,000 and overdrafts up to £1,000.
Monzo Flex: Buy now pay later in 3 interest-free installments on anything.
Monzo Pots: automated savings and rounding up spare change.
Monzo UK Fees
If you're using Monzo more as a main bank and not as just a spending card, you won't pay fees at the cash machine and you'll get two free plastic card replacements a year.
Monzo Current Account: Free, Monzo Plus: £5 per month, Monzo Premium: £15/month,
3% fee if you withdraw more than £250 cash in 30 days
£5 card delivery
Cash deposit: £1 per deposit (1 free cash deposit each calendar month)
Atom Bank UK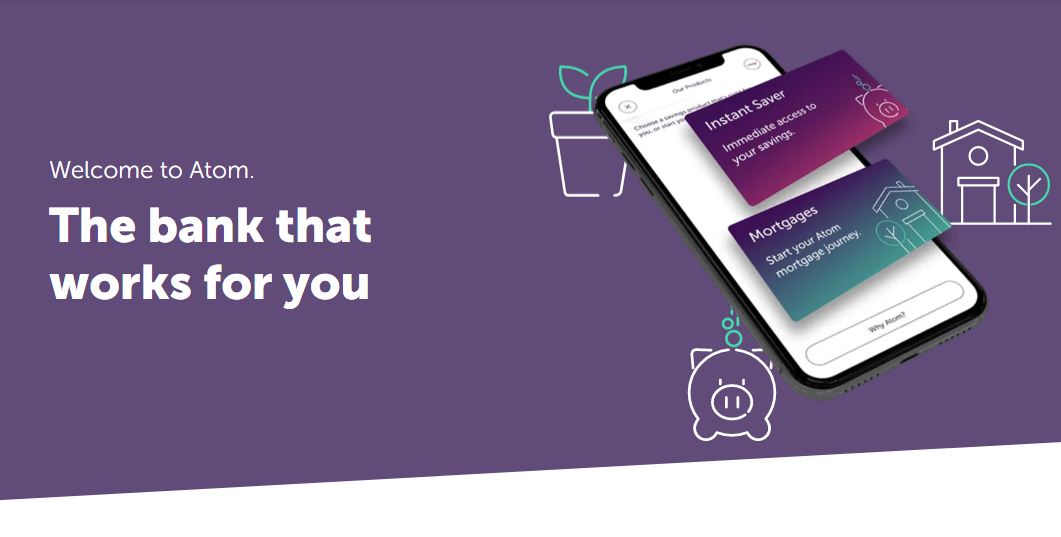 Atom Bank is an online UK bank that offers savings accounts, mortgages and business loans. It does not offer current accounts. It is only available to UK customers only. It does not have a minimum deposit for instant savers. The maximum savings balance is 200,000 euros.
Atom Bank Notable Features
Fixed Saver Account: Savings account from 6 months to 5 years / Instant Saver Account: Open a savings account with £0.
You can apply for a secured business loan in the UK.
Atom Bank offers mortgages in the UK. It is a fixed rate mortgage for the first 2 to 5 years of your term.
Starling Bank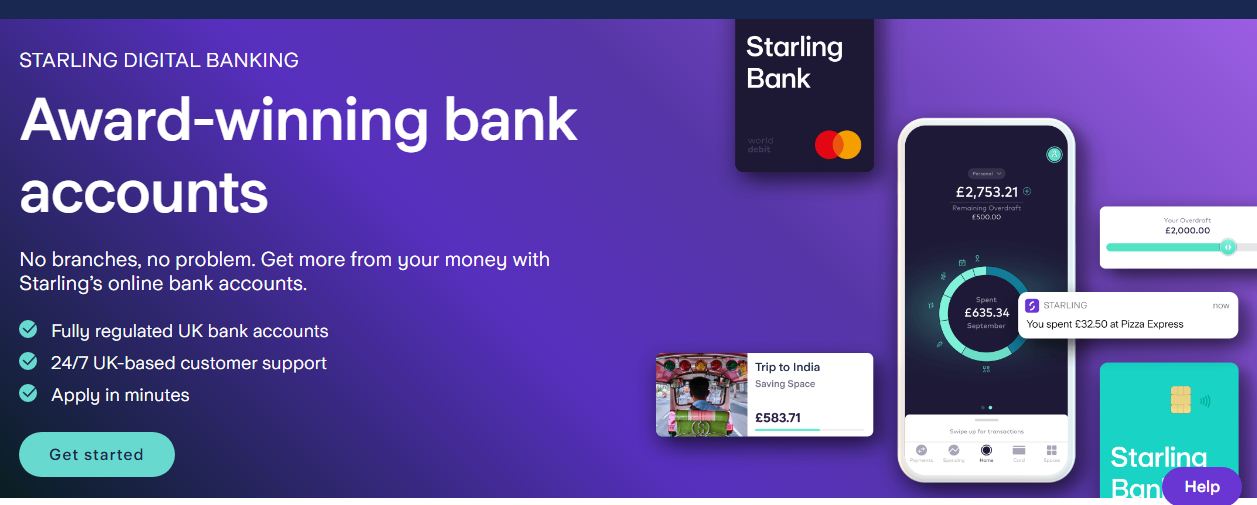 Starling Bank one easiest bank accounts to open online in UK. It offers personal account and joint account in the UK. Moreover, you can also open online business bank account in UK with the bank. It is one of the the banks that offer Euro account in the UK.
Starling Bank Notable Features
Make and receive multi-currency payments in GBP, Euro and USD for business or personal banking.
Feature for rounding up transactions to put saving on autopilot.
It supports personal overdraft, business loans and business overdraft in the UK.
Kite: a space linked to your account, designed to help your kids manage their pocket money with their own bank card and app.
Starling Connected Card is an additional debit card you can give to friends, family, neighbour or childminder to spend on your behalf. It's capped at £200.
Starling Bank Fees
Starling Bank does not charge monthly fees for personal accounts or joint accounts. Fess you should expect include the following:
Additional GBP personal current account: £2 per month (paid in advance)
Sending money within UK via CHAPS: £20 for each CHAPS payment
Depositing money into your account via Post Office: 0.7% of the amount you deposit above this £1000 limit
Loss of card overseas: £60
Pros and Cons of Virtual Banks in UK
Pros of UK Online Banks
Virtual banks have the following advantages over traditional banks.
No paperwork needed
Saves time since you do not need to visit a banking hall
Manage spending using budgeting tools
Lower fees or free online bank accounts
Cons of UK Online Banks
Depositing cash can be challenging or carry fees
Most online banks don't own ATMs, this means you can end up paying higher fees for withdrawals
No physical location or in-person banking
Final Thoughts on Online Banks in UK
Having a virtual bank account in the UK is a great deal. It not only saves your money but also time since you do not need to visit a banking hall to make a transaction. Many people are adopting virtual banks to allow them to spend money while traveling. Also, many of these virtual banks have spending trackers to help people manage their finances. Ultimately, you should consider getting a UK bank account online in the UK.