The real estate industry is one of the best sought-after around the world. This is because of how people value the sector. Indeed, real estate investors are some of the wealthiest in most countries. There are many challenges of investing in the real estate sector. For example, the cost of developing a property is usually unaffordable to most people.
We looked at everything you need to know when investing in real estate in a previous article. In this article, we will look at how to invest in real estate in the US.
Real estate cannot be lost or stolen, nor can it be carried away. Purchased with common sense, paid for in full, and managed with reasonable care, it is about the safest investment in the world. – Franklin D. Roosevelt, U.S. president
Why Real Estate is a Good Investment
There are several reasons why real estate is a good investment. Some of these reasons are:
Passive income. Rental property provides passive income in perpetuity.
Great returns. Real estate property that is situated in a good place has excellent returns.
Collateral. Real estate is an important form of collateral. Banks will always lend to people with property assets.
Inflation hedge. The price of properties usually rises when there is inflation, which makes it a good hedge of inflation.
Secure investment. Real estate is one of the most secure investments. This is because it is tangible and can be insured.
Good returns. Investing in real estate has great returns. Annual returns of real estate investments average about 10%.
Ways of Investing in Real Estate
There are two main ways of investing in real estate. There is the direct method of investing and the indirect method. The direct method is when you buy or build a real estate project. The indirect method of investing in real estate is where you invest in proxies of the sector.
Direct Real Estate Investing
This is the method of investing where you buy a piece of land and build a real estate project. This is usually a long process and one that is reasonably expensive. In most US states, you need to first get the approval from the local authorities. You also need to carry out an environmental impact assessment. After all this, you will need to get a certified contractor, who will do the work for you. After you build the project, you can decide to sell it or lease it.
The benefit of this method is that the potential return is usually high. The challenge is that the costs can be enormous.
Investing in Real Estate Stocks
One of the easiest ways of investing in real estate in the United States is to invest in real estate stocks. We have looked at how you can invest in stocks before. This is an easy method of investing because you don't need a lot of money to start with. It is possible to start investing in stocks with less than $200. There are various ways you can invest in real estate stocks. Some of these methods are:
Invest in Real Estate ETFs
An Exchange Traded Fund is a diversified group of stocks that are traded as one. There are hundreds of ETFs in the United States. Some of these popular real estate ETFs are: Vanguard Real Estate Index Fund (VNQ), Schwab US REIT ETF (SCHH), iShares U.S. Real Estate ETF (IYR), and Real Estate Select Sector SPDR Fund (XLRE) among others.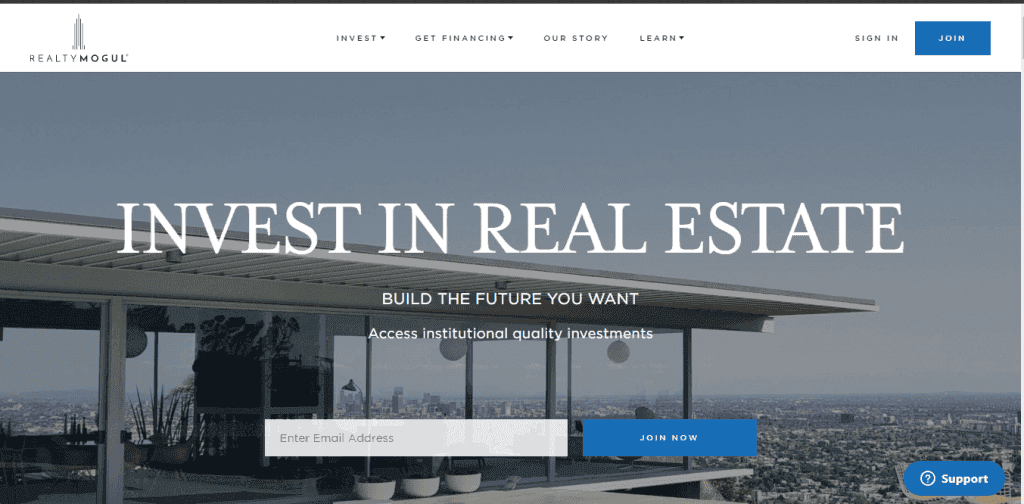 Invest in Peer to Peer Real Estate Platforms
We have covered the European real estate peer to peer lending industry. We have covered companies like Bulkestate and Housers among others. Basically, the industry enables you to invest in the real estate sector indirectly. Through the P2P lending platform, people can invest in upcoming projects. There are a number of real estate peer to peer companies in the United States like Patch of Land, Fundrise, and PeerStreet among others.
Invest in Lumber
Lumber is another way of investing in real estate in the United States. This is because most real estate projects in the US are built using lumber. Therefore, demand for more real estate properties usually leads to higher lumber prices. You can invest in lumber using the various brokers and apps like Robinhood that are available. The chart below shows the performance of lumber in 2019.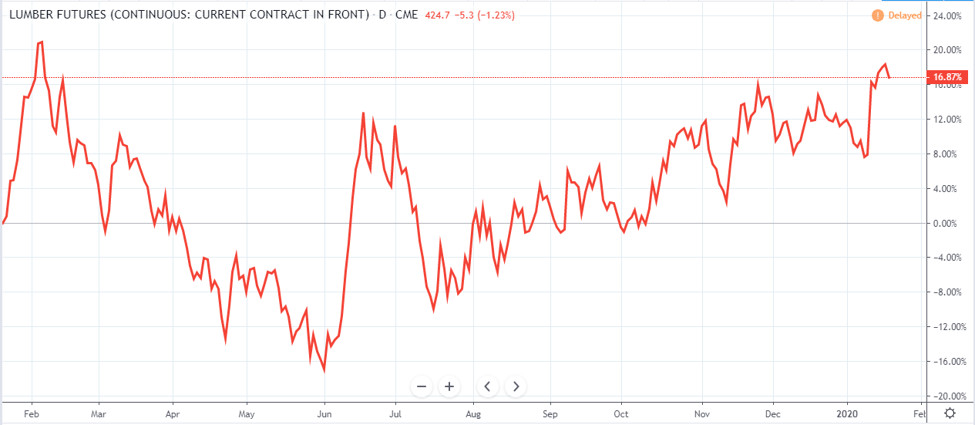 House Flipping
This is a process where you buy a piece of property, renovate it, and then sell it at a higher price. Flipping is a common thing these days especially because of low interest rates and low unemployment rates. However, flipping houses has its own peculiarities and challenges and it might be a good idea to acquire a real estate license that ensures you have a good knowledge of the market and industry in general.
There are two main challenges of house flipping. First, there is the challenge of high cost of starting out and of renovations. Second, there is the risk of having a difficulty in finding a buyer.
The video below shows how house flipping works.
What are the Risks of Investing in Real Estate?
All investments come with their own risks. Even a safe investment like real estate has its own risks. As an investor, you need to be aware of these risks. Some of these risks are:
Property prices. While real estate properties tend to rise, there are times when they drop. A good example is what happened in 2008/9.
Liquidity risk. There is risk that the property you invest in lacks people to buy.
Natural risks. There is a risk of climate change-related risks such as hurricanes. They can destroy property, increase insurance cost, and high vacancy rates.
Fluctuation of stock prices. When you have invested in real estate stocks, there are chances that prices will fluctuate.
Liability risk. There is a risk of having some liability especially when you are leasing property.
Summary
Ninety percent of all millionaires become so through owning real estate. More money has been made in real estate than in all industrial investments combined. The wise young man or wage earner of today invests his money in real estate. – Andrew Carnegie
Real estate is a great industry to invest in. However, there are challenges that most people face when investing in the sector. In this article, we have looked at virtually all ways of investing in the sector and the risks that are involved.