Zazu is Zambia's fintech start-up that was launched in 2015 to provide digital payment services via its digital wallet and financial education courses to the Zambian market.
Zazu intends to simplify how people open and maintain bank accounts. The start-up believes that a lot of time is wasted by visiting bank branches and there isn't anything you can do in branch that you can't do via a smartphone.
We believe that when you can manage your finances with confidence and ease, you can do better for yourself and those around you. That's why we created Zazu:The helpful money app
Zazu Benefits
Individuals are not charged to use Zazu digital wallet
Zazu is a convenient digital wallet
Manage your money directly from your phone.
Learn where you spend your money with Zazu helpful charts.
Pay your home bills directly in-app, anywhere, anytime.
It automatically categorises spending, allowing you to set savings goals.
It sends you intelligent notifications and advice on how to make sure your money goes further.
Zazu Features and Products
ZazuPay. ZazuPay is a digital wallet that allows you to issue and accept QR payments through a smartphone application.
ZazuBills. Within the Zazu app is the ZazuBills, a bills payment feature through which you can buy prepaid products and services such as airtime, Gotv, DStv, electricity, and Topstar.
ZazuSend. Also, its ZazuSend feature allows you to easily transfer domestic funds from sender wallets to recipient wallets.
ZazuCard. The Zazu prepaid debit card is tied to the Zazu app. You can use it to transact at any POS terminal and also withdraw money from any ATM that accepts MasterCard.
Zazu Virtual Card. You can create a Zazu virtual card in the app. You can use it for secure eCommerce payments, money transfers, and digital mobile payments.
How Zazu works
To get started, you have to download Zazu app, Android or iOS, and sign up.
The app allows you to use Zazu Wallet. Zazu Wallet is a digital wallet that is free to use. It is used by two kinds of users: individuals and businesses. Individuals are not charged to use the wallet, meaning they can send money to other people, free of charge. Individuals can also buy things on the platform or from Zazu merchants for free .
You can obtain a prepaid debit card tied to you Zazu app. Zazu card is linked to Mastercard. You can also create Zazu virtual card, which can be used for online shopping or subscriptions. The app allows you to transfer money into you Zazu Wallet using a locally issued debit card. The company is currently working on adding support for debit cards issued internationally.
How to transfer funds into Zazu Wallet
In the Zazu app, click on deposit and select the option Card.
Put your 16-digit debit card number, expiry date and CVV number.
You will be re-directed to the bank's website where you can enter your one-time-password (OTP) or pin number.
You can also deposit cash into your Zazu digital wallet through a Zazu agent.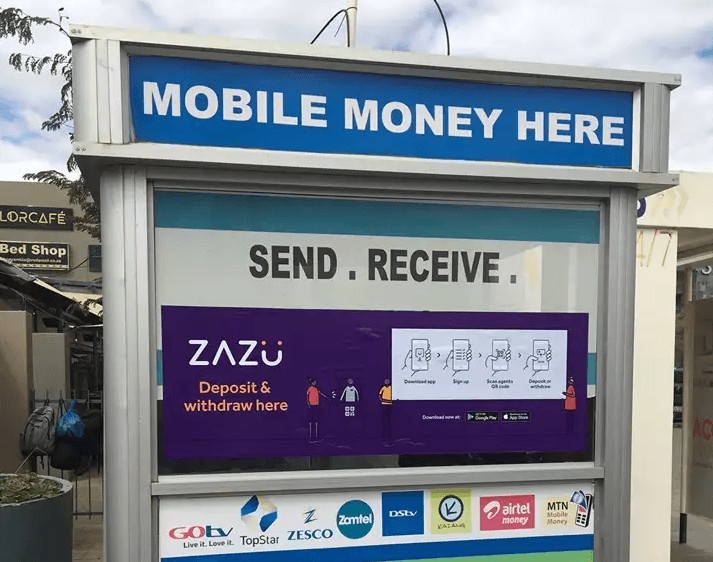 Financial literacy in Zambia
This Financial survey report released by Securities and Exchange Commission (SEC) in 2017 showed that only 32.5% of Zambians have knowledge about savings.
Zazu is in partnership with Financial Sector Deepening Zambia (FSDZ) to offer financial literacy courses to Zambians via USSD, SMS and toll-free voice calls. The courses cover financial topics such as income, budgeting, loans, savings, insurance and mobile money.
On 16 March 2019, Zazu launched an SMS based chatbot that teaches people how money really works. You send a keyword to a 3-digit short-code (619). The chatbot sends you back a course, one SMS at a time, on a particular topic.
Zazu Referral program
Zazu has also introduced a referral program. If you refer an individual, you will earn Kwacha 10 and for a business, Kwacha 100. There is no limit to the number of people you can refer.
Zazu Funding
Zazu raised US$326,590 following its crowdfunding campaign on Seedrs in 2017. It also raised £636.4K in 4 rounds between 2015-2017.
Final Thoughts on Zazu Zambia
Zazu believes that the use of the app and their financial literacy packages, will ultimately help Zambians to finance themselves out of poverty. The fintech appeared in Top 50 Digital Only Banks Ranking 2017,
Further reading