Interested in buying bitcoin in Botswana? Bitcoin has gained significant popularity worldwide, including in Botswana, as people recognize the potential of digital currencies. This guide will provide you with essential information on buying bitcoin in Botswana. We will explore the top exchanges available to Botswana users.
What is bitcoin?
Bitcoin is a digital or virtual currency that operates on a decentralized peer-to-peer network called the blockchain. It was created in 2009 by an anonymous person or group of people using the pseudonym Satoshi Nakamoto. Bitcoin is the first and most well-known cryptocurrency, and it has revolutionized the financial industry. It can be sent from one person to another without the need for intermediaries. You need a bitcoin wallet in Botswana in order to sell, buy, send, receive, and store bitcoin.
Bitcoin in Botswana
Bitcoin is not illegal in Botswana, and its popularity is growing rapidly. The country has a young and tech-savvy population, and many people are interested in the potential of cryptocurrencies. In March 2019, Express Minds Ltd set up a Bitcoin Automated Teller Machine (BATM) in the capital Gaborone. The machine allows you to buy bitcoin in Botswana using an ATM.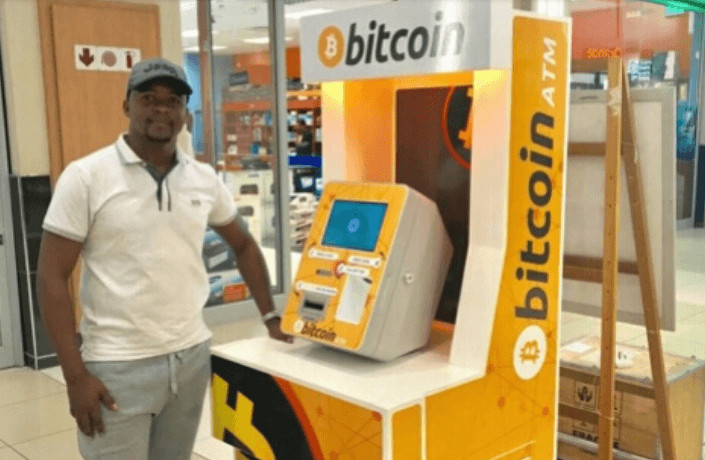 Buy Bitcoin in Botswana
Most centralized exchanges offer custodial wallets, which are not recommended for long-term storage of bitcoin. While convenient for trading, these wallets are controlled by the exchange. This means that you do not have full of your private keys. To maximize security, only keep the necessary amount for trading on exchanges and transfer significant holdings to a self-custody wallet. Remember the saying, "not your keys, not your bitcoin."
Yellow Card Botswana
Yellow Card is a popular cryptocurrency exchange platform available in Botswana. With Yellow Card, you have the opportunity to easily buy bitcoin using the local currency, the Botswana Pula (BWP). You can create an account and start buying bitcoin with as little as P150.
To start using Yellow Card in Botswana, you can sign up for an account on their website or app. Once your account is set up, and you have been verified, you can fund it with Botswana Pula (BWP) using a standard bank transfer. After depositing the desired amount, you can proceed to buy bitcoin by selecting the "Buy Bitcoin" option in your wallet and entering the desired amount in either bitcoin or Pula. Your bitcoin will be available in your wallet immediately. You can also sell your bitcoin and withdraw BWP to your bank account instantly with Yellow Card app.
Binance Botswana
Binance is a globally recognized bitcoin exchange that allows you to buy bitcoin with Pula. However, some of its features are for experienced traders. Binance offers multiple payment options, including bank transfers, credit/debit cards, and various cryptocurrency deposit methods.
To start using Binance, visit their official website and click on the "Register" button to create a new account. Fill in the required information, including your email address and a strong password. After accepting the terms of use and privacy policy, complete the security verification process. For added security, enable two-factor authentication using Google Authenticator or SMS authentication. You can then familiarize yourself with Binance's features, terms and trading fees.
Remitano Botswana
Remitano is a peer-to-peer Bitcoin marketplace that connects buyers and sellers directly. It allows users from Botswana to trade bitcoin with other individuals. Remitano supports various payment methods, including bank transfers, mobile money, and online wallets. To start using Remitano, you'll need to sign up, complete the verification process, and deposit funds to your account.
Being a peer to peer exchange, all online trades on Remitano are protected by an escrow service. When a trade is initiated, the seller's Remitano Wallet automatically reserves the agreed amount of bitcoins for the trade. In the event of any dispute where the seller fails to release the Bitcoins after receiving payment, you can open a dispute and provide proof of payment. Remitano support will intervene and release the bitcoin to you from the escrow.
To start using Remitano in Botswana, simply click on the "LOG IN / REGISTER" button and enter your email address. You will receive a secure login link via email. Click on the link to log in and create your username. Once registered, you can update your account information for a more convenient trading experience. With Remitano's password-less login method, your security is enhanced, as you don't need to remember or expose your password.
Paxful Botswana
Paxful is a peer to peer bitcoin exchange in Botswana where you can buy bitcoin from other users using various payment methods like Orange Money, bank transfers, and gift cards.
To start using Paxful, the first step is to create an account. Once registered, you can proceed to find a seller who offers bitcoin and accepts the payment method you prefer. When you've found a suitable seller, make an offer for the desired amount of bitcoin. If the seller accepts your offer, you will be directed to a secure checkout page. On the checkout page, you can proceed to make the payment to the seller using the agreed-upon payment method. After you've made the payment, the seller will confirm the receipt of funds.
Paxful uses an escrow system to ensure the security of both buyers and sellers. This means that the bitcoin being traded is held in escrow until both parties agree that the transaction is completed successfully. This safeguard helps prevent fraudulent activities and scams. Once the seller confirms the payment, they will release the bitcoin from escrow, and it will be transferred to your Paxful wallet.
P2P Bitcoin Exchange in Botswana
Bitcoin Journey in Botswana: Get Started
Buying bitcoin in Botswana is a straightforward process. In this article, we have compiled a list of reputable platforms that enable you to buy bitcoin using Botswana Pula (BWP). However, it is essential to conduct thorough research and select the platform that best suits your needs. Factors such as fees, seller reputation, and security features should be taken into account. We hope this article has provided you with valuable insights to start your bitcoin journey in Botswana.