BlockFi is a fintech platform that enables clients to save, borrow, and earn interest from their cryptocurrencies. In this BlockFi review, we will look at how to invest in BlockFi and everything else you need to know about the company.
Quick BlockFi Review
Customers can earn an annual BlockFi interest rate of 8.6%.
No minimum balance is required to have a BlockFi account.
BlockFi offers a platform where customers can trade cryptocurrencies.
What is BlockFi?
BlockFi is a startup that was started in 2017 to help crypto owners to save their cryptos and also borrow fiat currency using their cryptocurrencies as collateral.
Is there a BlockFi Wallet? BlockFi offers a Wallet Address Book that provides BlockFi clients the opportunity to pre-select and save your frequently used crypto wallet addresses.
BlockFi Features
BlockFi Products
BlockFi offers the following four products.
BlockFi Interest Account (BIA)
BlockFi interest account (BIA) is a savings account where you can save your crypto and earn interest. The goal of this account is to discourage people from storing their crypto in a cold wallet or hard wallet without earning any interest. This is equivalent to an interest-earning savings account in traditional banks. The screenshot below shows how a BIA compares to other similar accounts.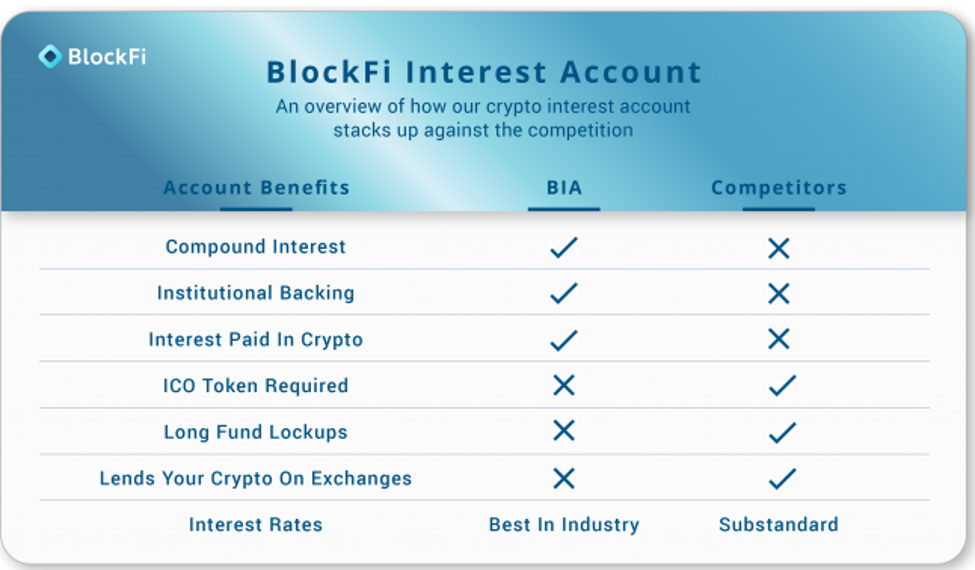 BlockFi Crypto Loans
Another product offered by BlockFi is crypto backed loans. The company extends loans that are backed by cryptocurrencies to customers. Crypto-backed loans such as the ones offered by Unchained Capital are relatively easy to understand. Customers who own crypto can easily deposit in BlockFi and borrow fiat currency against this crypto. This is done by people who believe that the value of crypto will continue soaring. The screenshot below shows how a crypto loan works.
BlockFi Referral Code
For every new friend that signs up using your unique BlockFi referral code and deposits $100+ worth of crypto to their BlockFi Interest Account, you and your friend will each earn a one time bonus of $10 in BTC. Join BlockFi referral program to get your BlockFi referral code.
BlockFi Crypto Trading
BlockFi offers a platform where customers can trade cryptocurrencies. The platform has all the tools you need to analyse and initiate crypto trades. The screenshot below shows how BlockFi trading works.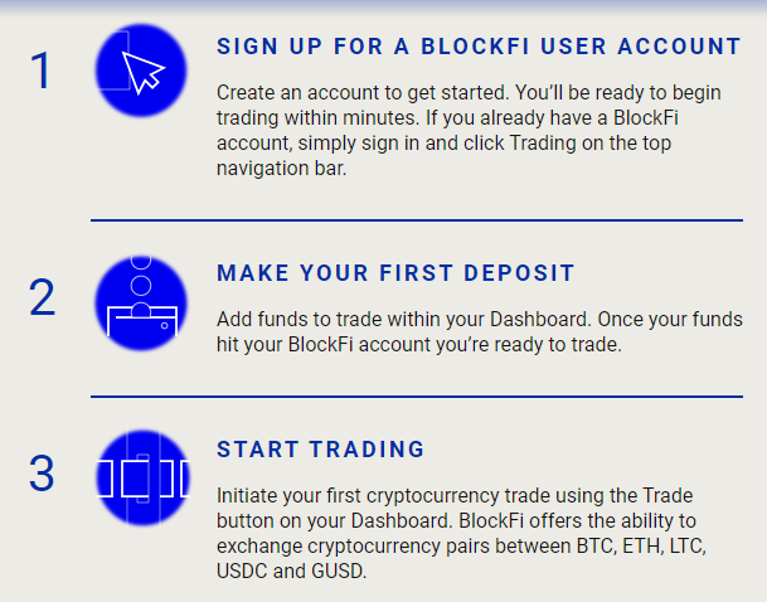 BlockFi Institutional Services
In addition to the above three products, BlockFi also offers other institutional services. These are customized lending and custody. In February, 2021, BlockFi launched BlockFi Bitcoin Trust, an investment vehicle for institutional investors seeking to invest in Bitcoin.
How BlockFI Works: How to Invest in BlockFi
The process of investing in BlockFi is relatively easy. First, you need to click the Get Started tab on the home page, blockfi.com. You can also do it on BlockFi app for iOS and Android. You can click the login button if you are already a customer. This will take you to this sign-up page where you will be required to enter your details. The details that are required are your name, your email address, and the type of account you are creating.
We recommend that you read the terms and conditions that are available on this page. You will then be required to enter a verification code that is sent to your email address. You will then be taken to a dashboard where you are expected to fill your information. You can now deposit your fiat or cryptocurrency after you complete the account verification process.
After you deposit your crypto, you will start earning interest every month. The company is able to provide interest because it lends your saved crypto to other people who pay with an interest.
BlockFi Credit Card: Join BlockFi Bitcoin Rewards Credit Card waitlist. The BlockFi Bitcoin Credit Card replaces the traditional cash-back system.
How BlockFi Makes Money
The company earns money in the similar way to the traditional banks. It makes money by lending out money to borrowers. It takes money that is saved by savers and gives it to people who are borrowing. It then makes money from this interest. The benefit of this is that the loans it gives out are relatively safe because they are usually backed by crypto like Bitcoin, Ethereum, and Litecoin.
Is BlockFi Safe? Is BlockFi Legit?
In recent years, we have heard stories about crypto that has been stolen. Billions of crypto have been stolen. We have also heard about crypto that has been lost because the user forgot the password. Therefore, a common question that we get is whether BlockFi is a safe way to invest.
Our research shows that BlockFi is a legit and safe company. It stores the crypto in Gemini, which is the leading licensed crypto custodian in the United States. Gemini is the company that was founded by the Winklevoss twins. In addition, BlockFi allows 2 factor authentication. This helps to ensure that the accounts are safe.
BlockFi Loan Review
Types of Loans Offered by BlockFi
BlockFi offers all types of loans provided that the user has provided a collateral. The most common type of loans that are offered are home loans, auto loans, emergency health loans, travelling loans, and loans to pay credit card debt among others.
BlockFi Interest Rates
With BlockFi savings account, users can make up to 6.2% annual interest of their bitcoins. They can earn up to 4.4% annual interest on Ethereum deposits and up to 8.6% of their Gemini dollars. As the terms and conditions say, the company can tweak these interest rates at will.
BlockFi Stock: Can I invest in BlockFi stock? Not at the moment but possibly soon. BlockFi CEO Zac Prince has revealed that the firm could go public as early as the second half of 2021. Coinbase was the first U.S. crypto company to be listed on the Nasdaq stock exchange.
Pros of Using BlockFi
There are several benefits that you get when you are using BlockFi services. These advantages are:
BlockFi Available Countries
BlockFi interest accounts are available worldwide in any country that is not sanctioned by the U.S., the U.K. or EU. BlockFi loans are available in 47 states in the U.S.
Alternatives for Full Crypto Banking
If you want full crypto banking services, some of the alternatives are:
Final Thoughts on BlockFi
BlockFi is not the only company that offers these savings and investment products. There are other companies like CoinLoan, Nexo and Coinbase that offer similar products. Still, if you are looking for a company to save and borrow your crypto, you can consider using BlockFi. It is a company that is backed by high-profile companies like Susquehanna and Valar. It also has a long track record of success. Still, we recommend that you check the interest rates if you are borrowing the funds.
More Information About BlockFi