Vaultoro is an online exchange that allows Bitcoin traders to buy and sell Bitcoin and shitcoins for physical gold or silver. You don't need any technical background to start converting crypto into gold. Vaultoro provides traders with a wide range of trading tools like education resources and a client support team.
What's Special About Vaultoro
Vaultoro allows you invest in precious metals by trading in more stable assets with more volatile ones.
Vaultoro does not charge crypto storage fees.
Your gold is your legal property and it can be sent to you or you can trade it back in crypto at any time.
Your gold is insured and audited by BDO, one of the biggest auditors in the world.
How to Sign up for Vaultoro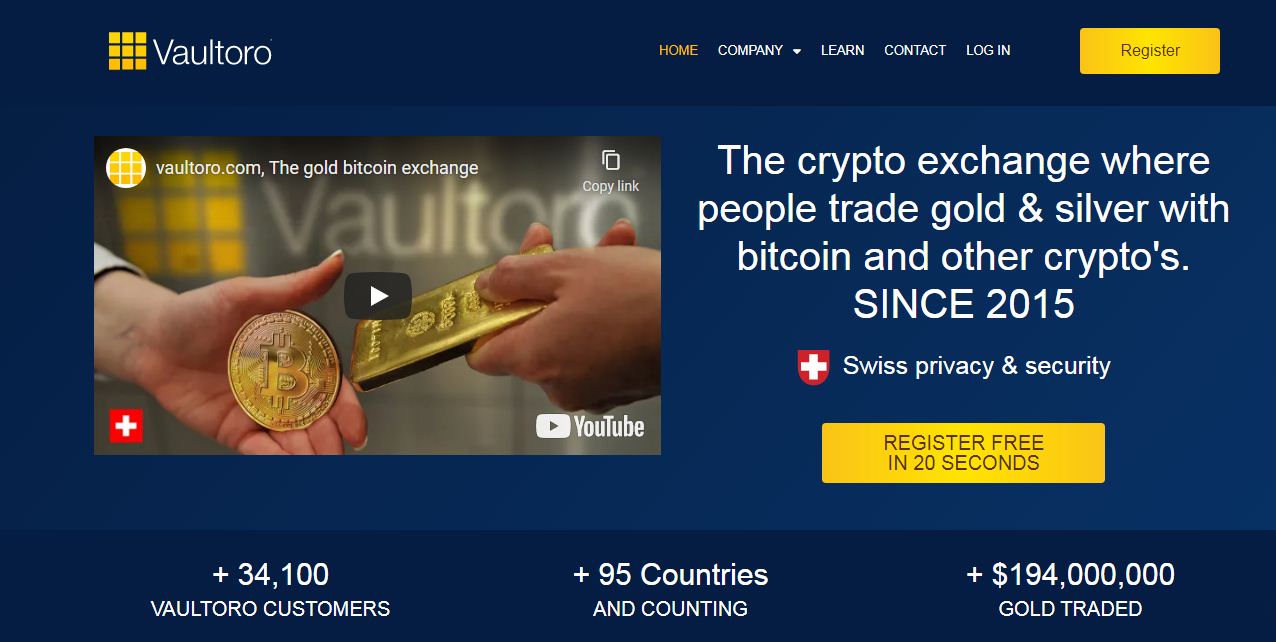 To create an account on Vaultoro website you just need an email address and a password. Once you have created your account, you will have to verify you email and complete the process by completing KYC process to verify your identity. For KYC, you need to upload your selfie, then you will get an option to select your identity document you wish to upload (passport, ID or driver's licence).
Vaultoro is a web-based platform whose services and features can only be accessed through its website. At the moment, there's no Vaultoro app. Vaultoro provides all its clients the same accounts that come with the same features.
Vaultoro Pros and Cons
Pros
User intuitive trading platform
A wide range of trading tools
Education resources are available
Cons
It is unregulated
There are limited financial instruments
No live chat support
Vaultoro Fees, Commissions and Spreads
Vaultoro charges fees associated with storage, trading and physical gold withdrawals. There is a storage and insurance fee that is charged to secure gold deposits in Switzerland. The storage and insurance fee is 0.034% of the total gold volume. It is paid once every year. However, storing bitcoin is free.
There is also a trading fee that is charged on volumes of trade for the last 30 days. The fees are:
0 – 500 grams: 0.5% per trade
001 – 1500 grams: 0.4% per trade
001 – 5,000: 0.3% per trade
Above 5,000 grams: 0.0% per trade
How to Deposit and Withdraw from Vaultoro
Vaultoro only accepts Bitcoin deposits. You can buy Bitcoin from Coinbase. Then you can generate a public key for crypto wallet that you can use to transfer the BTC to start trading. You can also withdraw funds from Vaultoro using a BTC transfer to a cold BTC wallet such as Samourai.
For optimal security, Vaultoro has ensured that deposits and withdrawal currencies be Bitcoin. Therefore, a trader must procure Bitcoin from crypto exchanges such as Coinbase before he transfers them to the Vaultoro wallet.
Trade and Types of Instruments Supported
Vaultoro supports instruments of trading like Gold, Silver, DASH and Bitcoin. Vaultoro comes with some trading tools and educational resources. Some of Vaultoro's trading tools include Market Analysis, Vaultoro Trading API and OTC Trading Desk.
Vaultoro Countries Supported
You can use Vaultoro in the following countries:
Australia
Japan
Canada
European Union
Hong Kong
United Kingdom
United States of America
Norway
New Zealand
Singapore
Switzerland
Turkey
Most parts of Asia
Most parts of Africa
Most parts of the Eastern European Union
Vaultoro Customer Support
Vaultoro customer support is available at all times and can be reached through telephone, email, social media and support tickets. Customer support usually responds to clients' queries.
Is Vaultoro Safe?
Vaultoro is not a regulated exchange. Vaultoro tries to ensure optimal security of clients' assets. It secures crypto cold wallets using multiple signatures protocols while gold is kept in a secure vault in Switzerland. Even if Vaultoro went down, customers' gold reserves are protected and they can access and get hold of their savings. Customers are required to enable 2-factor authentication to allow them to initiate deposits and withdrawals. Since it started operations in the UK in 2015, it hasn't experienced any major security issues.
Your gold is secured within top tier Swiss vaulting facilities, fully insured and audited by of of the largest auditors in the world, BDO.
Many crypto professionals and experts avoid trading with unregulated brokers since they cannot offer the same level of protection as the regulated ones.
Vaultoro Alternatives
Vaultoro Summary
Vaultoro is a platform that is helping customers acquire gold using Bitcoin. Customers can buy physical gold or even trade it against Bitcoin. Therefore, Vaultoro can be used to secure Bitcoin traders against volatility in cryptocurrency and also to store value.