What is Swan Bitcoin? Swan Bitcoin is a platform that helps you to invest and buy bitcoin automatically with your current account and wires up to $10 million. It is available in many countries including in all 50 states in the US and territories such as Puerto Rico, etc. Swan Private is available for corporations, high net worth individuals, and for purchases via wire transfer for clients outside the U.S. This Swan crypto review will show you how to buy Bitcoin with bank account.
Timing the market is hard. Their daily, weekly, or monthly savings options steadily convert your dollars to Bitcoin savings. Over the past three years, saving $50 per week in Bitcoin turned $7,850 into $59,929. The running joke about timing the market? "Sell low. Buy high."
What's Special About Swan Bitcoin
You can buy Bitcoin with your checking account / buy Bitcoin with wire transfer.
It has one of the lowest fees for recurring Bitcoin purchases (80% lower than Coinbase) and no withdrawal fees. You can choose to pre-pay all your fees for the year upfront, significantly reducing the overall cost.
You can invest in Bitcoin using Dollar Cost Averaging strategy, which is considered the safest and surest way of investing. You can already set up automatic buys with as little as $10.
Buying at Swan is considered safe because your bitcoin is stored in a licensed and regulated Nevada-chartered trust company for a short time until you decide to withdraw it to your own wallet.
Swan Bitcoin is available as a webapp only. You can only buy Bitcoin, altcoins or shitcoins are not supported.
How Does Swan Bitcoin Work?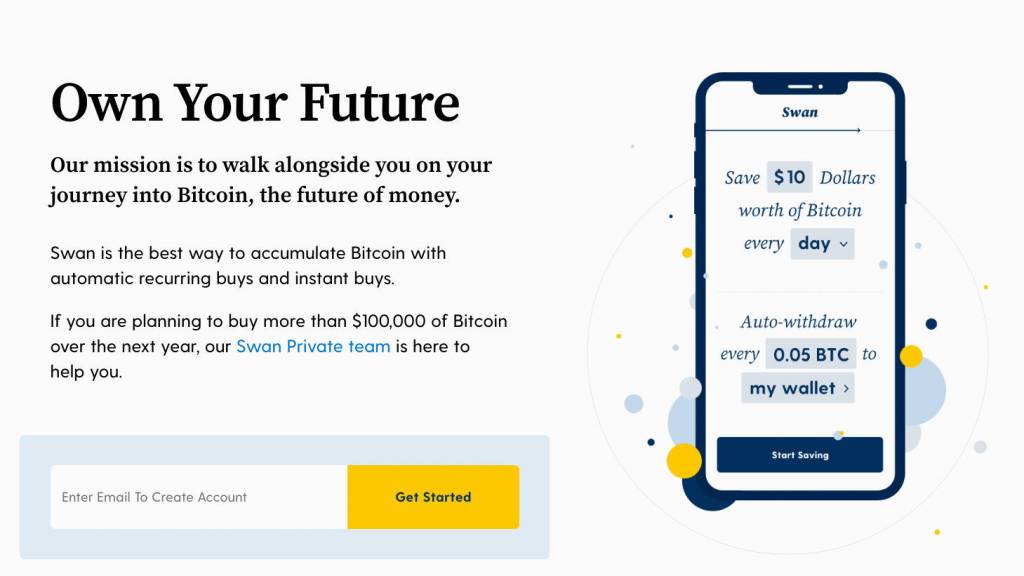 Swan Bitcoin makes it easier and cheaper to buy bitcoin. You can decide to make one-time purchases funded either through instant ACH or a wire (both for US customers and a wire-only funding for international customers). Alternatively, you can sign up for the Swan Bitcoin automatic, recurring plan and select the amount of money you want to save in bitcoin and how frequently. It can be daily, weekly, or monthly.
Swan Bitcoin will automatically pull funds from your linked bank account and buy bitcoin for you consistently. You can choose to withdraw your bitcoin manually or set up an auto-withdrawal plan to automatically withdraw bitcoin to your wallet when the purchases are completed. This means you can buy Bitcoin with wire transfer or buy Bitcoin with checking account.
Opening a Swan Account
US residents wishing to sign up for a Swan Bitcoin account must meet the following requirements:
You must be 18 years of age and above
A valid US photo ID such as a Driver's License, Passport, or ID card.
You must have a valid Social Security Number (SSN)
A valid US address or a utility bill with your address if an address is not listed on your ID
A valid US phone number that is connected to your smartphone with an access to camera and texting
You must also have an active US bank account
After filing in the required information during account opening, your account must be verified before it is ready for use. The verification process usually takes between 30 seconds to 5 days. If you want your account to be verified quickly, make sure that you follow the instructions as required and upload clear identification documents. For example, you should take the photo of your ID in clear indirect sunlight, on a flat surface and should be completely legible. Additionally, the name and address you provide when signing up for an account must match exactly to the identification documents you uploaded.
Dollars have lost 90% of their purchasing power since 1950 as politicians printed more of them. Bitcoin's fixed supply makes it the best way to save your money for the long term.
How to Close a Duplicate Swan Account
If you accidentally create a second Swan account, you can complete the following steps to close the duplicate account:
Select the Swan account you wish to close.
Pause the selected account to stop all future transfers of dollars.
Wait until all US dollars are cleared for purchasing then convert all the dollars to bitcoin using the "Convert Now" button.
You will then need to initiate a withdrawal of all the bitcoin stored in your Swan account to your own Bitcoin address
Finally, write to Swan's customer support team requesting them to close your second account.
How Swan Bitcoin Withdrawal Works
When a purchase is completed, your bitcoin is sent to your bitcoin wallet or held at a licensed and regulated trust company in Nevada called Prime Trust. The bitcoin is held in your name since you are the sole legal owner. Bitcoin that has never been withdrawn is usually stored in cold storage wallets at Prime Trust. For Swan Bitcoin transfer to wallet, we recommend hardware wallets such as Trezor and Ledger, and hot wallets such as Samourai wallet and Muun wallet.
On the other hand, if you decide to withdraw your bitcoin for the first time, your bitcoin will be sent to a hot wallet at Prime Trust (the transition is done manually and usually takes around 72 hours). When your bitcoin reaches the hot wallets, you can process your next withdrawal instantly. Bitcoin withdrawals are free for Swan Bitcoin customers and they take 10 days after your bank account transfer is initiated (this works for instant and recurring buys). Wire buys are available for withdrawal within 24 hours (at a higher cost).
Swan Bitcoin does not provide any investment, financial, tax, legal or other professional advice. Consult with financial and tax advisors to understand the risks and consequences of buying, selling and holding bitcoin.
Swan Bitcoin Fees
Swan Bitcoin has the lowest fees and it does not charge any fee for withdrawals. The following fees apply;
Swan Bitcoin Instant Buys Fees
Swan Bitcoin charges a 1.49% fee for instant buys. However, if you are on a $50/week prepaid plan or if you are buying $5000 of bitcoin per year, you will pay a 0.99% fee.
Swan Bitcoin Recurring Buys Fees
Recurring purchases on a Swan savings plan allows you to choose how frequently you want to buy bitcoin.
Prepay Annually Rate. Creating a saving plan with Swan enables you to prepay your fees annually. For purchases between $5-$24/week, you pay a 1.99% fee, between $25-$49/week you pay a 1.49% fee and for $50/week and above, you pay a 0.99% fee.
Pay as-You-Go Rate. Purchases between $5-$24/week are charged a 2.29% fee, 1.79% for purchases between $25-$49/week, and 1.19% for purchases from $50/week and above.
Swan Bitcoin Wire Transfers Fees
Swan Bitcoin charges a 0.99% fee on wire transfers. However, it does not charge you any fees for trading.
Swan Bitcoin Withdrawal Fees
There are no withdrawal fees from SwanBitcoin. Currently, Swan Bitcoin partner, Prime Trust, pays all of the miners' fees required to get a withdrawal of Bitcoin from Swan confirmed to the Bitcoin blockchain.
Swan Bitcoin Payment Methods
You can buy Bitcoin with ACH instantly in the US and wire transfers for international customers. You need to link your bank checking account to Swan and set up your bank to allow frequent pull ACH transfers and allow Prime Trust to make ACH pull transfers.
Experiencing trouble connecting your bank account to Swan? Try linking another bank account to Swan, preferably a bank account with a large national bank rather than a small credit union or regional bank.
Swan Bitcoin Supported Countries
You can invest using Swan Bitcoin platform if you live in the US (including Puerto Rico and Guam), Australia, the UK, Germany, France, Canada, Mexico, Germany, France, Norway, Hong Kong, Italy, Brazil, Denmark, Finland, Russia, Jamaica, Colombia, Iceland, Dominican Republic, Hungary, Ukraine, Poland, Spain, Switzerland, Portugal or any other country not on the OFAC list. If you live outside the US, you need to use Swan Bitcoin international for registration. Note that payment method for international Swan program is wire only and the money you transfer must be in USD. If you're not a US resident, you can easily use Wise and get a US bank account.
Swan cannot send texts to the following countries Saudi Arabia, New Zealand, Australia, Finland, Dubai, Namibia and China. Therefore, Swan Bitcoin cannot onboard users with phone numbers from these countries at the moment. The company will not be expanding to the following countries: Cuba, North Korea, Nigeria and Iran.
Is Swan Bitcoin Safe? Is Swan Bitcoin Legit?
Swan Bitcoin is a legit platform. When you purchase bitcoin using Swan Bitcoin app, your coins are stored by a licensed and regulated Nevada chartered trust company, Prime Trust, which secures fiat and cryptocurrency for big companies in the industry. Your bitcoin and fiat currency are stored under your name with Prime Trust, with you as the sole legal owner. Swan Bitcoin does not have the ability to move your funds. Bitcoin is stored in offline cold-storage wallets using best security practices and technologies.
Swan Bitcoin stores the minimal personal data such as your name, email, address, phone number, and date of birth. This information is stored in an encrypted database. While Swan Bitcoin collects social security numbers and identity documentation as required by law to open a trust account with Prime Trust, the information is relayed over an encrypted connection directly to Prime Trust and never stored on Swan servers.
In the unlikely event of Swan winding up operations, you still have legal control of funds stored within Prime Trust and can request disbursement using your email. Swan Bitcoin encourages its users to withdraw their bitcoin regularly to a secure wallet whose keys they control.
Swan Bitcoin Reviews
As of October 2021, Swan customers have given Swan Bitcoin excellent reviews on Trustpilot giving it a 4.5 star rating. The reviews on Trustpilot are as follows; Excellent -77%, Great -12%, Average -4%, Bad- 4%, and Poor- 3%. Complaints from customers include fees for wire transfers that bounced, rejected international transfers, wait time on withdrawals, ignored emails, etc.
Final Thoughts on Swan Crypto Review
Our SwanBitcoin review has showed you that it is a secure platform through which you can buy Bitcoin with your bank account easily and inexpensively. You only need to connect your US bank account for ACH transfer or international wire transfer from outside the US, set an amount, and choose your savings option. Swan will steadily convert your dollars into bitcoin savings.
Find Out More
Swan Bitcoin email address: hello@swanbitcoin.com
Swan Bitcoin phone number: +1.218.379.7926