XTB is an online brokerage that helps you to participate in the financial market. You can invest in indices, forex, commodities, stocks, ETFs, and cryptocurrencies. In this review, we will look at what is XTB, whether XTB is trustworthy, and the features it offers.
What's Special About XTB
XTB charges low fees for forex trades, XTB Basic Account or XTB Standard Account are free from commission, withdrawal of large amounts are fast and free.
Trading platforms include XTB MT4, XTB xTation5, and XTB xTation Mobile.
XTB offers more than 1,500 assets as well as Islamic accounts to clients in Saudi Arabia, Kuwait, Oman, Qatar, Jordan, Bahrain, Lebanon, Egypt and Malaysia.
Being a publicly traded company with a long track record of more than 15 years, XTB is a low-risk broker.
What is XTB?
XTB is a global online broker that offers trading in forex, CFDs, stocks, ETFs, cryptocurrencies, and other assets. Established in 2002, it is one of the largest and most established CFD brokers in the world.
XTB Trading Platform
XTB offers you an easy-to-use trading platform to engage in the following assets:
Forex: XTB offers over 50 currency pairs to trade, including major, minor, and exotic pairs. They include EUR/USD, GBP/USD, USD/JPY, and EUR/GBP among others.
CFDs: XTB offers CFDs on a variety of assets, including stocks, commodities, indices, and cryptocurrencies.
Stocks: Shares of over 1000 companies listed on major stock exchanges around the world, including Apple, Facebook, Nike, and Amazon.
ETFs: XTB offers trading in over 100 ETFs, which are baskets of stocks that track a particular index or sector.
Commodities: Crude oil, natural gas, soybeans, and gold among others.
Indices: Dow, S&P, and Nasdaq among others.
XTB Cryptocurrencies: XTB offers trading in a variety of cryptocurrencies, including bitcoin, and Ethereum.
XTB Islamic accounts: the platform offers Sharia compliant trading to clients from the UAE, Saudi Arabia, Kuwait, Oman, Qatar, Jordan, Bahrain, Lebanon, Egypt, Algeria, Morocco, Tunisia and Malaysia.
How XTB Works
Using XTB's services starts with the process of opening an account on their platform. This typically involves providing your personal details, undergoing identity verification, and agreeing to their terms and conditions. Once your account is approved, you gain access to XTB's range of trading platforms like MetaTrader 4 (MT4), MetaTrader 5 (MT5), and their proprietary xStation platform. These platforms serve as your tools for evaluating markets, executing trades, and managing your trading activities.
If you are new to trading, we recommend that you open a XTB demo account. This is an account that has virtual capital and real-time data. It helps you to trade financial assets using real data without the risk of losing your money before you understand how it really works. If you are an experienced trader, you should go ahead and create a live account.
After you open an account, you should deposit money, transfer it to the trading platform and start trading. You can deposit money on XTB using a bank transfer option, credit and debit cards, Payoneer, Skrill, Neteller, and other money transfer methods. The following table shows the two types of accounts that you can open in XTB. There is no minimum deposit to start trading on XTB.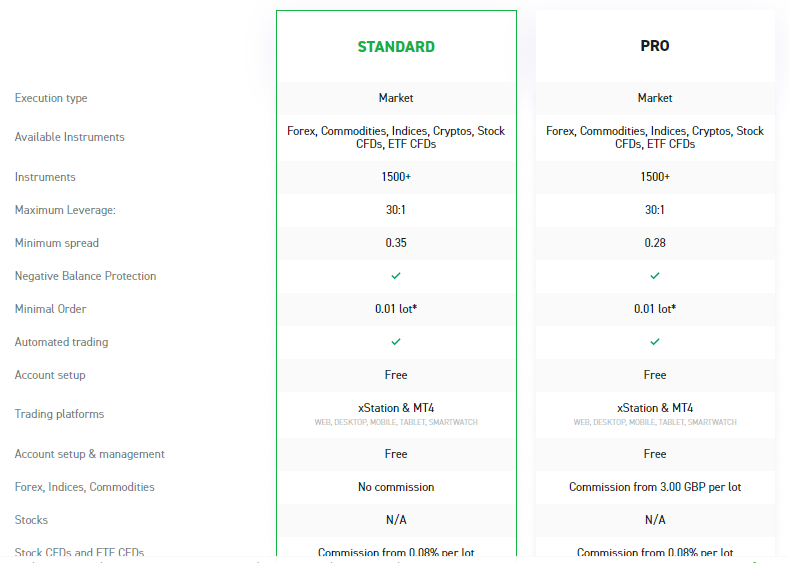 XTB withdrawal is simple and relatively easily. To do that, just go to your account dashboard and select withdraw. Select the option you want to withdraw the funds and the amount of money you want to withdraw. The company offers free withdrawals. Funds will hit your account within a few minutes.
Unfortunately, while there are many brokers with multiple withdrawal options, XTB has only one withdrawal option, your bank account. For your first XTB withdrawal, you need to add your bank account and a photo of your bank statement to allow the firm to verify your bank account for your protection and regulations. You will not be asked for this with following withdrawals.
XTB uses a fee structure involving spreads (the distinction between the bid and ask prices) and commissions, especially on specific types of accounts. Additionally, XTB equips you with a suite of tools and resources like real-time price charts, technical indicators, fundamental analysis insights, economic calendars, and timely market news updates.
XTB Review: Trading Features
The features offered by XTB are similar to those that are offered by other trading platforms like FxPro and Robinhood. Some of the key features are:
Mobile trading. You can trade crypto and other assets using your mobile devices.
News. The company has a market news page that is updated regularly.
Economic calendar. The company has an economic calendar that is active.
Lower spreads. This means there is a small difference between the bid and the ask price. A low spread also means that volatility is low and liquidity is high.
Education. XTB has an education portal with important resources.
XTB Fees
Trading on XTB Basic or XTB Standard account is free from commission. While funding your account with a credit or debit card in GBP or EUR attracts no additional fees, funds placed via PayPal and Skrill incur a fee of 2% of your deposited amount. For XTB crypto fees, commission for trading in supported cryptos is 4 USD (or equivalent in your account currency).
XTB withdrawal fees are as follows.
| Withdrawal fee on amounts smaller than threshold | Threshold | Amounts larger than threshold |
| --- | --- | --- |
| 20 USD | 100 USD | Free |
| 16 EUR | 80 EUR | Free |
| 12 GBP | 60 GBP | Free |
| 3000 HUF | 12,000 HUF | Free |
XTB stock fees and ETF CFD fees are as follows.
| Market | Volume-based fee | Minimum fee |
| --- | --- | --- |
| UK domestic, Germany, Portugal, Spain, France, Switzerland, Netherlands, Belgium, Denmark, Finland, Norway, Sweden | 0.08% | €8 |
| UK international | 0.08% | $10 |
| Czech Republic | 0.25% | CZK 300 |
| Italy | 0.08% | €8 + 0.07% of trade value |
For full list of XTB fees for all countries and services as of August 2023, see here.
Is XTB Safe?
The online brokerage industry has been saturated in recent years. Some of these companies are genuine, while others are not. Therefore, it is important that you ensure that you are using a company that is regulated. XTB is regulated and authorised by financial regulators, such as the Financial Conduct Authority (FCA), the European Securities and Markets Authority (ESMA), the Komisja Nadzoru Finansowego (KNF) in Poland, Financial Conduct Authority in the United Kingdom, Comisión Nacional del Mercado de Valores in Spain, and the Financial Services Commission in Belize.
XTB Supported Countries
XTB available countries include the following: Austria, Bahrain, Bulgaria, Canada, Chile, Czech Republic, China, Cyprus, Egypt, France, Germany, Greece, Hungary, Jordan, Kuwait, Lebanon, Malaysia, Netherlands, Oman, Norway, Portugal, Poland, Qatar, Romania, Slovenia, Spain, Sweden, Switzerland, Turkey, Italia, UK, Vietnam, and United Arab Emirates, Saudi Arabia.
XTB does not accept traders from the United States. Part of the reason is that CFDs are illegal in the US. Canadian residents are accepted only by the French branch of XTB Group: XTB FR.
Is XTB Good for You?
XTB is a trusted and established online broker that offers a wide range of trading options. They provide opportunities to trade forex, CFDs, stocks, commodities, ETFs, and cryptocurrencies. With a diverse selection of currency pairs, assets like stocks and commodities, and access to popular cryptocurrencies, XTB caters to various trading preferences. Their platform's user-friendly interface, educational resources, and market analysis tools make it a suitable choice for both new and experienced traders.
Nonetheless, trading in assets such as forex and CFDs is a risky business. Indeed 75% of people who open a trading account lose money. Therefore, you need to be very careful. Take time to learn about trading and only invest money you can easily afford to lose.
XTB FAQ
What is XTB trading?
XTB (X-Trade Brokers) is an online broker that offers trading services in various financial instruments, including forex (foreign exchange), CFDs (contracts for difference), indices, commodities, cryptocurrencies, stocks, and more.
Is XTB a good broker?
XTB is a good broker for a variety of traders, including beginners and experienced traders. It is regulated and authorised by financial regulators, such as the Financial Conduct Authority (FCA), the European Securities and Markets Authority (ESMA), the Komisja Nadzoru Finansowego (KNF) in Poland, Financial Conduct Authority in the United Kingdom, Comisión Nacional del Mercado de Valores in Spain, and the Financial Services Commission in Belize.
Is XTB good for day trading?
XTB is a good for day trading broker that offers services for day trading. They provide popular trading platforms like MetaTrader 4 and 5, which are favored by day traders for their analysis tools and execution speed.
Is XTB a market maker?
No, XTB is not a market marker. It functions as a Direct Market Access (DMA) broker. As a DMA broker, XTB does not generate its own asset prices. Rather, it directly links you to the actual market, enabling you to trade assets at the most favorable prevailing rates. In contrast, market makers create their own asset prices by actively buying and selling assets, capitalizing on the difference between buying and selling rates.
Is XTB available in the US?
No, XTB is not available for residents of the United States. XTB is a European-based broker that primarily serves clients in Europe and other regions. If you are looking for a broker that is available in the USA, we recommend checking out some of the following: Interactive Brokers, Charles Schwab, and Robinhood.
What trading platform are offered in XTB?
XTB offers a number of trading platforms like Metatrader and xTation.
What is the minimum deposit at XTB?
There's no minimum deposit to trade on XTB.
What is the maximum leverage at XTB?
For EU customers, the maximum leverage is 30:1. For international customers, it can get to $200:1.
How long does it take to withdraw funds from XTB?
It takes less than a day for you to receive your funds. This will depend on the type of withdrawal option.
What are the deposit options on XTB?
There are several methods of depositing money to your XTB account. These are bank transfers, PayPal, Payoneer, Skrill, and Paysafe among others.
Does XTB work in South Africa?
Yes, XTB Africa (PTY) received a license to operate in South Africa in 2021.