Open Collective is a platform that helps communities accept donations, sponsorships and pay expenses. It is a fundraising platform that incorporates donor management features. One can raise funds in full disclosure and transparency so everyone can see where money comes from and where it goes. You can also manage finances using Open Collective finance tools to reduce admin overheads.
Money management made simple, plus great tools for community engagement, budget reporting, and fiscal sponsorship.
What Makes Open Collective Unique?
Communities can use Open Collective fiscal hosts and give donors tax deductions (501(c)(3) for US charities initiatives and 501(c)(6) for open source projects) when they make charitable gifts to your community
Open Collective is built for ongoing collaborative communities, not individual creators or one-off campaigns
Open source donor management software designed for financial and technical transparency
Offers Open Collective fiscal sponsorship as a service, using Fiscal Hosts so communities or groups don't have to incorporate a legal entity, start a new bank account, and do bookkeeping
How Open Collective Works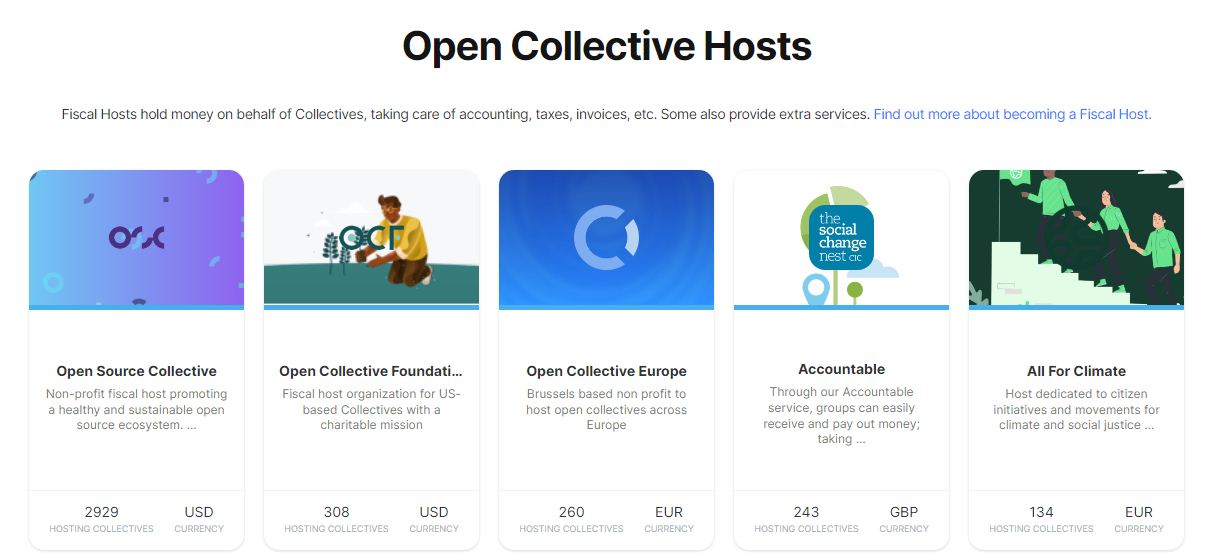 Open Collective comes with great features. You can use it to raise and manage funds with accountability. To start using it, you need to create contribution tiers. Through the contribution tiers, people and organizations can determine how much they can contribute.
Once you have created contribution tiers, you need to set budget goals. Through the budget goals, you need to excite the contributors with what their support can help in. For instance, you can state if someone contributes $100, it will be used to hire someone. You need to set these budget goals as short-term and long-term goals.
The other thing you can do is manage expenses online. Among the ways to go about it is by submitting receipts and invoices online. You can approve and reject expenses online to have a transparent budget without revealing your private information.
You also need to build trust and transparency. As such, you need to build a transparent ledger by showing where the money comes from and where it goes.
You can also use Open Collective to host multiple collectives under one umbrella. You will be getting a monthly report of all transactions for every collective. It has accounting and expense management features that can review receipts and invoices.
To get started, you need to make your Collective your own. This includes adding images, information and main color. After that, you can add main contributors who can be collaborators of your project. They will help you approve expenses. Then add these financial contributors to your GitHub and website.
With that, you can start tracking expenses. You can submit expenses through your collective so that people can see where money is being spent. It is important to build trust with supporters. Finally, you need to spread the word by connecting it to your Twitter account. You need to tell people about your vision and why you are raising money.
What Can You Do with Open Collective?
Once your organization has successfully joined Open Collective, you will be able to do the following.
Collect money. Receive funds by credit card, debit card, PayPal, Stripe or bank transfer, and record everything in your transparent budget. Define different ways people can contribute with customizable tiers and rewards.
Spend money. Anyone in your community can submit expenses. Once approved, pay in one click with PayPal, Stripe or bank transfer. All transactions are public in your transparent budget (with personal information kept private).
Manage money. Create Collectives for different projects for easy budget tracking. No need for messy spreadsheets. Automatic monthly reports make accounting easier.
Share your budget. Everyone can see where money comes from and where it goes. Clarity and accountability without any spreadsheets or extra work.
Who Can Use Open Collective?
Open Collective is great for all kinds of communities and collaborative groups such as meetups, open-source projects, neighbourhood associations, clubs, unions, movements, conferences, non-profits, grant recipients, and incubators.
Open Collective Fees
Open Collectives has pricing for Collectives and for Fiscal Hosts. For collectives, it allows people to collect, spend and manage money in a transparent way. It is free and has unlimited access to all features. You will not be charged if you hold money in your bank account. However, there are host fees that depend on your host. Note that payment processor fees apply.
A collective is a group seeking to raise and spend money transparently using the Open Collective platform, representing a community, project, or initiative.
For Fiscal Hosts, it allows one to hold funds on behalf of collectives. You decide which collectives to charge and their fees. It is free if you don't charge Host fees. If you charge fees, there is a 15% revenue share.
Fiscal Hosts
A fiscal host is an organization that welcomes others to operate through their structure, so projects can use the host's legal entity and bank account instead of setting up their own. The host provides administrative services, oversight, taxes, accounting, reporting, payment processing, and liability. Fiscal hosting is also called fiscal sponsorship, fund-holding, or auspicing in different places around the world.
For instance, it can take years for a group to get 501(c)(3) non-profit status in the US. Fiscal hosts are helpful to newly formed nonprofit groups, large and small. Fiscal hosts act as a legal entity for your group, organizing the back-end of your fundraising efforts. It's fast and easy to apply. Once your group is approved, you can begin collecting funds immediately.
If you are looking for somewhere to hold and distribute money for your project, you are able to use Open Collective's fiscal hosts. These include the Open Collective Foundation 501(c)(3) for US charities initiatives, Open Source Collective 501(c)(6) for open source projects, Open Collective NZ for kiwi projects and initiatives and Open Collective Europe for EU-based projects.
How is Open Collective Unique?
It ensures full transparency on where the money is coming from and where it goes.
It is completely an open source
It offers fiscal hosting, without having to worry about taxes
Besides, Open Collective is a unique platform that incorporates crowdfunding, fiscal sponsorships and accounting. Unlike many other crowdfunding platforms that offer time-limited campaigns, Open Collective can help with an ongoing project and initiative. Everyone will be in a position to see where your money comes from and where it goes.
Open Collective is not full accounting software but it offers main features for budget tracking and expense management and payment. Open Collective offers integrated payments for expenses through PayPal or bank transfer. As such, projects don't need to look for complex accounting tools to do basic budget tracking and money management.
Open Collective Pricing
There are different pricing models when using Open Collectives. The pricing structure is as follows:
For Collectives. It is free forever. It helps you collect, spend and manage funds. It gives you unlimited access to all features. You will not be charged if you hold money in your bank account.
For fiscal hosts. There is a 15% revenue share if you charge Host fees and free if you don't charge host fees. You can use it to hold funds on behalf of collectives. You can decide what Collectives to accept the fees you are going to charge them.
Open Collective Features
Collectives. This is a page that tells people about your project. You can use it to engage your supporters.
Raise Money. You can use Open Collectives to accept donations and sponsorships for your project.
Transparent budget. You can use Open Collectives for budgeting by setting automatic financial reporting and accountability.
Pay expenses. You can use Open Collectives to reimburse expenses and pay invoices.
Gift cards. You can give away gifts through gift cards.
Organize events. When you sell tickets, they go straight to your collective budget.
Tiers. You can use Open Collectives to reward your supporters and sponsors.
You can also sponsor Collectives on behalf of a company using Open Collectives.
Open Collective Supported Countries
Collectives can receive money from all over the world. People can contribute from anywhere with donations denominated in the currency of the Fiscal Host. Payouts work everywhere payment providers, Stripe and PayPal, serve.
Open Collective Supported Currencies
Collectives can receive contributions from all over the world in any currency. Donation amounts will be denominated in the currency of the Collective's Fiscal Host, which can be set up in the following currencies.
Argentine Peso – ARS
Australian Dollar – AUD
Bangladeshi Taka – BDT
Bulgarian Lev – BGN
Brazilian Real – BRL
Canadian Dollar – CAD
Swiss Franc – CHF
Czech Koruna – CZK
Danish Krone – DKK
Euro – EUR
Pound sterling – GBP
Hong Kong Dollar – HKD
Croatian Kuna – HRK
Hungarian Forint – HUF
Indian Rupee – INR
Icelandic Króna – ISK
Japanese Yen – JPY
Mexican Peso – MXN
Malaysian Ringgit – MYR
Nigerian Naira – NGN
Norwegian Krone – NOK
Nepalese Rupee – NPR
New Zealand Dollar- NZD
Poland złoty – PLN
Romanian Leu – RON
Swedish Krona – SEK
Singapore Dollar – SGD
Ukrainian hryvnia – UAH
United States Dollar – USD
Uruguayan Peso – UYU
South African Rand – ZAR
The currency a Fiscal Host supports is determined by the currency used by their Stripe or PayPal account.
Payment Security
Open Collective does not store any credit card number or information. Open Collective partners with Stripe, a secure payment solution. Even if Open Collective systems were hacked, there is no risk of losing your credit card number since they don't store your credit card number.
Open Collective Alternatives
If you are looking for alternatives to Open collective for crowdfunding and financial management, consider:
Open Collective Customer Support
You can reach Open Collective support by email: support@opencollective.com. It has a support team for members calling from US, EU and New Zealand. It is available from Monday to Friday and you can expect feedback in less than 24 hours.