Goodworld is a fintech that provides fundraising tools for non profits and corporate social responsibility tools for companies.  The tools provide features such as mobile apps, event ticketing, spare change donations, matching donations, e-gift cards, auctions, social media donations, text-to-give and CRM.
Goodworld works with more than 3,000 charities in the United States including the Red Cross, Save the Children, UNICEF, American Cancer Society, Compassion International, ALS Association.
How Goodworld Got Here
Goodworld acquired Bstow, Inc (Cheerful Giving) in 2020 to power causes in a modern world using new trends in social payments and donor behavior.
The Problem Goodworld is Solving
Goodworld intends to disrupt the charitable giving space using new technologies. Americans give more than $373 billion to charity every year. However, while the charitable giving industry is a big one, it has been broken. Part of the reason is that most people don't know how and where to give their donations. Others feel as if charitable giving is reserved to the rich and wealthy. Goodworld wants to simplify giving and make it social and interesting.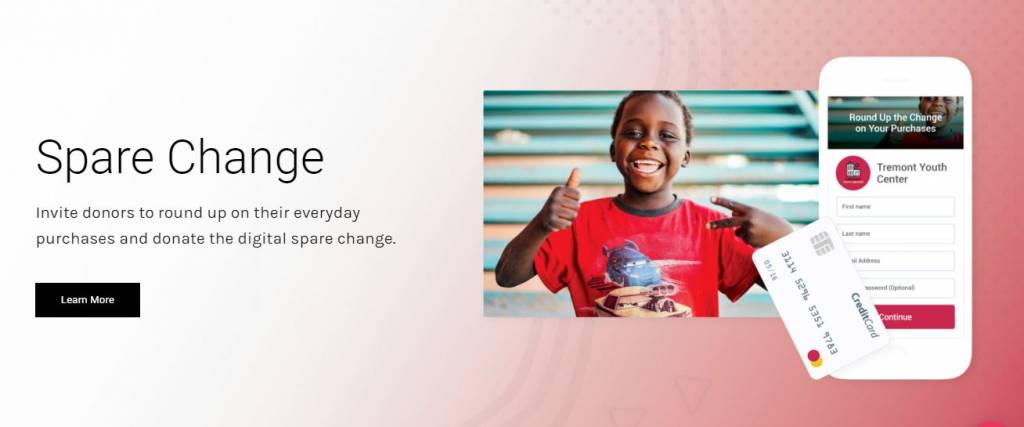 Goodworld Features
The Spare Change. feature enables the organizations to invite donors to round up their purchases and donate the change. With these small donations, donors of all sizes can do good without even realizing it. Goodworld tracks the transactions on the linked account and trigger a donation when the change accumulates to $5.
Mobile Apps. Organisations get their own branded iOS and Android apps, which allows supporters to give one-time, recurring and spare change donations, review giving history and edit their payment settings.
Text Engagement. By texting a 4-10-character code to your designated number, supporters can send a donation on the spot, straight from their smartphone.
Social Donations. Collect donations on Facebook and Twitter with hashtags. Followers can comment or reply with #donate. Once they reply or comment, Goodworld will reply with a one-time link to complete the donation.
The Donation Forms. feature allows the organizations to embed simple forms to facilitate signing up and processing the funds. Organizations can customize these forms to suit your website's preferences. In addition, they can customize a special message that is sent to the donors.
Campaign Pages. This enables you to create personalized donation portal, or create pages for funds and chapters.
Peer to peer. Mobilize supporters who are passionate about your cause with crowdfunding pages they can launch with a few clicks.
Auctions. Host auctions virtually so that anyone can join, no matter where they are.
eCards. Create gift cards for campaigns, holidays and causes
Giving Forms. Convert your website visitors into supporters with a donation form that's easy to embed anywhere on your site.
Impact CRM. A dashboard that allows you to visualize your growth with month to month analytics. Easily manage members, donors, donation history, campaigns, your brand settings.
How to Sign Up for Goodworld Account
To sign up for Goodworld account and start receiving donations for your causes, go to "Join as nonprofit" button at the top of the Goodworld website and follow these steps.
Click the Get started button.
Enter your Employer Identification Number (EIN) (your Tax Identification number).
Enter the details for the person who will manage the Goodworld account.
Fill out the Nonprofit details for your organization.
"Display name" is what your donors will see.
Connect your Stripe, Facebook and Twitter accounts. To connect Stripe, you will need the bank information for the account in which you want your donations to be deposited. To connect Facebook and Twitter, make sure you have the administrator  access to the organization's Facebook Page and the login information for the organization's Twitter account.
How to Receive Goodworld Donations
All donations made through Goodworld will be processed via Stripe, so you will be prompted to connect your existing account or create one during the Goodworld signup process.
What Are Goodworld Supported Accounts?
You may link checking, savings, credit, or any other account of your choice as long as the account is issued by one of the nearly 10,000 issuing financial institutions, banks and credit unions available in the Goodworld database. You can easily search the available institutions on the donation page for your chosen nonprofit, or in your account's Payment Settings.

Goodworld Fees
Goodworld is free for donors and has a free version for non profits with limited features. The tiered premium versions have many more features including digital event ticketing, auctions, e-give cards and text to give. The platform takes a small processing fee on every transaction in addition to the credit card processing fee charged by  its payments partner Stripe.
| Goodworld plan | Goodworld pricing | Goodworld features |
| --- | --- | --- |
| Free | $0/mo | Co-Branded, One-Time Donations, Recurring Donations, Spare Change Donations, Donor Data, Giving Page, Donation Forms, Gifts, Peer-to-Peer Campaigns, Events |
| Launch | $99/month | Custom Branded, One-Time Donations, Recurring Donations, Spare Change Donations, Donor CRM, Giving Page, Giving Forms, Gifts + $50/mo, Peer-to-Peer + $50/mo, Events & Auctions + $100/mo, Text Engagement + $50/mo per code, Up to 25 Fund Designations + $25/mo per additional, Branded URLs, Dedicated Account Rep, Workplace Giving + $2/mo per employee |
| Boost | $299/month | All Launch features plus Unlimited Giving Pages and One year contract |
| Scale | $449/mo | All Boost features plus Branded iOS + Android Apps and Push Notifications |
Goodworld Supported Countries
At the moment, Goodworld is available in the US only. The platform will expand beyond the US in 2022. In 2020, Goodworld launched a #donate pilot project for social media donations with Mastercard and World Vision Australia.
Is Goodworld Safe?
All donations are processed by secure payments partner, Stripe. Every transaction is secured by 256-bit Advanced Encryption Standard (AES) technology. Stripe is certified to PCI Service Provider Level 1. In addition, Goodworld never stores or shares your organization's bank account information.
Goodworld Alternative
There are a number of companies that are working to change or improve the charitable giving industry. Some of them are:
Final Thoughts on Goodworld Charity Tools
Goodworld is an exciting company that is changing the field of charitable giving. By creating an operating system for the industry, and because of how cheap it is, we believe that the potential of the company is unlimited.