XTB is an online brokerage that helps global traders participate in the financial market. Over the years, the company has expanded the markets it offers to its traders. Traders can invest in indices, forex, commodities, stocks, and cryptocurrencies. In this review, we will look at what is XTB Crypto, whether XTB is a scam, and the features it offers.
Quick Facts About XTB Crypto
XTB Crypto has been in business for more than 15 years.
XTB offers several trading platforms like MT4, xTation5, and xTation Mobile.
XTB offers more than 1,500 assets.
XTB Crypto offers a leverage of up to 500.
XTB is a publicly traded company.
What is XTB Crypto?
The finance industry is evolving quickly. These days, products that were only available to institutional investors are being readily available to retail traders around the world. Today, it is possible for ordinary people in almost all countries to trade currencies, stocks, and other assets. They can even use their mobile phones to trade.
XTB Crypto Tradable Products
XTB Crypto is a company that helps traders participate in the market. It offers an easy-to-use platform for these traders to use. XTB enables traders to trade in the following assets:
Crypto. Bitcoin, Ripple, Ethereum, and Litecoin.
Forex. EUR/USD, GBP/USD, USD/JPY, and EUR/GBP among others.
Commodities. Crude oil, natural gas, soybeans, and gold among others.
Indices. Dow, S&P, and Nasdaq among others.
Stocks. Apple, Facebook, Nike, and Amazon.
XTB Crypto: Investor Protections and Regulations
The online brokerage industry has been saturated in recent years. There are so many companies that are offering these services. Some of these companies are genuine while others are not. Therefore, it is important that you ensure that you are using a company that is regulated. XTB is regulated by the Financial Conduct Authority, which is the main regulator in the United Kingdom. On its website, it says:
XTB Limited is authorised and regulated by the UK Financial Conduct Authority (FRN 522157) with its registered and trading office at Level 34, One Canada Square, Canary Wharf, E14 5AA, London, United Kingdom (company number 07227848).
It is also regulated by CySEC and BaFin.
XTB Crypto: Account Opening and Funds Deposit
The process of opening an account with XTB Crypto is relatively easy. If you are new to trading, we recommend that you open a demo account. This is an account that has virtual capital and real-time data. It helps you to trade financial assets using real data. You can open a demo account using this link. If you are an experienced trader, you should go ahead and create a live account using this link.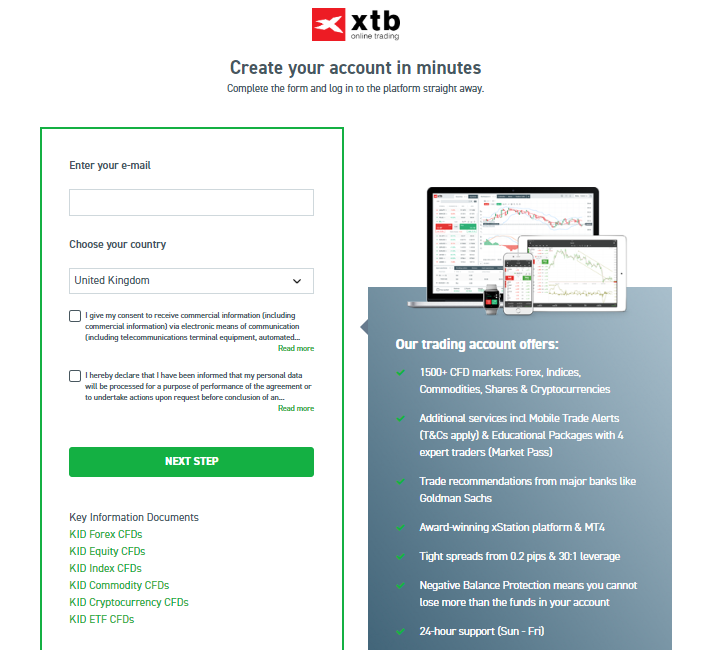 After you open an account, you should deposit money, transfer it to the trading platform and start trading. You can deposit funds using a bank transfer option, credit and debit cards, Payoneer, and other money transfer methods. The following table shows the two types of accounts that you can open in XTB.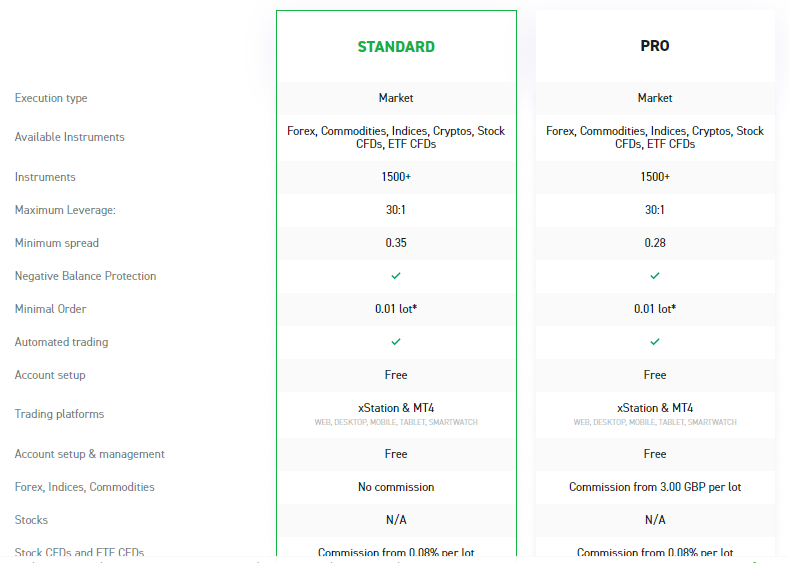 Withdrawing Funds
After you make money, you can withdraw it relatively easily. To do that, just go to your account dashboard and select withdraw. Select the option you want to withdraw the funds and the amount of money you want to withdraw. The company offers free withdrawals. Funds will hit your account within a few minutes.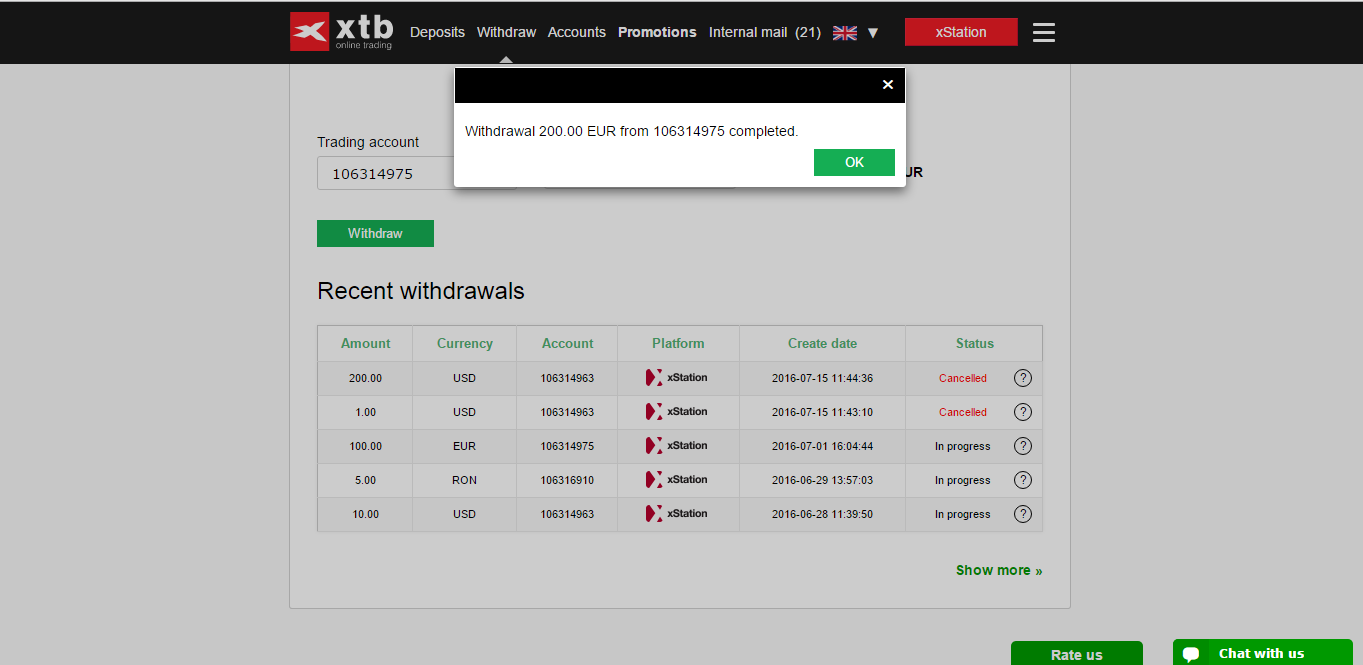 XTB Review: Trading Features
The features offered by XTB are similar to those that are offered by other trading platforms like FxPro and Robinhood. Some of the key features are:
Mobile trading. You can trade crypto and other assets using your mobile devices.
News. The company has a market news page that is updated regularly.
Economic calendar. The company has an economic calendar that is active.
Lower spreads. This means there is a small difference between the bid and the ask price. A low spread also means that that volatility is low and liquidity is high.
Education. XTB has an education portal with important resources.


FAQ About XTB Crypto
Is XTB regulated?
Yes. XTB is regulated by FCA, BaFin, and Cysec.
Where is the headquarter of XTB?
The headquarter of XTB is in London.
What are the deposit options for XTB?
There are several methods of depositing money to your XTB account. These are bank transfers, PayPal, Payoneer, Skrill, and Paysafe among others.
How long does it take to withdraw funds from XTB?
It takes less than a day for you to receive your funds. This will depend on the type of withdrawal option.
What is the maximum leverage at XTB?
For EU customers, the maximum leverage is 30:1. For international customers, it can get to $200:1.
What is the minimum deposit at XTB?
The minimum deposit is $250 or £250, or €250
What trading platform are offered in XTB?
XTB offers a number of trading platforms like Metatrader and xTation.
Summary
Investing in forex and crypto is becoming very popular these days. Nonetheless, it is a risky business. Indeed 75% of people who open a trading account lose money. Therefore, you need to be very careful. Take time to learn about trading and only invest money you can easily afford to lose.