If you wish to move to Hong Kong as a student, investor, worker or retiree, consider opening a bank account in Hong Kong so that you can conveniently access your money to cater for your needs. This article will guide you through the process of opening a bank account in Hong Kong.
Hong Kong is the right place to be if you want to experience life in Asia. It is the right place for those who want to experience a different lifestyle from that of the West or any other place. It has excellent business opportunities, incredible places and efficient banking system.


Banks in Hong Kong
Hong Kong has licensed banks, restricted licence banks and deposit-taking companies supervised by the Hong Kong Monetary Authority (HKMA).
Hong Kong is one of the top five financial centres in the world.
Hong Kong has one of the highest concentrations of banking institutions in the world, with 70 of the largest 100 banks in the world having an operation in Hong Kong.
There are over 154 licensed banks, 19 restricted licence banks and 17 deposit-taking companies in business.
Documents for Opening a Bank Account in Hong Kong
Hong Kong Nationals
You need to submit the following documents when opening an account in Hong Kong:
Hong Kong ID or Passport
Proof of address. You can use a utility bill or a bank statement
Documents Needed for a Foreigner to Open Bank Account in Hong Kong
Passport with Hong Kong visa or Hong Kong ID (you need a Hong Kong ID card if you are above 11 years old and you plan on staying for more than 180 days)
Residential address (utility bill, government correspondence, letter from employer, etc)
Proof of employment (source of your income)
Tax residency and ID number
If you are employed, you need to show proof of employment contract and if you are a student, you need to show an admission letter from the school.
Hong Kong ID card: To get your free Hong Kong ID, book an appointment with the Registration Of Persons Office. Take your passport, application form and 2 passport-sized photos with you. Apart from using your Hong Kong identity card for opening a bank account, you can use it for immigration clearance and public services such as a library card and public transport.
Open Bank Account in Hong Kong From Abroad
Hong Kong has very stringent measures to curb money laundering. For this reason, it is challenging to open a bank account from abroad. Fortunately, you can open a Hong Kong bank account online using a bank such as HSBC. HSBC International allows you to open Hongo Kong bank account online from over 30 countries including USA, Australia and Canada.
Opening a Bank Account as a Non-Resident in Hong Kong
You can open a bank account in Hong Kong as a non-resident. It is easier and faster to open a non resident bank account in Hong Kong if you an American, EU or Australian resident. For residents from other countries, opening a bank account may take up to two weeks. It takes longer due to security checks.
Best Banks in Hong Kong
There are many local and international banks you can open an account within Hong Kong. Open an account with the bank that is convenient for you. Consider the products it offers, the location of its branches and charges. Most banks offer current, savings and investment accounts. Other banks provide cashback, rewards and loans.
HSBC
HSBC is an international bank with branches in Hong Kong. They offer current, savings accounts and online banking. They have many ATMs across Hong Kong while they also offer debit cards. They provide personal installment loans at a monthly rate of 0.13% and you can borrow up to twelve times your monthly salary. Their accounts can handle different currencies.
Standard Chartered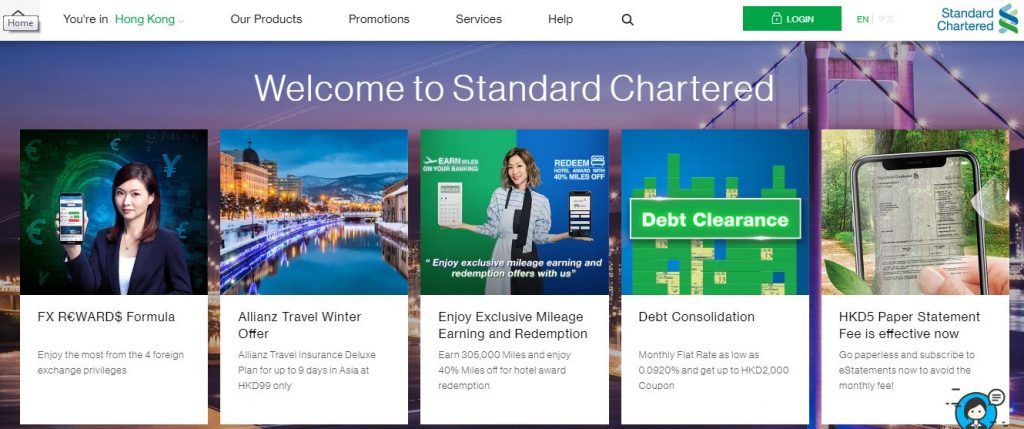 Standard Chartered is also an international bank with its branches in Hong Kong. They give their customers rewards in the form of cash. They have integrated all their accounts such that their customers can manage their accounts from one place. They offer ATM cards with the ability to handle dual currency. Their products Salary BonusPack provides a high interest rate of 1% annually compared to the basic savings account, while interest is 0.01% annually. You get your salary credited to your account on the same day you get paid.
Hang Seng
Hang Seng is a subsidiary of the HSBC group and has similar services and products with HSBC. They have a Green Banking account, a product specifically for students. The account does not charge monthly fees. You get a free credit card which you can use for up to three years after you graduate. With the account, you also get protection from bounced cheques for up to HKD 3,500 while you also get free foreign withdrawals for an amount up to US$1,000 daily.
Citibank
Citibank is another international bank with its ranches in Hong Kong. It is the most accessible account to open while abroad. If you are a Citigold customer in your home country, you get the same status in Hong Kong and enjoy free of charge account. The bank also has a candid website and online banking serves. When you open a payroll account, you will be charged a flat rate of 0.08% while you can enjoy free withdrawals. Besides, you can also enjoy the Global-View of Accounts. It is an online service that links all your accounts so that you can manage them from a common location.
Bank of China
Bank of China is a better option if you have significant dealings in China since they offer the best Chinese banking services. Their cards are linked to Jetco and Union Pay, which have many ATMs worldwide, making it cheaper to withdraw anywhere in the world. The card also acts as a debit card, which you can use to shop in supermarkets. It does not have handling fees.
Alternative to Traditional Banking in Hong Kong
Fintech Startup Neat
Neat is not a bank but works with ePayLinks Technology Co., Limited. ("ePayLinks"). The Neat Card is issued by ePayLinks Technology Co. Ltd ("ePayLinks"), an authorised MasterCard prepaid card issuer in Hong Kong.
Its "Neat Business" service lets companies register for a Hong Kong bank account without needing to go to a physical branch, even if the company is based overseas.
Neat is a fintech startup that offers online services as an alternative to traditional banking. The startup offers Neat business account. The account is usually for startups and SMEs. With Neat business account, you can get a Visa card. The account is very secure and has won an award from the Hong Kong government from its high-security features. The account can handle multiple currencies and does not charge for currency conversion. However, the account is not available in all countries. You can check out for Neat's restricted countries.
Bank Charges in Hong Kong
Hong Kong bank fees depend on the bank. Most of the banks have a monthly maintenance fee. Some banks also have a requirement that you maintain a minimum account balance of up to HKD 10,000. In case you fail to maintain the minimum balance, you are charged a fee on top of the monthly fee. Withdrawing money from another bank's ATM usually costs around HKD 15 and 20 for every withdrawal.
International Money Transfer
If you wish to send money across the borders, most banks charge between HKD 115 and HKD 120. However, some banks, such as Citibank, offer free international money transfer. However, most of the banks do not provide real-time exchange rates. Thereby, you will find out that you will be losing some money along the way. You can try TransferWise Borderless Account, rebranded to Wise Borderless, that is cheaper compared to banks since it offers real-time exchange rates.
Alternatively, you can use a virtual bank account to send money abroad and to make payments.
More Information