The Netherlands is an exciting country that has stroopwafels and windmills and is known to have a rich culture where the majority of the expats are moving due to its economic and political importance.
The Dutch have preferred to adopt the cashless country, and there are more and more shops and cafés where you cannot even pay by cash. Therefore, it is important to have a bank account. This article will you guide through the whole process of opening a bank account.
Requirements to open a bank account
The only documents that are usually required for opening a bank account in the Netherlands is often a proof of identity (passport, id-card) and in most cases your BSN (Dutch personal identification number). You will also need to give a physical address. This address does not have to be your official one. You will need to trust the address, so you can receive your cards and paperwork there.
The tricky part is the required Dutch personal identification number called BSN. Most banks demand this number. However, Virtual banks with IBAN work just as fine in the Netherlands and do not ask for this BSN. From the major banks, it is ABNAMRO that also accepts an entry in the Municipal Personal Records Database (BRP) instead of a BSN.
Best Way To Get a BSN
You will be required to present BSN (Burgerservicenummer) which is a personal identification number that is issued to every resident whether a native or expat. The easiest way of getting a BSN number is to register for the "Non-residents Records Database" by saying you're planning to stay for less than 4 months.
Non EU residents in the Netherlands
In case you are not a member of the EU, you will need to register with the Foreign Police. Various banks have various requirements which you can check with the particular bank. The following documents are regarded as valid: a tenancy agreement, gas or electric, or water bill for the last three months, and a bank credit statement for the last three months in case you are a student, you can present an admission certificate from your university.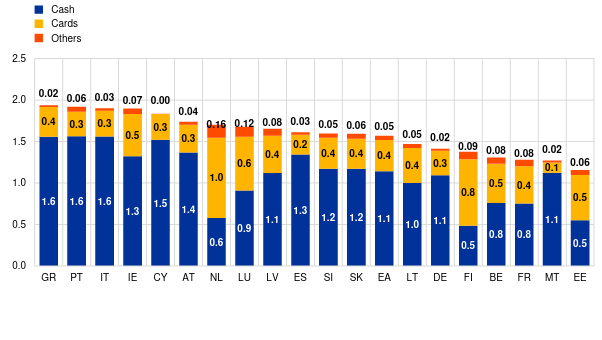 Peculiarities of Dutch Payment Habits
Of all consumers in the EEA, the Dutch still prefer cards over cash the most, according to the 2020 ECB study shown above. They are at the forefront of the cashless society. In the German capital Berlin, lots of shops and restaurants only accept cash and no card at all. In contrast, numerous shops and even pubs in Dutch cities like Amsterdam only accept Maestro and no cash at all.
Pin and use of credit cards
Be aware that in the Netherlands the use of credit cards is limited. At most shops and cash machines, Maestro, or as they call it "normal PIN cards" is the common way of payment. Using a credit card may give you extra charges if you want to cash out, while in some shops you may simply not be able to use your card. It's good to know that this practice will soon be over. As per 2023 the banking system will gradually adopt Mastercard and Visa standards for payments.
Is it possible to open a bank account while abroad?
Yes. In case you have a bank account with your home bank, they can assist you to open one in the Netherlands in case that particular bank has a correspondent relationship with Dutch banks.
Some banks have international accounts for non-residents. One can open an account before arriving in the Netherlands. Banks such as ING and bunq have variations of international accounts.
The majority of Dutch banks require that you have a Dutch address before opening an account. This address does not have to be an official address.
Online Bank Account Netherlands
As a foreigner, it's likely that you're going to transfer money internationally. Since main street banks use high exchange rates and fees, it might be profitable to look at some online, or virtual banks.
Another great advantage of these virtual banks over main street banks in the Netherlands is the fact that you don't need a Dutch personal identification number (BSN). The required address is only for receiving the bank card, it does not have to be an official address.
When using an online account, you also don't have to worry about visiting hours at local bank franchises. Setting up an account takes very little time, as does nearly every banking action.
Bunq
In case you are from a member state of the EU, Bunq is the easiest option available, with the least hassle. It's a new banking app in Dutch that will assist you in opening an International Bank Account Number (IBAN). It is a virtual bank account without any branches, and without a physical address. Instead, they use video calls to verify your identity. They offer a 30-day free trial, after which the minimum pay is €2.99 per month. You can transact all the banking services using the app.
WISE multicurrency account
Transferring funds across the border can become expensive. However, with WISE, you can transfer and receive funds at low competitive exchange rates at a small charge.
You can open a Dutch IBAN as a foreign Dutch resident, free of cost. You only require an ID, an address in the Netherlands, and a phone. Only 2 withdrawals, totaling 200 Euro, are free each month. Above 200/250 Euro, it'll cost 50 cents per withdrawal plus 1.75%. But no monthly fee. And receiving money is free.
Revolut
Revolut accepts customers that are residents of the European Economic Area (EEA, Australia, Singapore, Switzerland, Japan, the United Kingdom, and the United States. They are working on expansion across the world, "soon".
Revolut is a bitcoin friendly bank that offers multi-currency accounts in 28 currencies, IBAN for personal accounts and business accounts, virtual cards, money transfer services, and crypto trading.

Monese
Monese is a British Online Bank. Even after BREXIT, it's available for anyone living in the EEA or the UK. Monese offers a multicurrency digital bank with IBAN and supports SEPA payments.

N26
N26 is available for UK and US citizens living in the EEA. You'll get an online account with IBAN in Euro. At the moment, there's a waiting list for the free account, due to their popularity.
You can choose between a Mastercard or a maestro card. In the Netherlands it is wise to choose the maestro card as you can use that card in all shops that accept card payments or as the Dutch call it "pin". Maestro is much more widespread in the Netherlands than credit cards. Even if you choose the Maestro card, you get a virtual credit card for online purchases.
The only downside is that you cannot make online payments via iDeal (very common in the Netherlands), but you can make the payments with your free credit card that comes with N26.

Best banks in the Netherlands
Choosing a bank that meets your expectations is key. Some of the factors to consider when selecting a bank are bank charges and the convenience of the bank. Among the largest banks in the Netherlands include ING, Rabobank, ABN and AMRO. They have different financial products for various groups.
ING
The history of ING Bank goes back to 200 years and it has well-networked branches all over the country. In case you have just arrived in the country, opening a bank account will only take you a few minutes if you have the necessary documents. The cheapest version of a bank account with ING is 2.70 euro per month.
Rabobank
Rabobank has a minimum monthly fee of 2.25 euros. After opening a bank account, you are issued with a free debit card and access to online banking. They have well-situated branches all over the country.
ABN AMRO
ABN AMRO is a traditional bank in the Netherlands. It has many ATMs and branches all over the country and all its services are also available in English. They offer accounts from 2.95 euro a month.
The entire process of opening a bank account can be done online. If you don't have a BSN, you can use your entry in the Municipal Personal Records Database (BRP). Check out their information on this process.
SNS Bank
SNS Bank is a national bank with conveniently located ATMs all over the country. They only do business in Dutch, so all their information is in Dutch alone. Without Dutch ID or permanent residence permit, you can not open a bank account (from 2.55 euro a month) online. Instead you will have to visit one of their franchises. Each medium to large town will have at least one. Bring someone who speaks Dutch.
Bank charges
Many banks charge different fees for opening an account with them and it is important to know the fees charged by a bank before you can think of opening a bank account with them. Among the standard charges in Dutch banks include ATM fees and transfer fees like the SWIFT fees. Other banks have monthly maintenance fees. Check with a particular bank for their charges.