Spain is a popular destination for tourists, investors, students and foreign workers. And it has a language spoken over large parts of the world. If you intend to do business with Spain or staying here for a longer period of time and get paid in Euro, a Spanish bank account will be helpful. Most of them are free. Here you will find a guide on how to open a bank account in Spain.
Documents Needed to Open a Bank Account in Spain
Non-Resident
ID (usually a passport)
Certificate of Non Residency
NIE (Foreigner Identification Number)
Sometimes a proof of income (payslip)
Foreign Resident
ID (typically a passport)
Proof of address (utility bill for instance)
NIE (Foreigner Identification Number)
Sometimes a proof of income (payslip)
Online Bank Account with Spanish IBAN
ID (typically a passport)
Proof of address (utility bill for instance)
It's even cheaper

Open an Account for Non Residents
When you become a resident, you can easily switch to a resident account. To do so, you need to present your NIE number (a Foreigner Identification Number). The process doesn't involve a lot of paperwork. Just fill in the EX15 form.
As a non-resident, however, it's different. Spain has a legislation that helps non-residents to open a bank account. You'll need to get a Certificate of Non Residency from the "Policia Nacional". You can also request a NIE (Foreigner Identification Number) with the above-mentioned EX15 form.
LaCaixa, Bankinter, Santander and Sabadell among others can provide you with a Spanish bank account for non-residents. Furthermore, the virtual WISE multi currency bank account is available for non-residents and works with Euro in Spain.
Open a Bank Account as a Resident
As a foreign resident of Spain, you'll also need to identify yourself with an ID like a passport or internationally recognized national identity card, and with a NIE. And for some bank accounts you also need a proof of income, like a payslip.
But instead of a certificate of non-residency, you require a proof of address, such as a utility bill, for instance.
How to Open a Bank Account Remotely
It is possible to open a traditional bank account online. However, you will still need to visit a branch to present your documents. If you can speak Spanish fluently, then it is better to open an account in person. English versions of bank websites can be confusing. If you have a Spanish-speaking friend, it is wise that you visit a local branch in his company.
Online Bank Accounts
It is possible to open an online bank account with European IBAN as an American or British citizen, provided you're living in Spain or most other European country (check which countries are supported by N26). These bank accounts are cheaper and much easier to open: you don't need any special certificates, only ID and a Spanish address.
Opening a bank account in Spain at one of the following online banks is easier and cheaper.
N26

N26 is available for UK and US citizens living in Spain. You'll get an online account with Spanish IBAN in Euro.
N26 only asks for a valid ID and a valid address in Spain. The address is to send your bank card and mail to. They trust you're a resident of Spain. Technically, you could use the address of a trusted (!) friend or family member living in Spain. No further certificates are required. You do need a smartphone for the identification video call.
There even is a free N26 bank account, but currently there's a waiting list. That's because the German banking authorities (BaFin), where N26 headquarters is stationed, have limited their growth to 50k new customers per month. N26 paid bank accounts cost 4.90 Euro a month and up.
WISE
Wise was previously called TransferWise because their roots lie in money transfer. But today they also offer a private WISE multi-currency bank account with Spanish IBAN (and also a business bank account).
You can open a Spanish IBAN as a foreign Spanish resident, free of cost. You only require an ID, an address in Spain and a phone. Only 2 withdrawals, totaling 200 Euro, are free each month (250 Euro from 03/01/2023). Above 200/250 Euro, it'll cost 50 cent per withdrawal plus 1.75%. But no monthly fee. And receiving money is free.
Revolut
Revolut offers multi-currency accounts in 28 currencies, IBAN for personal accounts and business accounts, virtual cards, money transfer services and crypto trading.
Revolut's key products and services include prepaid debit cards, currency exchange, peer to peer payments, withdrawals in over 120 currencies and transfer money directly in over 29 currencies. You can buy cryptocurrencies such as Bitcoin. However, you cannot transfer them to an external wallet, you can only exchange them for fiat money inside Revolut app.

Monese
Monese is a British online bank that accepts customers from many countries including Liechtenstein. You have to be a resident of the EEA or the UK. It offers a multicurrency digital bank with IBAN and supports SEPA payments. You can open EUR or GBP personal, joint or business accounts with Monese. Monese accounts works with contactless payments like Google Pay, Apple Pay and PayPal.

International Cash Transfers
If you wish to send money internationally, banks can be costly since they do not adhere to the mid-market rate. They charge for currency conversion and their transfers attract other fees such as SWIFT fees. Besides, they still maintain a profit margin making the cost to be too high.
You can use a virtual bank account to send money around internationally, like those mentioned above, N26 and WISE. With a virtual bank account, you get an IBAN which you can use to make free bank transfers within SEPA countries. Regular fees for a normal virtual bank account are zero and cash transfers are very fast, within 24 hours.
Coupon Code WorldRemit Money Transfer
Special offer. Send money with WorldRemit using the code 3FREE and pay no fees on your first three money transfers. Coupon code WorldRemit for free transfers.
Best Banks in Spain
There are many local and international banks in Spain. Some of the banks you will find include the following.
BBVA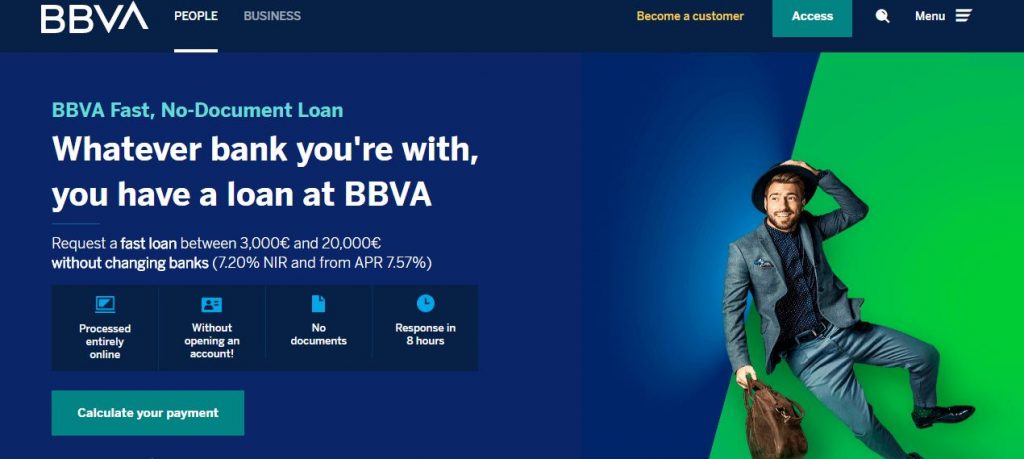 BBVA is the other bank that has a vast network. It has different types of accounts, most of which do not have monthly fees. Their website is in English and they have two online accounts, BBVA Online Account and BBVA Blue Online Account. They also have different types of business accounts, which come with various features such as overdraft protection and business financing. Besides, they have other perks for self-employed people.
BBVA Free Online Account
No monthly fee, with free debit card, no requirement to deposit your paycheck, free online money transfer in EEA. Only for residents of Spain.
La Caixa
For international clients, La Caixa started HolaBank. This is a more luxurious bank for the expats working in Spain. You have to be at least a resident of Spain, with NIE.
Apart from personal accounts, the bank has two types of business accounts, Cuenta Commercio, which comes with ten free transfers every month. In addition, the account also offers two credit cards and unlimited cheque deposits. The other business account is the Cuenta Negociao, an account for self-employed people.
HolaBank-Living Solutions Account
140 Euro annual account fee. 50 Euro annual Visa debit card fee but free Visa credit card. Several types of SEPA transfers are not free. HolaBank Club account included, with non-financial perks like English language service center, assistence at home (plumbing, locksmith, etc), information phone number for all kinds of information (emergencies, weather, mechanics, you name it).
Santander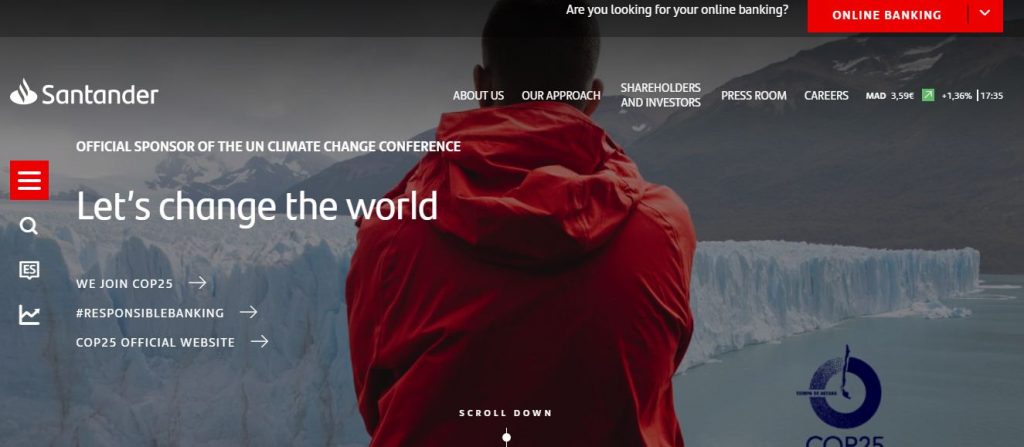 Santander is a common bank in the UK and Spain. Large parts of their online environment is not or barely translated into English. Official documents and correspondence is in Spanish.
Santander Bank Accounts
Online Account: for residents of Spain, no account fees, free debit card.
Cuenta Mundo: for non-residents, monthly fee of 16 euro, including debit card.