Lithuania is attracting many students, expats and foreign workers from all over the world due to its favorable economy. Lithuania is a member of the European Union which makes banking to and from other EU member states already quite easy. Sending money outside of the EU by means of traditional banks is expensive and not easy though. Some of the main street bank accounts are unavailable for non-residents. Most traditional bank accounts can't be opened completely online or from abroad.
The Best Banking Solutions In Lithuania For Foreigners
If you are a resident of the EEA, Australia, Singapore, Switzerland, Japan, the UK, and the USA, virtual bank Revolut offers the best account with Lithuanian IBAN. Opening this free account costs minutes and can be done online and from abroad. The main language at Revolut is English. Their multi-currency account holds 28 different currencies. International money transfer is easy and within the EU for free. Outside of the EU, Revolut asks for a transferring fee of 0.3% with a maximum of 5 GBP.
If you prefer an account at a traditional bank as a foreign resident of Lithuania, the best option is provided by SEB Bank of Lithuania. SEB offers lots of cash machines and an English website. Both residents and nonresidents have to visit a local branch to show proof of identity. Banking fees start at one euro. SEPA money transfers are free, but for other international transferring fees, SEB will charge 13 to 90 euro.
Is It Possible to Open Lithuanian Bank Account As Non Resident?
Yes, it is. As long as you can provide all the required documents, there are no restrictions for non-residents opening bank accounts. However, each bank has its requirements. Not all bank accounts are available to non-residents.
Opening a corporate bank account in Lithuania is mandatory when opening a company in the country. Company share capital must be deposited in the corporate account during the registration process.
Is It Possible To Open Bank Account Online In Lithuania From Abroad?
No, it is not possible to open a bank account completely from abroad at one of the majority of main street banks in Lithuania. They do not provide a completely online application. You will need to have a proxy with a power of attorney to open an account. It is possible to start the process online and complete it in person in Lithuania.
Yes, you can open a virtual bank account online from abroad that's fully functional in Lithuania.
Money Transfer in Lithuania
These virtual banks are also very useful in sending money back home cheaply and holding more than one currency. Lithuania is part of the EEA, so between these Euro countries sending money is free and quick.

Outside of the EEA it can become expensive fast, especially when you use main street banks. You better use money transfer services such as Wise and WorldRemit. Another good option is to send money with a virtual bank account.
Best Online Bank Accounts In Lithuania
Online banks are on the rise all over the world. These banks are cheap, fully online and mobile, and very useful and cheap in transferring money abroad and holding multiple currencies.
Following are the best online bank accounts you can open for use in Lithuania. N26 unfortunately is not available here.
WISE
You can open and use Wise online bank accounts in almost any country in the world with a few war-torn exeptions.
You can open an IBAN account as a foreign resident of Lithuania, free of cost. You only need an ID, a postal address in Lithuania to send card and documents, and a phone. Only 2 withdrawals, totalling 200 Euro, are free each month (250 Euro from 03/01/2023). Above 200/250 Euro, it'll cost 50 Eurocent per withdrawal plus 1.75%. But no monthly fee. And receiving money is free.
Revolut
Revolut accepts customers that are resident of the European Economic Area (EEA, Australia, Singapore, Switzerland, Japan, the United Kingdom and the United States. They are working on expansion across the world, "soon".
Revolut is a crypto friendly bank that offers multi-currency accounts in 28 currencies, IBAN for personal accounts and business accounts, virtual cards, money transfer services and crypto trading.

Monese
Monese is a British Online Bank. Even after BREXIT, it's available for anyone living in the EEA or the UK. Monese offers a multicurrency digital bank with IBAN and supports SEPA payments.

Best banks in Lithuania
There are several national and international main street banks in Lithuania which gives you an option to choose from. They offer different products that range from retail, SMEs, and investment products. The following are some of the best main street banks in Lithuania.
1. Swedbank AB Lithuania
Swedbank is a Swedish bank but half of their clientele is Baltic. It has a wide network of branches and ATMs.
Swedbank online banking is available in English. Bank account fees start at 1 euro a month.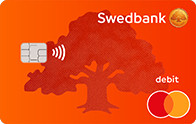 2. SEB Lithuania
SEB Bank Lithuania has a vast network of ATMs and branches that are conveniently placed.
Foreign residents and non-residents will have to visit a local bank branches to proof their identity. The SEB website is also available in English. Their standard bank account, or 'service plan', costs 1 euro a month.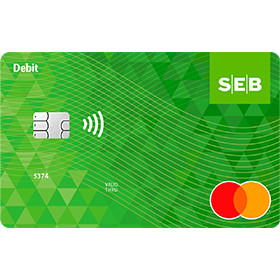 3. Luminor Bank Lithuania, Formerly DNB
The Luminor Bank offers traditional banking and online banking services in Lithuania. Some of the products they provide to their customers include current and savings accounts, mobile banking, private banking, premium and travel accounts, loans, mortgages, and debit cards.
4. Citadele Bank Lithuania
The Citadele Bank caters for local and international clients. The bank offers multi-currency current account, SMS bank for mobile banking and Citadele online banking. Some of the products they offer include current and savings account, investment and business accounts, ATMs, safe box, Visa debit and credit cards, travel and purchase insurance.
Banking fees in Lithuania banks
After selecting the bank you want to open an account with, take time to find out about all the charges associated with the bank. For instance, Swedbank charges non-residents an administration fee after opening a bank account. Other expenses that are associated with Lithuania banks include ATM fees, fund transfer fees, cash withdrawal fee and administration fee.