Holvi is a Finnish online bank that provides personal and business accounts with IBAN for freelancers, the self-employed and European micro-entrepreneurs. It aims to provide better ways to manage finances. Apart from affordable banking services, Holvi offers business solutions such as invoicing, bookkeeping, expenses, tax, etc.
Tuomas Toivonen and Mikko Teerenhovi founded Holvi bank in Helsinki in 2011. In 2016, this Finnish startup was acquired by global bank BBVA to bolster its expansion plans through strategic support.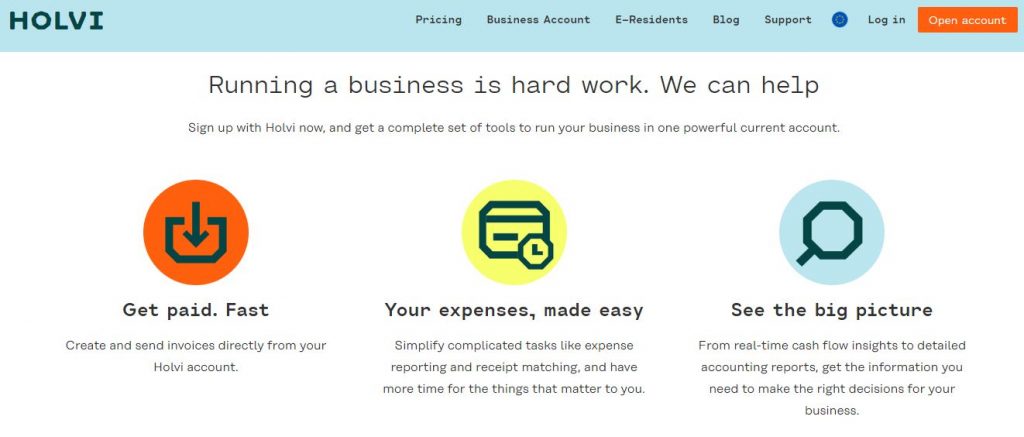 Holvi Headquarters and its Branches
The company's head offices are in Helsinki, Finland. Other offices are in Madrid and Berlin. Holvi Germany has established a branch to provide payment services. The branch is under the denomination Holvi Payment Services Oy Zweigniederlassung Deutschland with business ID Amtsgericht (court) Charlottenburg HRB 196526 B. Its registered place of business is at Harzer Straβe 39, 12059 Berlin, Germany. Holvi Payment Services Oy Zweigniederlassung Deutschland will serve all Holvi customers who open a Holvi business account in Germany.
Does Holvi Serve Specific Customers?
This digital banking institution has been providing business banking in Finland, Austria, and Germany. It offers its services through its Eurozone program in Belgium, Ireland, France, the Netherlands, and Italy. Holvi's goal is to serve entrepreneurs ranging from event organizers, yoga instructors, consultants, part-time bloggers, and sole traders.
Holvi also supports Estonian businesses registered by e-Residents. e-Residents can open accounts using their e-Residency card, personal, and business details. However, not all business models are accepted. Companies owned by US citizens or nationals of high-risk countries are also not accepted by Holvi. On account approval, you will receive a debit MasterCard, a dedicated IBAN, and a built-in Holvi-online store for selling physical and virtual goods. The Holvi Business MasterCard will work anywhere MasterCards are accepted.
Holvi Services To Its Customers
Holvi is targeted at small businesses. Its range of services includes an integrated current account package that comprises bookkeeping, invoicing, and auto-expensing tools. You can sell products online with Holvi, send invoices, and track your cash flow in a good time. Holvi helps you to understand and share your finances.
How Holvi Customer Support Works
Holvi services are available online and are accessible from anywhere by its users. If you are a Holvi customer and you need help, check out their help center by logging into your Holvi account. You can then send a support request to their support team. Holvi has an excellent support team that takes customers' interests at heart. Customers receive great value from the support and services offered.
Does Holvi have its own Banking License?
Yes, Holvi operates with its own Payment Institution License, authorized for operations across Europe by the Finnish Financial Supervisory Authority (FSA).
Holvi Supported Languages
Holvi works with many people from different countries. However, the company's language is English, and everybody working here should be able to communicate fluently in English. Other than that, people talk in different languages in the office. This shows the level of diversity. Since Holvi is profoundly established in Finland and Germany, Finnish and German are also used in communication in these countries. Holvi website is available in English, German, and Suomi.
Holvi App and Website
Holvi services can be accessed through Holvi app or Holvi website.
You can download the Holvi mobile app on Google Play Store or the App Store. Here are the merits of the Holvi mobile app.
It saves time on bookkeeping. The app works with your payment card, and you are always up to date.
It is always safe and secure. You decide where your card can and can't be used. Instant notifications on all purchases made appear on your mobile app.
The app enables you to make automatic payment tracking.
Does Holvi Offer Business Bank Accounts?
It offers a business current account. You can enjoy all the payment features of a traditional bank account combined with money management tools designed for your business. The Holvi business current account was explicitly built for entrepreneurs and freelancers. It gives a complete set of tools to manage business finances.
The free Holvi current account version includes one debit card, 1 user, unlimited transfers, and a 2.5% withdrawal charge at cash machines. Many benefits come with current accounts.
The account saves time and energy with powerful money management tools.
You can transfer funds via SEPA transfer at no extra cost.
There is unlimited account access for your team, partners, or your bookkeeper.
With this account, there is no need to produce proof of personal transactions.
What are the powerful money management tools?
The Holvi Business MasterCard. It comes with additional security settings and is accepted anywhere in the world.
Bookkeeping reports. They are created automatically to give you the information you need for bookkeeping.
Invoicing. Create and send invoices by merely clicking some buttons.
Real-time notifications. Every single notification is essential. They help you stay on top of every notification.
Holvi Pricing
Holvi fees vary based on account types and services. Holvi pricing is clear and transparent. For example, Holvi Lite attracts a fee of 6 euro per month while Holvi Pro is 12 euros a month.
| | Holvi Lite | Holvi Pro |
| --- | --- | --- |
| Price per month | €6 | €12 |
| ATM withdrawals | 2.5% per withdrawal | 2% per withdrawal |
| Free payments (EUR) | ✓ | ✓ |
| Account users | Unlimited | Unlimited |
| Invoicing | X | ✓ |
| Bookkeeping | X | ✓ |
| Income & expense reports | X | ✓ |
| International payments | 2% fee per transaction | 2% fee per transaction |
We deduct your previous month's service fees automatically from your account at the start of the next month. If you do not have sufficient balance in your account to cover the fees, we will send you an invoice which includes our bank details and a unique reference number so you can make the payment.
Holvi Reviews
Holvi's online customer reviews are mainly positive. Trustpilot has a few very positive reviews. 69% of the reviewers rate Holvi 4.5. The majority of the customers think it's efficient, convenient, fast, and modern.
Holvi Alternative
There are other banking options for small businesses, freelancers and entrepreneurs.
More Information